Iris Lingerie
Lingerie store Iris Lingerie, 366 Atlantic Ave, Brooklyn, NY 11217, United States:
78 reviews
of users and employees, detailed information about the address, opening hours, location on the map, attendance, photos, menus, phone number and a huge amount of other detailed and useful information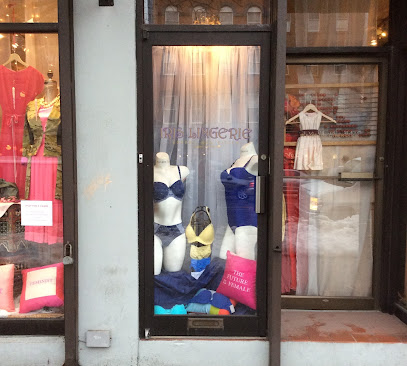 Address:
366 Atlantic Ave, Brooklyn, NY 11217, United States
GPS coordinates
Latitude:
40.6872960
Longitude:
-73.9862570
reviews AB S
Great Experience! Well worth the trip from Westchester County to her shop in Brooklyn. Take her advice and you won't regret it. I look thinner in my clothes. Thank you Iris!!
9 months ago Oakley Cassiday
I'm leaving after spending literally over 30 minutes waiting outside after calling her to tell her I arrived for my 1PM appointment today, in which she cut me off mid-sentence to tell me in a raised voice that she was with a customer (I didn't know this yet her tone made me feel like I should have known (???)) and, literally in the middle of me saying I'll be waiting outside until she's ready to see me, SHE ABRUPTLY HANGS UP ON ME. I was talking to myself for a few seconds before I realized she hung up! And never called back. I'm still stunned by how rude she was. I traveled 40 minutes, was excited to get my first proper fitting, and new undergarments. I'm glad she was nasty to me (and for no good reason); now I can spend my money elsewhere. Her window display doesn't exactly look 'modern' anyway. How can a business owner be this awful before meeting a customer for the first time? Very weird and sad. If you're considering seeing Iris, please read the lowest rated reviews here and on Yelp. Iris herself deserves ZERO stars; I can't rate her business because I never set foot inside. There is a scary pattern with her. RUN.
10 months ago Whats Trending
Iris, what a blessed experience I had with you today. I walked in and you knew the size I needed right off the bat. It was refreshing to hear how you care deeply for your customers. You don't see the dollars $ signs, you care about your customers. Especially, us Big Busted Gals. Thanks for taking your time with me. You truly are the Best Bra Expert/Specialist. I look like I lost 20 pounds with the right bra. My girls and I thank you!
3 months ago Hailey B
I've never had a bra fitting but let me tell you Iris was so professional and made me feel so comfortable. One look at me and she knew exactly what size and style I needed. I went home feeling so good. I bought three different styles and they all looked great. I felt so good in my clothes. I just couldn't believe I was wearing the wrong size all along. If you never had a fitting try it. And just another thing my husband loved all the bras.
1 month ago unni maya
A MASTER OF HER KRAFT !! Iris ... blessed my Girlfriend today , with only 5 minutes to spare before her next appointment . My girlfriend starting off the New Year unhappy with her breast complaining she was Sagging !! Within 5 minutes.. My girlfriend and Iris came out happy smiling .. laughing together after a wonderful experience. My girl looks Great and feels Great !! First words out of my girlfriends mouth ... " I FEEL LIKE I LOST 20 pounds ! " She can't stop bragging about her experience! Wonderful day for Us both !!! Bless you Iris
1 month ago David Mitchell
She is a miracle worker! I felt so comfortable and supported. She is a lovely woman, and her business ethics are amazing. It's absolutely worth it! Highly recommend :)
2 months ago Jazmin Lora
Iris is amazing an absolute pro, we drove from Westchester County to Brooklyn to see her, within 2 minutes she knew exactly what bras would do the trick. Thank you Iris????
9 months ago Grace Yoder
Well let me start off with. We as women have been given the wrong size for too long. I didn't know what to expect and Iris literally looked at me and knew what my size was ????. How? Who know but I'm happy. Thanks Iris I will be bringing more clients your way.
11 months ago John Cash
Go see Ms. Iris. I was wearing the wrong bra size for years and had no clue. My back and shoulders feel so much better. And she is spry to boot. She took me when I had an emergency without an appointment and helped me so much.
2 months ago Lil Meach
I walked in and as soon as I got in there I was fitted, The bras are good quality and are so comfortable. Iris is also considerate of one's style. All of my bras suit my taste and I love them. I definitely left there feeling good about the appearance of my breast. This is definitely my go to bra place.
7 months ago Lhasa Compton
I LOVE Iris! I am happy to see that she was able to re-open safely with everything we are experiencing with COVID. I was able to come in and make my purchases in a safe and clean environment. Can't wait to go back!
6 months ago Lori Taylor
I bought a few bras from her in 2017 and they are STILL in good shape!! I want to see what she has ,now! Very professional and she know what you need, OLD SCHOOL AND GOOD!!!
3 months ago Jessica A
Iris Lingerie to me is more than 5 stars.My experience with Iris was wonderful.She took one look at me and 3 bras later I look 25 years younger.the bra I walked out wearing is the best fit I have ever had.Iris is the best bra fitter I have ever met and I recommend her to anyone.Thank and Lynne Kirby
4 months ago Tonia Covington
Expert old school bra shop run by owner. Iris is so nice and helpful, and the price is right. Great experience.
5 months ago Rafael Perez
Great experience ????????????
11 months ago Tim Trerise
Miss Iris truly exceeded all my expectations she had me in and out in 10 minutes as I was on my lunch break !! She assured me I would be leaving more lifted ????.. Thank you Miss Iris.
1 month ago Tyler Anderson
First, Ms. Iris is a trip!! Second, she is awesome and knows what she is doing. I did a google search for bra fitters earlier in the week and I'm super happy that I found her. While i was being helped many women came in who were long time customers and i knew i found the right place. I will be a seeing her for all my bra needs.
11 months ago Mafer Alfonzo
Iris revolutionized my thinking about how my bras fit. I have to keep an open mind when I go–the styles aren't always to my taste (I'm a minimalist), but the fit and quality are both amazing and that's more important. She's opinionated and I'm a bit of a pushover so it's sometimes hard to keep my head on straight and only purchase what I need when I go there, so if you're like me you should think about what you want ahead of time and maybe set a limit on what you'll buy. One thing I would love to see is more focus on bralettes and the more relaxed silhouette that younger women seem to cultivate. Iris is great with underwire bras but I have yet to find the perfect bralette, which would be a real game-changer.
7 months ago Jeff
Literally the BEST experience of my life, when it comes to bras. My mom, sister and I went for a fitting. Iris took one look at all 3 of us, and knew exactly what size we were, the style we needed and she was spot on! We are all large breasted. She is simply amazing. We bought 7 bras between us and can't wait to go back for more. My mother has been wearing the wrong size for 20 years, and has even gotten other "fittings". Iris is an expert. No need to look further or ever buy another bra elsewhere. LOVE HER!!!
3 months ago John Cofer
The salesperson sold me a bra that was so tight that it left a scar that lasted three months. When I went back with the bra (after having worn it just one time), they refused to take it back, they did not offer a refund - they did not even apologize. I have not gone back since and will never be going back.
9 months ago candy Catsos
Came to Iris with two of my friends. We had an amazing experience and each left with a couple of items! All of us are different sizes but Iris and was so knowledgeable and knew our sizes right away. She's personable, upbeat, and full of sass—it honestly felt like she was the fairy bra-mother. She and her staff were so accommodating and dedicated. Their goal is to make every woman look her best and feel comfortable in what she has and in the bras she wears. We had such a great session and I know I'll be back!
10 months ago Bill Navarro
The best place great customer service
5 months ago Linda Cave
Iris is amazingly helpful, warm and friendly, as is everyone you will encounter on your visit to this shop, if you come for help in being properly fitted. If you know exactly what you want and are not open to learning about your best bra size, you should probably just buy online. I wore the same bra size all of my life, but as I have aged my bras weren't feeling right. So, having heard great things about Iris' incredible expertise, I went to her for help. I was immediately given some excellent bras that fit perfectly. There was no pressure to buy a ton; the free fitting only requires the purchase of one bra (totally fair); I bought four. The prices were completely reasonable, no not internet bargain hunting, but not overpriced, and you get help from a pro. Yeah Iris! Five stars well deserved!
1 month ago Kenzie Klem
Custom fittings by a woman who knows her products. No more going to department stores and walking out with nothing because there are too many choices and I don't know where to start. I went in, tried on six bras and bought three of them. She has a premium selection and provides great customer service.
9 months ago Charles Little
Iris' was the best experience bra fitting I ever had. It was highly professional and very honest about the fits. Michelle was helpful in teaching me how to put on a bra. And, of course, Iris and Norma put in their 2 cents. The place was filled with many other women looking for the best fit so the could look their best.
11 months ago Chris Telle
Excellent shopping experience!!! Iris really knows what she is doing. Most of the bras she brought fitted, she was lighting fast, and she listened well to my preferences. Top notch, a truly rare find!
10 months ago vipin pk
Iris is quite amazing. She can take one look and determine your size and what is the best fit. She effortlessly conjures your ideal bra from her substantial inventory. Tailoring is also available for a minimal fee. Best bra buying experience ever.
4 weeks ago Derrick Davenport
I love shopping here. Iris is amazing. I love everything I bought. I can't wait to come back. If people don't want her opinions, they shouldn't shop here! She's the best!
3 months ago Anita Canerdy
I had THE worst experience here. When I went for the fitting I thought Iris was great and she was telling me she designed my favorite Le Mystere bra that I was wearing. I was fitted and bought about $300 worth of bras all of which had to be altered (which is always the case for me so I expected that). When I went back to pick them up I was told that one was not done but would be ready in a week or 2. Of the bras I picked up, one of them, which was very expensive, didn't feel completely comfortable after I wore it so I went back and I told Iris it wasn't comfortable and was digging into me a little and she told me that I had clearly gained weight and fat shamed me and told me it was my fault it wasn't comfortable. I had in fact lost weight but that shouldn't even matter, it had only been maybe a week, so that was super upsetting and horrible to tell someone. Then I was told I still needed to wait for the last bra to be altered; it was about $80, and when I finally got the call that it was ready my mom was in the hospital undergoing cancer treatment and I had to stay with her in New Jersey for a few weeks so I asked them to hold the bra for me which I was told was fine. When I got back to Brooklyn, she told me that she had gotten rid of it or given it away or something because it took me a few weeks to get there which, again, I was told on the phone would be fine, and therefore I lost that $80 and had a horrible experience all while I was so stressed cos my mom was going thru cancer treatment and they couldn't hold a bra for me. Who does that? I was also told I couldn't get my money back. $80 lost and all the frustration? Never going back there. All the bras I did get never fit that comfortably either. I had such high hopes too, I love supporting women and especially local mom and pop shops but I will never go back there, unless it's to pick up the $80 I never got back.
11 months ago Aaron Lawson
Iris helped me find the perfect bras although she was a spicy lady! I appreciated it though very much. She asked me to throw away the bra I walked in with and watched me. Afterwards I realized I should have donated it and I feel bad about that.
11 months ago CM Newell
Norma was AMAZING!! She took one look at me and knew exactly what sizes to bring me. This really is a PROFESSIONAL fitting!! I never told her what types of bras I was looking for, or what areas I wanted to accentuate or hide, she just knew what I needed and what would work best for my body frame. She made me feel extremely comfortable. I'm large chested (you girls know how hard it is to find cute bras in our size that's not black/white/beige) and Iris' has a large assortment for us to choose from. They've earned a lifelong customer out o me!
2 weeks ago Peter Zams
I got my bra from Iris today and it was amazing! The bra I walked in with was from Victoria Secret and it didn't work for me at all. Iris found me the right size strapless and non strapless bra to wear and it feels good. I look a couple pounds lighter, my back doesn't hurt anymore and it just overall looks good. I'm happy with this and I will surely be coming back to get more!
11 months ago Sarah Jacobson
I drove up a day early to New York from North Carolina just to try to get a decent bra. I could not have been most pleased with my experience. Iris is so knowledgeable about bras and helpful to get the right fit. I was in and out with 3 bra in under 30 minutes. All three fit fantastically!! Prices are all inline with what I have been researching online for quality. The difference is having someone recognize what works specifically for a particular body AND having a collection to try in various sizes. Nothing like Iris exists anywhere closer to me and trying to just order bras online is a diaster. I have been suffering with subpar bras for three years and I could completely tell the difference when I tried on the bras Iris recommended. She even said she would repair bras bought from her, holy cow!
10 months ago Tina skeeterz
If you have big ones like I do than you know it's not easy to find the right fit at a typical store. Ever since my friend dragged me to a custom-fitted undergarment store I was set. They have a lot of nice Styles here and I recommend them.
2 weeks ago Josh Kenp
First things first, Iris and her assistant both are very experienced. I've been to Victoria's ad many more for fitting, and was never THIS satisfied. Iris took less than 10 seconds to find me the perfect fit. This was one of the best customer service I've seen, and I will recommend them to everyone. If you're looking for a proper fitting, search no more!
9 months ago Kimber Standridge
I've been going to Iris for almost 4 years and I never looked back. I was never able to find bras or swimwear that fit me before Iris. The place is located in the basement of a dress boutique and the space might be a bit small with a few fitting rooms. However, Iris is an expert at what she does. And they also do custom fitting, for which I'm super grateful. And if a bra I bought becomes too stretched out, I can wash the bra and bring it back to them to have it re-tailored. I always dreaded having to wear wired bras, but she always knows which ones are suited for my shape. Even now I can't believe how comfortable my wired bras are. Iris mentioned that it's important to have a good foundation to start my day, I can see why.
1 month ago Jose Medrano
We went to see Iris and Michelle today and what a great experience. Iris fitted my 12 yr old step daughter with the perfect bras. Iris asked her to keep an open mind and explained to her how important it is for a bra to fit properly. I can't believe she listened and was so happy with her 3 new bras that she threw out the old ones. Michelle helped me and she was so professional and knowledgeable. Love these ladies and our combined 6 new bras! Looking forward to going back when the fall colors come in.
2 months ago Lekile Mbongwe
You walk in, Iris says hello, tucks you into a fitting room, disappears, then reappears and hands you bras that fit perfectly. Without saying a word, she has sized you up,. Next she takes whatever time is needed to help you choose which model(s) suit you best. Yes, the shop is in Brooklyn but it is well worth the trip from any borough because Iris and her crew are experts at what they do. Expert, and personable, too. Who'd ever think shopping for bras would be a delightful adventure. Don't believe me? Take the A,C,B,D and find out for yourselves.
9 months ago Alex Karsos
This was the most pleasant bra shopping experience I have ever had Iris is so helpful and knowledgeable if your looking for a place to be properly fitted and to purchase quality bras I highly recommend going here. Thank you Iris I will definitely be back. Tammi❤
1 month ago Jurgen Wenzel
Visiting Brooklyn this weekend and was walking along Atlantic Avenue when we saw Iris Lingerie, "custom bra fitting" stopped us in our tracks!! Great service, very knowledgeable and beautiful collection of bras for every occasion. Very happy with my purchase!!
4 weeks ago Stefanie Thomsen
I have NEVER been so comfortable in a bra in my life! I literally threw my Victoria's Secret bra in the garbage and walked out with 6 new bras, 1 that I wore out the door!!! The service is amazing and these women are professional! Ms. Iris took one look at me and knew exactly what my size was; no measuring tape needed! Don't hesitate to come...you should RUN to see Iris and change how you look and feel in a bra! Thank you Ms Iris and Michelle!
4 weeks ago Jessica Cossin
I regularly am fit for bras, but I have never been treated with such disrespect. An experience that is especially unpleasant when you are topless. Iris may be qualified at fit but so are many other people in this city. I suggest finding one of them.
3 months ago Michelle Jones
Iris is AMAZING! She gave me the best fitting I have ever received, and had an inherent intuition for what styles would and would not fit properly. I am so incredibly happy with the bras I purchased from her. I immediately threw away the bras I owned before shopping with her because there was just no comparison.
1 month ago Shailesh Saigal
She doesn't seem to like customers. I suggest you don't bother her. Nothing personal I assume
11 months ago lenry austin
Iris spends time with you and only suggests you get what you need. She's not pushy at all. She gives many different styles, but won't let you pick something that's wrong for you. She has bras, pajamas, nightgowns, underwear, and more. I'll be going back for all future needs!
2 months ago Matthew Jaroszek
Recently underwent breast surgery...afterwards my wardrobe of bras were not fitting well...visited IRIS LINGERIE and was thoroughly impressed with her attentiveness and professionalism. CUSTOMER FOR LIFE. OOPS, breast surgery results were good ????
2 months ago joe vitale
I've been coming to Ms Iris for about 4 years, and each time I am never disappointed. I always purchase at least 3 bras. Ms Iris doesn't sell you anything that is not for you. I will continue to purchase bras from this store.
5 months ago GRACE PIATT
Norma was wonderful!! I explained that I was looking to purchase 2 bras and she helped me find exactly what I was looking for within my price range. Iris was very pushy and somewhat unpleasant stating repeatedly "put her in something expensive." I requested a Chantelle bra and then asked for a recommendation on another bra. Norma helped me find exactly what I asked for. When I go back I will ask for Norma and I recommend you do too.
6 months ago Rajesh Agarwal
Getting a good bra fitting is a game changer!! Thank you for your knowledge, assistance, patience and vast inventory!
2 weeks ago Zayne Lang
I had a great experience with Iris and her staff. She was warm, attentive and no-nonsense. I'm wearing one of her bras today and am so comfortable!
1 month ago
Popular places from the category Lingerie store