Magic Auto Sales
Used car dealer Magic Auto Sales, 407 US-46 east, Little Ferry, NJ 07643, United States:
220 reviews
of users and employees, detailed information about the address, opening hours, location on the map, attendance, photos, menus, phone number and a huge amount of other detailed and useful information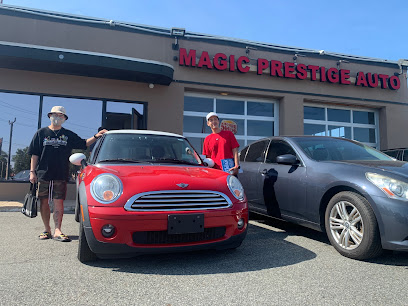 Address:
407 US-46 east, Little Ferry, NJ 07643, United States
GPS coordinates
Latitude:
40.8558847
Longitude:
-74.0489468
reviews Martin Koltz
Aldo knows how to get a deal done, these guys had the perfect car for my budget and made the process of buying my first car easy stress free and fun.
9 months ago Officer X
This was my worst experience so far. First, I called the dealership and asked about the car and they told me that the price was negotiable. So I agreed to go there for a test drive. When I went there they gave me the keys and the car didn't even start. The battery was completely dead and they had to jump-start it. Besides this issue when I wanted to go for a drive the manager asked me how am I going to pay for the car and they asked for more than $1100 for extra fees. THIS DOESN'T EVEN INCLUDE A WARRANTY. The car also had a few minor issues but they refused to fix it and wanted to sell it "as is". Also, they refused to negotiate a single dollar on the price and they almost called me a liar when I told them that one of their reps told me that it was negotiable. The manager's attitude was horrible and he was acting like I should've begged him to buy the car. Worst experience in my life but I'm glad that I drove there because I found the car that I was looking for in the dealership right next to them. Please, NO ONE SHOULD DO BUSINESS WITH THESE HORRIBLE PEOPLE.
9 months ago Kiwana Reliford
This Guy Josh helped me a lot here in Magic auto sales. This dealership is fast and accommodating. Lots of car to choose and the cars are in good condition. Kudos to Magic auto sales and to Josh!
10 months ago Theo C
Marcia is a very great representative. She's the best. She'll get you the best deal. She's very cooperative and treats the customers well. I'll definitely rate a 5 star rep every time.
10 months ago Nkechi Iloabachie
I will be writing another review due to the absolute disrespect that we experienced here. Would never recommend this place to anyone. I saw that it had bad reviews but had to see for myself, and completely understand why it's the worst reviewed "dealership" in the area. How are they gonna have children sitting there yelling and disrespecting my father for asking simple questions. Not only are they disrespectful and ignorant they are breaking all covid regulations no ones far apart or even wearing masks in this tone little space. No concern for anyone or their safety as long as they get they're scamming money. DONT EVEN BOTHER ABSOLUTELY HORRIBLE PEOPLE. No professionalism whatsoever.
9 months ago Kathy Brewster
We just purchased a Mitsubishi from Aldo and Magic Auto Sales. Aldo was extremely helpful. We came to buy a certain car, but it was being sold as we got there. He helped us find something in our price range and we are extremely satisfied.
9 months ago Marshall Gardner
Josh was excellent in explaining and showing me cars to choose from. No pressure, but reliable information. I've been driving it for two weeks about 900 miles and runs perfect. You need to go to magic auto for a really good car.
10 months ago William Sanders
Great place! I was having a hard time deciding between two different cars, but the man helping me (Luis) was very patience and very helpful. I've been to many dealerships and they try to quick sale, but this place is not like that at all. They allow you to take your time and that's what made me feel comfortable. I got a 2013 Chevy Cruze for a great price, rides smooth and it's a beautiful car and Luis send me to get a free car wash. I will recommend people to come here if they don't want to deal with people quick selling them and they want to take their time car shopping. Keep up the great work Magic Auto I had a wonderful experience!
11 months ago Stacy Castonguay
Come to Magic Auto to buy my first car and Sunil was extremely attentive helping me with it. Thanks to him I got a nice and affordable car... Magic Auto has nice cars, at affordable prices and a very polite crew of sales representative. Highly recommend ????????????
11 months ago Angelina James
We purchased a 2014 Ford focus and had a wonderful experience here. We dealt with a lot of used car dealers but I can definitely say Magic has been the best one. From the moment we walked in everyone was very friendly and the salesman Aldo informed us about 2 cars we were interested in. We were in and out in less than an hour with a beautiful car!
11 months ago Elena Evsikova
Shouts to my mans Josh got me a good deal on a nice modern BLUE car. I mention blue cause it's my favorite color I also came in wearing it. So he has great attention to detail. Thanks Josh and Sal!!
10 months ago Heather Eady
This an awesome place to get your car. They are very trusted, reliable and honest. You will be grateful for doing business with them. Seeing is believing, go have a look. Rev.David
11 months ago Roman Smolski
Visited yesterday to purchase a car with cash. Deal-breaker was the $1000 "dealer fees" So the $12000 sticker price would now be $13000. Didn't need registration or temp plates or financing so $1000 is pretty steep to pay for "document preparation". I did like their selection of vehicles and their business hours are great, it allows for you to visit after work.
10 months ago Neil Ashton
I had a great experience with everyone there, I was looking for a car within my budget and I sure found it, paper work was easy and the payment method as well, they even gifted me a 50 gift card for gas.
9 months ago David Ellis
This spot is a good place to purchase a used vehicle. Josh helped me as soon as I walked in and got me into a 2011 Volkswagen CC. I'm very happy with my purchase. The cars here are in great condition and everyone here are very friendly. I would definitely recommend this dealership to anyone.
7 hours ago Jason Garner
Dealership is good, people are really helpful. However, my major concerns with quality of few cars especially one I saw. As I dealership I would expect them to have smooth running car with brake pads and plates fixed bare minimum as those are important even while taking the test drive. What I notice was with Hyundai Sonata they had, it brakes were completely woren out and they were in no mood to fix it, basically it was sell as is. Which really concern me about the safety when taking test drive for any cars there.
10 months ago B Turner
I was gonna buy a car, but I could not find the car I wanted. but the staff took good care of me. very smiling people. Especially abdullah and henry are two perfect people. I will keep check of their inventory until I find the vehicle I'm looking for. I definitely recommend this dealer. Thank you guys. And thank you for your perfect coffee:)
10 months ago Stephanie Hancock
Josh was amazing and quick. Him and the finance department took care of me quick. They were very helpful. I was very satisfied. Thanks again!
10 months ago Jeremy Turner
I bought my first car with my dad (a subaru legacy 2011) and was assisted by Killiam. She was a great help and made the process very easy. We are very grateful for her help.
9 months ago shelby Lamoureux
Found a car here on cars.com. The office staff is very courteous and professional. Love how they are helpful without being pushy gives you time to browse and answer my 100's of question that I asked. Sales rep Aldo is reliable he follow up with you on loose ends answers all your questions. They have a wide variety of cards to choose from.
3 weeks ago Pam Kerr
Just purchased a 2013 Honda Civic Si from this dealership. Salesman Aldo was a great help throughout the whole process when it came to finding the correct vehicle, the test drive, and what we were to expect in terms of price. I went to 3 different used car dealers to view similar cars(same model, around the same mileage), AMG auto sales or something like that and the cars were so dirty even though they had a car wash and detailed on site. This one that I purchased from Magic Auto was clean inside and out. I would leave a 5 star review but there was no flexibility when it came to the price of the vehicles. Regardless it was a successful purchase. Will post picture once I figure out how on mobile
11 months ago Kaisa Hekkala
Great service. Josh helped us out. My second car in less than a yr buying a car from here. Easy process and great prices. Great customer service.
10 months ago Karen Tuttle
Worst ever! Completely tried to rip me off and would not even explain. Awful.. Response.. You can lie and distort the facts all you like. Do yourself a favor Check the BBB. They have a F rating. Do your research!
10 months ago Bob Levine
Me and my husband purchased a vehicle from here a couple days ago. Killiam & Sal were great. We didn't feel pressured into buying anything they weren't pushy. Everyone in the office was very efficient & courteous. We got a great deal on the vehicle we really wanted and they answered every question we had.
11 months ago GRIM FIREHEAD
Review I usually don't leave reviews since I work in a customer service based industry myself. However, my experience with Magic Auto Sales was so bad I had to post. After buying a Ford Fiesta on January 23rd I got the vechicle inspected for the NYS Inspection where I was told that the car had only a few weeks left that the transmission was completely worn out. When I called magic auto to inform them that they had sold me a "lemon" they said to contact the third party warranty company. And wouldn't give me anymore time after that, I asked to take the car back and give me my money back to which they said that is only an option two weeks after buying the car., and directed me to contact the warranty company again. Whose only point of contact was via email, to which they told me to get three different estimates on how much a replacement transmission would cost. After running around trying to find them(which is extremely hard as many garages don't want to deal with transmissions) as the warranty was only three months. After I submitted them I then heard nothing until I had to call repeatedly, this all while having no car to get to and from work which resulted in hundreds of dollars in Uber charges. The car was off the road for one month and when it was finally dealt with I had to pay an additional $1500 for the transmission as it wasn't all covered under warranty. The total experience cost me around $2000 and the inconvenience of not having a car, nor a replacement car as they said that wasn't covered either. Bottom line, save your money and go to a proper dealership, you'll get nothing but grieve and an awful experience. I will never buy there again and I hope you don't either. It's a waste of time, money and effort. Since there's no way to reply to the owners response I will do it here. There was no recall with Ford so it had nothing to do with them. A nice guy there only helped me (unlike magic auto who said it wasn't their problem ) and stored it there as I live in the city and would have to move to every other day. I read everything I sign and your third party warranty stated power train is covered but it still somehow ended up taking a month of no car, awful customer service and $1500 out of pocket cost.
9 months ago sherri folsom
Purchased a 2012 fiat 500 from magic auto, their ad drew my attention as they had the best deal. Decided to give them a try and I am lucky that I did. When I walked in everyone was doing their best to be helpful despite being very busy. After 2 test drives I decided to take the Fiat. Thanks Aldo for being patient with me and answering my endless questions lol
2 weeks ago Joyce Jemerson
Worst dealership ever!! Me and my friends bought cars from here and all our cars have lots of problems when they said "it's in a perfect condition". They are rude and problematic. They give you a car that has infinite problems for a very expensive price. Definitely don't recommend, this place is a scam.
10 months ago Leona Naiki
We went their for 2005 ford focus list as $2350.00 on car gurus. We go in to do paperwork salesman says it will comes out to $3600. Then he goes down to $3200. I understand hidden fees but damn trying to make $900 to 1200 off of it. I even agree taxes and reg fee another $500. Think the salesman trying get over. You guys should post accurate prices.
1 month ago Zach
I'm very glad we stopped by today. We got our 'new 'minivan and my fiancé and I couldn't be happier. Great people, no drama, straight forward. Aldo is the man, he took great care of of us! Can't thank this team enough.
11 months ago veronica G
I love this Magic Auto Sales!!! I am really satisfied with the purchases. I would highly recommend any one looking for a car to visit their website or location. Sunil is one of the best sales man at the location!!!!
10 months ago Ellie Goo
My buddy bought an unsafe vehicle from here that was doctored to Appear "safe" but it's not even safe for the road. And then when you find out the vehicle is unsafe they will turn around and blame you for purchasing the vehicle from them and not doing a detailed auto technician inspection of the vehicle with diagnostics, I don't think the average person has that level of capacity nor can you do it at their facility. Save your money and don't get swindled by these folks, there are many other dealerships around.
11 months ago Ruben
Sunil had amazing customer service. Very funny and easy to talk to. Definitely Recommend coming here!!!
10 months ago John Leforge
Marcia and Matt were very helful and provided everything that we need. Eddy was very helpful with my auto loan. We went to multiple auto dealer in the past few years and I have never been approve due to limited credit history. But I am very happy that Magic Auto Sales Dealer have given me the opportunity to get the loan. Now I can build my credit. Thanks!
5 months ago e hale
Magic auto was the perfect place to purchase my son's first car. The staff was very profesional and friendly. Aldo was was excellent, I'm very thankful they made the experience effortless and headache free.
11 months ago Sunniva Finch
I usually don't leave reviews but I owe it to Aldo for following up with me even after 2 months. I bought a car here approx. 2 months ago, while the extra fees were not pleasent they were still less than another place that tried to jack up the price by 2500$ so the price here was still great and our salesman took his time to explain everything. After 2 months we still had no issues with the car and it runs great.
11 months ago Cyndy Black
Awesome place!! Joshua definitely helped my husband and I find the best car for us (2016 Ford fusion)! Explained everything well, and helped us, first time car owners, understand perfectly!
11 months ago David Kost
When you come to Magic Auto Sales ask for Josh! He helped me out, he was very professional, he was very honest and it was a pleasure doing business. I have no complaints and will be coming back to buy another car. I was able to get my car at a lower price as well. Very understanding people in the business. During COVID we all need help and they were able to help me out. If your looking to purchase a car Magic Auto Sales is the place. Thank you Josh and the rest of the team for your time and patience. I will be back !
3 months ago Laura Weigler
Easily one of the smoothest experiences I've ever had while buying a car. Josh is extremely helpful and will go the extra mile to make sure you're absolutely happy with your vehicle of choice. I HIGHLY recommend him if you want an easy car buying experience
1 month ago Khamila Mayes
They sold me a car that needs a new engine, l did not know it at the time the car drove great, I drove it home about 30 miles. I got out and l noticed a knocking noise. A week later check engine light and in the shop.Mechanic told me the engine is no good, I called Josh the sells person and he told me that manager said there nothing he can do you signed the as is form.That's a nice way of saying kick rocks.I guessed they don't care about their consumer.
10 months ago Greg Lumpkins
What can I say other than I have had the most pleasurable experience at Magic Auto. From both the sweet young ladies who assist the salesmen to Luis. It has been a a great experience. They worked with me and gave me a sense and of peace and assurance. I bought a beautiful car and left with a Magic Auto family. I was treated with kindness ,hospitality, and respect. Please do yourself a favor and go and check it out for yourself. I could not be happier about my purchase and experience.
3 months ago Wilfred Taino
On January 7th 2021, I went with very little confidence in expecting to get a car. Luckily I have a great salesman who took the time to show me everything he had in inventory. His name is Aldo, always look for him he has patience and will work with you and will answer all questions you have.
2 months ago Lotte Powell
Sunil...they have very nice vehicles ❤️ Great place we drove an hour and a half to get our car and we love it!!!! Thanks so much again
11 months ago Shoshanna Green
Very rude people, they do not help or try to understand a situation, I bought a car here not to long ago and I needed a engine replacement I contacted them about the issue and they did not want to help out and on top of all that they demanded a additional $500 for the title fee. Do not come here unless you want to get scammed I myself will never dare to step foot into this dealership. P.s I test drove 3 cars and all three cars needed so much work. DONT WASTE YOUR TIME OR MONEY HERE
10 months ago Kimberly Correa
Really great service. Purchased a Chevrolet Equinox with Aldo he was great very nice and was open to everything I wanted. Just great.
9 hours ago Brandon Gustafson
Marcia was very pleasant. She was informative and hands on even in the cold. I was greeted with a warm welcome and provided all the answers to every question I had. I would highly recommend her service to all!
1 month ago Hannah Freeman
Aldo was great salesman I highly recommend asking for him when you go buy your first car !!!
10 months ago Richard Hernandez
Sunil was great and we were able to buy a car in less than an hour. Highly recommended.
10 months ago Talent Acq
Aldo is a wonderful sale person he help me get my dream car, he never force you to buy just help me understand how the car work????????????
10 months ago Incorrigible Rogue
I bought my BMW X5 with Matt and had a great experience with him and everyone else I dealt with. Very professional and highly recommend Magic Auto sales
10 months ago Jean Hadden
HORRIBLE experience with this dealership bought a car from here a couple of months back and one week after buying the car my engine blows when they told me that the car was in perfect condition before I got it I then call them to ask what I should do next they said it's not their problem and told me to go to their own auto repair shop (so they made money off me from different ways buying the car from them and fixing it at their own place) I then waited 7 full months for my title and when I went to pick it up and asked for them to take off what I owed FOR THE TITLE FEE because it's not fair the amount of money I had to spend ON FIXING the car they refused and called the cops on me a bunch of people seen it and a bunch of people left and didn't buy off them that day DO THE SAME IM TRYING TO SAVE YOU GUYS ALOT OF MONEY... you guys could lie and take me to court I have proof that you guys sold me the car on a permit not insured which means you guys wanted to get rid of it.. nice response very professional talking about my size even though I was the one cops were called on... btw you forgot about the guy that wanted to buy the Jeep he left, also the Arab family that also came before I left and the officer that " Disciplined" me ( even tho I was still cursing you guys out in front of them so I don't understand your term of discipline) told them himself to not buy from you guys or any dealership on that block, that they get complains all the time. See you guys in court ???? ????‍♂️
10 months ago
Popular places from the category Used car dealer