Pasco's Battery Warehouse of Cheswold
Car battery store Pasco's Battery Warehouse of Cheswold, 26 Twin Oaks Dr, Cheswold, DE 19936, United States:
69 reviews
of users and employees, detailed information about the address, opening hours, location on the map, attendance, photos, menus, phone number and a huge amount of other detailed and useful information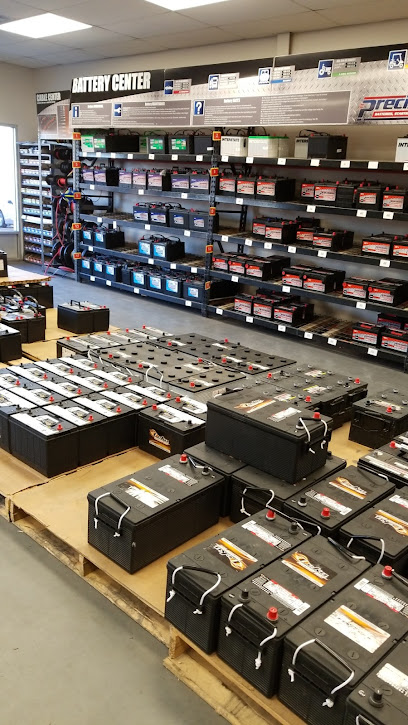 Address:
26 Twin Oaks Dr, Cheswold, DE 19936, United States
GPS coordinates
Latitude:
39.2210550
Longitude:
-75.5761420
reviews Daniel Edwards
Found what I needed at a good price
9 months ago Shundra Kuenning
Highly recommended! Professional, dependable, and reasonable. They've done quite a bit of work with helping keep our customized tailgating express, a '95 Rialta, in tip-top shape.
9 months ago Jesrene Johnson
Great prices. Bad customer service. Employees would rather you walk out instead of rummaging through there unorganized mess of batteries. As a customer I was told we have your battery its here. Only to be told I'm not looking through those pallets. Pretty bad customer experience, I hope they get better because I will never go back.
3 months ago Monica Prizer
Fast battery installation with competitive prices!
10 months ago Courtney Peterson
Super friendly and knowledgeable staff. Best prices for car batteries. They installed my new battery and cleaned my terminals for $20.
2 months ago Theresa Wager
Dave was great! Installed my battery in just a few minutes with no appointment. Recommend highly!
6 months ago Gail Barsalou
Very good service and very friendly. In and out in no time at all.
4 months ago DOUBLE MM
Best automotive service in area! Very professional, knowledgeable, friendly and very prompt. Will get you in and out quickly. Prices are extremely competitive too. Same goes for the batteries as well. We use them for all are vehicles, trailers and boat. Would highly recommend.
10 months ago Marina Pushkareva
Got the battery I was looking for at a great price, customer service was very good. Dave behind the counter did a great job.
10 months ago Diana Mitchell
I usually get my car or truck repaired on when I need to the most and I can surely say I rely on them without no worries. They offer fair estimates on work and do the work right way and quickly. I know I am coming back for anything in the future if my car or truck needs repairs.
10 months ago Nick James
Great service. Dave took care of getting the right batteries for me and has great customer service skills. Thanks.
11 months ago Tommie James
I had an odd ball part off of a snowblower go bad and I took it in to have it tested. Even though the store was not able to get me the items that I needed the counter person Bruce went above and beyond to help me out and found the part for me online through a different distributor. They didn't charge me a dime and got to my item immediately even though they were short handed and busy. I really appreciated the great customer service and them going above and beyond.
10 months ago Aneke Pomeroy
Great place knowledgeable employees
3 months ago Ruby Bright
These guys are simply the best. Super nice and super affordable. Professional and hardworking. These guys strive to do the best possible job on your vehicle.
11 months ago Hamad Alkaabi
I love this place this is where I get all my batteries they are very helpful and they always have what I need I just bought a 4 battery maintainer and I love it thank goodness they are there because I don't order stuff online
10 months ago John Jackson
Good Quality Service
10 months ago Prajay Shetty
Awesome service and prices!
10 months ago Joanna Pennypacker
Always helpful!
5 months ago Shakhzod Yovkochev
This is the place to go for batteries. Best price and knowledgeable service.
9 months ago Jared Naegle
Take my vehicles there for maintenance all the time. Help support local business. Great customer service.
3 months ago Haley Mardis
Very good prices much cheaper than auto parts store
10 months ago HTM
I was in urgent need of a new battery. I was pleasantly surprised to be taken care of immediately and for a very reasonable price. Highly recommend.
2 months ago Diane Kyle
Great service!!! The guys at the counter were all awesome. Had no problem helping me with clearing my check engine light. Will definitely use them again for basic auto repairs and batteries. Will tell all my friends.
6 months ago Josephine Tambal
It was ok.
4 months ago Donica Blager
The staff were extremely helpful and took their time to answer our questions. Will definitely shop there again, and recommend them to our friends.
2 months ago Dale Miller
Excellent, friendly staff. I will do future business there.
3 months ago hellprincess
Very nice staff. Extremely helpful. They went above and beyond to help me find the right battery.
2 months ago Jermaine Jones
Knowledgable and great prices.
11 months ago Azra Mahmutefendic
I had a new battery, altinator, 3500watt power inverter, tow hitch, front end alignment, 3 batterys, & charging distribution block in a timely professional matter
4 weeks ago kamaraj krishnaswamy
The manager Matt is very helpful
3 months ago Barbara Bruce
As a girl I usually get talked to like an idiot when it comes to the car stuff. And have been overcharged. But these guys were awesome. They thoroughly explained everything to me. Gave me a little lesson on batteries. And they deff did not over charge!! I would highly recommend them. Also...I called around and they did have the best prices.
9 months ago Van Vo
My husband and I needed 2 RV batteries fast and contacted the store after hours and left a message. We were very surprised to get a response shortly after by the owner. He went out of his way to accomodate us and have the batteries delivered the next day. What an outstanding customer service! Thank you so much Dustin Kenney!
4 months ago Coni Gomez
Don't seem like discount prices. They are high in prices. Even on powerwheel batteries.
11 months ago Jason Pressel
Pasco of Dover has helped me out with finding a new battery for my Toyota Celica, and tested out my old one to see if there was anything wrong with it. The people here are friendly, they know what they are doing, and are all around great! Definitely stop by here if you're in need of a new battery !
9 months ago Cynthia Zuccalo
The staff was knowledgeable and very friendly. I would recommend them to other people.
5 months ago Tony VanDerHeyden
Pasco is the place to go for any golf cart needs. I got a custom golf cart built an turned out great. The whole staff is great.
3 months ago Robert Bird
Can I tell you how happy I am that we found Pasco's Battery Warehouse in Cheswold, Delaware? We not only received a great price for the batteries for our golf cart, BUT they also work on golf carts and buy/sell/trade-ins, you NAME it!! Do you have a golf cart you need work done on? Go talk to ROC. He really will treat you right and hook you up with whatever you need done. The rest of the guys that work there are excellent too. You will be so glad that you went there!
5 months ago Marco Ramirez
Great experience. Extremely helpful.
5 months ago Andrew McDade
Always get wonderful service whenever I go here. I always recommend this store when someone tells me they need a battery
6 months ago Tasha Frothingslosh
Honest friendly staff.
9 months ago Ashley Ingram
Hooked me up with a great deal.
2 months ago Alissa Carrier
Pasco is the place my whole family goes for all of our batteries! We have a farm in Delaware and the young lady at the front desk was able to give us really great prices on batteries for our tractors... they even lowered a price on a battery one time to beat Tristate's price!!! We went to have a starter rebuilt which has been working out great. We even sent our daughter there to get a battery replaced in her car. The mechanic, Roc, explained the whole procedure to her, checked her whole starting system out, and made it very easy. We knew we were getting good service and we know that they will back us up for any problems we have with our equipment. Couldn't be happier with the service!
7 months ago Dr ChillPill
Good folks to work with. Took me through every step so I could understand it.
1 month ago Naomi Mensah
They get you back on the road quickly
5 months ago John Sumsion
I can find the battery I need all the time .????????????
9 months ago Stewart Smith
Great prices on Batteries, great service & staff they welcome service animals.
7 months ago Janam pandya
Very helpful and friendly.
10 months ago Allison Stark
I purchased a battery a little over a year ago for my car. The original experience was very much like everyone else's, very good. Fast forward about 14 months and the experience has turned into a headache. I called the national warranty support number on the battery and I was told that the battery has a 30 month manufacturers warranty. I was not expecting that, and I immediately called the shop from where my battery came. Since it was over 25 miles, I was told that I could use a closer shop for repair. I took my car to the local Pasco dealer in Cheswold DE. and had the store manager check out my battery, and car's charging system. He found that the battery's voltage was just over 2 volts after I shut off the engine. He then called his boss, the store owner, I believe his name was Dusty or Dustin and explained what he found. While they were on the phone, I called the manufacturer's warranty department to verify the warranty as Pasco questioned the 30 month full replacement warranty. They were told the same thing. Pasco's manager then argued with the warranty manager of how he was going to be reimbursed if he replaced my battery for free. He wanted to put the manufacturer warranty manager and the local Pasco store owner on a 3 way call to hash it out. I'm sorry but I didn't like the way I was being treated, I told the store manager that I did not need to be in the middle of his conversation and that he just needed to honor the warranty and let me be on my way. He refused to replace the battery and argued with me about it. After I left Pasco, the store owner called me himself to defend his manager's decision, not to apologize. Only after being on the phone with the owner for more than 10 min did he tell me that I could return to the store so that they could give me a loaner battery while they test the bad battery. I was already in route to another appointment, and did not have time as I already wasted too much time arguing with them. I don't know what to say. I'm still at a loss for words. I understand there is a manufacturers warranty and a store warranty. What the store manager should have done was explained that from the start and worked with me without putting me in the middle. I have 4 vehicles of my own that will not be serviced by Pasco. Too much competition out there to deal with that type of headache. I'd rather spend the money on another battery from another shop then deal with Pasco ever again. Do what you want but don't expect them to help you if you have any problems with one of their batteries. Whenever you make a purchase your not only buying a product, you're also buying customer service if you should ever need that product repaired or replaced. Amended Review: Today is August 31, 2016. I received a call this morning from Dustin, the store owner. I was surprised to hear him from him, and I'm glad that he called. He told me that he had been thinking about what happened on my last visit to Pasco (See Above) and wanted to apologize. He then offered to reimburse me my original purchase price, but I told him that was appreciated but not necessary. I asked if he would just replace the battery as that was all I wanted in the first place. He even offered to come to my home to replace the battery there, but again I told him not necessary and that I would be more than happy to bring the car to the shop. What can I say about Dustin and his business? I feel that we all have those days when we wish we could do it all over again. Well this was one of those days and Dustin and his crew at Pasco did exactly what any customer service driven business would do. I left the above comment not to persuade you from doing business with Pasco, but instead I want you to see that these are good hard working people that most of the time do it right. Dustin and his crew replaced my battery under warranty and checked that my electrical system was performing optimally. Thank you for doing the right thing and Thank you for turning my opinion around.
4 months ago Nathan Miller
Very helpful up front personnel.
1 month ago Veola Glover
Nice people and good deals. Should have any battery you could need for a vehicle.
9 months ago
Popular places from the category Car battery store