All Aboard Animal Hospital
Veterinarian All Aboard Animal Hospital, 1413 S Dixie Hwy E, Pompano Beach, FL 33060, United States:
220 reviews
of users and employees, detailed information about the address, opening hours, location on the map, attendance, photos, menus, phone number and a huge amount of other detailed and useful information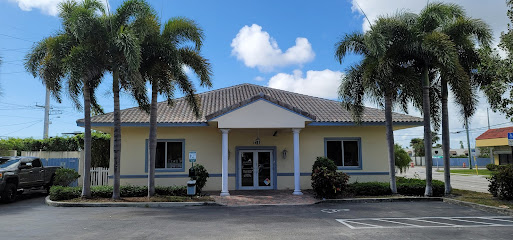 Address:
1413 S Dixie Hwy E, Pompano Beach, FL 33060, United States
GPS coordinates
Latitude:
26.2112639
Longitude:
-80.1325384
reviews aisha ismail
Vet was very detailed in reference to the tests that were run on my pet. Didn't mind my questions and took time to explain what I didn't understand. Called me at home a few days later to follow up on the visit and see how my pet was responding to the medications. I was very impressed with this office from the receptionist kindness and caring to the vets professionalism and knowledge. I highly recommend this Veterinarian office.
9 months ago Manas Bende
This is a great veterinarian. Dr. McAlister is fantastic and professional. I've been bringing my rescued golden retriever here since adopting her in 2018 and they've always done right by her. She recently had a mammary mass removed and the entire process was quick and (relatively) painless for both her and myself.
11 months ago jeremy Delong
Best animal hospital ever and the staff is super friendly. Completely trust Dr. Mcallister and his wife Melissa. They are absolutely amazing people.
11 months ago Ingrid V
I would highly recommend Dr. McAllister & his team. Dr. McAllister has been taking care of my cats for the past 3 years and I am always impressed by his veterinary expertise and honest treatment plans. I recently had to put one of my cats down. Dr. McAllister & his staff made this experience as pleasant as it could be. They were kind, empathetic & gave me the honest answers I needed to make this difficult decision. It's not easy to find a doctor that can handle having this tough conversation with a client. His bedside manner and caring staff are much appreciated. My pets and I are grateful for their knowledgeable care!!
3 months ago Jocelyn Monacelli
Best vet clinic in Broward county. They were super kind and resolved my pets issues extremely fast. Plus, Dr. McCallister is the best! Thank you for such a great service.
11 months ago Jay Altizer
I love All Aboard. I usually have very little wait time. The staff is always very friendly and I feel that my dog gets the best care at All Aboard. Dr. McAllister talks through any treatment options to help me decide the best course to take for my dog(s), rather than pushing treatments on me as some vets do.
1 month ago Braun C
Very nice and friendly. REASONABLE PRICED!! Just awesome.
10 months ago Kristi Johnson
My cat always receives quality care from Dr. McAllister & his staff.
10 months ago Rich Luth
Great Staff! Great Vet! Super friendly!
9 months ago Big DroN
Highly recommended . I liked that my Vet (receptionist, Vet nurse and Dr are serious , cheerful and positive... the place is impeccable NO RUSCHED, all my question answered . THANK U and last but NOT least COMPETITIVE PRICES. U will see Sunny again from now on. I hope no soon , she is doing better. THANKS
5 months ago Cynthia Griffith
Took my cat Fenster for his yearly exam and shots ,Dr McAllister and his staff are great and made Fenster and I feel very comfortable during the whole process
11 months ago Pranav Agarwal
Great vet animal clinic and hospital, we have been taking our 2 dogs Princess and Duke for 7 years when they were 2 years old. Highly recommend Dr Macallister and his staff (team)
4 weeks ago Peter Zams
By keeping future "Maintenance" treatment as well as the " meds" that accompany her ongoing treatment keeping her both allergy free of horrible & continual itching, as well as the 3 meds she is currently on until she passes for her arthritic pain, & inflammation - trying to make her as comfortable as possible, while keeping the cost to do so financially manageable while fairly reasonable for her long term care...
10 months ago Just Brooklyn
Dr. McAllister, and his nurse were very good with my kitty. She was calm the whole time.
1 week ago Michael Lobsenz
Friendly, competent, professional and very good doctors. You will be happywith them too!
11 months ago Mike Bisdorf
My first visit for my new dog Echo who is deaf. Very kind and patient staff. Convenient location and appointment
3 weeks ago Becky Adt
Melissa is wonderful and turned a not so great experience into a wonderful one.
2 weeks ago Sabine Scherer
All Aboard is a great animal hospital. Not overpriced, and Dr. McAllister is very compassionate and kind.
11 months ago Jennifer Staffenhagen
Rusty loves everyone at All Aboard Animal Hospital. They treat him like he is their own dog. He gets lots of love and great care. Everyone is very professional, knowledgeable and very nice. We recommend All Aboard Animal Hospital to everyone!
5 months ago Harley Etienne
Loved the vet and the vet techs. Would prefer that front office staff wear masks.
1 month ago Pradeep Mishra
Our 2nd visit since moving here. They're very nice, communicate well re:apps and such. The vet spent a good bit of time with us for an unusual problem my dog has. He didn't rush us through and he did give useful solutions.
6 months ago Rick Requena
Our three dogs have received excellent care at All Aboard for years. One of my dogs was very ill and was dying when we brought him to all aboard and Dr McAllister took amazing care of him and he survived. I can never say enough about the staff at All Aboard. They are all wonderful.
5 months ago Target Cordova
We have been going to All Aboard for a very long time - they are like family to us. Dr McCalister and his team are thorough and professional, and are able to meet all of our needs from checkups to surgery, and boarding and grooming. They even offer a payment service and an online shopping experience! As long as we own our pets, All Aboard will be our vets.
11 months ago P R
I drive down Dixie often and had seen their sign so many time . When I finally made an appointment to see them, they delighted me by being passionate about animals, treated me and my cat with compassion and respect. Dr. McAlister also found a medical issue that had gone unnoticed by other vets and now my kitty gets the proper treatment for her condition. They are wonderful and the office is always clean and lively. Highly recommended if you live anywhere near pompano and are looking for a vet.
10 months ago Martha Ward
Dr. McAllister and his vets have saved two of my cats from near death! I 100% trust Dr. McAllister and his staff with my pets. I have 3 cats that I bring to them and I've received very professional and caring attention from the vets and vet techs. They answer my questions with knowledge. I've never felt like they unnecessarily push for treatments. As mentioned, they have saved two of my cats from near death. One had a bacterial infection that was hard to detect, she stayed with them for a week and they did everything they could until she was better and healthy. My other cat was stung by a bee, he is extremely allergic and went into shock, they were waiting for me and took him to immediately start treatment. Both times, the vet personally called us to give us updates on them. For the bee sting we did not have pet insurance, I feel like the charge was reasonable. They don't take advantage of a desperate situation to make money. They truly care for animals and want to help save lives. I know they also work with a couple of pet rescues, offering vet services to them.
8 months ago Jomarie Kilian
I found a chihuahua and asked them for help since I was not sure who to contact (Broward Animal Center was closed). It was cold outside, and the dog might die and was prone to getting run over by cars. Since I could not bring the dog home because I have another bigger dog, I asked them if they could. I was told that they could not, and it is my responsibility to find him a place. They did not help me. They said I should leave him in my bathroom. I said my bathroom has no air. I needed help and demanded it and one of the ladies even suggested that I leave them on the cold streets where he could die. They do not care about your dogs if they cannot make money. Therefore, I would not trust them with my dog again and would find a better place that would actually care for him.
2 days ago faamielie lacrum
There is nothing you can do to make it better. The staff is very courteous and friendly from the minute you hit the front desk until you walk out the door. The Dr was very knowledgeable and we definitely will be returning again in the future
5 months ago Fernanda Virissimo
Everyone was so friendly since the day we called for the first time. Very professional and friendly. And they loved sugar.
4 months ago harsh thakur
I have been going to All Aboard for years, they always take great care of my cats and take the time to answer any questions and offer solutions for the care of my animals!
9 months ago Abhiroop Gandhi
I have had a relationship with All Aboard Animal Hospital for approximately 15 years. It's rare when someone develops a relationship of complete trust with anyone but when it come to my dogs the staff, Dr. Mcallister and his wife Melissa, they are second to none. The attention, compassion, kindness and love they give to my dogs, Roscoe & Wilson, is over the top. My boys are completely comfortable when we show up for a visit and that gives me peace of mind. I have complete trust in them and recommend them to anyone who see's this post. Sincerely, Joe B.
11 months ago Taha Taha
My Baby is not that cute when meeting doctors. He becomes a fears puma but Dr. Cindy took good care of my fur ball and confirmed he is not in danger. Veterinarian centers ain't cheap so don't go looking to be charged in small but I can assure you that this is the best place for your pet. They could have easily charged me extra saying that he needed more checkups and medicine. but they didn't.
9 months ago Jeane Taylor
Dr. McAllister and his wife Melissa are awesome people and I would not bring my fur-babies anywhere else!! Their staff is extremely fantastic and awesome too...They are all compassionate, professional and make all our fur-babies very comfortable upon there experience at the vet!!
6 months ago Mukesh Prajapati
Found a kitten in a pompano parking lot that had been struck by a vehicle. City of Pompano, Emergency Services and Animal Control could either not be reached or was not concerned. Called this Vet and spoke to Nicki, I could feel the caring kindness through hearing her voice and she told me that I could bring the kitten in and they would stop its suffering at no cost. It's not often that you find businesses that will overlook cost and just care about doing the right kind thing. Thank you All Aboard Animal Hospital so much, I dont know what we would have done without you!
8 months ago Ferris Zaugg
Most shady vet ever. This place will steal from you. There's only one nice vet out of the whole staff, but the worst is Kevin McAllister. They don't tell you prices or even tell you what they are going to charge you for before they perform services. When you go to the dentist they ask if you want fluoride because it costs extra, but here they just do things and don't say it's extra. Apparently he can just say "I'm just going to trim this cat's nails really quick so they don't scratch themselves." He didn't ask, and it took less than a minute and he charged $10 for clipping his front nails. He said "he needs to wear this cone for a week." He didn't ask if we already had a cone, because we already have a cone at home and the one they put on him doesn't even fit him. He charged $12 for a cone we can't even use on our cat. $22 that they stole. You can't just do things and not give an option and charge people. They don't give you a receipt for what you've paid for until after you pay either. Never go here, McAllister is a crook.
6 months ago Timothy Randhir
Very friendly staff. The doctor is great, you can tell he really cares about the health of your animal. I highly recommend All Aboard Animal Hospital.
8 months ago Tammy Hebert
Dr. McAllister and his staff are very caring and professional. They truly love animals which is proven by the clinic adopting so many animals and caring for them like his own.
7 months ago ramzon
Been to the rest he is by FAR the best. No wait no drama awesome. Dr. Kevin as we call him is just the best vet I have ever had. There is little to no wait in spite of other people in waiting area which looks like my living room. When you call you actually get an answer. If they don't know they ask Dr. Kevin and problem solved Other vets have little to no personal skills and communication skills. All Aboard runs like a top.
3 months ago Skylar Barnett
I love Dr. McCallister, his wife Melissa, and Nikki. They are kind, compassionate, and truly cares about animals. He is also a very knowledgeable veterinarian. Just a warning, medical care for animals is expensive, but it is definitely worth it here.
7 months ago Mary M
Dr. McCallister saved my baby's life after 3 trips to a different vet, who found nothing.
3 months ago Ann Watson
Took very good care of my dog. Great service.
6 months ago Lance Brown
Dr. McGallister is kind, caring, and won't rip you off. Him and his wife and rest of the staff have a true love for animals
6 months ago John Fiyz
Doc is awesome. He takes his time and really cares about the animals. It's not cheap, but your furry family is definitely getting quality care.
8 months ago Scott Harrell
The BEST VET in South Florida.. Very caring, thorough and the staff is wonderful!
11 months ago Don Hicks
Even though I moved south to Davie - it's so worth driving to Pompano to see the vet. They are always professional, responsive in times of need. Highly recommend this team of folks for your pets!
10 months ago sylvia mendiola
Amazing service vets, hours and location. Very knowledgeable they are the only ones that got my dogs horrible skin allergy in check.
6 months ago Abbas Haidar
First time at All Aboard and I walked out with no complaints and peace of mind.
6 months ago Karine Blot
We have ALWAYS appreciated the quality of care and the amount of patience Dr. McAllister has when caring for our Coco and Webster. He's a most kind and concerned doctor who, for the past 12 years, has provided our "Boys" with the most EXCELLENT care!
1 month ago Manuel Hernandez
Wonderful Dr and staff.
10 months ago Vijay Shivaswamy
Great friendly staff. Very reasonable rates. The doctor is very responsive and friendly.
3 months ago Randi Sharp
I'm glad I waited to review this place until we had fully experienced their "service." My opinion of them has been consistently dropping since our first visit. We've gotten three different vets for our kittens and only one of them has been attentive and knowledgeable. The other two... no. We had a few little hiccups before our last major incident. For example, they charged me for Revolution they didn't apply, then tried to gas-light me into thinking they had applied it. (even though I called after we left right away and made them aware they had not applied it and charged me, the receptionist said she would make a note, then next I went they tried to say that they had done it last time... and there were no notes on our file. Typical.) The first few times I let it slide because of how highly rated they are and how genuinely nice they seem to be; but this last visit sealed the deal for me- we are NEVER going back. I took my kitten in (6 months old) because he was scratching excessively to the point where he was tearing up hair and leaving scabs down his neck. We got McAllister (ugh) the coldest most blase vet they have. He didn't tell me a single useful thing. He gave me a few vague reasons "could be stress" "could be fleas" At first he hadn't seen any evidence of fleas, worms, or other parasites but then he turned him around and said "oh yeah I think there's some flea dirt here" he told me I should treat my cat (again) and recommended I treat my two other cats also. (Fine, fleas happen, I was willing to cough up the $142 they charge for the six pack of Revolution) then he slid a cone on him, told me I had to apply this mousse gel on him (anti-fungal, even though he said he really didn't think it was fungus) trimmed his nails (without asking) and told me he was going to give him a shot of Cortozone (to stop the itching, but again, without asking, just did it.) I was prepared to pay- how much I didn't know until I was checking out and was hit with a $315 bill. They just took 90% of my paycheck. Seriously? How pathetic. $10 for a nail trim that took him about 30 seconds (and he said his back paws didn't even need it) and $12 for a stupid cone I already had at home plus the hefty "consultation" fee. The lack of communication is baffling. I came out of that visit feeling robbed. He didn't tell me the true cause of it, he didn't give me a professional solution. He just charged and charged and charged. The gel that my cat probably doesn't even need is $40. I understand it costs money to have a pet- but he could've been honest with me and not taken advantage when he really didn't know what was going on. The scabs probably will heal on their own as long as he doesn't keep scratching them without some fancy overpriced gel. Despicable behavior on everyone's part. God forbid there really is something wrong with my cat that he missed. I hope to everyone considering taking their pets there to think twice- or at least have your wallets ready.
7 months ago
Popular places from the category Veterinarian