The Longfin
Fishing store The Longfin, 2730 E Chapman Ave, Orange, CA 92869, United States:
210 reviews
of users and employees, detailed information about the address, opening hours, location on the map, attendance, photos, menus, phone number and a huge amount of other detailed and useful information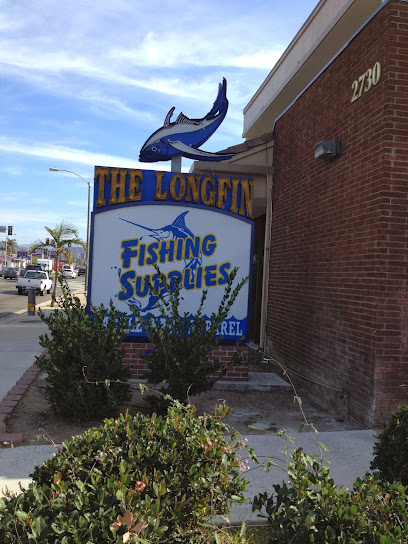 Address:
2730 E Chapman Ave, Orange, CA 92869, United States
GPS coordinates
Latitude:
33.7874800
Longitude:
-117.8242030
reviews Tonya Slavik
By far one of the best fishing stores out here in So-Cal I'm very happy i found this store and is currently one of my favorite. Really recommend this store, don't go off of the website, go in and check it out you will be surprised.
9 months ago Eric Kephart
New lead core and some TD lures.. great service and prices!
10 months ago Wayne Dossin
It's been 3 years since we returned to Longfin, what pleasure it was along with extra friendly knowledgeable new ownership. We ordered 4 Phonix Rods for casting too water at Striper in Quebec, CA, asked to have the handles modified to our …
11 months ago Guillaume Chabaille
This place is killer they have an absolutely MASSIVE selection of rods, reels, baits and a whole lot more. Unfortunately their website doesn't reflect their actual stock, but what can you expect with that much stuff. Thank you guys for the killer prices
10 months ago Yanill Estevez
Best fishing supply store in OC bar none! Staff is excellent and they have the largest inventory of everything fishing related you can think of. Prices are excellent too. Eric the mgr and Matt are extremely helpful with fishing questions …
2 months ago Elizabeth Viajera
All your fishing needs in one fantastic shop. Knowledgeable staff and the best in equipment options offered anywhere.
6 days ago Will Wagner
Google guides sent me an email asking me to review my recent places, specifically regarding covid 19 safety. Only one place stands out from my recent visits and it is this place... The longfin tackle shop. Almost none of their employees …
11 months ago Melissa Dempsey
Great tackle shop with a huge variety of items for a good price. they even have their own little Shimano section. Also to the douche "steven" that posted the last review. Stay at home if you're scared of Covid.
11 months ago One man
Great service, huge selection, knowledgeable staff and fair prices
10 months ago Lance Turner
One of the Best Fishing and Tackle Shops in So. CAL..????
11 months ago Christopher Coffey
The best tackle shop in OC. Great selection for salt and freshwater expansive rod selection good reel selection including some used. Clothing and other gear as well. Staff is phenomenal they also will spool your reels and can do some rod …
2 months ago brian turner
Love this place. I've been going to Longfin for over a decade. Such friendly nice staff always willing to help and give recommendations based off the current fishing conditions. Class Act
3 months ago Neil Teitelman
The staff there knows what they are doing frank is my go to guy from everything salt and fresh
2 weeks ago Victoria Rieth
Great place to get fishing lures for freshwater and deep sea fishing. I've never seen so much selection of powerbait in my life :) wide selection of fishing poles at reasonable. If you're looking for a specialty this place probably has it.
6 months ago John Torres
Customer service is great. Felipe is always a Great help. Especially with my father inlaw that is disabled. He is good and we thank him so much. Over all the store is good need more stores like this around.
4 weeks ago David Buenrostro
This store is a fisherman's paradise!! They have everything you need, reels, bait and everything in-between. Also if your looking for a Christmas gift and aren't sure what to get they offer gift certificates.
2 months ago Ernie Johnson
Great ???? I'll be back to ⛏️ up some ocean ⚙️
3 months ago Jake Hodges
One of the best shops in so Cal.
10 months ago Ramona C
Great place for all fishing needs
10 months ago Deepthi Lakshmi
Great place! The staff is always friendly and very helpful, wide selection of products, a much better place than that other so called tackle shop on State College BLVD
2 months ago Dobromir Vasilev
While looking for a tackle shop i came across, The Longfin. Read the reviews and decided to check it out myself. Lemme just say people weren't wrong! Customer service is awesome and if you're new into fishing, they never make you feel out …
7 months ago Jennifer R
Love this place. They have everything I need. One stop shop. Awesome people, great service. Customer for life :)
5 months ago Sara Snyder
Everyone there is great and very knowledgable. I had questions about top shot and Cody had the answers. It's like shopping in a candy store and you want one of everything. I had a chance to talk with Tom about some future trips. I love this place!!!
6 months ago Paxton Craig
I have shopped here for over twenty years. Always a great place to shop for all kinds of fishing gear. This place has everything I need to go fishing (bass fishing, trout fishing, or salt water fishing). They are also willing to take the time to teach new techniques, and how to use new gear.
9 months ago Sarmed Ameen
Good selection but inconvenient location and not a single employee was wearing masks so neither were the customers. There was also some confusion with licensing and I was charged for two fishing licences. Will not be returning to the longfin.
6 months ago Christopher Vaughn
Great store! Lots and lots of gear at great prices! Very knowledgeable associates ????:-)
6 months ago Edgar Z
I love the place the have so many varieties of fishing pools real ers waites yards so many good stuff you wanna go fishing The price maybe pricey but it's worth the price for anything you might fish for
4 weeks ago Kotou
Great place to buy all the latest gear. I took my babies momma here for our first date.
5 months ago Michael Barton
If longfin doesn't have it, it doesn't exist. I feel like a kid in a candy store..
4 months ago Patty Moore
I took my fishing reel for service and it will be ready in five days. that was super fast for me. Thank you Longfin.
2 months ago Habil Badhi
Extremely helpful and willing to help you
4 weeks ago Hdth
Great place. Knowledgeable staff. They have everything you could possibly want.
7 months ago Jonathan Warren
Great spot, I would go again. The staff is helpful.
6 months ago Brandy Borchers
Best selection and staff in my opinion
4 months ago Jonny Cardot
Customer service was not very good. And not 1 single employee was wearing a mask.
2 weeks ago Veronica Soria
Great staff n Dr's. What more do u need 2 know!
7 months ago Trusha Desai
Best tackle Store in Orange County. Amazing selection and outstanding service.
4 months ago Misty Claborn
All the tackle and gear you will ever possibly need or want.
4 weeks ago Karen Pickell
I come here to get my fishing license and miscellaneous gear when needed. knowledgable staff. Decent prices. EDIT. Always happy to help when i ask questions. Conpared to other stores ive been. This is the best!
1 month ago David Noyes
1st time ever about to surf fish Already had a used rod and reel. They kept it simple for me 35 dollars terminal tackle and bait and sound advice was.all I needed Impressed!
7 months ago Dima Mit
Only 2 employees were wearing masks and several customers were not wearing masks.
2 weeks ago Robert Jergensen
Very good place to get fishing supplies! So many poles, bait, nets, hooks and more to choose from. Many varieties of your fishing needs.
9 months ago Brett Roop
Real good. But Expensive but well worth it good quality stuff.
7 months ago edward tiliinghast
Came here to visit and the staff was very friendly and very helpful. A+ !
4 months ago Dustin Lagrange
Great place, helpful staff and plenty of selection from fresh water to salt water.
6 months ago Olga Kalnickaya
All your fishing needs . Helpful nice staff
5 months ago aleksandra Spinelli
All of the fishing gear you will ever need. Knowledgeable and friendly staff.
9 months ago Carlos Ayala
These guys are nice and really helpful. They are terribly interested in wearing masks, which makes the experience more stressful than necessary, but that is the only negative I would say.
10 months ago Justin Roberts
Great store. Lots of fishing tackle. They have a section of all Shimano products alone. They carry all the major brands. Went in for a new rod and reel 2 hrs later came out with that plus a bag full of goodies.
10 months ago Joel Ware
Love it .......great people.....good customer service
6 months ago
Popular places from the category Fishing store