Sav-On Tackle
Fishing store Sav-On Tackle, 9917 Orr and Day Rd, Santa Fe Springs, CA 90670, United States:
220 reviews
of users and employees, detailed information about the address, opening hours, location on the map, attendance, photos, menus, phone number and a huge amount of other detailed and useful information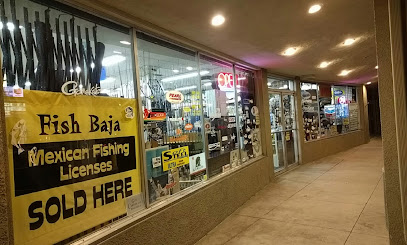 Address:
9917 Orr and Day Rd, Santa Fe Springs, CA 90670, United States
GPS coordinates
Latitude:
33.9483257
Longitude:
-118.0901025
reviews Lauren Weitkamp
I had a wonderful experience shopping here. The employees there were very attentive to everybody at the store and I do mean everybody, everyone asked if I needed assistance. I am not sure of this is a family owned business, but the employees do know, good customer service. And are very knowledgeable about their products.
9 months ago Scott Entwistle
Great selection and staff that love what they do. Highly recommended especially if you have questions.
5 months ago Michael Kubovcik
One of the oldest and best tackle stores in SoCal. Staff is fantastic, from expert to beginner. Rod blank station too! Cutting edge fishing spot.
10 months ago Jean Stone
Best tackle shop ever. Seriously. It's like a fisherman's candy shop! They have a huge selection of gear at crazy low prices. The staff is knowledgeable and friendly. I would definitely recommend anyone who fishes to check them out.
2 months ago Mark Darden
Great tackle shop! Anthony and the rest of the staff are the best in the business!
9 months ago Robert Anderson
Love it there, friendly staff always helpful and make sure that your set up with the right stuff to get the job done. great prices always go there when I'm in the neighborhood ????????
10 months ago Hamish Barrett
Everyone there are very helpful. Much thanks
9 months ago Owen Whitman
Every single employee happily greeted me and all were very knowledgeable, friendly and helpful! I came for a crab snare and left with $50+ of surf lures! Great selection on everything but crab snares lol
2 months ago Ashley Matias
Very helpful place for beginners. I felt like I was living in the prime years of America during my visit ????????
10 months ago Mike Hubble
Been going there since I was a kid excellent service excellent excellent equipment great service
9 months ago Jeffrey Jensen
One of my go to local places for all tackle, fresh or saltwater. Off the 605 and telegraph, helpful staff, not too crowded any given day, decent prices and huge selection of pretty much anything you need. They do the usual things, spool …
7 months ago Brittany Goetting
Very helpful staff taking their time to help each customer even well they are closing they are there for you and any questions you have
2 weeks ago Lindsay Vercelli
The best wverything you want an need
10 months ago Azeezullah Khan
Going to get some new equipment to go deep sea fishing ????????????????
11 months ago Rony Izaguirre
This place is friggin great if your a fishermen or have aspirations to become one, friendly and extremely helpful staff I have written Turners Outdoorsman off my to go list sorry Turner
1 month ago Tracy Richards
Went to pick up my Custom Laker Rod did an awesome Job. All associates were friendly and asked if I needed help.
2 months ago Courtney Allen
Awesome store, great staff and everything you need. They always help with whatever I need.
1 month ago Jane Peach
West CoastTT&D Superstore years ago. Family owned and operated for decades ! Bob Soliman is a Great Guy. Very Knowledgeable Staff. Manager, Anthony is very helpful and professional.
4 months ago Erica Richardson
Friendly staff, they know a lot about fishing would recommend it to anyone whether its beginner, experienced. Definitely coming back for tackle or any other gear i may need.
4 months ago Jordan Farewell
Great place for fishing tackle, they have everything and the sales people are very knowledgeable. A little price but is worth it to me....
1 month ago Patrick Junginger
Great service, helpful employees and very good prices. Always have specials. Been shopping here for years and will continue to . Definitely the place to go for fishing tackle
8 months ago Leonaldo Paixao
This place is incredible Anthony is fantastic and his team. I went there as a total novice to surf fishing So much knowledge but only sells gear within YOUR budget!!! This kind of business just doesn't exist anymore Dont Google do your brain and wallet a favor and head to SAV ON
4 months ago Jennifer Taylor
Best tackle shop in Southern California. Loaded from wall to wall and floor to ceiling with fishing gear and tackle. Best prices. Customer service can use some improvements by training. But I would not shop anywhere else.
8 months ago Dolly Yadav
They have everything you need about fishing, great service, friendly staff. Wouldn't be my last time. As I plan to ???? In Owen's Valley and adjacent rivers and lakes
6 months ago Gloria Perez
Best tackle shop in the greater LA area. They're loaded with the latest tackle and very knowledgeable.
5 months ago Ivan Vidyakin
personnel need to be more friendlier people of color especially kids behind the counter
3 weeks ago Robert LaFleche
Great variety of tackle. Good customer service
9 months ago Candy Hooper
Great team of fellow disaffected fisherman. Always appreciate the help and stories.
2 months ago Christina Bonney
Best place to buy your gear.
6 days ago Chetto Arruda
Great place, great friendly service and everything you need to fish, salt or fresh water.
9 months ago Samantha Miller
They have what you need i was helped by a guy by the name of Noah he made it easy to choose what i needed because of his product knowledge..
6 months ago francia veras
Best place I ever been very professional great employees I bought one pole to replace line my other I bought had to put a new line I am going back soon to buy another pole
7 months ago Danny Horton
They have everything you need for fishing and the service was Excellent
1 month ago Emily Sanchez
Great place & great people! Go ????!
2 weeks ago Hanny Morales
They usually have everything you need, might be a little more expensive, but good quality items are...
1 month ago laura roth
Staff was very helpful. I went in with a list and pictures of what I needed. And they gathered it all and suggested some stuff.. definitely recommended this spot.
9 months ago Daniel d
They are fantastic! Diego was very helpful and knowledgeable. I am a customer for life!
6 months ago DM MY
Been going to this place for over 30 years and I find everything I need for fishing here. No need to go anywhere else.
4 months ago Troy Tiffin
Pretty much have everything you'd want as a fisherman with helpful staff ready to give suggestions. Highly recommend!!
8 months ago jenna barron
The fellas are real knowledgeable on all the fishing reels and rods. They truly help you out with any questions you might have.
10 months ago Adalee brown
Just love this store. The staff there are so knowledgeable and helpful and the store is fully stocked with all the fishing tackle you need for any all types of fishing.
9 months ago Alis Sullivan
Always helpful, good intel on the current bite, and decent prices. Chris, who took care of me today, was on it! He filled the reels, replaced the hooks on the Colt Snipers, and helped me pick out a 60lb stick for my trip. Thanks for the Phenix HAX 720 X2H Chris! See you boyz soon:)
4 hours ago Katosha Harper
Great products in all price ranges. Very friendly and knowledgeable staff. They are there to make you totally satisfied. Custom rod building and reel repair.
1 month ago wendy patterson
I have been going to Sav On Tackle since the late 70's. Always knowledgeable and helpful. Great selection ang fair prices.
10 months ago Bailey Kissel
Biggest selection with the most knowledge in Southern California by a long shot!
4 months ago Lorent Hinant
Great service, very helpful, alot of products, and no stuck up attitudes!!
8 months ago Barry Cunnings
Best tackle shop in all aspects. Knowledgeable and helpful. Great customer service!
9 months ago Scott hjellming
Guys at the counter were helpful and a better attitude than the guys at Turner's. Will be doing my future fishing supplies buys at SavonTackle.
10 months ago Charlotte Lewis
Today was my 2nd time at the store, and luckily I've had the pleasure of dealing with a heavy set guy with a beard his name might be Danny. He was honest and extremely helpful. No pressure sales and was asking me lots of questions on where …
9 months ago George Gourlay
great tackle store
11 months ago
Popular places from the category Fishing store