Fire WiFi
Internet service provider Fire WiFi, 15 W 1st S, Rexburg, ID 83440, United States:
56 reviews
of users and employees, detailed information about the address, opening hours, location on the map, attendance, photos, menus, phone number and a huge amount of other detailed and useful information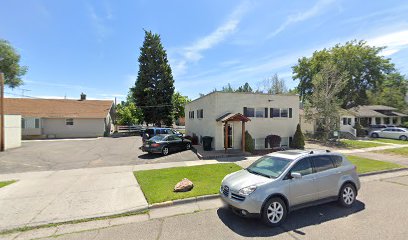 Address:
15 W 1st S, Rexburg, ID 83440, United States
GPS coordinates
Latitude:
43.8238037
Longitude:
-111.7844461
reviews Robert Lothrop
Great people to deal with! Extremely satisfied with the service. Alway friendly and helpful. Would recommend to anyone that they can provide service too. My profession is installing wireless devices of many types and these guys understood that and worked with me to come up with a solution that fit my needs. Trent has been great to deal with.
10 months ago Autro Henderson
I live in a rural area (no broadband cable / internet...but lots of cattle) in the Highland Lakes, Texas area....and, for both my home office and family entertainment, high-speed internet is a MUST. After much online research, I found Fire WiFi and gave them a call. An individual (yes! a real person!) answered and in a very professional manner answered my litany of questions. I subscribed with the Blue plan. The hardware arrived in less than three days, was VERY simple to install and the internet service is, to say the least STELLAR. I had 3 laptops and one desktop PC streaming 4K Youtube videos while watching an Hi-Def Netflix movie through the Blu-Ray. No glitches and no buffering. My compliments to the professional staff and the products and services provided by Fire WiFi. Thank you and great job!
10 months ago B Cat
This is not a scam! They are legit! We've been a customer with them for a little over 2 months. We moved to the country and it works like a charm! Trent was amazing and answered all of my MANY questions. Give them a shot!! It works!!! Wish I could take them all over the world...maybe one day.... :) thanks for being awesome!!!
2 days ago Ben Powell
Fast delivery of equipment and worked as promised. We have tried everything in our rural area and could not get internet to work. We have had for over a week and we are VERY happy with the service so far. Thank You Fire WiFi.
11 months ago Samuel Jose
Thanks for all your help Maria. Sorry it didn't work out with Fire WiFi but your customer service was great. Maria was very patient with me and considerate.
11 months ago Blaise Sodano
I had FireWifi for a month now and it have been lovely. The service is well worth it... you might get a little slowness here or there but it's not an on going problem to worry about. I also love how I can take it anywhere I go and it's not a hassle. I will recommend anyone to give it a try. VERY WORTH IT!!!!! Try it.... you will not be disappointed.
9 months ago Zevi Posner
The company and the people working there are great. Very friendly. This product didnt work for me due to my location to a cell tower. But it is great product.
10 months ago Snn Goktas
Great customer service experience.. Easy fast set up literally plug and go. Great coverage and did I mention what great customer service.
10 months ago Farhan Rizvi
They have gone out of their way to help me have the best experience possible. I recommend them 50 times over. Great customer service, great sales team.
11 months ago George Lockwood
Fire WiFi is one of the most customer-centric companies I've had the pleasure to work with. They are incredibly responsive, available, and transparent about their products. They offer some great alternatives to less favorable and costly satellite options.
3 months ago Abigail Eckert
I run my accounting and tax business from my home office and was having trouble finding an internet provider that offered unlimited data. A client of mine recommended Fire WiFi to me and I began using their services in February 2020. Yesterday I was having issues with my service and I cannot say enough good things about their customer service. They respond immediately if you email them, and if you call, they do all they can to help resolve the issue. This morning Trent called me and walked me through what he thought would fix my service issue. In five minutes my service was restored and all was well again. Their customer service is a breath of fresh air after dealing with so many large companies who are hard to get in contact with, make you wait for hours, charge you for fixing issues, etc. 10/10 recommend their services!
10 months ago Nick Holloway
I am a snowbird spending my winter in Arizona. Nothing but problems with WiFi until we switched to Fire WiFi about two months ago and we have been pleased with the service. No issues. Have recommended to many friends.
11 months ago Tristan Schultz
Super fast internet, great experience with their billing dept and sales agent. Fast shipping for my device. So glad I went with this company. I couldn't get any internet where I live except for satellite and it's horrible. This company is AMAZING.
3 months ago Bailey Cheek
Firewifi is amazing! Everyone I talked with was very professional, friendly, and helpful. It's good to know good companies still exist!
10 months ago Marysol Robinson
FireWifi has been nothing short of fantastic. I do lots of traveling and have had great service to stream my TV shows and movies! I would recommend this service to everyone!
11 months ago Josh Moreauu
Great service awesome company low price what more can you ask for ? Quick response times to any questions I have. We got our equipment in only 2 days after making the call and we still get high speed service in an area where there are usually problems with other companies, my family runs multiple devices hd streaming and not a single hiccup so far. If you're fed up with high costs contracts and sudden price increases on your bill I strongly recommend this company as an alternative
10 months ago Abedalhady Alghoul
Fire WiFi is a fantastic Company, they have the Best customer support. Service is The Best, also they help support our Veteran with Veterans discounts on equipment. Bottom Line, these people really care. They offer All around quality service, when other places do not. I am an Army Veteran, Go with FireWifi!!!!!
3 months ago Venkat M
Terrible experience. Internet was slow and I know it wasn't the network, I have the same network on my phone. Customer service couldn't help. My router broke after 5 days and their response was to buy another one.... the routers are the cheapest ones on the market. Instead of buying ANOTHER router I just said I would cancel with in 14 days. Mailed it back in, and did not get a refund like their policy states. Wasted $185 for less than a week of terrible internet. For the record, found a new company on the same network, and back to good internet! Avoid this company at all cost!!!
11 months ago John Ellison
Living in a rural area it limited me to only satellite. That was for tv and internet. So you can only imagine the big bills I was paying. I continued to research for something better. I found this company and decided to try them after talking with my sons. I got the equipment fast with a good price. Easy connection. I'm very pleased. I Wish I knew about this company sooner. From Earle, Arkansas
3 months ago Merle Stebbins
I could not get a signal to continue service. However, I wanted to leave a review based on the customer service. I have been searching through many companies to get an unlimited provider. I have delt with some really shady companies (*cough* omnipoint). This company is by far the best I have delt with. They sent the equipment very quickly, helped me as best as they could with getting a signal and had no issue with returning the equipment. If you are looking for a good company to work with, reach out and see if you can get service. I would have loved to get this working just to have that great service .
9 months ago Elizabeth Howard
I finally found unlimited data and no throttling! Fire Wifi is AMAZING!!! And the support is incredible. I would recommend this to everyone, especially in rural areas. Thank you, Trent and Maria!!!
10 months ago Carol Langendoen
We live rurally and have much better consistent coverage on multiple devices with Fire WiFi. We couldn't even view some streaming services with our old internet provider and now we can. Trent was great to work with and Maria in IT has been most helpful as well. Plus, my kids love that we can take the internet with us wherever we go!
11 months ago Ines Lazarte
I have tried to use many services for good internet in rural areas as I travel in the USA and I have found Fire Wifi to be the most consistent and unlimited that is available. I would recommend everyone to try it and I know you will be as satisfied as I am and I have been using this nonstop for over 2 months.
10 months ago Erik Schmeltz
This is honestly the best Wifi I could've purchased. Worth every penny my kids can look at whatever they want no buffering its fast just simply amazing. And I'm in New York so this is everything. Give it a try you will love it as much as I do!
11 months ago GOPINGVI
Maria in tech support is so sweet and helpful. I had blue plan and worked well for streaming tv apps all through my home but gaming has a bad lagging every now and then. Waiting to see how pink plan works????
10 months ago NINA
My experience with Fire Wifi has been a great experience. They have great customer service at times has all the answers and if they do not have it they will call me back in a timely manner with the answer or another option to help me as much as possible.
1 day ago Crystal
Okay firewifi!!!!! I was a tad bit skeptical but the staff reassured me, they where very nice and answered all my questions. My unit got to me in 3 days which is super quick so I'm happy about that. Tech support helped me set it up and it's working great!!!!! I am watching tv and surfing the web as if I had at&t!!! I live in a rural area and only satellite is available with high bills so this is perfect for me! Plus I can take it with me if I move. Set up was easy took about 10-15 minutes. So far EXCELLENT!! I definitely recommend getting some firewifi????????????????????????????????????????❤️
10 months ago Rich Toth
They are very nice people that go the Xtra miles to help there customers.
1 month ago Saranya K
Very nice people. Very bad internet. We had broadband service for many years but we felt like we could get better because our speeds were usually less than 2 MBS. We were doing a search for something better . We came across FireWifi and it sounded really good. We called them up and had many questions. One of them was about speeds. My husband's company wanted him to work from home during the Pandemic and they required at least 20 Mbs. We were specifically told that "Getting those speeds should not be a problem. We paid 280.00 to get the router and pay for 1st month which was 79.00. Well what do you know? Our speeds are terrible. Probably worse than our broadband! When I called they said they couldn't guarantee speeds. They lied because they did guarantee the speeds. They then said that we could go with the higher plan which was 100.00 per month! We barely can afford 79.00 per month and our broadband service was only 60 per month. Well we had already canceled the broadband and taken down our equipment. We were then told we could just cancel it. That would mean we would have no internet! So no, I do not recommend FireWifi to anyone because they do lie.
3 months ago Lloyd Landesman
I gave a 5 star cause although it didn t work cause I am in a hole here and can t get signal, they were pleasant and helpful. Sorry it didn t work out.
10 months ago AndreaL Farrow
Ok, I need to start by saying I originally thought this was to good to be true. I live in a very rural area and the only 2 providers wanted a fortune for service that would last about a week with our needs. When I first found FireWiFi I thought to myself, " I hope this works, but if not at least I tried." The worst case scenario was I'm out 300$, turns out it was money well spent. I highly recommend Firewifi for anyone not just people in bad service areas. It's easy to setup and use, I had WiFi in 5 days from calling them. Definitely give them a chance, I'm grateful we did.
10 months ago kari hansen
I have been using FireWifi in a rural area where all I can get is HughesNet which is horrible. Due to COVID19 my employer which is a essential state agency had to evacuate our building. I had to figure out how to work from home to help our customers who are in crisis. I called all major internet supplier and nobody could help. I was devastated!! My son found FireWifi. I had no hope but in one phone call I was so blessed they had no issues with getting me in throttled service and the equipment was here in 2 days. My internet runs with no delays so I can talk to our customers and run our system as well as in the office. I have recommended FireWifi to my fellow state coworkers in rural areas to get hooked up. Finally someone who cares about the country workers who need just as much internet service as a city resident. I would give 10 stars if possible. Thank you so much FireWifi for helping me help our state resident who need my agency's service during our state of emergency. ????
2 days ago Dana Rodenbarger
So, if your looking into mobile hotspot without a cap just stop searching and go with Firewifi, trust me. You get what you pay for, their blue plan is a little more then some other places I have found(honestly only a few other places were a little cheaper but there is a reason why) I had a company that I used to use and I would literally set on hold on the phone, live messenger or Facebook for hours, only to not get a hold of anyone! Firewifi I think the longest I have waited to speak to someone is like, maybe a minute! Their customer service is top notch, and I am willing to pay a little extra a month to be able to actually have someone on the phone within a minute. They have even went out of their way to let me contact them outside of business hours to take care of things.... that speaks very very highly of them to me. I did have issues with the hotspot device I purchased through them, it may work great for some but for me it didn't work and could have been the area I was in so I just purchased a different brand hotspot on my own and it works GREAT! All other providers are starting to switch to just Tmobile network and thats just a bad idea on their end, luckily firewifi still offers the Pink plan(Tmobile) and Blue plan(ATT) in which ATT works better in the area I am in. Sorry for the long review but I felt it was needed, seriously, if you try to cut corners and save a few dollars your going to miss out on the amazing and responsive customer service of this company, don't even chance it, go with firewifi! Also I forgot to mention, Allie in customer support and Maria in Tech support are amazing, they have helped the entire way and are always there to answer questions, just thought id give these two a shout out! :)
11 months ago April Murray
Purchased one of FireWiFi's "blue" units for my home in rural Louisiana. The 1st unit came in quick, 3 business days. It had issues, not connecting to the cellular system. I contacted the company, and Trent assisted me. He did everything in his power to make the unit connect without any luck. Came to the conclusion that the unit was damaged in shipping. He sent me a 2nd unit that worked as should, and actually better then I thought it would with a very weak signal, only 1 or 2 bars. It was the absolute BEST customer service I have ever had, and because of that was willing to give them a 2nd chance in which I am very happy with the end result. AHUGE THANKS to Trent for all the help & attention!! Hope this unit works as great on the road while at work as it does at my home!!
11 months ago Mauricio Morales
I live in a weird hole where I couldnt get conventional internet my only option was satellite internet and that would be slow and I would be stuck in a contract and limited data usage, then I found firewifi! I seriously thought it must be a scam cause it sounded too good to be true, unlimited high speed internet at my house! No way! I called and talked to a real live human and ordered my unit it came in the mail within 2 days of placing my order we plugged it in and Bamb we are streaming Netflix and my son is playing fortnite online so far it's been 4 days and we honestly couldnt be happier! Thank You Firewifi for your awesome customer service and your wonderful internet plans that saved me from the pit of satelite internet!
11 months ago D W
I needed to set up a jobsite trailer with internet and the awesome folks at FireWifi got us up and running in no time at all. Their staff are super friendly and helpful and the quality of the service is excellent. We'll be using them for all of our remote locations going forward and I can't say enough good things about them!
10 months ago Adam Sorman
It's pretty legit. I'm about 400 yds away from a tower but it's the real deal.
11 months ago Dagniby Dali
So far so good,only 3 days with it,but works excellent.i wasnt going to get fire WiFi cause I never heard of them.but every company has to start somewhere and I think fire WiFi is going to be a big success ????,linda,Flagler estates
1 day ago Liz Heisler
I have only been using the system a few days and so far it is way faster then our DSL. Maria Manire Tech Support has helped me set it up and is very knowledgeable, a real pleasure to work with. Thank you Maria Manire, you are my go to Tech. V/r, Rory Ingram
11 months ago Claudia Rios
Love the service! Internet works great!!! Very pleased with the customer service.
10 months ago Edwin Murenzi
Trent has been great to work with and answered all of my questions! The internet so far has been great. We live back in the woods and getting cable internet has proven to be quite costly if we were to go that route. Fire wifi is very fast and doesn't cut in and out. I suggest an extender for a larger home though
1 month ago Kyle Foster
Great service I run my whole house on the internet this is how I watch tv
3 months ago Neill McGowan
Such a fantastic service with some of the best customer service I've ever had the pleasure of dealing with!! Thanks FireWifi!
11 months ago Shannon Selvaggio
Fire wifi is great! I looked everywhere trying to get internet out at my farm. No one could do it, then I found fire wifi . They have been great so far with everything. No problems, good service! I don't need anything more than that. Thanks fire wifi????
9 months ago Luke Johnson
This company went above and beyond in assisting me with my questions and providing excellent service in helping me with the set-up. The internet speeds live up to expectations and the streaming of video is equal to what I was receiving through cable service...at a fraction of the price. I highly recommend FireWIFI for your internet requirements.
10 months ago Mike Pegg
Just got it today hooked up the modem it was very simple plug and play. Without an external antenna ive been averaging 15mbps down and 14 mbps up ping of 30. Im very happy with that. Way faster than my old frontier dsl connection. My kids are playing fortnite with no complaints. Finally have decent internet out in the country!!!
1 day ago Jones Thom
I am proud to say that I have an excellent association with the guys at FIREWIFI. This technology is the answer to people like us who live out in the country. My new modem works great and provides 30 - 35 mb solid service 24/7. No more snail type DSL for me. It is extremely easy to install and program to your computer. Trent & Dallen are great guys to work with. I have been involved in electronics for 62 years and cell phone and cell tower construction for 20 years. The simplicity of this installation just shows you don't need a degree to use this new technology. A +++ from me guys. Ralph
2 days ago Kenneth
Wow! This company is absolutely KILLING it on the customer service, availability and price AND they were the ONLY high speed company that would take on the task of even TRYING to service my home. We live in an EXTREMELY rural part of Virginia that literally has no option other than the sloooowwwwwwest satellite services which wouldn't even allow us to watch a Facebook video or send pictures to family over the phone. I took a chance and jumped on the almost risk free option Fire WiFi offered (their return policy offers a full refund within 14 days minus a $50 restock fee) and have been over the MOON happy with the service. I have zero issues recommending this service to anyone looking for an affordable option where there is not availability for broadband services. This is the way to go! Beyond that, there's no contract and you can take it with you wherever you go and have WiFi readily available. PLUS, it's a plug and go option like, out of the box, we plugged it in and entered the super simple sign in and we were streaming like we'd never left the city. For those who telework (using vpn) or go to school online, the service has been 100% reliable and I'm on my second month using it with zero lag and no downtime at all. I had no idea I'd be so pleased with a service that was my last resort but I'm totally keeping this one! The guys there are personable and are not a revolving door of representatives passing you from one department to another. They're so good at this that I literally just called and talked to the same person who initially sold me on the service. I can't say enough good. Trent, if you see your reviews, you're the biggest lifesaver on the planet!
10 months ago Pawan Kumar
This has been an awesome solution for internet for me! Consistent download speeds, no cap/throttling. I use the internet for Netflix, Amazon Prime, Hulu and Amazon streaming music. I live in a rural neighborhood that doesn't have cable or DSL options. Satellite solutions are more expensive with more than half the download speeds. Thanks! Bob
10 months ago Heidi Furrow
My husband and I love to travel in our RV throughout the United States and Canada, so finding a wifi service that could meet our needs was a big challenge. We had already tried Verizon and US Cellular hotspots, but both had limited GB plans that were very expensive. This meant we couldn't stream movies or use our tablets and/or computer very much other than to quickly check emails and bill paying. During my search for a reliable and affordable service I found Fire WiFi. I was skeptical at first because I couldn't believe there was a service that offered great wifi coverage all over the US with no cap on usage. I spoke to Trent at Fire WiFi several times with many questions before we made the decision to give it a try. I knew I could suspend the service anytime so I had nothing to lose. I have never had better wifi coverage even while we were in New Mexico and the Arizona desert. We watch all the Netflix movies and YouTube videos we want now whether we are dry camping or driving down the highway. The customer service is the best I've ever had as well. I would encourage anyone who needs great unlimited wifi service to give them a call. I know you won't regret doing so.
10 months ago
Popular places from the category Internet service provider