Valley Battery
Car battery store Valley Battery, 5132 Auburn Blvd, Sacramento, CA 95841, United States:
118 reviews
of users and employees, detailed information about the address, opening hours, location on the map, attendance, photos, menus, phone number and a huge amount of other detailed and useful information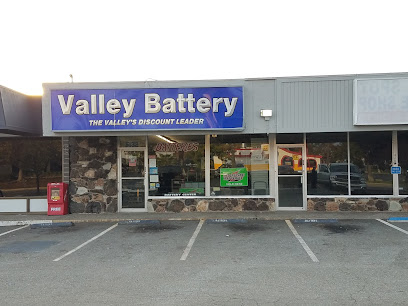 Address:
5132 Auburn Blvd, Sacramento, CA 95841, United States
GPS coordinates
Latitude:
38.6620967
Longitude:
-121.3449467
reviews Susanne Nielson
Great people, patient, excellent service. I highly recommend them. They also recycle batteries.
9 months ago Eileen Zirngibl
I bought a used battery in July for a truck that doesn't get driven very often. It went dead around the holidays and I left it alone until the new year. I tried to charge it at home, but that didn't work. I called to ask about the warranty and was told to bring it in to be tested before doing anything. They charged it for me at no cost and it's working again. Great customer service.
2 weeks ago Glenda Price
Jeff at Valley and his staff are great. They went out and tested my battery to make sure that my battery was bad before he sold me a battery it ends up that my alternator was bad and that's what caused my battery to drain he went through all the steps to check it and make sure that I didn't buy something that wasn't needed awesome awesome I recommend valley battery for any battery you need go see Jeff
10 months ago Gayla Clingingsmith
Great prices. Tony was helpful.
9 months ago Amy Charles
Always great service. I've been a customer for twenty years. One time was there on a Sunday when they were closed and while trying to figure out were else to go the owner came out to my car and asked if I needed a battery. The man opened his store just for me. He has a customer for life.
3 months ago More Shamus
The two gentlemen that were working there were most helpful and knowledgeable very nice guys
11 months ago Dustin Depriest
Great service, very friendly folks. Highly recommend for any battery needs
11 months ago Nathan Cortez
Helpful employees, great prices on refurbished batteries when you bring your old one in on exchange. Hopefully they stick around for a while.
10 months ago Ruslan Cebrailov
Showed there for years good guys very amicable and helpful
10 months ago Nicole Babbitt
As a business owner I'm always testing the people I'm working went. Allen passed my test with his honesty and great prices. Will send all my vehicles here! Thank you.
2 months ago Tiffani Huynh
Employee Stayed after work to charge the motorcycle battery we had just purchased. Very good customer service thank you
11 months ago Prit Lakhani
Always good prices and best service been buying batteries for years now
3 weeks ago NICOLA AMATO
Great customer service very helpful and polite I will be returning again
4 months ago Richard Pollack
Battery went bad on my car after calling around for new one found out it was very expensive nearly 300.00, couldn't afford that so someone recommended I check with this business and man did it pay off. Got another battery for 68.00, yes you heard right! What a great find ill definitely come back here again if needed. Great customer service and very helpful. Thanks guys
6 months ago Napoleon Bonaparte
I was in there a couple days ago and got help from Tony, he was very polite and very smart, he didn't hesitate to help me install my new battery, I would definitely recommend them to my friends and family, and I will definitely come back just for tony to help me out
5 months ago John Lovetere
Went to their yesterday and they had this very nice employee named tony who was very polite and very helpful, he helped me put in a new battery for my 2012 nissan, the man was very knowledgeable when it came to his job, will definitely come back to this store just for tony to help me out again
10 months ago Sydney Shatz
Service was great! Information or any questions about batteries and accessories they have the answers. Very helpful. They also sale used batteries if you can't afford a brand new one.
8 months ago Derek Mc
Very good help. Very nice person and offered to go out of his way to get product.
5 months ago Jennifer White
Cheap car batteries but the customer service guy gave me the wrong battery even after I asked him if he was sure that it was the right one for my BMW cuz it calls for a very high cold cranking amp battery like 1000k cca and he gave me one that only has about 800cca so my BMW is having some major electrical issues and throwing a bunch of trouble codes now.
3 months ago Leo Nicolet
I got a used battery for $58. You cannot beat that. It works just fine! Friendly helpful staff installed it. I was on my way in 10 minute total.
9 months ago Jack Lenihan
A great place to get a battery car battery
1 week ago Anindita Ghosh
Yes, they had the small batteries that were in my trucks key fob!
1 day ago Mohammed Alrubae
I been using Valley Battery for almost 9 years now buying battery's from him and taking old battery's to him. I have even sent several of my friends there for batteries and they have all been very happy with the product in the service this gentleman is
6 months ago Denise Lindsay
I love this place and don't go anywhere but there
10 months ago Terrance Smith
Helpful staff. Quick service. Totally a great place to get an inexpensive battery. Happy to support a local business!
10 months ago minako takahashi
Great place and I would recommend it.
2 months ago Annette Allen
I love bringing old batteries here for cash I give them 5 stars for the good fast service thank you Valley Battery
8 months ago Quang Nguyen
Professional and friendly service
11 months ago Emil Inoa
Needed a battery for my old Volvo. Tony has one in stock and was surprised how nice his store is and what great service
11 months ago Stephanie Roberson
Best deals. Best battery for your buck. Best customer service... I've been loyal to this business for almost 20 years
11 months ago alli coslett
Valley Battery. Service is off the charts. Thanx Tony
8 months ago Michelle Gray
Great service very friendly would recommend to all
8 months ago Ivan Mendez
I have gone to valley battery for several years now, and have always received the best advice and help. They always have the correct battery in stock and I can get in the car or truck now. Thanks to the whole team
1 month ago Tim Truong
Cheap and very helpful workers
8 months ago Kat
Awesome costumer service!
8 months ago Rich Brown
Got a cheap battery but horrible customer service. I got a used battery for my car and they handed me the tools and basically said "do it yourself" and a second later another gentleman bought a new battery and they immediately offered help and helped him put his new battery in. Not happy. Is it because I'm a girl? Because it's a used battery? Not sure but didn't appreciate it.
2 days ago McLean Godley
Been to this place about 5 years ago before they remodeled and was giving a great deal with an even better warranty agreement so I expected the same experience which I was wrong, talked to a guy over the phone told him what I was looking for and he quoted me a price and told me to come in so I drove 23 minutes out my way to pick up the battery he described over the phone and it wasn't the same battery and the price had almost doubled I don't know if I look like free money but I refuse to give away my hard earned money to anybody who's dishonest and greedy I'm good I can take my money elsewhere
10 months ago Pamela Tragas
Have always helped me out with options.
6 months ago Tina Ma
Tony & Allen are the best!! Customer service is on point. Great prices & they dont just try to get over.
10 months ago Olivia Keen
Great service. Great price. Conscientious, knowledgable employees.
9 months ago Ms Chell
Awesome is how I describe the service we received today. Professional, personal and caring service. Thank you Allen, we will share and recommend Valley Battery to everyone ‼️????‼️
5 months ago Sojourn Sheikh
Excellent place for both new and refurbished Auto Batteries. My last refurbished lasted nearly 3 years!! Excellent place!!
1 month ago Sameer Bhura
Great prices and a good variety of products. Go here and you won't be disappointed.
10 months ago William Pierce
I took 4 batteries here to recycle them. The workers were very kind and helpful! The process was quick and I didn't have to wait long at all. I was very pleased with how much they paid me for my batteries! I will definitely be a returning customer and spread the word about this awesome place!
1 month ago kuntal Sardar
The workers here are very nice and respectful. I've been coming here for years.
9 months ago Sophie Doyle
Great store. Always have battery you need at low price. Hidden gem on Auburn Blvd
9 months ago Jonathan Williams
Excellent service, very helpful. Full service & good prices. The only battery one stop shop for me. Very respectful. Double thumbs up!
2 months ago Marius Morar
VALLY BATTERY IS THE BEST USED BATTERY PLACE IN CALIFORNIA AN THAT NO LIE!!! The guy at the front dest is a real good guy i buy alot of battery's every month an i wouldn't go any were else for sure.....
9 months ago Candace L
Knowledgeable staff. The prices are reasonable and very good stock for anything one might need. Product guarantee. Anytime. I have need of shard to find product, they can produce. Love the place.
2 months ago jessica mcgrath
The Best!!! Awesome Customer Service Ever! I'm Always Sending Other People's Their Way☺????.
3 months ago
Popular places from the category Car battery store