The Mobile Notary
Notary public The Mobile Notary, 1002 S Martin Luther King Jr Blvd, Longview, TX 75602, United States:
107 reviews
of users and employees, detailed information about the address, opening hours, location on the map, attendance, photos, menus, phone number and a huge amount of other detailed and useful information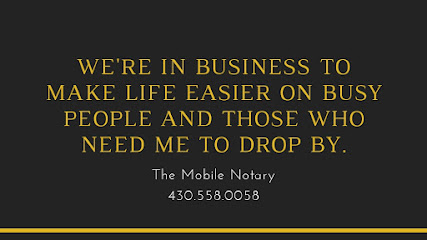 Address:
1002 S Martin Luther King Jr Blvd, Longview, TX 75602, United States
GPS coordinates
Latitude:
32.4793622
Longitude:
-94.7166474
reviews Marsha Hill
Brandon is quick! I can text him and before I know it he is at my door ready with his stamp and professional demeanor. Highly recommend, and we will be using him every time we need a notary.
9 months ago nancy pamnani
Brandon was very professional when he spoke, he answered all pertinent questions in a easy and knowledgeable manner, we were pleased to have Brandon representing us as our mobile notary.
9 months ago Bradley French
Had to fly to texas to have some docs singed met me in the airport and walked me through the whole process. Used his services again and he drove to the location and mailed my docs. Top notch
9 months ago Jessie Hawkins
Brandon is always professional and courteous. He goes out of his way to make sure that we are satisfied with the documents. He was very patient when dealing with my grandmother, and didn't rush her to finish. I highly recommend him and his notary services.
10 months ago Coach Jones
Was willing to do late night signing. Punctual, professional, got it taken care of in a timely manor. Would definitely use again. Thank you so much!
10 months ago Elizabeth Reynolds
Fantastic service! We scheduled online, it was easy and he was able to come in less than an hour to the hospital. Highly recommend!!
10 months ago Leif Miller
Handled the situation late night and professionally would recommend to anyone needing fast helpful service
10 months ago joe vitale
Loved this experience! Professional, kind and on time. Explained everything to us and would definitely recommend!
11 months ago Dave McAllister
Branden was so helpful and was able to get us help the same day! Great service and would definitely recommend!!
11 months ago Ray Curtis
Brandon was 10 minutes early, moved through the paper work for our refinance with my wife and I in a quick, friendly, professional manner. He was well prepared. I would recommend.
4 months ago David Schaefer
Excellent service! Responded efficiently and took care of matter right away. Definitely saved my butt when it came to registering for college
2 months ago tatu lappalainen
Had no problems when we changed our closing very friendly would definitely use Brandon again.
2 weeks ago Marie Bare
Very professional and convenient, the response time was amazing. I would most definitely use this service again. Thank you!
3 weeks ago Mohammad Soibe
The notary was very professional and well versed in his knowledge of all the documents we needed to sign. Trust me There were a lot of documents and he was able to describe each item in layman's terms. I would highly recommend him!
4 months ago Nicole Foster
I was not in rush just needed to get it done. When I reached out, within a minute Mr. Johnson replied back. Thank you for your service and I definitely will be back.
3 weeks ago Bill guard
Definitely will be using his serviceS whenever it's need and referring to anyone in need of this service.
11 months ago Deborah Morrisey
Words cannot express how I felt after working with this business owner today. Hands-down..... this man is professional, loyal, compassionate, and an awesome person. I feel blessed now to be a happy customer as well as meeting a "great soul" in the "not so great" times in our world. My husband and I will be future customers from here on out.
6 months ago AJ YAZDANI
Highly knowledgeable. He was good at answering questions about the documents in words I can understand.
1 week ago Belinda Cobb
Branden was a delight to deal with and he handle the entire process in a very professional manner.
11 months ago Amrit Sinha
Always on time. Gotta love them.
10 months ago June Hughes
Our office recently worked with Branden to obtain signatures for a transaction where our Seller was unable to leave their home and attend the closing at our office. Branden stepped right in without hesitation and all parties were very pleased with his assistance. I would recommend his services to anyone and will be sure to request him in the future!
5 months ago Timothy Price
Very responsive. Very quick to handle last minute need. Definitely recommend. I will use again in the future.
3 months ago Benjamin Whitney
He was very professional. He communicated prior to appointment and day of appointment. I definatly recommend his service.
3 months ago Joey Harrell
He was very nice. Communicated well with my husband before our appointment and the day of. He was very professional as well.
2 months ago Nicholas Tolbert
Highly recommend he responded quickly and very professional . I will use again in the future.
3 months ago Jason Roling
The Mobile Notary is extremely convenient, responsive and fast! Your notary needs will be taken care of in a jiffy. I've used his services more than once and surely I will again.
3 months ago J Doe
I have yet to use this service, but I can speak to his character. I've known him for years and he is an honest, caring man. Very in tuned with policies and procedures. Just an all around good guy. When his services are needed, I will be using him, until then I refer folks to him.
8 months ago stephane marzabal
We highly recommend using this service. What an awesome guy too! We originally were scheduled to sign closing documents at one time when a few bumps happened and had to push it back a few hours. He came out as soon as he had the documents from the buyer's lender and squeezed us in between two of his appointments that were both 30 minutes away from us. Very courteous and mindful regarding the Safety procedures (Covid) and not to mention the whole process.
9 months ago Nicole Arosemena
Great communication, availability and service. Fair pricing. I contacted Brandon at the last minute and he responded to our need. Highly recommend!
9 months ago Ronald Bolstridge
Branden was WONDERFUL and quick to work with!! Highly recommend
1 month ago Bonnie Kelly
Very fast. He is very knowledgeable.
3 months ago Joe Davis
On-time, professional, and courteous. Answered all questions and made sure We understood everything That was signed. The service was awesome. Would strongly recommend services.
8 months ago Jorgen Madsen
I found The Mobile Notary to be professional, dependable,friendly, and the price was great. I recommend The Mobile Notary to everyone who is in need of a notary. You will not be dissatisfied or disappointed. Awesome service. PBoykins
8 months ago Esperanza Mora
Arrived perfectly on time, everything I signed was explained clearly, and good company!
2 months ago mark riphagen
Very professional guy. And he is also very quick with his services
4 months ago April Hunt
When I was unable to travel to the closing on my house, the Mobile Notary was able to come to me on a 4 hour notice and complete the transaction. Gracious, knowledgeable, efficient, personable. I wish all service were this good!
8 months ago Wyatt Marshall
Great service, very convenient, Thanks!
10 months ago Tulla Hunt
Brandon was extremely efficient in our closing. He arrived on time and was knowledgeable about the forms we were signing. This was our second refinance but our first closing with The Mobile Notary and this time it was much easier start to finish!!
8 months ago Gati Rose
Brandon Johnson is a stand up gentleman. He was the ONLY one who needed the business because others couldn't be bothered. He did an outstanding job of explaining and made us feel comfortable about our issue. Thank you, Sir for coming to our rescue. ❤️
1 month ago Errol Loanzon
I spoke to Brandon at 8 am this morning, he was kind calm and Professional. I was rushed because I needed a couple of documents Notarized literally yesterday! Brandon assured me that he would have the documents done in a timely manner. I received the documents within 30 minutes of my first conversation with Brandon. Fifteen of those minutes was spent organizing the meeting with the customer. He went above and beyond to get this done quickly. I really appreciate your help Brandon, thank you
10 months ago Natan Hagopian
Very professional. All paperwork was in order and our signing was very efficient.
5 months ago Edward Streiff
Brandon was very courteous and informed. He was very aware of Covid19 protocols as well and complied to requirements. Our transaction was conducted smoothly and efficiently. We will use him again if the beed arises.
8 months ago Todd Vaught
Love the quick response. Ability to take care of business immediately and efficiently. Come highly recommended.
11 months ago Rhonda Mastain
Branden was very nice and came out on a Saturday since Quicken Loans messed up our paperwork. He was professional and kind. Explained everything in the paperwork and understood our frustration. I would highly recommend him to anyone. Enjoyed his company and for making a stressful situation better. He was made for his job!
9 months ago Andre Serralde
Branden was awesome! On-time, professional, and courteous. Answered all questions and made sure I understood everything I was signing.
9 months ago Princess Eweka
Excellent service. He did exactly what we needed and helped our family. 10/10. Great job!
8 months ago Ryan Smith
Very professional and timely. I would recommend him for any of your notary needs.
8 months ago Glen Howell
Branden was on time and had everything ready. Would definitely recommend his service. He is a man with a Godly heart.
11 months ago Tonkie Nelson
I need a POA signed. After calling Brandon with my request he was there an hour later. Fast and efficient. Highly recommended.
9 months ago Matthew M
Easy transaction...... Easy to work with and flexible schedule!!!
2 months ago
Popular places from the category Notary public