Vanner Perez Notaries
Notary public Vanner Perez Notaries, 3 More London Riverside, London SE1 2RE, United Kingdom:
99 reviews
of users and employees, detailed information about the address, opening hours, location on the map, attendance, photos, menus, phone number and a huge amount of other detailed and useful information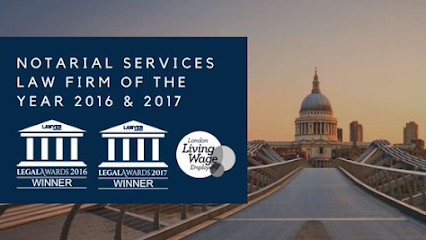 Address:
3 More London Riverside, London SE1 2RE, United Kingdom
GPS coordinates
Latitude:
51.5045609
Longitude:
-0.0798869
reviews thea payne
I am extremely happy with the service I received. Beatrice is a pleasure to work with! Very professional, kind, quick responding to emails, knowledgeable and efficient. I had a time sensitive matter (dealing with the US embassy) and they helped me with everything in a quick and efficient way. Also very happy with the competitive prices.
11 months ago William Diem
Great communication, a smooth and fast service, and a can-do attitude which gave us peace of mind, James and Beatrice exceeded our expectations in every respect. Highly recommended!
9 months ago Alex Griffin
I used VP Notaries before in 2014 & 2015 where I met James. This time I met Sören and Samantha. Extremely happy with the professional service I received, everything in a quick and efficient way. Quick responding to emails, knowledgeable and efficient. Very happy with their competitive prices. I would highly recommend them. Thank you to all of your team. Also very happy with the competitive price
10 months ago Jessica Folgado
I am very happy about the service they provided me. Beatrice gave me all the information I needed and updated me during the process. She was very professional and nice, offering an impeccable service.
11 months ago brenda rice
Very impressed with Vanner Perez Notaries' professionalism and how quickly they got back to me when I first sent them my inquiry, they took the time to explain the processes to obtain my certificate and were very flexible offering me different options and appointment times. Their fees are very reasonable compared to other notaries. Diana kept me constantly up to date and she got in touch with me as soon as my certificate was ready, it was processed much quicker than expected. Diana and Javier were excellent. I will no doubt use VP notaries' services again and I would definitely recommend to friends and family.
6 months ago Julie Thibault
I contacted them to get a document notarised whereby Beatrice had responded within a day. She handled my process from start to end with professionalism and had been extremely helpful. Definitely would recommend Vanner Perez Notaries to those who are looking to get their documents notarised.
2 months ago Linda Beasley
Quick communication, professional service and was able to accommodate my urgent request. Competitive pricing, too!
1 week ago Moises Quezada
Absolutely professional: clean, precise, quick responses to all requests!
11 months ago Pauline Nguyen
Would highly recommend them to anyone looking to get any document attested! They made the whole process super simply and efficient for me. Many thanks to Sören who was extremely professional and responsive and kept me informed at all times.
5 months ago Mark Brainard
I highly recommend them. It´s the second time I use their services and I´m very happy. They work hard, are professional, kind, and respond very quickly to e-mail queries. Diana has been excellent. I will definitely use their services again.
8 months ago Wayne Szurka
Really great service. Had to get a couple of degree certificates notarised on short notice and they were brilliant. Very fast, excellent communication, and the price was a low as I could find anywhere else, perhaps lower considering it was more than one certificate. Really easy for me, had to do the most minimal of tasks. Would 100% recommend.
9 months ago Pankaj Ahire
Vanner Perez Notaries excels in professionalism and quality of service. In particular, Diana Diaz Valdes did an amazing job in ensuring that the notary services I requested were completed in a professional manner. I would highly recommend this firm.
6 months ago Debbie Blackwell
Beatrice at Vanner Perez was extremely responsive and professional in handling the legalisation of my documents for my Italian Nationality application.
5 months ago Olivia Watts
Swift, professional service from Samantha, with follow-up and advice after the appointment. Very impressed.
7 months ago Jenn C
A professional and personal service that was smooth from start to finish. Great rates, too!
8 months ago veena krishnan
A friendly, professional and efficient service. I received updates frequently throughout the entirety of the process. Beatrice was always very informative and was happy to answer any questions I had along the way. A service I couldn't fault from start to finish.
11 months ago Caleb Richardson
David Wheatley was very kind and did a great job. I highly recommend if you need to have some documents notarized. Their prices are reasonable compare to other public notaries.
10 months ago Jocellyn Pinero
Friendly, professiional and efficient service. They processed my request very quickly and effectively
11 months ago Clay Scruggs
Very impressed. All correspondence is quick and their response time is brilliant. Good rates and highly professional service. Would definitely recommend
11 months ago Joshua Lombard
Excellent value for money compared to other notary practices. All the people I dealt with acted professionally. I would highly recommend them.
10 months ago Natalie Wright
I would recommend this place unreservedly. I received detailed and thorough guidance with regards to getting my documents notarised for overseas work and initially thought it was going to be a complex process. To my surprise, the entire process took only a couple of days. I found the quality of service and Beatrice's expertise and professionalism to be outstanding.
10 months ago Mark Hsu
First class - a complex overseas legalisation for my son in Vietnam. They know what they are doing and are helpful, attentive and professional. I unreservedly recommend them
2 months ago Cammie Rone
Over the past 18 months i have used Javier at VP Notaries with regard to drafting and executing Power of Attorneys for my use in Spain. Each time Javier and Diana have been a delight to work with...incredibly helpful and super efficient. Very approachable and everything explained in plain English (with a Spanish accent!) Highly Recommended
2 months ago Valentin Despa
After a lot of correspondence with Sören about document Notarization, my personal circumstances changed which meant I no longer required this. However they were extremely genuine and helpful, will certainly use this company in future if I am in need of these services. Edited: I actually needed to use the notary, Sören made this a very pleasant and quick experience. Highly recommended.
11 months ago Elizabeth Rios
Super great service, emailed me back immediately regarding my enquiry to get documents notarised for a property transfer. Got an appointment the following day, everything was explained to me and sorted quickly. Price was very reasonable compared to some of the quotes I had gotten.
10 months ago Kristen Clark
I cannot recommend V P Notaries enough. I needed some documents notarised at very, very short notice, and being new to London, all I could do was look up 'public notaries near me'. I called them at 11am, was told to send over the documents for them to look through, and they got back to me in 10 minutes. I was very fortunate that they managed to slot me in for 1.30pm the same day. The actual notarisation was a breeze, and Samantha was incredibly reassuring and so considerate even though it was a super small job. I needed the documents couriered to Singapore, which they did for a fee, and Samantha emailed me a soft copy by the time I left the building. Really excellent service, and the affordability is a real plus. Honestly a godsend!
8 months ago J S
Absolutely fantastic. Beatrice helped me with the notarisation and authentication process for the Chinese Z Visa, and was there every step of the way: friendly, professional, clearly dedicated, and always happy to keep me regularly updated and answer any questions I had. The process itself was affordable and very fast, and I cannot recommend this company or Ms Stoddard enough!
1 hour ago Rodney Workman
Vanner Perez made the nail-biting, hair-pulling process of getting documents legalised for China Work Permit applications a doddle. Extremely knowledgable on all the nitty-gritty details (especially when time is at a premium). Friendly, professional and communicative. If I could give them 6 starts, I would.
10 months ago Rick Snyder
Very efficient, professional and friendly service. Highly recommended if you need your documents notarised.
11 months ago Mary Bowles
Very friendly, professional and quick service.
10 months ago Mason Bourdeau
A Great service with the team helping you every step of the way. Always just an email away if there is confusion or if you just need the support. I would advise ayone to use this service.
10 months ago Darrell Dale
Very helpful and quick responses. If I think about, I did not had to travel to the UK to legalise my diploma, I can say their prices are correct! Thank you!
10 months ago Dennis Greany
The firm, particularly Sören Hartmann, the paralegal who took on my request, were incredibly professional and effective even in light of a global pandemic -- performing their jobs admirably even as they took safeguards to protect themselves. Would definitely recommend them.
2 months ago Ralph Tripp
Excellent! Super professional and friendly. My contact with Javier Perez-Manglano and Diana Diaz Valdes Teran was really pleasant and they were both immensely helpful providing advice and solutions to my query. They were both able to provide help in Spanish as well as in English. I am very grateful for their help. Wholeheartedly recommend them.
10 months ago Lorenzo Pascual
Excellent service! Very professional , since I got contact with them, Diana she was answering to me super quick and very helpful .Thanks a lot for your help Diana I will look forward in the future, 100% Sure coming back in if I need you again ! And thanks to Javier too, it was a pleasure to meet you guys and I will recommend if someone need your services. Very happy!
11 months ago Laura Drago
I was in touch with Mr. Sören Hartmann for notarising and apostille of my University Degree from Foreign & Commonwealth Office (FCO) and Kuwait Embassy. I wanted it done on an urgent basis. Mr. Soren handled it smoothly and professionally. I received my attested certificates before the expected date. With this I thank them for the great service.
11 months ago Rosalynn Hamilton
Would highly recommend this notary service. Excellent communication, thorough, professional and friendly.
11 months ago set draggo
Stellar service. No job too big or small for Beatrice and David. I would 100% recommend Vanner Perez to anyone in need of notary services - flawless experience all the way through, they definitely deserve their five star reviews.
10 months ago Adina Tapp
I've asked Javier and his team for help 2 times in the last couple years. Both with outstanding results. First time, we needed special will of power for my dad to act on our behalf in Spain to buy an apartment, all sorted within 3 days so we could move forward faster than expected. The second time has been an even trickier one. We have a visa appointment in the embassy and my company missed the marriage certificate translation. Javier and the team sorted everything out for us in less than 24 hours saving us from a potential delay of 2-3 weeks. Definitely worth the service, the attention to detail and the kindness the put on everything they do. Thank you so much again for all your help!
8 months ago Nada Forsman
Soren Hartmann of VPN recently completed the notarisation of a document for me. Soren was polite and professional at all times, and always responsive to calls and emails. Compared with other notaries I've worked with in the past, the quality of service provided by Soren/VPN has been the best. I would have no hesitation in using the services of VPN in future, and highly recommend them.
4 weeks ago Elizabeth G
I am a new British client to Vanner Perez Notaries. I was recommended them by my Spanish solicitors based in Denia. The assistance and patience extended to my family and I in the course of their service provided was greatly appreciated. I mainly dealt with Javier at the above firm, and would have no hesitation in recommending him to anyone needing a notarial service in the U.K. re. Spanish legal documents etc. Muchas gracias again Javier for your support, and advice in dealing with our requirements.
10 months ago Stephen McGuire
I engaged VP Notaries to certify some documentation which I required for an Irish citizenship application. I dealt with David Wheatley who was professional, very helpful and responsive. In addition to certifying my documents, he provided some extremely useful advice, which ended up saving me time and money. I would highly recommend the notary service.
8 months ago Jeff Tatman
After comparing several notaries, I went for Vanner Perez for its price being the most reasonable. The representative who dealt with me was immensely helpful and polite despite me asking her tons of questions and confirmations. Once the payment was done, they took over and finished the whole process within 10 days, which was faster than I expected. Everything went so smoothly thanks to them and their service was well worth the price. Will definitely recommend to others and use their service again.
8 months ago Joe Offutt
Excellent service, Diana made my Chinese visa application process easy! Quick at replying to all questions and a fast efficient service. Thank you so much for everything - would definitely recommend the services here.
4 months ago Charles Lewis
Very professional, fast and efficient service. Beatrice was incredibly helpful and always replied to my emails promptly and with great detail. I highly recommend it.
4 months ago Amandeep Takhar
I used VP to authenticate documents I needed for a job in China and I genuinely cannot praise them enough. From my 1st phone conversation with Diana to the confirmation that my documents had safely arrived in China, VP provided an outstanding service and kept me updated at every stage so that I could keep my employer up to date with what was happening. Chinese Visa requirements can be very confusing and complex so knowing my documents were in the hands of experts really put my mind at ease. Save yourself a lot of hassle and use VP if you want your Z visa documents notarised etc.
1 week ago kathleen hayes
Very pleased with the service and responsiveness provided by the Vanner Perez team, as they supported me in a recent U.S. real estate transaction. High level of communication throughout the process, quick to answer questions, and very flexible as timelines shifted late in the process.
8 months ago Teri Galvan
My issue was quite complex. I greatly appreciate friendly and professional responses and clarifications provided. Happy to recommend Vanner Perez Notaries. I wouldn't hesitate to get back in the future if needed. Thank you once again for your support.
1 month ago R Olkowski
I received an amazing service from VP Notaries recently. Everyone involved was so friendly and helpful! They went out of their way to help with my request and were very professional. They are extremely competent so I would highly recommend their services to anyone.
5 months ago Ruby Bretherton
They notarised my degree from a UK university for a teaching position in China and then sent the finished document to me abroad in the Philippines. Outstanding customer service. I would definitely use them again and recommend them to others. The entire process was simple, efficient and speedy. Staff are highly professional and friendly. Do yourself a favour and contact them for all your notary requirements.
2 months ago
Popular places from the category Notary public