Hammond's Fishing
Fishing store Hammond's Fishing, 4235 Browns Bridge Rd, Cumming, GA 30041, United States:
206 reviews
of users and employees, detailed information about the address, opening hours, location on the map, attendance, photos, menus, phone number and a huge amount of other detailed and useful information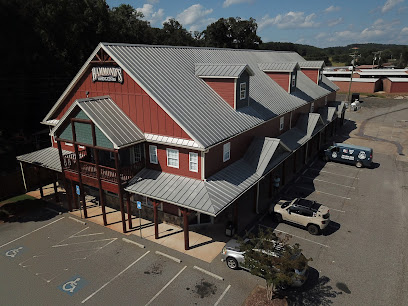 Address:
4235 Browns Bridge Rd, Cumming, GA 30041, United States
GPS coordinates
Latitude:
34.2588782
Longitude:
-84.0755189
reviews Emma Westemeier
If they don't have it, it doesn't exist. I stopped in this morning to pick up a few things and was shocked at just how much tackle this place has to choose from. On top of that, customer service was excellent. The gentleman behind the counter couldn't have been more helpful when I asked for assistance picking out a new spinning rod and reel combo. I'll definitely swing by again next time I'm in the area and have a need for tackle.
8 months ago Oluwatobi Ojoyeyi
So glad these guys are in my backyard. I have purchased several rods and reels, as-well as most of the tackle in my tackle box. The whole staff is always helpful and make sure you get exactly what you need. I am a forever customer!
10 months ago victoria gonzales
Hammond's always has the most helpful employees and their prices are less than Basspro. It one of the few places you can great lures and even some local items like GA Jig and Blade. My go to tackle shop if you want to know what is working best just ask them .
10 months ago Ginelle Mohrhardt
Love this place. Like a mini bass pro shop. All they need is aquarium.
9 months ago William Aultman
Absolutely where you need to go if you're in need of fishing supplies or bait. Skip #dickssportinggoods and go support this business. I was down from North Carolina visiting family and was super pleased to find this businesses!
2 weeks ago Victoria Frick
If you need it they probably have it. Even during this mess we're in. Caught on Valentine's day with tackle from Hammonds.
1 week ago Ryan Ashe
Love them. Such nice people and great prices
2 weeks ago Mr Bodich
Great place helpful staff lots of bait and tackle
9 months ago Agneta Kita
Been going here the past couple years. Great people, incredible selection of lures, low end to enthusiast level rods and reels, Hammond's has it all. I won't shop anywhere else.
4 weeks ago David newell
Placed my 1st order with Hammonds online on 2-16-21, received my exact order on 2-18-21! Great selection, competitive prices, and super fast shipping. This was my 1st order, and it won't be my last with Hammonds. Hopefully, I can visit the store in person soon and spend some time looking at their wide selection of fishing gear. Great job Hammonds!
2 weeks ago Kris Martin
I would like to say that I have been purchasing items from this store for over 4 years. There has not been 1 time when they could not provide me with bait. There have been many times at other bait stores which they stated herring was out for the entire lake but sure enough hammonds had them! Also I purchased a shimano baitcaster rod and after the 2 year warranty expired I was unable to return it to shimano. Although hammonds could not give me a new one they gave me an amazing discount on a newer and nicer rod. Overall they have amazing selection with good prices. If you ever have a problem they will make it right!
10 months ago Anas Abed
This place has all around good people. They know the lake and carry all the right stuff. A must stop for every fishing day. Supplies are a little low right now due to Covid but they regularly carry plenty of what you need.
3 months ago angelica parker
Great selection of bait and tackle. Friendly, knowledgeable staff. They gave me advice on what to use to catch bass on Lanier. I went out after and caught my PB. ????????
8 months ago Gregory Conley
I thought about not posting this, but dang it, I'm going to post it anyway, because I wrote it, and it's the TRUTH. I flipping love this fishing store. It is the best dang fishing store ever, PERIOD. They got just about EVERYTHING. Skip the long and pricey shipping from other places, just visit Hammonds.
3 months ago Bronson Wright
I've been shopping here off and on for years. Great, friendly staff, great swag merch in the store. They even have a small fly fishing selection
2 months ago Estefani Ridimann
Always have what I need and are very helpful and friendly.
10 months ago Sanyam Chauhan
Best fishing tackle store you ever see. Knowledgeable staff in all types of fishing. If you love fishing this is the store for you.
4 months ago John Lu
Great place for fishing supplies If they don't have it they can order it
1 month ago Vinoth Kumar
Me and my husband love Hammonds and the Boys that run it there all down to earth good ole boys that treat you with the up most respect always willing to help me every time I go in they alway drop what there doing to come help me find what I need and always offer best prices around we will never go anywhere else for Our fishing needs
1 month ago Robert Jackson
Some of the nicest and most knowledgeable fisherman
9 months ago Natalia ODonnell
This place is hoppin' with customers for good reason! Great selection of everything. I can't stress this enough: Much better selection of lures that actually work in the area and great staff with locally relevant knowledge. That combo beats out the big boys any day of the week. Highly recommend.
8 months ago susannah gingras
This place is great. If you are a fisherman like myself, you will like Hammonds. They have just about everything you could want and then some. I was pleasantly surprised on the amount of everything they keep in stock, you usually don't see this kind of inventory in a "smaller" fishing shop. Prices are fair, staff is friendly, what more could you want. Will be back soon for more goodies!
10 months ago Drew Browning
This place is almost an hour from me, but it's the best bait and tackle shop in the Northeast Ga area. The guys who own this place are extremely knowledgeable and helpful, and one of the many reasons I keep coming here for my fishing needs. Highly recommend!!!
9 months ago michael stansbury
This place is very expensive and I always find what I need for my fishing trips.
2 months ago Ken Miller
Best place to buy fishing gear in GA! Great selection and great customer service.
6 months ago Rachael Free
I had a typo in my shipping address, and they texted me when the package was returned to them to confirm the address. When I noticed it was wrong, they corrected it for me, resent me the order confirmation, and reshipped. Amazing customer service. I absolutely will purchase from them again.
7 months ago joe jones
This place is awesome. Great tackle store. Great people. Best bait fish around.
9 months ago Timothy Reggev
Can't believe a fishing store doesn't sell fishing license
9 months ago Derek Smith
Pretty much anything you want for fishing. Regular fishing, baitcasting and fly fishing. Friendly staff.
7 months ago Master Scorpion
Helpful staff and large selection of gear. Fantastic quality live bait.
11 months ago Eleanor Gill
I called ti see if they had wax worms. They said they did but when I got there they told me they didn't. They didn't even apologize
7 months ago George Wade
I remember going to Hammonds gas station for their large tackle selection when I was a kid. 30 yrs later they have grown into the bait and tackle dreamland that they are today. I still get just as excited to go there as an adult as I did when I was a kid.
9 months ago abdul kader
Great fishing shop! They've got everything you'll need for a day on Lanier. Always helpful and friendly staff. Our kayak fishing club meets there often for weekend fishing trips. Thanks from Georgia Kayak Fishing!
11 months ago Melissa Preble
These guys are in point. They answered all my questions helped with bait and spooled my reel for me..Thanks guy keep up the good work..
4 months ago Rianna Romanowski
Great family owned business.
4 months ago greg ratliff
9 times out of 10, if you need it, they have it. If they don't, they will get it for you! By far best lure selection around. They have about every soft plastic your heart could desire. The prices are normally matched, or better than anywhere else. Definitely the place to go if you're fishing Lanier.
2 months ago Kandy Lomax
Very expensive but lots of stuff
11 months ago Rupmati Kayal
Grate place for hard to find baits. Great selection and knowledgeable and friendly staff.
10 months ago Amanda Harris
What a Outstanding Fish Center! Staff is incredible and I had no issues at all with my dog in store. The selection is overwhelming and choices for local and independent lure and bait makers is top shelf. Prices are worth the 80 mile round trip. Again, Most Outstanding in service, selection and pricing.
10 months ago Melissa Nobles
Unbelievably satisfied with my experience! Would highly recommend to any fishing enthusiast.
8 months ago Liz Chester
Great place for fishing, boating and Beach needs. Huge selection of fishing lures, worms and other things that you want or need. Nice hats, shirts, shorts and other apparel. Employees are very knowledgeable, helpful and friendly.
10 months ago Sobin Benny
Best bait n tackle spot around hands down
9 months ago Julie Mandrell
Just as good as a bass pro shop
8 months ago Lauren Stamper
Good as always
11 months ago Angela Valentine
This is absolutely the best tackle and bait shop in Georgia. They have all the tackle you could ever need and bait is always plentiful. The staff is helpful and try hard to make sure you have everything you need to be successful on the water. Thanks Hammonds fishing center for everything you do for us!
11 months ago TA Scholl
Good place to stop if you're going to Lake Lanier or a similar lake. Plenty of fishing, boating, etc. type of stuff.
9 months ago krazy rocker
The best staff very knowledgeable, aways in the know with the condition s of local lakes .
10 months ago Jason Kracht
Great small store with a little bit of everything
7 months ago Ghenadie Lihonin
Its a great place with awesome selection of artificial and live bait and it is close to where I live
9 months ago Tara Harris
Rad little set up with a non aggressive sales staff. Makes all the difference if they aren't right behind you every time you turn around.
11 months ago
Popular places from the category Fishing store