Fishermen's Factory Outlet
Fishing store Fishermen's Factory Outlet, 1803 18th St, Spirit Lake, IA 51360, United States:
166 reviews
of users and employees, detailed information about the address, opening hours, location on the map, attendance, photos, menus, phone number and a huge amount of other detailed and useful information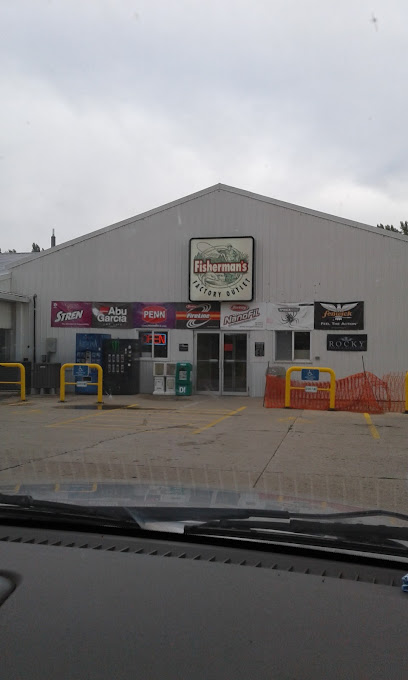 Address:
1803 18th St, Spirit Lake, IA 51360, United States
GPS coordinates
Latitude:
43.4220770
Longitude:
-95.1181644
reviews anna syed
Great prices nice inventory
10 months ago Trina Coleman
Placed an order online on March 28. Kept checking the status and it said "processing". Checked again today and it said they were out of stock of 2 of the items I ordered. Emailed and called customer service to cancel the order, which they did. Two days later my order showed up. I was charged, which is fine since they shipped, but it seems their inventory system is a bit off. Would not expect stuff to ship quickly, but items did arrive.
2 months ago Lindsey Compton
Nice place to shop at and also very cheap.
11 months ago Julie Green
Solid prices with help if you need it, the store is just sectioned out strangely so it takes a bit of time to understand it if you don't go often
4 months ago penny porter
Dwayne helped me today, it was a fantastic experience. His customer service was great and provided us with everything we needed.
3 months ago James Green
Fantastic prices on all things fishing.
8 months ago Deborah Brooks
Never been before and it was an awesome store. A lot of fishing gear that we don't have back home in eastern Washington.
10 months ago Elizabeth Kingston
Awesome store wonderful staff and worked with us for an upcoming event! Amazing prices on quality fishing gear!
8 months ago Aaron Annan
Great deals on lots of items. The deals are on last year models and older items. You call also find plenty of new gear for standard prices.
11 months ago Staci Chapman
Nice fishing gear here, and the live bait is cheap
9 months ago Tami Sexton
Great selection at a low price
11 months ago TJ Adams
I thought it would be better. I figured they would have more stuff. You have to rummage through rod rack to find anything good. Staff was semi friendly I felt like more of a hassle than a customer. Bought a cheap rod for my son and I decided to go buy a rod elsewhere.
8 months ago Con Parisis
It's a hit and miss what is on sale, but otherwise my all-time favorite fishing tackle store
10 months ago Bow Chuong
Good prices, if you are in area you need to stop by!
1 month ago Scarlett Smith
Great prices and a large variety of fishing gear!
4 months ago Clifton Graves
This place always has good deals. Its the best place to find cheap fishing rods and reels.
3 months ago Chris Adler
Got a big scoop of minnows at a fair price
9 months ago Peter Kingson
Very mans dream in walk into a store that makes you want it al
10 months ago VIET UK
Great selection of Berkley, Hardy and other fishing equipment
11 months ago Ervin Ward
Great place always a good deal.
11 months ago Cheri Yadon
The guys love this store. Very reasonable prices.
11 months ago Jacky Galan
Spent a lot of money in there and everything I bought had issues. From them spooling line on backwards to parts being left out of the ice shack I bought and its poor assembly. I had to return to the store 4 times to get everything right [I live over an hour away] when I asked the manager if he could do anything for me he responded to me "not at this point" then turned around and left. Every encounter was good until the one with the manager everyone took care of me well except for him. Think his name might have been John. Needless to say thanks to him I will no longer be shopping there. I'll spend the extra couple bucks to get equipment down the road. Would be 1 star if not for the other employee's showing good customer service.
4 months ago Ben G
Great low price gear
10 months ago Imran Virk
Always a good deal on the shelves. Good customer service. Did i mention great prices for the budget minded fisherman?
2 months ago Pablo Guerrero
Amazing price on rods and reels. Not as much for terminal tackle. Lots of soft plastics and crank baits
8 months ago Michael Saia
Good selection. GREAT prices. Nice staff
1 month ago Nate Wapner
Went to FFO on Friday, Feb 2nd..great store! Yes you have to look though racks and bins for the deals on rods, reels, tackle and accessories but when you find the deals I found the time spent looking is total worth it! The staff is awesome, especially the lady (I never did get her name) that helped me. She took the time to listen to what I was looking for and go to the back to look to see if they had it and they did! They actually had two of the rods I was looking for in the back and I bought them both at a great savings! I never felt like I was a hassle to her and she walked and talked with me around the store! Amazing customer service..thank you so much! If I could give a 10 star rating I would! The store and staff were totally worth the 2 1/2 hour ride and I will be back and probably shop online too! Thanks again FFO for a great experience!
2 months ago Michael G
Great selection of fishing rods. Great prices.
11 months ago Doreida Flores
A lot of good deals.
10 months ago Mikayla Best
good place to shop ,great selections,friendly staff,keep that up guys.
8 months ago Jon Rector
Best deals of any fishing store ive ever been to. But make sure you check the reconditioned items such as reels to make sure they work.
2 months ago Leslie Hirsch
Great location in Spirit Lake. Very nice prices.
8 months ago PRAGATI SINGH
Best deals out of any of the fishing stores that ive ever been to.
8 months ago Yuri Gelfman
Fantastic place to get most anything for all your fishing needs.
8 months ago Aleasha Shipman
Plenty to keep you looking for a while. Good finds
10 months ago David A
Fisherman's paradise. What dreams are made of!
1 month ago Elizabeth Bagby
They have everything a fisherman could want with the old school feel!
2 weeks ago Lisa Sunderland
Awesome price alot of stuff
2 months ago Edwina Mallory
Cheap, outstanding selection , top notch local service.
2 months ago Linda Owings
Horrible customer service. Crap return policy. 3 other shops nearby that are 10 times better! Shucks Stan's Kabele's All they sell are blemish rods, reconditioned junk reels, leftover line (inconsistent)... Nothing but junk. I personally have had 3 rods break... Pline will beat any line trilene makes.
4 months ago Jerry Richmond
Good place to buy fishing gear. Right price also.
11 months ago Deb DenHartigh
There selection hase gone down hill
10 months ago Kelsey S
bought a reel and it is awful. staff was rude and didnt have 2 simple things i needed. wont shop here again.
10 months ago Justin Sali
Price's are excellent friendly service
9 months ago Glen Edelman
My boyfriend love coming here for his fishing gears because the prices are very reasonable and affordable. They have a lot of fishing products.
3 days ago John Luther
Definitely worth the stop. A lot of great deals.
1 month ago Ryan Beaber
The staff was very knowledgeable and helpful. I would recommend this place.
2 months ago Jennifer Burford
LOVE ITTTT
9 months ago James Pryor
Great price and I find some fishing rod cheap prices
6 months ago Samantha Pepper
Freak'n love this store! Friendly service!
2 weeks ago
Popular places from the category Fishing store