Arlene Mobile Notary Service
Notary public Arlene Mobile Notary Service, 122 S 58th St, Philadelphia, PA 19139, United States:
215 reviews
of users and employees, detailed information about the address, opening hours, location on the map, attendance, photos, menus, phone number and a huge amount of other detailed and useful information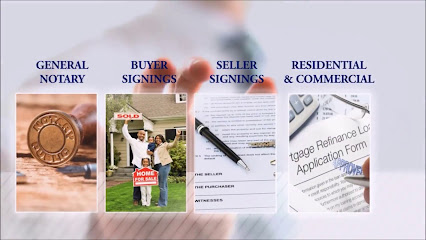 Address:
122 S 58th St, Philadelphia, PA 19139, United States
GPS coordinates
Latitude:
39.9590769
Longitude:
-75.2374714
reviews Rodney Heaven
Arlene answered the phone in a professional manner and answered my questions. She booked our meeting and arrived promptly. She was pleasant to work with, extremely knowledgeable and professional! I will call her again and recommend her to everyone!
8 months ago Patrick Monroe
She was super friendly and helpful with notary service that I needed! I had an appointment and she was just on time! And the fee was very reasonable with a beautiful pen ???? as a souvenir! I must recommend this place for any services they provide!
5 months ago Bernie Emmons
Ms.Arlene came to my home well after 6pm when she would normally be done for the day.She made me and my mother -in law feel at ease with her expertise and professionalism. I will definitely use her services again and I would highly recommend her to anyone who should need her, as she provides a full range of services. Her notary fees were well priced and she refused a tip, she's truly one of a kind. Thank you again!!
9 months ago Megan Pardi
Amazing service!
9 months ago Kerianne Baylor
Arlene's mobile notary service helped us with my parents documents. She was on time, courteous, and polite. We had multiple documents, and she kept everything organized, and running smoothly. I would highly recommend her and her services. We will definitely do business again. Thank you so much Arlene.
9 months ago Palmeras Guidry
Ms.Arlene is amazing, friendly and very professional. I will highly recommend her to anyone who needs her service. She's very accommodating too.
8 months ago Irene Robinson
My family and I required notary services for an important document. After looking for a mobile notary due to the pandemic we were referred to Arlene's notary service. From the very first call I placed up to the finalization of the notarization Arlene was professional, courteous and caring. We were in various locations in the city and outside of the city however Arlene made it work. She introduced us to some technology and with her expertise we were successful in completing our goal. Arlene was phenomenal in her patience, her professional demeanor and her skills. I thank Arlene for the services she provided I'm sending a huge amount of Kudos to her!!! I will definitely use her service again and refer others as well. Thanks Arlene you are very appreciated! Judith Collins
11 months ago catnip box
Miss Arlene was great and very professional. I left there having a new friend in my head. She was super friendly and I enjoyed our conversation. Her hours are very flexible and she made herself available for me after hours.
9 months ago steve griffin
Absolutely love the convenience and professionalism. She thought of everything, fully prepared, from blue ink pens right down to folders to hold your documents. The fee was not only affordable, but convenient with Venmo. I would definitely recommend.
10 months ago Josh Little
Arlene is a true gem! Excellent Value, Excellent Quality! Understanding, patient when it counts, professional and courteous are just the beginning. I am thrilled that we chose Arlene to orchestrate our Remote Online Notary session! We had four people signing the document at the same time in different locations and it was done in a flash. I can't recommend Arlene highly enough. Thank You Arlene!
10 months ago Brian Holmes
My family had to arrange a notary's services from out of state, and we feel so lucky that we chose Arlene Mobile Notary. Arlene was on time and ready, unfortunately, our witnesses were not! Arlene handled the delay and the confusion with aplomb. Wow. I don't I ever used that word before. Arlene deserves it. Highly recommend.
9 months ago Judith Samper
I enjoy working with u 2day it was a pleasure meeting u and I'll send other people 2u thank u so much 4 ur service
8 months ago Daniyaal Hadzami
Definitely the best notary service in Philadelphia. Quick response and very professional with good energy. Arlene will definitely be one and only notary lady for as long as she is in business. Highly recommended and I guarantee no one does a better job for the service she provides.
10 months ago Sarmista Sen
Arlene Mobile Notary Service is prompt, efficient, allows flexibility and an absolute professional. I will recommend her to others. She is genuine and sincere and I am very pleased to have found our family's Notary.
9 months ago Eleni Zaralidi
Next level professionalism at its finest. I would and will recommend Arlene Mobile Notary Service to anyone that I know who needs a Notary service. Professional and easy to get along with while getting business handled.
9 months ago David Russell
I called every where for a notary that was near me. Then I called Arlene Mobile Notary Service and from the first conversation she made me feel calm and relax. I needed a document notarized ASAP and we set a time to meet and she explained everything in detailed what she was gonna do. She was very polite, friendly, helpful, and very understanding thank you so much for services and time I will definitely be back as well as let my family and friends know where to go for the best services.
10 months ago Ondra Cupak
Ms. Arlene was very responsive and was able to notarize documents for me very quickly. She was very friendly, professional and a true expert in her field. I would use and recommend her services again!
9 months ago Monty Richards
Arlene came to me via a referral from a friend who needed documents notarized on an emergency bases. She came through for my friend and today she came to my aid....as a stressed out caregiver her "immediate" attention to my situation alleviate a problem that would of been disastrous. THANK YOU!! Plus add 5 more ⭐️ to Arlene for her sincere empathetic disposition.
8 months ago Bruce Lafrance
We were on a very tight schedule I called Arlene mobile notary and she was able to able to fit us in to her schedule the same evening. In addition to being fast and accommodating she made the, otherwise boring paperwork, into a warm and positive experience!
9 months ago Bill Bailey
Arlene is extremely responsive and was able to do a E-Notary for me. I was having a hard time finding someone who could do E-Notary. In addition she is mobile and was able to come to my place of employment. My employer had provided long directions to follow for the Notary to complete E-Notary. Arlene did that promptly.
10 months ago Em C
Ms. Arlene was very friendly and professional. Her prices are great and she got me in very quickly for my appointment. I would definitely recommend to all!
10 months ago Clive Hallam
Arlene was/is very professional, patient and thorough....I read in a previous review where one person said she treated them like family , yet they never met before....well that is exactly how I feel ....thank you Arlene for the best part of my experience ....
9 months ago Hope Murray
It was a great experience and Mrs. Arlene is very professional. I highly recommend her services and will use her again for notary. Pamela
9 months ago Jessica Jenkins
Arlene mobile notary services provided my family with a professional and quality service/ experience. She answers her phone right away and gets back to you if you leave a message in a timely manner. I have nothing but good things to say and she gets the "BEST PEN???? AWARD" hands down.????????.
3 days ago Stuart Ganzon
It was a pleasure doing business with Arlene! She responded to my initial inquiry very quickly (which I sent at 8:00 PM!), and I was able to set up an appointment for the next morning. Arlene is very professional, friendly, and helpful. This service is such a blessing, in particular during the pandemic. I did not have to leave the comfort and safety of my home to have an important document notarized in a timely manner. I highly recommend Arlene Mobile Notary Service, and will use her again as the occasion arises! Thank you Arlene!
3 months ago Luis Carrasco
Arlene is the definition of top-tier customer service. She met me and walk me through how to do everything. She was beyond sweet and followed up To make sure I arrived home OK. I wouldn't go to anyone else!
9 months ago Josie Bays
Ms. Arlene was truly amazing! Fast, reliable, and very professional. I highly recommend her business!
9 months ago Hadian Hartanto
Professional, personable, calming, responsive to needs, efficient and punctual. Very pleasant experience of a very mundane task.
8 months ago Rena Kos
Swift, professional, efficient! Had no idea she would also drop off UPS or FedEx deliveries, so clearly there is a lot of value-added service. Thank you Arlene!
10 months ago Stan Seneca
Arlene was an absolute professional. It was really hard for us to find an e-notary that could help is sign documents remotely, and Arlene completely came through for us. She was very thorough, the process was very quick, and ultimately could not have gone any smoother. Highly recommended!!
3 weeks ago ming zheng
Arlene was a true business professional. Friendly service.
8 months ago Ola Cook
She is the BEST!!! I tried to get my document notarized around my apartment but I couldn't find a professional place. Her office was far from my apartment but she drove to my apartment and didn't even charge me any extra money. Normally, it would cost over $100 if you request to have it done at your place of choice , but she did it for $10. Professional and magnanimous!!!
3 days ago Larry Martin
Arlene went above and beyond to provide excellent service at a great value. I will certainly use her services again and recommend her wholeheartedly. A+
2 months ago Bethany Hannah
Excellent service and very fast. I'm in Las Vegas and needed something notarized out of PA. She was able to setup remote notary for me and got it completed very fast. Highly recommend. (;
11 months ago Mary Shannon
Arlene Vincent is exceptional. She goes above and beyond to help people in a time of need that need a Notary urgently. She came to the hospital to help a patient with notarizing important documents that had to be done urgently. Arlene was at the hospital within two hours of the phone call. Now that is what I call service especially during a pandemic. She is incredibly professional and intelligent. She is well versed in notarization services for the general public. I would highly recommend Arlene for all your notarization needs. She is amazing! Truly!
2 months ago Ceelina Schleier
This is an A-1 service I was in a hurry and Ms. ARLENE stop everything to make certain I was OK and all my paperwork was in order. Very professional and I recommend her for all notary work. ????'s up!
10 months ago bob tiernan
Miss Arlene by far and hands down is extremely professional and someone that you can depend on if you're comfortable with and is extremely personable accommodating well mannered caring you'll have quality experience with her and in a timely manner you just can't lose with the services and with what she offers believe me Arlene's mobile notary service is the best????????????????
10 months ago Kevin Cornett
We called Ms Arlene today and was able to see her not long afterwards my son said she was so professional nice and so knowledgeable I have her card posting on my Fb and ig she helps us in a jam and I will always go to her and refer her great service thank you so much for all your help
9 months ago Alice Tremont
Very pleasant person to work with! Extremely professional. Would definitely go again
10 months ago Georgette Dilworth
Enjoyed the service I received. I would definitely recommend her.
9 months ago Lindsey Oldenburg
I would recommend Arlene for all of the above. I felt like I had known her forever as she was very friendly and right on time. I am looking forward to doing business with her again in the future and would gladly recommend her to anyone seeking services in her field of work
10 months ago Shelia Robbins
Arlene is kind, efficient and professional. You should absolutely seek her out if you have need of a notary anywhere in the great Philadelphia area!
11 months ago anita fleming
Very pleasant and kind,, I would give 10 ⭐ if I could
9 months ago Ellie Paige
Highly professional , determined and prepared to complete the task. Fantastic!
8 months ago James gall
Nice and professional! Very understanding. Highly recommended.
10 months ago Al Vitucci
Great service. Had to utilize services for my father today and had a wonderful positive experience. Ms. Arlene traveled to us and yes, the pens she provided were a great touch. My mother is a pen collector and was happy to receive one. Very helpful and responded quickly. I would highly recommend. Thank you!
7 months ago Olga Bychkova
I met with Arlene & was well pleased. I will definitely refer my friends & family to her services.
3 weeks ago Ronnie B
Very responsive, quickly scheduled. Very safely done during COVID. Friendly and excellent service. Highly recommend!
3 weeks ago Jas Mamak
Easy to coordinate service. Arlene was a professional and very personable. I would definitely use her again!!!
3 weeks ago frandy Montalvo
In this time of pandemic, she was so very responsive to our needs by coming to our home. She was flexible in scheduling and extremely professional in providing services. What was most appreciated was her attention to details!
10 months ago
Popular places from the category Notary public