Affordable Motors inc
Used car dealer Affordable Motors inc, 3229 Old Lexington Rd, Winston-Salem, NC 27107, United States:
188 reviews
of users and employees, detailed information about the address, opening hours, location on the map, attendance, photos, menus, phone number and a huge amount of other detailed and useful information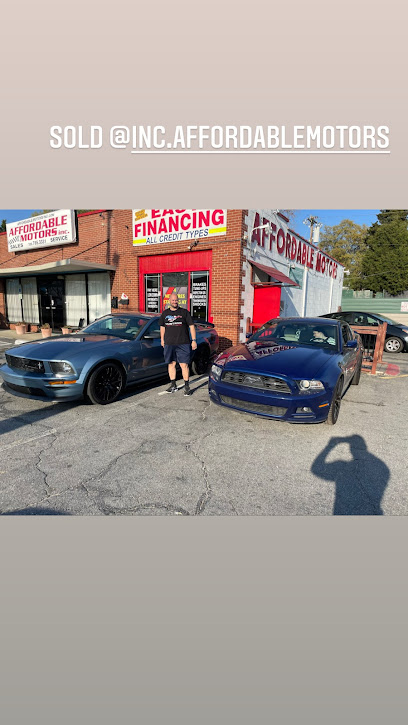 Address:
3229 Old Lexington Rd, Winston-Salem, NC 27107, United States
GPS coordinates
Latitude:
36.0552740
Longitude:
-80.2251800
reviews Warren Parsons
I was in need of a First Car for my Oldest Daughter and Abid Ali did not Disappoint! He hooked us Up with the Car that My Daughter was looking for and she couldn't be Happier! I Definitely Recommend Affordable Motors to Anyone in search of a Car! Great Prices and Great Customer Service! You can't put a Price Tag on that!
9 months ago Pat Wilson
I got my inspection on my car done here. My mechanic recommended it to me. I like it. I used to pay $30 for my inspection before and now I come here and pay $20!!! And the service is good. they're kind and efficient. They serve good coffee and it's in a principal road. It's also a car dealership and it is decorated with pictures with it's happy clients.
11 months ago Chan Long
Affordable motors really blessed my family. We've been looking for a vehicle with more space for awhile now but didn't have the budget at the time. The staff is amazing and the atmosphere is so inviting. Thanks so much, you've made a believer out of all of us.
4 days ago Wandel Tejeda
I love working with Ali. He is honest, trustworthy, and very knowledgeable about cars. I heard a noise in my car, I called Ali and he knew exactly what the problem was. I brought my car and he had his mechanics fixed it. Everyone is so nice! Highly recommend them!
9 months ago Joshua Rivera
Bought a Toyota Camry from Pete. Really nice guy and worked with me through the whole process. Thanks again guys
4 days ago Will Koopersmith
I have the worst credit known to man. I seen a car I liked on the internet and within 24 hours it was mine. The staff is very friendly. I would recommend this dealership because their name speaks for itself. Affordable and very convenient. They offer car maintenance and inspections at a fair price. Once I cash out with my car. I will be back to buy another.
2 months ago Miretta Campbell
Affordable Motors has excellent customer service! Ali and his staff take care of you like family! He is fair, honest, and reliable! Highly recommend.
9 months ago Dawn Danielski
My family and I have used Affordable Motors for years for servicing to inspections for our family vehicles. We have always had a positive experience. We recently purchased a vehicle and we very satisfied with the the overall experience. The team there are curtious and efficient. We highly recommend Affordable Motors of Winston-Salem.
2 weeks ago Susan Michaels
I would highly recommend this dealership and staff. My wife bought a car and they helped us out with everything it was a unquie situation. They checked onus after the purchase to make sure everything was going.
11 months ago Megan Herzog
The staff in affordable motors where great, Mike and Ali really go above and beyond to make sure you are satisfied, they put the customer first.Thank you
11 months ago Joe Roberts
Ali and Mike have been the most wonderful, hardworking, and awesome people that I have had the pleasure of purchasing a vehicle through. Don't be fooled by the smaller building... oh no these fellas are the real deal!! no swindlers nor bait and switch here just honest people trying to pass along whatever saving they can to you. Ali let me inspect a vehicle for 30 minutes by myself without looking over my shoulder or pestering me allowing me the time and confidence that I needed to make sure that I was getting a quality used vehicle. When I was ready, Ali and Mike spoke with me about the details and worked after closing to finish my deal. Mike in finance went the extra mile to ensure that I had the best financial deal possible and that I had proper coverage placing my mind at ease due to this particular vehicle being a diesel with higher mileage. Don't pass up this little gem you will pay more and be sorry you did!!
8 months ago mishia francis
Awesome customer service! Worked with Mike to close a great deal. He even went the extra mile to make sure the car was in the best condition possible, and I was getting the best deal possible on payments. I am extremely pleased with my decision to go here for an SUV for my growing family. And I will definitely be going back. Highly recommended.
7 months ago David Michael
I was told one price Monday. Thursday comes around and the down payment jumped another $1000; it took him a week to call me back.
8 months ago Jan Pardy
This place has been wonderful for me and they showed up and out when I brought my oldest daughter into there office to purchase her first car the service was wonderful and Mike was a great sales man I just want to thank all the staff especially Ali for such great customer service can't wait to come again in the future...
3 months ago Sixtus Dakurah
Mike is the best ! I love my 2016 Kia Optima ❤️
2 weeks ago Ricardo Rodriguez
Had inspection done on my car the lady told me two of my car tire need to be changed in order to pass inspection. I told her ok go ahead. But I wanted to see how they change the tire. Since it's the first time going with them. Next day I woke up to a flat tire. My husband and I went there so they can give the money back. They sold me ugly tire didn't say sorry. And before taking my car there it never shake. Now my car shakes alot.
6 months ago peter faulkner
Awesome customer service! Ali went out of his way to make sure the car I purchased from them was serviced properly and the warranty was upheld! The service he provided was above and beyond his after purchase responsibility. I would recommend Affordable Motors to anyone looking for a reliable and friendly family business! Would definitely buy there again, thanks Ali!! (2014 Honda Accord)
8 months ago Kevin Nguyen
My husband and I are really happy we find this place to get my new car. I'm really happy and satisfied with the car we got. Really recommend this place to everyone and also their mechanic service is excellent. Customer service really nice too and fast.
3 months ago Love Kifa
The Best had a Emergency and they were there to my rescue Thank you
3 months ago Bram Jj
I bough a Honda Accord in great condition in November from Affordable Motors. They will work with your down payment to get you in a car. I never felt hassled or pressured. The owner is super nice and personable. you can't go wrong buying a vehicle here!
11 months ago Andrew Kind
If we ever need another car, we will start here. Great service. Friendly staff. Absolutely no complaints here.
6 months ago Chris Parks
Wonderful people very understanding and easy to get along with went there looking for a car for me and my wife bcz we are about to have our first born I'm a first time father trying to provide for my family didn't have a lot of money and they worked with me and made sure I got the car that I wanted for me and my family I felt as if we were family they never once made me feel like and outsider or frowned upon me very well level headed people and a wonderful and friendly environment they made it work with what I had I want to thank everyone at affordable motors for making it work with what I had. - Aaron
10 months ago Joe Grigsby
Affordable Motors staff is amazing, everyone is so friendly and helpful. They went over and beyond to make sure I was able to get the vehicle I wanted. I recommend anyone looking to purchase a car to give them a call.
9 months ago Diana Mitchell
I bought a 2015 Nissan Sentra from them for a great price and they were very easy to work with.
8 months ago Lavinia Stoian
Mike and Ali are outstanding. They did everything they could to get me in a car. I would recommend them to anyone!
5 months ago Carly Schild
Professional, courteous, honest, helpful. Not words one would usually see in a used car lot review. These guys are it. Ali has an amazing variety of vehicles in great shape and at very reasonable prices. You won't be disappointed.
9 months ago Faith Paraham
I went in wanting to purchase a van for my business. I got just that at the price I needed and very fast and friendly service. I'm super excited about my purchase and look forward to doing business with you all again. #SatisfiedCustomer❤
8 months ago Roneece D
I purchased a very reliable vehicle from here & I come back for the $20 inspections. Everyone is very polite and courteous. They will help you find a nicer ride !
5 days ago Lizik Bratsk
Great people, knowlegdgable & friendly staff. The car buying process wasn't a pressure filled situation. The car that I bought was up to par with no mechanical or cosmetic issues. no pushy salesman. After months of searching they put me in a car that I enjoy at a pretty reasonable price. Overall, a terrific experience at a great place, I'd recommend Affordable Motors to all my friends and family. Especially with their $75.00 referral bonus!!
9 months ago Edison amparo
Make sure you pay Close attention to your paper work , They told me I would be paying 406 for 24 months come to find out its 30 months, And they were extremely rude to me , because I came to pick up my tag and daughter grabed some candy without asking from the CANDY JAR. Shes 4 !!! I WILL NEVER BUY ANOTHER CAR AND ADVICE TO NEXT NOT TO ????????
6 months ago Azizam Jessica
If the gate is open and the signs on your window says "OPEN", expect customers to drive in and take a look at your cars. Yesterday, I was ask to leave the parking lot and cannot look or touch the car that I am interested in purchasing. Regardless if you are closed on Sunday or not, RUDE customer service. Take your business some where else everyone.
9 months ago Murtaza Safari
Hey guys I brought a SUV from affordable motors and my experience there was great, everyone was very polite and helpful they made sure everything was good with my car before I left, there car's are affordable and they offer great warranties for your vehicle I wanna send a shout out to my car salesman Mike thank you hun for all your help you are the best. Y'all go shop at affordable motors I promise you will be satisfied
9 months ago Clarivel Gonzalez
Very Affordable and great customer service ????
3 months ago Mare Dix
Great people to work with!!! Very trustworthy and hardworking staff!! Owner Ali is very professional and did all he promised!!! Thank you guys soooo much for everything! It's nice as a woman to go somewhere and not know much and feel like they have your best interest at heart and not your pocketbook
4 days ago Scott Pfeiffer
My husband Got a 2014 Toyota Camry hybrid from here, after he was referred here from a friend. They have great customer service, Jeff was very professional and made the whole car buying experience very easy and stress free. I would recommend anyone to come here for a vehicle you will not be disappointed!!!
10 months ago Mike Perva
Ali & Mike were extremely helpfully in finding me the right car, for the right price! Mike even stayed a few minutes behind after closing just to wait on me to get off work and go pick my car up! All of the staff are very friendly and welcoming! Thank you Affordable Motors for getting me in my first car!
2 months ago Ed Muise
Awesome helpful staff
9 months ago Matthew Laurin
Love the guys very nice Mike you the man..
5 months ago Radek Holoubek
Great place to get a car, Ali and his team are super nice and always have a great selection of vehicles, and they do state inspections for $10bux less than everyone else... They also do some mechanic work as well if you need it.
9 months ago Hani Qaddoumi
Great customer service and even better prices. I have had my Lexus for almost a year with ZERO issues. Wasn't pressured to buy at all, and was treated with much respect. Would highly recommend. Thank you
2 months ago John Robles
Just bought a car and love it. Really friendly staff and affordable prices. Strongly recommend this place. Kevin was very helpful and knowledgeable and explained all the features of the car and made the buying process super easy. These guys rock!!!
2 months ago Mika Young
Ali helped me with a consignment sale on my Lexus and was able to get me top dollar for it. He took care of everything and was able to sell within a few months. In the meantime he helped me find a new car that better fit my needs. He was really easy to work with and we are really happy with our new car!
10 months ago Chris Welty
Talk to Jeff Crews, fantastic customer service and literally bends over backwards to get you into a vehicle that's just right. We've struggled to get our credit started and he went above and beyond to help us! Absolutely amazing
9 months ago Mani Daroou
These guys are extremely helpful. After my wife's car broke down on me they helped us get a reliable car at an AFFORDABLE price. Great customer service and very respectful. Feel free to tell them your budget and they will do their utmost to get you a reliable car under your budget. I came from Charlotte to buy from them. Thanks guys.
2 months ago Josh Massey
Ali is very professional. Great customer service and fast turn around. Definitely recommend!
9 months ago Minnesota Bartending
Inexpensive good rental cars And all of the employees are friendly and helpful
8 months ago Dan Hudlow
Honest, affordable and dependable!!! Ali is very knowledgeable about the buying process and was able to answer all my questions. He met all my expectations and sold me a great car. I love working this dealership!!!! Awesome customer service.
8 months ago Lance McDonald
Awesome place to purchase your next vehicle, the employee's are thorough and will make sure you leave happy.
2 months ago Lisa Hoskins
They took Great Care of me
3 months ago Stephanie McCann
Excellent car buying experience. Even better customer service. Price was great. I live in Charlotte and I still come to get oil changed and inspections because they're so awesome. I bought my car in 2012 and still go there. Please go for honest good people!
4 months ago
Popular places from the category Used car dealer