J&H Tackle
Fishing store J&H Tackle, 4112 Sunrise Hwy, Oakdale, NY 11769, United States:
220 reviews
of users and employees, detailed information about the address, opening hours, location on the map, attendance, photos, menus, phone number and a huge amount of other detailed and useful information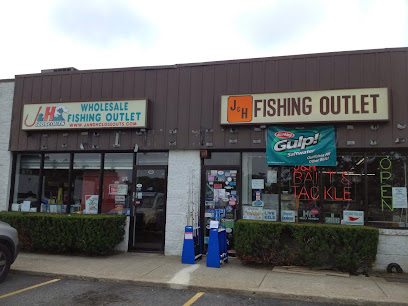 Address:
4112 Sunrise Hwy, Oakdale, NY 11769, United States
GPS coordinates
Latitude:
40.7483540
Longitude:
-73.1353740
reviews Melorna Windross
I've never been called a fraud in my 45 years on this earth,until I tried to place a order here which was denied...which has never happened before either. Run your business as you like Josh, but have some sense of decency, the word fraud is a strong word.
7 months ago Vicky Mann
I moved from Houston to the island & been coming to J&H since 2014. Every visit has always been exceptional. The guys there have always steered me into the best gear & tackle in my budget and have always given me great advice. I was always treated as priority if I was going in for new rods, reels or just coming into get new line spooled. I recently bought a new rod and it accidentally broke. I shot Josh an email and he didn't hesitate to invite me back and pick up a new rod even though the store warranty was expired. These guys take care of their own on the island and I can't speak enough about their professionalism. They'll have my business and praise for as long as I can keep a rod on my hands.
10 months ago Cori Brown
Great store. Lots of inventory. Helpful salesman
7 months ago Nick Kovarik
I purchased a 2020 Saragosa SW 6000 from them, they charged me $5 to get it spooled with braid, and charged me for 300 yards of Sufix 832, 30 pound test. My reel is rated to 295 yards of 30 pound braid. With the backing There's no way in hell I have 300 yards of line on my spool (with the backing) as it's no where near the end of the lip. They didn't give me the excess, they charged me almost $50 for MUCH less than 300 yards and $5 to put the line on. Yes I spent $260 + tax for the Saragosa and 200 on a Tiralejo so over $500 later I have a half spooled reel and they didn't give me the excess of the line I paid for.
7 months ago Marlena Sensale
I used to deliver bait to them from my uncles wholesale frozen bait shop before he passed away. I've been going to J&H tackle ever since for the last 15 years for my fishing needs. They do have a great selection, knowledgeable staff, and fair pricing. I actually drive 30 minutes out of my way to go here because I know they will have what I need. Recently I purchased a fishing rod and reel that I was very unhappy with. I took it to a local dock and made a few casts to try it out. I was surprised when I went to exchange it that they gave me a hard time. I was able to exchange the reel, but not the rod. I purchased the rod on Monday, tried to exchange it Wednesday with receipt and tags. I was offered 50$ store credit for a rod I paid over 200$ for two days earlier. They were polite and explained that they can not return or exchange any used items. Did I cast the rod 5-10 times? yes. Did it ever touch salt water….no. Did it look brand new? absolutely! If I shuffled this rod into the pile of other rods of the same model, they wouldn't be able to pick it out of the bunch. All this said, I was very disappointed, I am frustrated, and I'm stuck with a rod that I hate. I spent over 1100$ there in this past week and well over $15,000 in the past 15 years. I'm rather disappointed that they decided to stick their guns and not help me out on this one. I did purchase another pole I liked that same day for 250$ I used it and I'm in love with it! 7'3 Dark Matter…..awesome rod! I wish I could get more than 50$ credit for the one pole to get another of the dark matter. I most likely will continue to shop there, I'll just have to be absolutely sure that when I buy something, it's what I really want, because I'll be stuck with it. I wish there was a way to truly know how a rod or reel is going to perform in action without taking the risk of being stuck with an expensive disappointment. All things said……One bad visit in 15 years isn't so bad, I just did not feel like a valued customer at the moment, I felt frustrated, momentarily angry, and just dumbfounded, begging at the mercy of management. No comment for me?
7 months ago Jessilynn Lucking
J and H carries good products. The dark matter brand is awesome, and the reason I order from them is generally because they stock items that are difficult to find elsewhere. With that being said, shipping and processing from J&H is consistently terrible. I don't think I've ever received an order within a week of ordering and I don't live that far from the store location. Orders I make will often sit for a week or more before they are even confirmed shipped, which is ridiculous. Over the summer I had a trip to the shore planned and had placed an order for a new inshore rod to take on the trip nearly 3 weeks before I was planning to leave. After 2.5 weeks, the item had not shipped, and I hadn't received any notifications or updates for J&H - I ended up canceling the order and had to scramble to find a rod elsewhere. Right now I'm waiting on an order that I placed 12 days ago that still hasn't shipped--disappointing. I understand that there are some delays with shipping in general right now in the U.S. but the package has not even been assigned tracking info meaning it hasn't even shipped yet so that doesn't feel like a good excuse. If you are ordering items that are even remotely time-sensitive, I would suggest using Tackle Direct or Tackle World. I'm really not trying to drag J&H but I think this is valid criticism and this has been my experience with a number of orders over the past year. It seems like they have problems keeping items in stock which could be part of the issue (90% of their surf rods are "out of stock" online right now, yikes), but even so it is unacceptable to accept payment for items marked as available and make people wait weeks before the items are even shipped. It sounds like the store location is great, but if you need to have items shipped to you with any sense of urgency I would shop elsewhere.
1 month ago Stephanie Maitin
They take forever to ship out your package. I think they're understaffed and every time I'm on the phone with them they always have an attitude. Loved their youtube videos but their customer service just isn't there. Edit (in response to the reply from the owner): First of all its not that I feel like I had a bad experience, I did (some more residue passive aggressiveness I see) . Second, yes it was the second order. The website had it listed in stock at the time of sale and it took you guys 11 days (I checked my messages) to get back to me only to say that the rod was out of stock. Which is absurd considering I had called 2 times (3 days apart) before then trying to confirm you guys had it in stock and an expected time frame for delivery. Like stated before every time I was on the phone or on instagram DM there was attitude in responses and it seems like that hasn't changed either.
7 months ago Mark Swift
I was sent the wrong reel twice. Then told I would have to wait till they received both reels back before they could ship the correct reel to me. So I had to pay for the right reel to ship to me and when they received the 2 wrong reels they would reimburse me. They questioned my character due to there mistake. I paid the money so I would be able to get my reel but I will not shop here ever again!! I am a honest person and will not be treated like I'm not by anyone
11 months ago Isiah Broen
Best selection of lures, rods and reels. Shirts and foul weather gear. Good prices and great customer service.
10 months ago Scott Ashcraft
I placed an order with this company for the first time, and was flagged for fraud, when I emailed this guy named Josh,He basically told me when the systems flag you we don't do business with you. What a joke my credit score over 800 and I tried to bring money to these guys, was reading in the reviews, other people suggest I go to tackle direct, I did that and it was a excellent experience! Whoever this Josh guy is, he's an idiot!
11 months ago MKS
I bought a reel from them a while back and it never was shipped and I emailed Josh and he replied fast and explained why my reel hasn't shipped yet and when he had the reel in stock he shipped it right away and it came in fast and safe without any problems. Josh has really good customer service and will always help you. I will definitely will be buying from this place again!
2 months ago Livinginsideurhead
Ordered a custom color Accurate reel through Josh on Black Friday, received it the other day and it looks perfect. Was told by Accurate the wait was 6 weeks out for custom colors but got it 2 weeks early just in time for Christmas. Josh made it extremely easy going back and forth about color selections and the entire process. Not the closest shop to my area but always worth going to J&H for my needs
2 months ago Shelley Rom
I have ordered a few rods from J and H tackle and always had my equipment shipped in a timely manner. John skinner shared a link to their tackle store for the rod I wanted and I'm glad I placed my order.
10 months ago Cindy Stevens
Knowledgeable, plenty of inventory and nice staff. Very helpful!
8 months ago Tim Hyland
The best fishing tackle place in long Island just off of 27 "sunrise highway", heading east into long island !
10 months ago Infinity Love
Ordered (2) St. Croix Avid Inshore rods, Josh right up front let me know about the COVID supply chain issues with the manufacturer and then kept me up to date on delivery dates and even offered to get me another model when what one of rods I ordered was delayed again by the manufacturer. Got both rods and I'm very happy with my purchase.
11 months ago Satyavani Bogireddy
Customer service awesome!!! Great place and unbelievable selection !!! Awesome prices too ????????????
5 months ago Daniel Baker
I called last week to order a stella 8000 & a rod to match for SoCal bluefin. I got Alex in sales & he spent at least a half an hour w me asking me questions about how I will fish & what tackle I already have. In the end he steered me toward a stella 14000 to pair with a rod I already own (Phenix 700XH). He has the same rod/reel for tuna & highly endorsed it. He could have sold me a rod but he didnt. I really appreciate that approach. I spent a little more on the 14k but needed no new rod so it was a wash & I have a rock solid set up now for the same $. He even spooled about 550 yds of 65 lb spectra quatro & shipped it within the hour. Nice intro to your business practices. I know who to call for my next order. Thx again.
10 months ago rene perez
Best place to go in the island for all your fishing needs!
10 months ago lear leadoff
I would like to thank Josh for not helping a customer who is legally blind about Avett reel.Trust me if he could see the site,WHy call you.THanks for nothing and you lost a good customer.Josh work on your customer skills.Tackle Direct is way better your company..
10 months ago Maria Cayuela
The workers are very friendly and great prices
10 months ago Victoria Washington
Outstanding selection. Fast shipping.
9 months ago virginia ocasio
Excellent service and knowledgeable staff
6 months ago Brianna Griffin
I would like to thank Josh F., he has provided excellent customer service in dealing with a broken fishing rod sent via mail. His company/store is greatly lucky for having him on their staff. He was able to handle the mishap greatly, efficiently and with great professionalism. He walked me through the whole process. Thanks again!
8 months ago Brent Kamrath
Very helpful and well stocked!
7 months ago Johanna Trotter
I pre ordered Shimano Vanford 1000 from J&H Tackle, anytime I had any questions or concerns regarding my order they would reply professionally and promptly. I reside in the state of California & I will definitely be ordering from them again, they always have items I can't find in my local tackle shops.
1 month ago Humza Anwar
J and H is the best shop. I have purchased a handful of reels online and tackle in the shop. It's always a fun place to visit, just don't tell your wife when you do, always getting jiggy. lol. Never leave empty handed. I have always been pleased with the shipping. I have had next day to normal expected ground speed delivery. So make sure what you want is available before going nuts, Covid setback many suppliers for All tackle Shops.. I have written to the owner on a few occasions and he has always been helpful and ready to make sure you get the best deal. Thanks again
5 months ago devin wolfe
Great place to get your fishing gear. Good selection to choose from, if you want to find s&s bucktails this is the place to go
10 months ago Marty Clos
Best prices on the interweb but the worst customer service and lousy website. I found a couple items from j&h that were priced the best compared to several other websites and the shipping for one of the items was free and the other was reasonable for an oversized item. When I went to the website to shop they have a coupon and discount link to sign up with your email and receive 10% off. Well I never received the discount code email and when I tried to sign up again, thinking it didn't work the first time, it responded with "only one discount per email". I sent emails stating my experience and my dilemma and the next day found an email in my spam folder with a 10% off code. I was excited, to say the least, but discovered it did not work due to it not being valid for the items I was ordering. I figured between the free shipping and the best price on the web I would just let that one slide. A few days later I received an email with shipping confirmation and a link to track the package so I clicked on it and sure enough it didn't work. I then waited a couple days and called customer service. A quite rude woman answered the phone and hurriedly transferred me to the correct department but I'm not even sure if it was correct because after waiting for 30 minutes on hold, I gave up. I hope I receive the items I ordered soon and don't have to go through the process of refuting the charges with my bank. Probably won't be ordering from this site any longer even if it costs me a few extra dollars to purchase from somewhere else. If not for the COVID BS going on I would have just shopped locally and called it good.
7 months ago c sul
I stopped here for some pointers and to buy some terminal tackle. They were helpful, knowledgeable, and friendly. I was able to land my first striper after less than an hour after leaving the shop!
2 months ago Brandon Norford
One of the best Fishing Tackle shops in Suffolk County! They offer a very wide selection of items at reasonable prices, and their service is polite and knowledgible to all regardless of your fishing skill level.
6 months ago Virgen Velez
Top notch bait and tackle spot with ridiculous amount of fish clothing and hats and every pole choice
10 months ago kimothy fong
They will not let u return youre item back for money ,store credit only they are rude when u trying to retur youre item even after 3 days U need to explain youre self why????u returning it and other . I bought from them penn slammer 3 brand new in box I opened it at home and the reel was making some noice I was trying tu return it and they told me that I can not return it and I have to contact penn not them and that was next day NO RETURN NO EXCHANGE NOTHING NO HELP AT ALL!!!!! Online store is not better at all I order from them once and I was waiting for my stuff over 3 weeks but if u call them they will tell u that it will be ready for shipping next day!!! DO NOT BUY FROM THEM IF U DO NOT HAVE TO EBAY OR AMAZON WILL DELIVER TO U IN 3 TO 5 DAYS THEY WILL IN 3 TO 4 WEEKS!!!!!!!!
3 months ago Ay na
Surprised to see some lower ratings in the mix. My experience has been excellent including advice on substitute plugs when my preference out of stock, and a rushed shipment prior to a fishing trip without increasing charges. J&H is my "go to" for the northeastern surf. BTW, I've been cleaning up with a the yellow Dark Matter pencil popper. Blues and bass including 30 pounder in the CC Canal last month.
9 months ago Rick Jaeckel
J&H tackle is a fantastic tackle shop. They offer great knowledge, fair prices, and excellent customer service. Definitely go into the store and ask for advice. Josh is a great guy
7 months ago Joseph Vines
Just received an avet reel, fast service, reel happy
1 week ago Eric Z
Truly Horrible Customer Service. My business partner that often provides reels to match up to the Custom rods I make for a clients had a horrible experience with his last accurate purchase from J and H. The reel was ordered mid September and the wrong reel was sent. After several phone calls and 2 weeks later, the issue was not resolved until Accurate was contacted directly and the correct reel was finally delivered on Oct 11th. By this time, our client was furious he did not have his combo ready, and vowed to plaster my good name over numerous message boards, all because J and H failed to do their due diligence and follow up with numerous customer complaints about a single product. We lost out a sale on a $1400 custom combo. Needless to say I have lost the customer for life and one customer tells five and those five tell and so on. Needless to say, I will not be using J and H reels for my future rod building endeavors.
2 weeks ago duffzm
Good shop, great ads, chexk em out on all social media platforms as well.. good product reviews.
6 months ago bj edgeston
The reason it's not 1 star is the guy on the phone was polite. They listed an item as available online. I bought it. Days pass by with no follow up and no shipping details. I call in. They tell me its not in stock. My card was charged and now I have to wait days for it to get refunded. Horrible system. Implement a real inventory system. Plenty out there to choose from. Don't let people order an item that's not in stock and then stay silent about it. C'mon.
4 months ago W W
I bought a new penn spinfisher 3500 from J&H 3 days ago and went to use it today and the spooling mechanism broke (manufacturer issue not any fault of J&H). Went in with my receipts and they happily gave me a new one with no hassle what so ever.
2 weeks ago Riya sanil
Great selection, helpful staff, and fair prices. It's where I go when I need fishing gear.
8 months ago Ralph Steffen
Items listed online when they aren't in stock. Owner is relatively unresponsive. Will not purchase online from them again. I'm sure in-person they are solid since the staff seems friendly when you call in. Unfortunately the owner seems to be the only one who can help with online orders. Expect short responses to inquiries without detail. Expect delays. Don't trust their website for items available. Never again will I order from this company.
2 weeks ago adrianlaflame
HORRIBLE! AVOID THIS BUSINESS! Josh and his staff do not appreciate or deserve your business! I work in a retail establishment and I know we would lose customers if we operated like JandH. I placed my order for a new reel on 9/14/20. On 9/21/20, I received the incorrect reel. On 9/21/20, I emailed JandH regarding the issue. When I hadn't received a response nearing the close of business on 9/22/20, I called JandH and spoke to a gentleman that said my order would be straightened out and he would send me a confirmation email. I never received this email. On 9/24/20, I called JandH again and spoke to another gentleman who said he would follow up with me via email. I never received this email. On 9/28/20, I once again emailed Josh, the supposed owner of JandH, and never got a response. I was going to dispute the charge with Visa, but I truly wanted the reel, so I reached out to Accurate and they made it right. I finally received the correct reel, the reel I ordered originally from JandH on 9/14/20, on 10/11/20. Thank you Accurate! I will never shop at JandH tackle again for anything, even if they're giving it away for free! Josh, as a follow-up to your nearly immediate reply, I find it very interesting that you're able to reply to a bad review in less than 24 hours but failed to respond to an email within 24 days nor could your staff follow up appropriately after two phone calls. Additionally, I saw your covid-19 claims. I manage a retail establishment and we have also been severely impacted by covid-19. Nice excuse. Clearly, if my comments do not match your policy, you have done a poor job of training your staff. Stop making excuses and train yourself and your staff to provide good customer service or do us all a favor and close your doors. I have noticed that many of your responses to poor reviews are condescending. If only I had read their reviews before shopping on your site...
5 months ago Dylan Cameron
Do not use these guys. Your money is gone fast and your stuff won't show till long after you need it, or at all.
6 months ago SomeoneYDK
Great selection and inventory, but Andrew was very rude and unprofessional, made the purchase unpleasant. Not how you want to conduct business.
3 months ago nanette spatafore
Great place to buy tackle and gear. Very informative owner whose willing to help and make things right when needed. I'm a J&H fan! Always sends stickers and little extras with orders I highly recommend J&H Josh runs a great business!
9 months ago Betty Yanak
I have been dealing with these guys for years top notch service and unparalleled knowledge and professionalism For all Types of fishing inshore and especially offshore go see Matt number one in information and service just had my penn spin Fisher 9500s set up for off shore popping and jigging... I couldn't be happier highly recommended and great prices to
9 months ago Mohammad Muhaimin
BUYER BEWARE! The absolute worst! I ordered a pair of shoes. 2 weeks went by and I could not get a status update on my order thru emails or dm's. I called, got passed around to 3 people. Then was told that they didn't have the size I ordered even though it clearly stated in stock online. Was told they don't always have things in stock, they have to order them and they could no longer get the shoes I ordered. I asked why someone didn't call me to let me know or atleast email me and I was told "we don't have the time to do that". Are you kidding me! You took my money but were not going to notify me that you didn't have my item, couldn't get it, or just issue me a refund.
7 months ago Khoudia Diop
Revised to 1 star from 4. I haven't been back in awhile. But stopped in there twice in the last month or so. The staff was much friendlier. They do have a great selection of products. They went out of their way to make my daughter smile too.
2 months ago Unnamalai Murugappan
J&H Tackle is definitely the place to buy your rod and reel with extremely knowledgeable and friendly staff. And if you are looking for an amazing surf cast rod and reel with line...J&H is the place...and hint hint Tsunami Saltx 6000 reel and 11' ROD is what you want
9 months ago
Popular places from the category Fishing store