Bob Ridings Decatur
Used car dealer Bob Ridings Decatur, 3103 N 22nd St, Decatur, IL 62526, United States:
220 reviews
of users and employees, detailed information about the address, opening hours, location on the map, attendance, photos, menus, phone number and a huge amount of other detailed and useful information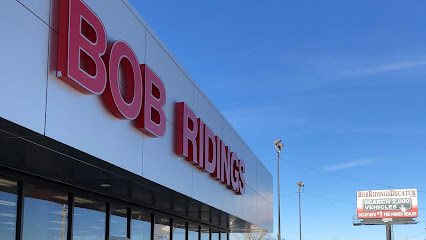 Address:
3103 N 22nd St, Decatur, IL 62526, United States
GPS coordinates
Latitude:
39.8792611
Longitude:
-88.9245856
reviews Brooke Ehlinger
I had previously been SUPER SCREWED buying my last vehicle over a year ago. I've been without a car, avoiding dealerships for over a year and finally stopped in to see Kristina Langford at Bob Ridings Decatur and she went ABOVE AND BEYOND to keep me comfortable and confident the entire time. Absolutely wonderful.
6 months ago Saiyami Mehta
Evin was terrific and patient. The entire staff made this one of the best experiences we have had buying a car.
6 months ago Brian Vlogs
Shout out to Evin and the bob ridings team excellent customer service and welcoming environment!! Please stop in and check them out.
6 months ago Katie Pfeil
Great customer service!! Quickly done!! Got what I wanted for a car!! Ask for Stephanie!! She is amazing to work with!!
6 months ago ilya narizhniy
was a good test drive, Kristina helped us out alot.reallygood experience.
6 months ago Elizabeth Garcia
Kristina was very helpful on getting me into my 2018 ford fusion. I would definitely recommend her to anyone looking for a new vehicle! !
8 months ago Chris Carlton
Megan Smith made it easy and fast for me when getting my new car, thank you for your help. I love my car!
6 months ago Oleg Monastyryov
Great people to work with from start to finish of our car purchase! Jason and Stephanie are the best! I would highly recommend Bob Ridings - Decatur to anyone!
7 months ago Pavel Chinyanin
Had a prompt salesman he was very nice very helpful ..the only thing we were told A payment price on a vehicle and could not afford they said they would work trying to get the price to where we could afford the payment they finally got it to the table for the final sign and they had not changed the price at all put us in a really embarrassing situation when everyone was at the table to sign which took them forever almost 4 hours waiting With my mother being handicapped and 84 that's a long wait lift her in alot of pain Our salesman was fantastic you couldn't ask for a better man he was not to blame it was the financial team they do not have nothing to do with you until it's time to sign papers did not like that they should talk to you and work with you themselves more instead of trying to stick you they feel like once they get their money and get their sale they're done it's your problem after that who cares so sad
9 months ago Alissa Carrier
Kristina Langford was very patient and helpful with getting us a new vehicle. She listened to our wants/needs and found the perfect SUV for our family! Thanks so much Bob Ridings and specifically Kristina!!!!
10 months ago Hasan Kurde
Stephanie Helphrey was fantastic! Very satisfied I was able to leave in a car I love for a price I can't beat. Highly recommend! Will return in the future!
7 months ago Lisa Kearney
I was very satisfied they did everything they could to make it smooth and get me out of there with what I wanted
7 months ago Dean Gogel
Phenomenal service. We got there at 8:30 am and left at about noon with my new car. Karah and the rest of the crew are amazing. They were super patient with me, even when my 1yo started fussing during the paperwork process. One lady even held him to keep him calm. By far the best customer service I've ever gotten. 10/10 I recommend them to everyone that tells me that they are looking for a car.
1 week ago Darrell Beedle
Wonderful experience with Stephanie and the finance department at Bob Ridings! It was quick, easy, and painless! No pressure! Just a very friendly, relaxed atmosphere. Everyone was extremely helpful in doing their part to make this happen for us. Will definitely be telling my family and friends where to go when they're in the market. Will also be returning in the future! Thanks again Stephanie and the rest of the Bob Ridings team!
2 months ago ben stubbs
Wonderful buying experience! Karah was very helpful in getting us into a new ride. Best experience i have had in the Decatur area when looking to purchase a new car. Definitely worth the time!!
9 months ago Tierra Holland
Kristina has been extremely patient with me throughout this entire process. She has checked up up on me and made sure everything was going okay. Also she has gave tips and has helped me with getting this done since it's my first time buying a car. I am extremely grateful for her and the time and effort she has put into me.
11 months ago Jackie Warfel
Stephanie Helphrey back in 2016 sold me a Chrysler Sebring. Now she sold me a Ford Escape, I enjoy dealing with her.
6 months ago Jacob Charette
Stephanie is absolutely amazing! This is my second time coming here and getting a vehicle and she has always helped me picked out EXACTLY what I want. I am so excited on my new car!! You rock girl!!
2 days ago John Chisholm
On March 3, 2021 I took my vehicle to get the heat and air fixed. It would begin an almost two weeks ordeal. I picked up my vehicle up on March 5, 2021 immediately my engine was overheating, which was not an issue prior. I took it back March 6, 2021, I dealt with a rude employee who behaved like I was inconveniencing him. I was unable to get my vehicle back until Monday, March 8, 2021 and was reassured that the problem was fixed. I drove it up the street and immediately the engine begin overheating again. I took the vehicle back that evening. I finally received the vehicle back Tuesday, March 9, 2021 and was reassured once again that the problem was fixed. I drove my vehicle around and notice my air was not cooling like it was when I picked it up Friday, March 5, 2021. I proceed to pick up my brother for added support, which I felt was needed. I brought my concerns and was meant with the same rude employee. I've never experience such a rude employee that treated me like my business was not wanted. I misunderstood they were not able to fix the air, but the GM offered to replace the part for my troubles. All and all I will not be returning to this company, because the experience was way more stressful than it needed to be. I would not recommend to any of my friends or family.
8 months ago Carlos Baez
Great service, very accommodating. Worked with us to meet all of our needs. will definitely be a repeat customer. If you need a quality used car at a great price come see Kristina Langford!
11 months ago Jason Feldman
Kristina was extremely helpful in reaching my car needs whilst maintaining impeccable customer service. Moreover, my experience was low pressure. Quick, friendly, and not pushy made this an incredible purchasing experience. Thank you Kristina!
1 month ago richard stacy
Worked with Kara who was patient and worked with all my needs!! I'm excited with my new car .Great customer service. Will definitely recommend!!
10 months ago Jeffrey Bush
kristina was amazing to work with and made things fast and painless
8 months ago Dan R
Went here a few years back, test drove a car, felt pressured to buy it. He wouldn't tell me what the interest rate would be, other than that it'll be high because I didn't have any credit and that I should refinance after a year or two. Once I decided to leave, my own car wouldn't start. Another guy comes out there and tries to convince me to buy the other car, saying my car is worthless. I looked under my hood and my battery cables were unhooked. They're the only ones that had my keys while I test drove the other car so I was highly upset with them. Drove down the street, bought a brand new 2017 Nissan Sentra with .05% interest rate. Have bought 2 more cars from Nissan since this happened. I would never go to Bob Ridings again. Definitely do not trust this place at all. Very shady in my opinion. My friend also bought a car from here and her transmission started slipping 6 months after. (it was used though) Oh and FYI, they give out free stuff for positive reviews, even if you've never bought a car from this place.
2 months ago Justin Cheung
Buying a car has been easy, the time I had was limited, and I was still able to find a great deal with the time I had. kind and thorough service all around!
11 months ago Ashish Gollamudy
There were no troubles with my purchase and Kristina was great with helping with everything! The process was easier than expected and I ended up paying less than expected.
3 days ago Badaaw AD
Stephanie was very helpful and kind throughout the entire process of buying my first car!! I do recommend!
10 months ago Roni Rebel
Went great all the way from driving onto the car lot to recieving the vehicle. Kristina was very nice and awesome to work with!
4 months ago KTTK YT
Great experience with Karah Pritchett. Also got some helpful questions answered from the shop in making my decision. Everyone was very polite.
4 months ago C Armstrong
The visit was great, karah pritchett was awesome go see her!
10 months ago juan velez
Kristina was very helpful with whole experience. Very informative, pleasant to talk with. Would definitely recommend Kristina to friends who are looking for a new vehicle.
1 month ago Peter Costello
I'm on the fence with this one... Sales person that sold the car was great! Sales Manager, I was disappointed with on a professional level. Service Department staff is great but I knew that from prior experience with a different vehicle.
1 month ago Rome H
I am happy to offer a GREAT review for Evin Faught and others who helped me at Bob Ridings with my purchase of a used Pacifica. As a senior citizen I was looking for dealers from the beginning who respected my concerns about COVID 19, Evin more than lived up to my expectations. I contacted him via email and set up a test drive of two vehicles. When I arrived he had them brought up front, had wiped them down with disinfectant, came outside to meet me, and wore a mask the whole time. After I visited other dealers I contacted Evin vie email once again to negotiate. He worked with the Sales Manager and came back to me with "virtual" deals. I tried this process with other dealers but most were reluctant to handle this process virtually, and none embraced it the same way Evin did. My wife and I than came out for another visit for her to test drive and once again Evin handled our COVID concerns flawlessly. After another round of negotiations we settled on a great deal. When we came for the closing, Evin had set up the signing so we had very little time indoors and with a Finance Manager who handle our process quickly and efficiently while wearing a mask. I would definitely rank Evin as one of the top 5 car salespersons I have worked with, give him a call!
9 months ago Yidi Li
Their used car selection is amazing, best in Decatur. I worked with Stephanie and she was by far the best sales rep I've talked to. She was quick to find us a selection of cars to look at and listened to our feedback to narrow the list. Got us in a car same day. Very happy with the whole experience.
5 months ago Robert Riggs
Great place for your auto purchase! Stephanie Helphrey did great getting me in a great car at a great price!
11 months ago Angel Haggard
Kristina was awesome to work with! I got everything is as asking for and she was organized and diligent with communication.
10 months ago Salman Omar
Justin in the service department is awesome!
6 months ago sushma jain
Kristina was extremely helpful is my car search. She went above and beyond to make sure I was satisfied with the car. If you are in the market for a new/used car she is the one to talk to.
8 months ago Lisa Baez
I worked with both Kristina and Kara they were both very helpful I recommend purchasing from this place
11 months ago Michael Latanza
I had a great experience here today, Kristina Was very professional and patient with me . She made the process so easy , A breeze She's a great sales woman ..
1 week ago Jennifer Burford
Kristina helped me get a Vehicle and everything was GREAT! I most definitely recommend her.
1 month ago Sami Omar
Karah helped me so much with purchasing my new Lincoln! She is very knowledgeable on her stuff, super friendly and will get you an amazing deal!! Definitely recommend!
2 months ago Chris Dicus
Karah was helpful, polite, and informative. Thank you!
8 months ago Wren Miller
I give Bob ridings at 5 star. Stephanie was Great. I came in didn't think I was going to get a car. Now I'm walking out with a New car. I cant be more happy this is a exciting d
2 months ago Julie Baker
Always nice and friendly... Great customer service
9 months ago Laquisha Hall
kristina Langford helped make a dream come true . love my new truck thank you so much
3 days ago Mario Herron
Good success with Bob Ridings in Decatur again. Kristina Langford was very, very Good, very professional and knowledgeable. Very helpful with pricing and going over the vehicle features. Was not pushy and good to work with. Thanks Kristina
6 months ago deborah zisko
Stephanie was a great sales consultant! She was an awesome person to find what I needed. She helped me get into what I needed every step of the way!
2 months ago Ramona Breazeale
Literally pulled in the parking lot and Kara Pritchett came out and was very helpful and honest on what she could and could not do. I left and came back due to me being unsure and i will say Kara was a woman of her word. I came in and was here for 2 hours and drove off with a 2018.. I really appreciate Kara for helping us. Also the whole staff was very friendly.
10 months ago amb oo
Kristina made the car buying experience very quick and easy. Gave me what I wanted. I would come back to her in the future.
2 months ago
Popular places from the category Used car dealer