Battery Warehouse
Car battery store Battery Warehouse, 1071 Manheim Pike, Lancaster, PA 17601, United States:
130 reviews
of users and employees, detailed information about the address, opening hours, location on the map, attendance, photos, menus, phone number and a huge amount of other detailed and useful information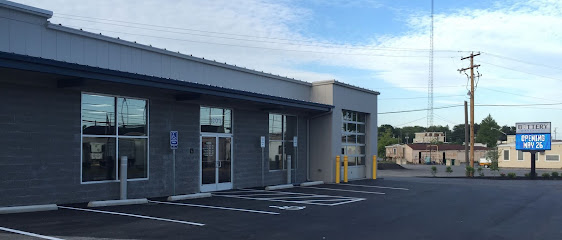 Address:
1071 Manheim Pike, Lancaster, PA 17601, United States
GPS coordinates
Latitude:
40.0575345
Longitude:
-76.3150839
reviews Judy Raphael
Had a dead watch battery AND a dead garage door opener battery. They fixed 'em both within 15 minutes and for a good price. Two thumbs up. They are now my go-to place for stuff like that.
6 months ago N KB
Have used this location many times now. They install key fob batteries quick and easy. They have installed a battery in my car over my lunch break! Knowledgeable and affordable! Highly recommend!
10 months ago Barrett Burns
My experience with Battery Warehouse has been excellent. The staff is courteous and helpful. The store is clean and organized. My transactions have been smooth and pleasant. I will continue to use Battery Warehouse for my battery needs.
10 months ago Erik Reyes
They are very help and were able to get the battery that l need it.
6 months ago wirley kennerson
good location to get your car battery looked at. they will go thru all the steps to let you know what's going on with the car battery.
7 months ago Stephen LaRoe
Awesome place to get batteries of any kind for any application. Very helpful sales reps!
8 months ago David Smith
Nice workers. More then 1 their to help a couple people at a time. Will go again when need batteries
9 months ago Laura
Ordered online, and choose curbside delivery. The person came out, placed the new battery in the trunk, took the old battery, and slipped us the invoice. It was easy and quick. No issues, and the prices were competitive!
5 months ago Tim Duncan
Excellent customer service, battery was substantially less than two other places. Highly recommend. IN & out ten minutes boom!
11 months ago Olen Henderson
Helpful staff and the best prices around.
8 months ago Emily Williams
Was super helpful and knowledgeable.
6 months ago Charlene DePerro
Very informed great service
5 months ago Ahmad Badarneh
Very helpful! Love going there!
10 months ago Brandy Borchers
5-Star shout out to Derrick (manager) for his incredible customer service in testing my old battery and installing a fresh one on the spot. Highly recommend this shop!
1 month ago Al Blackman
Great deal on deep cell batteries! They were friendly and knowledgeable.
2 weeks ago xiao chen
I love the fact that there is only One place to go for any battery. They don't waste anytime to help you, and are very respectful.
3 months ago Lina Damien
They put the battery in my son's watch. I appreciate that.
1 week ago Morgan Gordon
The staff was helpful. They had the battery in stock, and tested it before my purchase. It works great.
10 months ago Piyush Jain
ODYSSEY extreme 1500 let me sit 3 times in morning only. put in new cheap battery. been 1 month now no problem. they said battery was good. i know it is not, would not replace the $300 battery less then 2 yrs old. same happened to my generator battery didnt last 1 year. not to impressed
5 months ago Lizik Bratsk
All kinds of batteries, good service
10 months ago Jessica McGuire
Nice people they are very helpful. And reasonable prices.
3 months ago Soldier boy
Great place, got us in to replace a battery super quickly. And, it's impeccably clean, even the restrooms!
8 months ago Honestly Nate
Very kind, knowledgeable and gave a fair assessment of battery issue.
8 months ago Bhavya Shamalia
Good prices and good help
11 months ago Graham Ford
If you need a battery, Battery Warehouse has the battery and can provide the service you need.
5 months ago Chaim S
Great employees. They are always very helpful and have an incredible array of batteries large and small. I've gotten a hard to find car battery fora reasonable price and also the battery for my car fob. They checked the battery, found the replacement, placed it in the fob and I was on my way in five minutes and under ten dollars. I was also grateful for their ability to help find a small, hard to find battery for my surface pen without having to feed the Amazon monster we are all coming to rely on too much for the hard to find.
1 month ago Chopperfreakcm Cm
Great service. They found me a battery for my phone. Made sure it worked with my phone. Good prices. I was in and out less than 5mins.
7 months ago tofan khan
These batteries are for my husband's wheelchair. Thank you so much!
11 months ago Jessica Mccurrie
Have had great experiences with them for many years. Prices are decent, and the service is great. They will change a battery for you, or help you find the right battery for your unique application. No need to shop around, just go here.
11 months ago Daryl Richardson
Very knowledgeable and helpful
11 months ago Lavonne Danenhauer
Got my battery here a few months back, went today because I left the lights on in my car to get it recharged and they gave me a renter battery until they charge mine for no charge, just a $15 donation but not required. I honestly would recommend battery warehouse to anybody. They're quick and they're good!
5 months ago Stephen Kelly
This shop was recommended to me by a coworker. I needed a car battery. Very friendly people who took care of me immediately. The battery was a reasonable price and while I was waiting I also picked up a battery for my phone. Highly recommend
8 months ago Doug Clapp
Very helpful and friendly. I needed a hard to find battery and they located it and it was fast and painless. Great price also. I will definitely go back in the future
11 months ago Sreeja Sree
Always helpful and competitive prices. Overall a great place for almost any kind of battery needs
5 months ago Miguel Angel
Just got back from having a new Deka battery installed in my Saturn. Everyone was courteous, especially the young man I spoke with on the phone prior to my visit. I was in and out in less time than it took me to get there, and I'm from East Pete. You now have a very satisfied customer who will be back again.
10 months ago Mandy Rope
Good selection of batteries and overall good pricing. Although once in making a decision on a battery, I called them and received a quote, only to drive 30 minutes to the store n find that the price was $10 more than quoted and they didn't really want to honor my over the phone price quote. If I would've known that I would ordered the same battery from a local retailer that would've delivered it to my door. All in all a good business in a nice new building.
1 month ago Jennifer Haney
I have done business with them for some time when there at their old location. They have always treated me right. New location is very nice. Floor layout is much larger than the old. The clerk was nice and very helpful. Prices were very reasonable! I Will be shopping here again when the need arises.
1 month ago Robert Adamites
My second visit to this store to get a battery for 2 different cars (good pricing on batteries you beat out your competitor) and I literally won't go anywhere else now. I rate it very high because of their competence and the very friendly staff! Btw, I love the Christian kite up on the wall!
9 months ago Dequon Martin
these guys are amazing every time I go there. They have everything I need for batteries and the experience and advice to back it up. You can find stuff cheaper online but you chance getting expired batteries, bad batteries, and lack of experience in customer support. Support these local guys. they are awesome and I've been with them for 6 years now and every experience has been great. I love the fact that they offer a free battery test for your vehicles and I try to drop by annually before winter hits with my cars. I tell my friends to do the same.
10 months ago Daniel Jones
Good service
11 months ago Josh Keyes
A good place to buy batteries and anything related. Good quality products and good service.
11 months ago Preethi Sahayaraj
needed a replacement battery for a watch - came in, the attendant took care of it in a few minutes with minimal hassle, and for an inexpensive price, and in a friendly manner. worth supporting this local business instead of going straight to amazon!
5 months ago Stephanie Holmes
Best place to buy BATTERIES with excellent customer service. Family owned and operated. Shop local folks!
9 months ago Connie Howard
Fast to help very courteous , very reasonably priced
7 months ago Nancy correa
I replaced my car battery at the battery warehouse and I loved their professionalism. They installed the battery for free after the purchase whereas another car mechanic place wanted to charge me for labor it do the install. Also, I found the kind of battery I wanted only at the battery warehouse.
5 months ago Ashley Campbell
They have every kind of battery and the service is great.
5 months ago Vaseem Akram
Excellent service, friendly and helpful staff, and affordable costs for quality batteries. Highly recommend.
8 months ago Cecille Gonzales
Good selection. Reasonable prices. Car batteries installed free and they will give you a loaner battery if something goes wrong while it's under warranty.
5 months ago Sergei Rogov
Very fair and affordable prices for batteries for motor scooters.
11 months ago jocelyn knox
Great customer service and affordable battery prices.
6 months ago
Popular places from the category Car battery store