Auto-Chlor System
Restaurant supply store Auto-Chlor System, 1609 Industrial Park Cir, Mobile, AL 36693, United States:
102 reviews
of users and employees, detailed information about the address, opening hours, location on the map, attendance, photos, menus, phone number and a huge amount of other detailed and useful information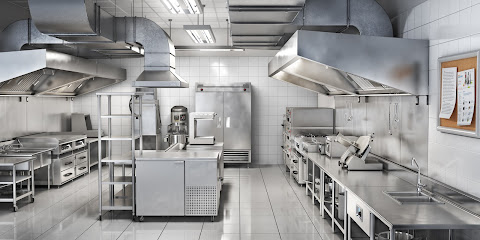 Address:
1609 Industrial Park Cir, Mobile, AL 36693, United States
GPS coordinates
Latitude:
30.6354917
Longitude:
-88.1298943
reviews Nancy Trang
Kenny Brown is an amazing Dish man. He knows his stuff, and never afraid to answer questions, shows pride in his work, isdown to earth. We are sad when he is off and we have someone else. He keeps our machine at the Fried Green Tomato clean and well stocked while others don't
2 weeks ago Saad Ahmed
Dustin Smith has been a pleasure to work with from every aspect, start to finish. Figuring out which product would best fit our needs to the install to product upkeep and supplies. He is easy to get a hold of and everything is handled in a timely manner. Would recommend him and the service to anyone!
11 months ago Linda Tilson
Josh is the best tech that I've had the pleasure of dealing with. He's thorough and precise. Always makes sure we're running the best we can. Highly recommend him for all of your dish washing needs.
2 weeks ago Nitika Bansal
George has been very helpful to us. He always takes care of us when we need it. He makes sure we never run out of chemicals and always keeps a great attitude at work. He makes sure our equipment is on point and working fine. I thank all the Autochlor family for their fine services.
2 days ago marsha ferguson
Justin Bolton and Allison Shepherd are the absolute best to work with. They have exceeded every expectation thus far and I expect they will help your business in every aspect. Please do yourself a favor and contact them for all your chemical and ware washing needs. YOU WON'T BE DISAPPOINTED!
9 months ago Dominic L
Always a pleasure to speak with Allison to make a payment. Josh always keeps our equipment up and running perfectly! JJ checks in on us regularly to make sure everything is running to our expectations! Couldn't ask for a better company to work with!
1 day ago Steven Day
Kenny has been our guy for the last few years and we love him! He is always available and there when we need him. He is always willing to go above and beyond. Great guy!
10 months ago Brittany Yurkovitch
George is AWESOME! Grade A customer service and he is always smiling! Anytime we need a repair or products George is quick to fulfill our needs.
11 months ago Jeff Vernier
Auto-Chlor is an amazing company! They service our dishwashers at Acme Oyster House in Gulf Shores and do a great job! Allison who works for them also helps with the Hospitality and Tourism Management program at South Alabama. She is a true professional at her job! Thanks Allison!
9 months ago marco novelli
Stephen is great to work with! He always assists us with whatever our needs are at Hook Gulf Coast Cuisine. Very pleased with Auto-Chlor and the service they give.
10 months ago Ani Debacker
They are the best in the business! My rep Dustin Smith is the best chemical rep I have ever had the pleasure to work with! He checks on our restaurant all the time and makes sure we are never in need of any product. Highly recommend!
2 weeks ago Hiral Patel
Dustin Smith was easy to work with and got me setup with exactly what I needed for my small business. Josh showed up soon after to install the products and did so in a timely and efficient matter. Would definitely recommend this team!!
11 months ago Rich Rodrigues
Allison Shephard was very helpful and informative with all of my requests. Very attentive and got back with me very quick. Allison was also very generous to the Hospitality Management Program at the University of South Alabama. Thank you Allison !!!
2 weeks ago Dough Boy
Dustin and his team are super efficient. We tell all our clients with restaurants about them and their services. Environmentally friendly, which is HUGE to our delicate coastal area.
11 months ago Katie Bliss
Josh is the best! Always there whenever we need him! Allison is always super helpful if we ever have any account questions and with taking payments for us!
2 weeks ago Katherine Cook
Jimi takes great care of us! Josh came out late on a Saturday night when our machine lost power and got us back up and running in no time! Great teamwork!
10 months ago joel kavkaz
Auto-Chlor has been great. When I call they come out and fix any problems I have. They are always nice to my employees too. Allison takes payments over the phone very well.
1 month ago Jack Lenihan
Dustin signed us up and we couldn't be happier! Robert, the installer was fast and very helpful, Jimi is our rep and always is available for any questions. The woman who takes our payments is divine. Thank you Auto Chlor
10 months ago Eric Chandler
Can't say enough great things about the Mobile Auto-Chlor Branch! Their service is second to none especially Justin Bolton. I've personally called his cell phone and had a technician at my restaurant within the hour.
9 months ago Timur Braganciuc
Justin Bolton and JJ run a tight ship. always have had excellent service from Josh! Keep up the great work guys!!!
11 months ago Drina Bedoya
Couldn't run my business without Auto-Chlor! The products are great and the service is even better. If I'm ever in a bind Allison and Dustin are always happy to help. Never using anyone else!
11 months ago Aaron Bradley
Allison is always so great to deal with on accounting needs. Josh is always there when needed and helps train our staff on how to properly operate the equipment when new employees are here!
9 months ago Obsidian Night
These guys are absolutely the best! Respond quick and fix any issues we have in a timely manner! Josh is our rep!
3 months ago Wilton Shawl
Jimi and the auto-chlor team in mobile is awesome! They always provide you with everything you need and answer any questions you have. Thanks!
10 months ago Deatra Parker
Autochlor is awesome. Service is great. Tyler does a excellent job
3 months ago Lavece Smith
Stephen Jurta is my rep and is always there when I call! When I call for payments Allison is very friendly and helpful. Would recommend Auto-Chlor to all my fellow restaurant owners!
2 weeks ago Robert Arthurs
Big shout out to George at Auto-Chlor Mobile! Very professional service, always on time, and always has a smile to give! They service our business Gulf Coast Events & Rentals.
11 months ago Ethan Newbrough
We love our Auto-Chlor guy! George always does exactly what we need him to do and he is always in a good mood.
2 weeks ago Lu Divine
From the Veterans of Foreign Wars in Fairhope. Josh is absolutely the best. An it's always a pleasure to deal with Allison!! They are the best!!
9 months ago Peiman Hd
Stephen is an excellent worker. I never need to worry about anything because he always makes sure we have plenty of product in stock and fixes any issues that come up.
10 months ago Sharon Merritt
Dustin and Allison were amazing!! Very helpful and extremely knowledgeable. They are a huge asset to your company!!
2 days ago Gary Heinz
Great job and wonderful service. Steven did top notch work.
11 months ago Julia Mroz
Allison and Josh Nolen are so helpful with anything I need! Would recommend for all of your dishwasher needs!
2 weeks ago Web Webster
This is Bangkok Thai Cuisine in Daphne, AL and we have been with Auto-Chlor for years now. In term of service, they are 5 stars. Our technician George Danu has also been great for us
11 months ago Charles Ferreira
Josh is awesome! Always super quick to respond anytime we need him!
3 months ago Tigh Loughhead
Steven does some of the best work in town. Products are always top notch around.
2 weeks ago Haiyun Zhou
Auto Chlor has been great to us! we had a fruit fly problem at our bar and had tried multiple different products and vendors to try and rid our resteraunt of them but failed every time. Josh had the solution to our needs and now theres no more fruit flies! def recommend to anyone!!!
11 months ago Ricky Wing
We the staff of busters restaurant in Atmore, Alabama give our representative George does a great job ...
9 months ago Ed Annatone
The Assistant Branch Manager Justin Bolton is the best to work with. Goes above and beyond!
2 days ago Nicole Gonzalez
Dustin Smith and the Auto Chlor team have been great to work with. We are happy we made the switch and look forward to continuing our partnership with them moving forward!
11 months ago Nancy Rossley
Dustin and Allison are awesome! Josh takes great care of us as well!
10 months ago Loyd Gitari
I don't often leave reviews but felt the need to in this case. I have managed several restaurants over my career and George with Auto-Chlor is top notch. His professionalism and the time he takes to teach and explain help me stay running smooth. Kudos to both George and Auto-chlor!
10 months ago Jinsun Baek
This is pizza hut George is a very good sales rep and very helpful. My store is in Spanish fort. Store # 2100.
11 months ago tina hardigree
My company has been with Auto-Chlor for many years now. We have been pleased with the service and equipment. Dustin Smith is our rep. He is easy to get ahold of and checks in with us regularly.
2 days ago Ripan Mondal
George is always doing top notch service our machine at Yinzers Brew & Grill.. Would definitely recommend..
11 months ago Jeannie Shay
Auto Chlor is the best dishwasher company around , great customer service . George Danu is also great!
10 months ago Mark Briggs
Mr. Walker is always willing to help and is always in good spirits! Always come in timely manner when I call.
10 months ago Lee Broaden
If we have any problems I call Justin Bolton and he has them addressed immediately with hands down the best service representatives in the business. Thank you Auto-Chlor for hiring such fine individuals!
10 months ago Dustyn Smith
At Palace Casino, Biloxi we have worked together with Auto-Chlor for more than a decade. We are proud of the way that we maintain the cleanliness of our property and Auto-Chlor has been a great partner in this effort. Their support services are complete and done with pride. Their prices are very competitive. They are a great team mate in our efforts!
9 months ago Gary Brown
Dustin and Josh and the entire Auto Chlor team always go above and beyond. Glad to have made the switch!
2 weeks ago
Popular places from the category Restaurant supply store