BAY Crawlspace and Foundation Repair
Construction company BAY Crawlspace and Foundation Repair, 1179 Lance Rd, Norfolk, VA 23502, United States:
220 reviews
of users and employees, detailed information about the address, opening hours, location on the map, attendance, photos, menus, phone number and a huge amount of other detailed and useful information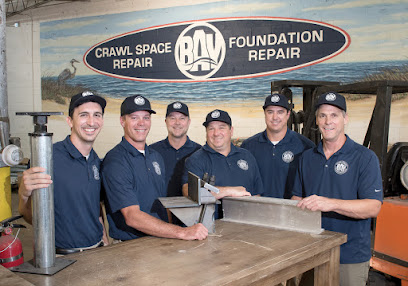 Address:
1179 Lance Rd, Norfolk, VA 23502, United States
GPS coordinates
Latitude:
36.8630337
Longitude:
-76.2168472
reviews Keisha Smith
Bay Crawlspace and Foundation Repair has an amazing team! Their prices are reasonable and they do an amazing job!! No matter who I have spoken to or worked with, they have been extremely kind and knowledgeable. Their work does not stop once the job is complete, even years after the service was provided. They fully stand by their work and do what ever is needed to ensure you are completely satisfied. Any questions/concerns are addressed promptly and completely. They are amazing! I highly recommend Bay Crawlspace and Foundation Repair to everyone!
1 month ago larn Mcortz
UPDATE *they had a technician come out and add more VB to seal for 100% ground coverage. I am happy with the end result would recommend for future services but be sure to check out the work before they leave.* The initial process was fantastic they were easy to talk to, I didn't feel pressure to purchase or go with them. I also felt they were upfront no BS which I appreciate. They also scheduled me about a month out from when I signed the contract great timing. Today I had a vapor seal installed and it took about 3 hours to complete and i was impressed with the time. Yet when I went to inspect the work I was not impressed with what I saw. "100% ground coverage and close fitting to all obstacles" was not performed. It's unfortunate that I had to inspect and call for someone to come out as soon as inspected. When I called they were awesome and sending someone to come out this week to look at it. *will update review once it is looked at and fixed also trying to figure out how to attach pictures
4 months ago Betty Orme
We live in Chesapeake and our house is on a crawl space. If you know anything about Chesapeake, it's a swamp. There was water just sitting under our home and over time this will create major issues. No one wants to fork out money on something they can't even see; however, this is a necessity and an investment. Bay Crawlspace had the most competitive pricing and they were able to guide us on what they recommended. They went through all the options from the most expensive to the least and explained the purpose of each. We went with the middle option which included clean out, grading, liner ground coverage, taped seams, and staked seams along with a custom French drain and a sump pump system. We have had rain several time and it's absolutely amazing how dry it is now under the house! The work they did was fantastic. The took their time and got it right! The employees were very friendly and respectful as well. We are very very happy with service provided and would absolutely recommend this company to anyone in need of crawl space work.
2 months ago Brit Ash
From our inspector, Mike, to the crew who came out to level our floor and reverse settling (Mike, Tyler, Aaron and Jermaine) everyone was absolutely amazing. They were thorough in their explanation and up front about all costs. It was a great experience.
1 month ago Erin Saldarini
BAY crawlspace and Foundation Repair recently finished a crawlspace encapsulation on my home. I am extremely pleased with the result! I had 4 companies come out for estimates. Bay had the best reviews and pricing of all of them. There were no high pressure sales tactics to sign today, only an honest review of what work was needed while keeping it within my budget. Rather than have everything as an add on i.e. insulation, hygrometer, etc., Bay includes it all and they still had a better price! From David who did the initial estimate, his administrative associate Sonya, Mike and his crew who did the encapsulation and Nathan who came out for the final inspection; all were very nice, answered every one of a gazillion questions without batting an eye, were always on time, cleaned up their work spaces and kept me informed every step of the way. Their customer service is on point and I highly recommend their company.
6 months ago Tom DiGiacomo
From beginning to end, it was a great experience working with Bay. Fred worked with us to create a plan that would provide us with the support we were looking for while keeping us within budget. They were by far the most fairly priced compared to competitors, and they did not try to sell us on anything extra. We ran into one small plumbing roadblock when the work started but the guys did the right thing and stopped work and brought it to my attention. Bay was extremely accommodating and quick to address the issue, and made it right for us financially. Once the plumbing was resolved, they were right back out and worked until the job was done. Nick and Josh left our home perfectly clean and all their work looks fantastic. We even ended up with upgraded beams at no extra cost due to material shortages. The floors feel extremely sturdy and we have the peace of mind we were hoping for.
2 months ago Adrian Landry
Bay Crawlspace did a great job identifying and repairing several issues in our crawlspace. The initial inspection was thorough and the recommended solution was spot on. Art and his crew did an excellent job in conducting the repairs. Especially liked the post repair inspection process, which identified several minor issues, which were rectified in a timely manner. Would definitely recommend Bay…
3 months ago Helen Chaknine
French Drain installation was performed a week early. Both crews that came out were polite, professional, and more than willing to answer any questions about the process. Second crew that performed 90% of work were great and afterwards showed pictures of work, but went above and escorted me under the house to inspect the work and explain everything with the system. Mike, Tyler, Aaron, and Troy were a pleasure to have and went above and beyond on the job. Would recommend this company and crew!!
2 months ago John Campbell
We have had Bay Crawlspace come to our home and perform several different projects, including most recently a crawlspace cleaning and installing a dehumidifier. They have always been helpful and courteous during the inspection and planning phase, as well as professional and efficient during the completion of the work. Their office staff has always been easy to communicate with by both phone and email, and they have always made every effort to accommodate our schedule. We appreciate their efforts, and will use them in the future for any further work or repairs.
2 months ago Ernest Savoy
I write to let you know how pleased I am with Bay Crawl Space. They recently replaced my foundation vents and crawl space doors. Everything about the experience was exceptional! First of all, Dave came out to do the estimate. He was professional, knowledgeable, on-time, friendly, and he gave me all of the information I needed to make the proper decisions about the job. Then, Seth came out to do the install. I'm not trying to sound like a broken record, but he was professional, knowledgeable, on-time, and friendly as well! He took the time to ensure that I had the right doors (which required a quick trip back to the office), and he gave me some training on how to operate them. Seth did an outstanding job. I had been trying to get someone to come out and do this install for several months with no success, but the folks at Bay Crawl Space were eager to do the work, prompt in providing the service, quick with reminders and follow-ups…and I found the cost to be very reasonable. I am very pleased with the sharp look of my new vents and doors. If and when I have crawl space issues in the future, Bay Crawl Space is the first place I will call! I highly recommend them! Dave in Chesapeake, VA
3 months ago Jared Vollmer
I wanted to take a moment and thank all of the Bay Crawlspace staff for a phenomenal job done under my house to include a French drain and a vapor barrier. From the initial assessment I was well informed and updated regularly about what all would be done and the time frame in which it would be completed. I must say that I am impressed with the four gentlemen that came out today; Marcus, Austin, Troy, and Shannon were on time, professional, very knowledgeable and extremely helpful! While completing my project they found that I had a broken sewage pipe, they took pictures and notified me immediately. They were able to send me the pics through email which allowed me to send to my plumber. I was able to have the problem corrected all in the same day. I appreciate all their hard work and taking the time to make sure the job was done correctly! Thank you for a job well done!
3 months ago Denise Graham
Everyone at this company that I worked with were professional and courteous, the office staff, the estimator, and the work crew. Their estimate was not the lowest I had but it was the most thorough and offered the best option for my situation and had the best guarantee. We encountered scheduling issues because of several days of rain but the scheduling staff worked with me to get the job complete. Very satisfied with their work!
2 months ago Brenda Monroe
We gathered multiple assessments and estimates for the work we needed under our house. We wound up going with Bay Crawlspace based on talking to other people and what seemed to be honest quote without unnecessary "extras." There were a couple of hiccups during the process of the work, but that is to be expected with repairs. I am pleased, though, with how Bay responded to all of my questions and concerns. Cindy, in the office, was always quick to respond and very pleasant with our interactions over the phone. Seth and two others (I can't find the paper with their names right now) were also great. I am pleased with how everything worked out in the end and definitely recommend Bay Crawlspace.
2 months ago Sam Schneider
I had three piers and a dehumidifier installed. The price was fair, crew was courteous, everyone was professional, cleaned up well. They took time to answer any questions and concerns both when I received the estimate and when the crew was onsite. Bay Crawlspace is recommended from me.
2 months ago Abiodun Adegbenro
We are very impressed with the job the Bay Crawlspace team did for us to deal with significant water problems we had in our crawlspace as a result of all the rainwater we had this winter. The crawlspace was encapsulated by another company about 4 years ago before we heard about Bay. We've had no problem with water in the crawlspace until this winter when the surrounding area ground became so saturated. To deal with this in the future, we received bids for installation of a French drain system in the crawlspace from a couple companies. Bay's "Beau" gave us a very competitive quote and we were impressed by Bay's customer reviews of quality work and great value, so we chose Bay to do the work. Two members of Bay's Service group, I'm sorry, I don't recall their names, came by last week and cleaned up the crawlspace and dug the trench. Yesterday and today their Production crew (Stefan, Adian, and Ashawn) installed the drain system (tubing, rocks, and sump pump) to include the water discharge in the front yard. We really appreciated the manner they fielded our questions, provided their recommendations, and their attention to detail for positioning the sump pump and water discharge line out into the yard. It all looks great! In addition, a two man electrical team also came by today to run the wiring for the sump pump. As we watched the Production crew working we were so impressed by how professional they were and their pleasant attitudes. We know that it is tough work in that crawlspace; they were amazing! The reviews we had read about Bay were indeed accurate…quality work and great value!
2 months ago John Shimkus
I hired Bay Crawlspace because I live in an area where the water table is so high that I had constant standing water in my encapsulated crawlspace and it had gotten so bad that my driveway is cracking because of the excess ground water draining under it. I also am getting a very heavy fish tank installed on the first floor of my home and wanted reinforcement placed on the floor joists underneath. I had a great experience with the team that came out to install a French drain around the inside parameter of the crawlspace, with sump that directs water all the way to street. They also used the Titan jacks to reinforce my floor and I could probably park a semi truck in my office now...lol. Thank you for a job well done Mike, Tyler and Aaron and I would say money well spent.
2 months ago Michael Barton
Bay Crawl space began with an honest estimate process. They followed up with on time installation and took the time to answer all of our questions. Seth, Bradly, Travis, Shannon, and Fred were courteous and very professional.
2 months ago Cheryl Hegwood
The piers all look fine - however the slope in the floor did not change. And yes, there was a second inspection. While he was there, I asked about a concern on the left side of the house - a few minutes later I was told - yes I needed work on that side along with the sidewalk demolished and re-poured for about 16K. The issue I have with this is - why wasn't that recognized from the outset. I'm preparing to sell the house - I need apparently another thorough inspection to determine what else needs to be done - this cannot be piecemealed - so it's like do I really need that 16K job, or was it an opportunistic moment for the guy to generate revenue - "confirming" my concern - but this again, was not part of the initial assessment. I need this done professionally and honestly - so can be assured that the house is sound. Furthermore, until this is done completely - no way I can replace the windows - which also needs to be done - obviously can't do that if additional foundation work is truly required. Thanks.
4 months ago Robert Likes
I had some fire damage to my existing vapor barrier and needed a replacement. I got several quotes and was presented all kind of crawlspace options from different vendors. Bay Crawlspace and Beau who came out to see the house were awesome. He listened to what I wanted which was a high quality vapor barrier with taped seams. He provided me a quote which wasn't the cheapest or most expensive I had seen. Overall the quality and professionalism from Beau made me go with Bay. The installation day went very smooth as well. The team kept me informed of any schedule changes and the squad that installed literally stayed all day and into the night getting the work done. The crawlspace looks great. Bay threw in a "free" crawlspace hatch/door with my large job which I know isn't really free, but I liked the gesture nonetheless. Troy and James came back the next day to install the frame and door. They were super nice as well. Quality sometimes costs a bit more, but it is worth it in the long run.
7 months ago paolo polizzy
Mike, Adinn, Shawn and Nate came out to do our crawlspace encapsulation. It took 2 days and they worked really hard. The job was finished on time, they were professional and courteous and did a great job. The office called ahead of time to tell us exactly when they would be there and they were on time on the day they said they would be there. How refreshing! The crawlspace is transformed. We already feel the difference inside the house and my allergies have improved after they took out the nasty stuff that was under there before. I would thoroughly recommend Bay Crawlspace. Good price too. Updated to add - They sent Troy to complete the punch list. Again - very professional and courteous. He thought he was done when I found 4 more vent covers under the deck. He never even blinked - was more than happy to crawl under the deck and finish it off, even helped me put back the deck pieces I pried off. Went above and beyond.
5 months ago Roni Johnson
My crawl space had old, torn up vapor barrier and a small amount of standing water. Fred was my field inspector. One of the first things I said to Fred was I didn't want a sales pitch. Just tell me what you think, and he was straight with me. I thought I was going to need a drain/sump pump system, but Fred recommended leveling the ground and a new vapor barrier would do the trick. A few weeks later, Art, Rad, and Jermaine came out to my house. They cleaned up my crawl space, leveled the ground, and put down a 12 mil barrier. Now my crawl space is dry as a bone.
2 months ago Kokila Moorthy
Bay Crawl Space came out to our house and did a thorough inspection of our crawl space. When reviewing their findings, they provided pictures to better help with understanding and they took the time to answer all of our questions. Bay Crawl Space was extremely organized and the work that was done by Mike, Nathan and crew was complete in a timely manner and the service was exceptional. We will continue to use Bay Crawl for our dehumidifier maintenance and any crawl space needs.
6 months ago Pradip Kalkani
I recently used Bay Crawlspace to put a couple support jacks and a support beam under my kitchen island. The previous owners had installed new countertops that were way too heavy for the space and neglected to ever deal with the deflection it caused. I had multiple companies come out and do an inspection. From start to finish, I was really impressed with Bay. Michael was my inspector, and in addition to being very informative, he was one of the most considerate and honest individuals I've dealt with regarding any home services I've ever sought. There was no high pressure sales pitch, no trying to change my mind if I said I wanted something done a certain way or didn't want something else. He allowed me to take the time I said I needed, and when I called with questions, he always had answers. Nick and Josh did the work on my house and actually got around to the work earlier than scheduled. They also removed some batt insulation from my crawlspace. They did the work very quickly, didn't leave a mess behind, and the results were instantly noticeable. The floor was raised, feels much more solid, and the creaking sounds coming from the island itself (that were incredibly annoying) when we would walk nearby have been eliminated. I wouldn't hesitate to call these guys again.
2 months ago Melanie Morten
Bay Crawlspace is removing insulation from our crawlspace and replacing the vapor barrier as well as doing some structural repair. From scheduling with Cindy, receiving an inspection by Michael Rowlands, and insulation removal by Seth and Alex, the staff could not be more courteous, thorough, and professional. Michael Rowlands' inspection was extensive, detailed with pictures and offered numerous options at reasonable costs. Micheal was knowledgeable and able to address all my concerns and questions. Seth and Alex conducted the insulation removal from our crawlspace and couldn't have been more accommodating, conscience, and thorough. Our house has numerous surrounding flower beds. Seth and Alex developed a removal plan that wouldn't disturb the beds despite making more work for themselves. Their clean up was spotless despite dealing with a lot of wind. One would never know they were here. I couldn't be more pleased with the work or personnel with whom I have worked with thus far. I would highly recommend this company for any crawlspace work. 5.0
2 months ago DiZy Dino
Stefan, Thomas, and Floyd showed up on time every day and let me know the scope of the work they'd be performing before the start of the day. I really appreciate the professionalism and work ethic of the crew from Bay Crawlspace! Thank you for the great job!
5 months ago Dwight Robinson
Mike and Crew/Nathan came to my home to do some crawl space work. I had a mess on my hands! They did an excellent job. They knew exactly what to do. They we're so professional and friendly. This company is very affordable and fair about their dealings. I strongly recommend giving these folks a call because they are reputable and dependable. I see why everyone else gave them a 5 star rating.
9 months ago Anna Boese
I highly recommend Bay Crawl Space. Each aspect of their service is excellent. Michael provided the initial inspection and provided clear, accurate information regarding repair options and pricing. They worked with a complicated schedule to assist with our mechanical repairs. The workers are polite, efficient, clear with information, and cleaned up immaculately. I would have Marcus, Austin, and Delion return to work on my home every time.
4 months ago C Nice
We had dampness and mold issues in our crawlspace. They sprayed to kill the mold, then encapsulated the entire crawlspace with foam board and high quality plastic that is supposed to last 25+ years. Also installed a dehumidifier. The workers were great and professional - Nick, Josh, Stefan and crew, we thank you! They perform a quality check after the work and fixed any remaining issues for a top notch job.
4 months ago Michal Young
We hired Bay Crawlspace almost 5 years ago to partially encapsulate our crawl space and install a dehumidifier. Using their monitoring system, we have observed no problems for the last several years. Recently, we discovered some standing water and asked Bay to come out for a service call, which could have been $199, as they advised us upfront. The contractor, Seth L., was very professional and honest and informed us that it was a small workmanship issue from the hose install on the dehumidifier. He hung it back up, secured it properly, dried up the standing water, and even installed a new filter -- all covered by warranty and free of charge. We are grateful. Good job, Bay Crawlspace!
5 months ago John Macpherson
We just had Bay Crawl Space Foundation Repair do a crawl space encapsulation on our home and we are incredibly pleased with this Company. Our inspector Fred was very thorough and did not pressure us into making any quick decisions and offered us various financing and discount options. They have great communication throughout the whole process. Bay came up with a project schedule and were able to keep to the schedule with no problems. They were friendly during the whole process and thoroughly explained everything. They also took care of obtaining any permits that were required. Our Team Members of Stefan, Thomas, Floyd and Adian were dedicated and hardworking and are to be commended for their work. For anyone who might be considering doing a crawl space encapsulation, we highly recommend Bay Crawl Space.
7 months ago Brenda Whitten
Called Bay Crawl Space Repair to do encapsulation maintenance. Seth called when he was on his way and arrived on time. When he arrived he explained to me what he was going to do which was to check that the dehumidifier and sump pump were all working, clean the dehumidifier filter, clean out around the sump pump, replace batteries in the sensor and inspect the crawl space. When he finished he everything was working and looked good and gave me the summary of what was done. I was very pleased with his service.
6 months ago brandie burnell
From the moment we called for an estimate, Bay Crawlspace exceeded our expectations. We were always kept up to date on the project timeline and they completed the job right on time! Everyone we came in contact with was extremely professional and customer focused!
7 months ago Michael Yost
We had our crawl space encapsulated, had sump pumps and dehumidifiers and drainage added. We're happy with the quality of the work and would recommend and use them again. However, the reason for 4 stars vs. 5 is because the scheduling was poor. We were told it would be a 5-7 day job. That was probably too ambitious from the get go. But it started Dec 4th, and finished in January. The delay was caused by one day of bad weather but then the scheduling went down-hill from there. If the project crew had been allowed to finish, we would have made much better progress. But once the project crew didn't finish in the 5-7 day window, because of the one day of bad weather, the rest of the scheduling was happenstance and scheduled over the course of the next three weeks and in some cases by different crews so they didn't always realize what they were facing. So, what should have wrapped up the project with one crew often left a few more things unfinished, requiring the crew (or a different crew) to be rescheduled, again usually almost a week later. There was also a lot of miscommunication from the crews to the office and it was the office staff that handled the scheduling. So, since they didn't have all the necessary information, the scheduling was not adequate. The biggest impact to us was this caused us to push back other projects with another contractor that were dependent on the completion of this work. So, even though we are happy with the end result, (and actually there is still one more thing to resolve again due to inconsistent communication), but if we were to use them again, we would have a much more specific timetable understood from the outset.
5 months ago Eleni Niaka
We had been having continued moisture issues with our crawl space. We had many estimates and decided to go with BAY Crawl Space. Beau took his time during our initial visit and even returned, upon our request, to answer additional questions prior to beginning the job. The installation crew was very professional. We did have a few items that needed adjusted after the project was complete. Beau, Nick, and Josh were all wonderful in the follow up and their word meant a lot in the adjustments that we needed. It was a pleasure from the beginning to the end to work with BAY on our crawl space issues. We would highly recommend Bay Crawlspace to anyone.
4 months ago Delia Hunt
Extremely happy with the process and results. They were able to begin their work earlier than planned and finished in a day and a half. The team was exceptional and kept me informed every step of the way.
7 months ago Michael Duah
Did a significant crawlspace refurb...from start to finish, Bay personnel were professional and thorough. That is some tough work and they did it w/a smile. I highly recommend.
2 months ago Linda Littlefield
We were having excess moisture causing insulation to fall and fungus growing. We chose Bay after getting several estimates and have been extremely happy with their work. Their communication is outstanding making sure we knew when they were coming and what was getting done. The team is Seth, Mike, A-Shawn, Adian, and Nate were very professional and thorough. Now our crawl looks almost new after encapsulation. The moisture problem is gone and we have much better peace of mind. Would definitely recommend this company without hesitation.
7 months ago Laycie Adams
We contacted Bay for an estimate on our crawl space based on their good reviews and were not disappointed. Beau was very informative and answered all our questions. He didn't pressure us and was honest about what we did/didn't need. The crew who came out were friendly and efficient. Seth answered my (likely repetitive) questions with patience. Part of the job wasn't completed that day due to a miscommunication but I contacted Beau and he had the office contact me to schedule the completion. This wasn't a big deal because things happen- and everyone worked to ensure the job was done and we were satisfied. I wouldn't hesitate to recommend Bay.
11 months ago alber rafat
Me and my wife got an brought a house, and found out it need foundation work. So they were one of the companies we called. They gave us the lowest quotes saying we didn't need things the other companies said. They did the work and didn't clean the dirt hills they left under my house, but did come back after I called. So, anyway the main problem I asked to be fixed eventually found out they didn't as my kitchen is sinking still. I called and told the person, they came back out a couple of times with project manager even. They sent me a new quote for another 5000 dollars saying it was a miscommunication. Although I told them my issue off top. The project manager had the nerve to say u gotta pay we not fixing anything for free. Whats funny i never said anything for free just was upset because I could've paid 2000 dollars more somewhere else and been done.i will be calling better business bureau on the, as well please call other companies as they are not trustworthy in these hard times.
6 months ago Hugo Juurik
The whole process of the repair of a minor sag in our crawlspace was easy. Bay's price was totally reasonable, the team of Art, Rod and Jermaine showed up exactly when they said they would and completed the job in one day. Rod identified a small issue with our vent covers and fixed it at no additional charge and even replaced some of our "homegrown" plastic sheeting with much heavier plastic used for encapsulation. Very happy with them and will definitely refer Bay to others.
6 months ago Forest Marchese
Beau did a great job outlining all of our options and helped us settle on what we needed by answering all of our questions. Matt, James, and Seth did a great job encapsulating our crawlspace. All were very professional. There were a few items left to do after the initial installation and they had someone out to create a punch list just like they said they would. We appreciated having this additional individual come and check the work after it was completed. Definitely a trustworthy company. One thing to note is to check with your termite warranty company before you make plans to encapsulate as they may not extend their warranty. We didn't know this until after the install and I wish we were told before. There are companies out there that will give you a warranty but it costs an extra $1k plus because they require doing a termite treatment. Encapsulation was a pricey expense for us and cost was a concern so the heads up on this would have been nice.
7 months ago Nida Azher
Bay Crawlspace by far knocked it out of the park on customer satisfaction, easy to reach, awesome service advisor Beau McLaughlin and the best employees, especially Seth & Shawn who were the last on the job but with the best attitude and work ethic, they were a Super Team! Outstanding work and super happy with the cost. I've already told friends and family how totally Satisfied I was with this Companie's Professionalism! Wish I could give them a TON of STARS!
6 months ago Marc Clery
Michael B., Travis, DeLeon and Aaron were very professional and friendly, repairing some joists in our crawlspace in a timely manner.
2 months ago Travis Bart
We bought this house in July 2019 and the home inspector missed the mold issue in the crawl space. Additionally the moisture barrier was missing in a large area. We received several quotes to fully encapsulate and add a de-humidifier. Bay had the best price and plan with absolutely no pressure from the salesman, who was such a pleasure we chatted for a bit about hockey. We knew right away we wanted to work with Bay! The install was great and crew was extremely professional and happy, a testament to the company work environment. It has been a year and we couldn't be happier, the moisture is gone and the inside home temperature remains consistent and comfortable. Do not hesitate to use Bay for any of your crawl space needs! On a side note I recently had to crawl under the house to fix a toilet and it was nice to work in a clean environment.
6 months ago Vanessa Denis
Bay came out to our house and was the most thorough and professional crawl space specialists that came out (we had three). They were extremely organized and did everything in a timely manner. Highly recommend.
5 months ago Patricia Northup
We had 3 crawl space jacks installed to secure beams in our house. Throughout the whole process Bay was very helpful with recommendations and answered all of my questions. They will not try to upsell you or charge for unnecessary things like other companies. The installation team members, Marcus, Austin and Jermaine were very helpful, professional and courteous the day the work was done. They even answered questions I had about my foundation that were unrelated to the job. They did a great job of cleaning up and making everything look nice after they left, and even put in clean plastic to replace dirty torn covering that was under my house. At the end of the job they explained what had been done in addition to showing me pictures of the completed work. Great job guys!!
5 months ago Lissa Marinaro
I highly Bay for any foundation and crawl space repair needs. The team was friendly, professional and informative. Everyone I have interacted with from Bay Crawlspace has been a pleasure to speak to and work with. All around amazing company and great results.
7 months ago Angela Williams
August 26,] , 2020 Michael evaluated my need for foundation repair and support.His analysis was thorough with pictures and how the work would be done. Work did not begin until November6 which then complicated my refinance to pay and caused me to pay my H/A company extra to remove outside units and rebuild new stands. Stefan, Ashanti, Thomas, an Floyd worked all day digging holes to place support.It rained all night and the next day. The team spent their second day pumping water out of the holes and digging out mud. Stephan and crew and Nathan continued several days, then another crew of Seth and Ashawn worked. The work seemed good when I looked at the new photos and was able to close doors properly. I would recommend Bay Crawl Space, but I would make sure your calendar is flexible. The lag time cost me time and extra money
5 months ago Susan Montague
Scheduled a service call when the Sump Pump in our crawl space stopped working and couldn't be more pleased with the service. Seth L. was the Field Manager that came out, he was on time and very professional. He troubleshot the issue and realized we had a bad pump. To ensure it was fixed today, he picked up a pump on his way home from work and installed it the same day. I would certainly reccommend BAY for your crawlspace issues and needs.
5 months ago Elaine Delaforce
Excellent overall experience with BAY Crawlspace, From the first time meeting with Beau who completed the quote to planning and scheduling with office staff to employees Nick & Josh who completed the repairs. All staff were on-time, extremely professional, & did a great job with terrific communications.
4 months ago
Popular places from the category Construction company