G.Nora's Bridal
Bridal shop G.Nora's Bridal, 907 Avenue U, Brooklyn, NY 11223, United States:
15 reviews
of users and employees, detailed information about the address, opening hours, location on the map, attendance, photos, menus, phone number and a huge amount of other detailed and useful information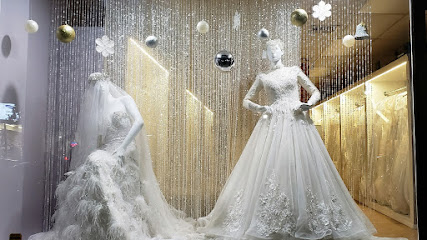 Address:
907 Avenue U, Brooklyn, NY 11223, United States
GPS coordinates
Latitude:
40.5983764
Longitude:
-73.9617651
Location on the map
Reviews Hailey Gurney
Lovee everything about this wedding dress salon! The staff was really understanding and caring literally made my dream come true!!! Recommend for everyone who is looking for fairytale wedding dress!
5 months ago Raymond Fisher
horrible customer service and they jack up the prices. One day a dress is $2,000 the next day $3,000.
1 month ago Luke Ambrose
After reading the reviews and viewing their Instagram I was excited to visit G Nora but after my experience I'm left highly disappointed. Cute shop TERRIBLE customer service. I visited G Nora this weekend and had such an unpleasant experience. As soon as I entered I had an unfriendly greeting. The whole experience was uncomfortable and awkward. The young girl who "helped" hardly spoke any words to me. She didn't ask what I was interested in or assist in showing me gowns just told me to look around and pick whatever I wanted to try on. While helping me try on dresses she kept facing me away from the mirror then opening the curtain so I had no idea what any dress even looked like before I showed my family. After each dress she put me in she'd run to the back and talk on the phone so I'd just sit there for several minutes waiting for her to come back. There was one dress I tried on that I loved, until she told me I should lose weight to fit in it (mind you I'm 5ft 115 pounds not really sure why I'd need to lose weight) I was so shocked that she even said that to me I had no reply. That's just not something you say to anyone let alone a bride who your job is to make feel beautiful not fat! But once again, she left to the back to talk on her phone I had to have my sister get me out of the dress so we could run out of there. It's sad because they had several other dresses I was interested in but the customer service made me run out of there! I was shocked when she said she was the owners daughter, you'd think she'd care a little more about her job. If you're dress shopping try Crystals Bridal Boutique up the block! They were the sweetest, accommodating, and had a beautiful selection. Customer service goes a long way!
1 month ago Bill Sanchez
Very clean inside the bridal place , and very pleasant employees they welcome you so good ! You feel so good once you come in and you feel special they make you dress so comfortable you so you feel loved ???? also they also make the dresses on point and on time, they so welcomed me good thanks to the beautiful bridal place.!
7 months ago Broderick Fausto
G. Nora's Bridal is an amazing boutique. I came in here completely by accident and left with my dream dress! Their dresses are so unique, beautiful and the most amazing part is hand made! Such an awesome experience and would recommend everyone to come here as their dresses are beyond original and won't be found anywhere else!
2 weeks ago Bill Holden
I bought my gown here, gorgeous dress ever. And excellent customer service. I really love this place and i truly recommend it. ????❤❤.
11 months ago Lauren Brandt
My wedding dress was beyond breathtaking. Thanks to G.Noras bridal for making part of my wedding perfect. I definitely recommend anyone who is getting married to go and get thier dress, crown and all accessories from them. Customer service is great and they definitely make you feel comfortable.
1 month ago Pat Wilson
Is the best place..for planning your party..and the best price..& very nice worker... i recommended to you ..
9 months ago Francisco Barbecho
I was a bit doubtful and skeptic before coming to G.Noras bridal because they were new and only have 5 star reviews from all their customers. Ive been shopping around the Brooklyn , i went to Crystal bridal , Lotus bridal, Monicas bridal almost all and even davids bridal and my next place to visit was supposed to be Kleintfield which is located in Manhattan. Unfortunately i didnt feel i had found the right dress , some was too expensive and davids bridal was too ordinary:( Eventually, i decided to set up an appointment and came with my mom just to see what they offer. Sooo, i came and i just loved this place so much that i decided to buy the dress right away. Girls are so lovely and tolerant and helped choosing the dress. Luckily i found my dream dress and plus its handmade which gives its special bonus because i asked to put more sparkle . Without any questions they just added what i wanted without charging any extra$ for it. Wow, i am beyond happy and thankfull to Gnoras bridal and the girls who assisted me throughout the process that made my special day mooore specail!! No wonder they have such great reviews and i would give them more stars if i could but unfortunately its only 5. I very stongly and highlyyy recommend this place ladiees they have various dresses and from ordianry to luxurious!!
9 months ago Grey Omyo
Thnk u so much G.Nora's bridal for making the most special night of my life even more special by helping me pick out a magnificent wedding gown. I felt like a real princess!
4 months ago Eligio Avila
Some of the Brooklyn's most beautiful dresses and best deals in the area.
1 month ago Rebecca Lowery
Most beautiful dress ❤️❤️❤️
11 months ago Julia Mroz
Would recommend these guys for anyone!
11 months ago Felix Malave
Perfect ????
7 months ago Dan Nichols
As many brides, I also experienced difficulties in finding my dream wedding dress, and Gnora's bridal helped me to find the perfect one. I enjoyed my experience at Gnora's bridal. Truly recommend everyone!
7 months ago
Popular places from the category Bridal shop