Used car dealer Crazy Cars Auto Sale
Used car dealer Crazy Cars Auto Sale, 1780 John F. Kennedy Blvd, Jersey City, NJ 07305, United States:
220 reviews
of users and employees, detailed information about the address, opening hours, location on the map, attendance, photos, menus, phone number and a huge amount of other detailed and useful information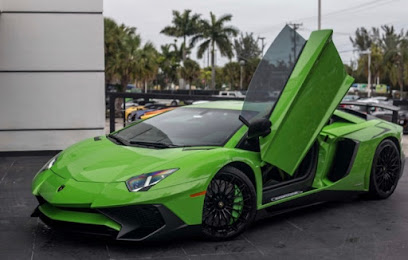 Address:
1780 John F. Kennedy Blvd, Jersey City, NJ 07305, United States
GPS coordinates
Latitude:
40.7012099
Longitude:
-74.0926669
Location on the map
Reviews Terry Mac
Ronni was great . Very helpful and understanding. Buying my first car and she made me feel very comfortable . Everyone was easy to work with and very nice . It was an terrific experience. Thanks to all, for all your help . Olivia
5 months ago Hardeep Johal
Lets start with... i rode my motorcycle for 2 hours to crazy cars in nj because they told me they would give me a deal and BOYYY IT WAS A GOOD DEAL! Ronni was kind and made the transaction fast and easy that it only took about an hour and i …
6 months ago jacqueline bennett
Mrs.Ronni is the Bomb ???? very nice lady drove 1hr&4mins just because of her excellent service n I also love ma new car
11 months ago Alexis Hernandez
I came in to see a Honda Civic. I met Anthony in the lot. He was very knowledgeable, personable and helpful. After talking with him and taking the car for a test drive, I decided to buy it. From that point forward I delt w/ Ronnie, she was …
7 months ago Robyn Ratcliff
Thank you Anthony for selling us a great van crazy cars auto the best
1 month ago Jerome Batz
I recommend this ???? place the people there are real nice and friendly and the cars ???? are good I got my truck Honda CRV 3 years ago and today I'm back with my brother for him to get a ???? feel free to ✔ this car dealer
5 months ago SAHAR MOSHIRI
Very happy with my buy, we worked out a great price, I would definitely come back
3 months ago Brendan Carey
This was my first time buying a car from a dealership and my experience with crazy cars was a good one I recommend anybody to go to them the service there was the best I thank y'all so much for taking care of me
7 months ago Chris Horner
I bought a 2009 Pontiac G3. A couple of weeks ago from this very handsome Gentleman. I think his name was Anthony or Antonio. He was very straightforward, very helpful and kind to me and made sure I had everything I needed.He gave me the …
7 months ago traci novar
Everything was excellent and fast. The service was the best one!! We really enjoy the experience in this place.
5 months ago Bailey Newman
From me and the crazy cars family ...thank you everyone !!!!for trusting us with your car shopping experience ,Crazy cars family takes pride in putting good people In well deserved great cars ..we will continue being the leading number #1 …
7 months ago Fatima Khan
Today I bought a 2012 ford 150 ...great car ..Ronni did my paper work such a wonderful person and Mario the sales guy great ..He took me for a text drive and made me feel really good about buying the car.....great experience in buy a used car....
8 months ago Talha A
Amazing car dealership. People are so nice and help you buy the perfect car. They walk you through every step until you are a proud car owner.
8 months ago Robert Redway
Stopped by Crazy Cars yesterday looking for a vehicle. Although we didn't buy one this time, I'm definitely keeping this place on my list of places to look when shopping for a car. Anthony was awesome. Very courteous, accommodating, and …
9 months ago Richard Lowney
Awesome, excelente service They are nice people
10 months ago Niquita Patterson
Bought a Ford F-250 from crazy cars New Jersey. They are eallyade every thing soothed offered great service. I have nothing but good things to say about my experience with them.
5 months ago Effie Rideout
Was extremely satisfied with my car. The staff goes above & beyond. I honestly feel like I've known them forever. Ronnie is so thorough & a sweetie. I traveled over an hour to get to them & it was worth it,& I'm looking @ another vehicle for my teenage daughter. Highly recommend..
8 months ago Pienoel Francois
Everything was good with Anthony
6 months ago Julia Mroz
Anthony, Mario, and Ronnie treated us great! We even got a final inspection on the car and they gave us all the support we needed. We got a high quality car at a very low price and with great honesty and fairness in their customer service.
7 months ago Syed Aleem
Amazing and great dealership! Purchased multiple vehicles from here and they never disappoint. Great customer service and has the cleanest and most reliable cars in town! Recommend this dealership 100%!
6 months ago Shannon Morrison
I was looking for a car for my 17 yr old son. He did the research and found the car he wanted at Crazy Cars over an hour away. I called first to ensure the vehicle was still available and it was. Ronni was a sweetheart from start to finish. …
7 months ago Mbali Mpudi
After going through multiple dealer's we finally found the right place, We bought a 2011 CRV great condition and great price.I want to thank Anthony ,he was very helpful and everyone else for the great customer service .I highly recommend this place
7 months ago kisquin
I was surprised how easy it was when I visited Crazy Cars Auto Sale and found a vehicle I wanted to buy. I had experiences with other dealerships where I was there for hours and hours looking for a vehicle and then doing paperwork. At Crazy …
6 days ago Elijah Haswell
Ronnie was a great woman to work with loved every minute with her thanks again Bob jr
4 months ago Tonkie Nelson
Anthony treated me greatly! Worked around what i needed and gave me the best price! Thank you guys very much! Definitely check out their inventory.
8 months ago Sharon Gaines
I bought a perfect 2004 Range Rover at a great price. Very nice people and quick and easy transaction. I paid NJ sales tax but registered in NY so Ronni sent the tax refund with no hassle. They had some nice inventory too.
9 months ago Tina Gionti
Great experience, Manny and Ali were fantastic to work with!
3 weeks ago Jennifer Churchill
This place is fantastic. I just got my first car from here, couldn't have had a better experience. Everyone was very friendly and helpful, they walked me through every step and made sure I was squared away. Great stock of cars too.
9 months ago Steve I
Amazing dealership just Purchased a vehicle from them great service Amazing place to buy your car ,thank to everyone especially Anthony !!!!!
5 months ago Lourdes Delicata
It was a great experience. They were very professional and had good customer service
4 months ago nanette spatafore
They were very helpful got me an amazing car in efficient time and the car is in great condition and was for an exceptional price
6 months ago James McCreary
Friendly sales manager. Very. Savy car and truck sales persons. Always felt very easy wile looking for and perchaseing the Ford escape. Very reliable vehicle. Nice comfortable ride. Couldn't be happier. Thanks ya all @ Crazy Cars Auto a sales Kennedy ave Jersey City .
8 months ago Patty
Everyone was so helpful in assisting with my first car! Amazing service!
1 month ago Shafi Baig
Made an appointment, car was there already waiting for me from there storage lot, car was clean test drive went well & am happy with my purchase.
5 days ago joel kavkaz
Purchased a Ford Edge, great ppl, no pressure dealer, truck runs and drives 100% no issues at all. Will go back for all my future cars and highly recommend to all my friends and family. Thank You Crazy Cars ***********
7 months ago Jon Larsen
Good affordable place .. they will work with you if you like a car u want
3 months ago Miguel Gonzalez
Ronnie from Crazy Cars Auto was extremely nice and trustworthy. Happy with my purchase and will purchase again in the future.
6 months ago Jerry Bryson
Went to Crazy Cars Auto Sales to buy a car. Bought a Lexus that was in extemely great shape. I delt with Ronni. She was awesome and went above and beyond to make sure I left happy with a new ride. I would not hesitate to recommend Crazy Cars and especially Ronni.
5 days ago Nick S
Very reasonably dealer that provided me with a quality vehicle. Would highly recommend someone looking to find a car with this dealer.
7 months ago Dominique Norton
I had a great experience here. They worked with me when I purchased my vehicle, they even tried to help me get car insurance. Everyone is so friendly and accommodating. I would recommend this place to everyone and will definitely be going back when I'm ready to purchase my next vehicle.????????????????????????
5 days ago tonya townsell
My experience with crazy cars was great. The staff was very professional .My experience was so good I told several friends if you want a vehicle go to crazy cars. You can get a great deal without feeling robbed .Next month I will be buying my daughter a car for graduation. Thanks crazy cars see you soon.
8 months ago Kaitlan Doherty
Anthony is trained to sell cars that nobody wants. He sold my husband a Lexus that didn't pass the inspection. The got the car for ten days. Gave us the car with the same problem. Engine check light always on. We asked him to fix the car …
8 months ago Rodolfo Alarcon
Bought an amazing Honda Civic Si here would recommend anyone to this auto dealer!
10 months ago Jim Patterson
I purchased a car in 2015 a 2003 Toyota Highlander with 198 thousand miles for the last 5 years this car has been a gem has never left me stranded a great running car with no mechanical issues ...this is a testimony to how great Toyotas …
7 months ago Chris Chinn
Shout out to the Staff , especially Ronni she was extremely helpful , and her energy was amazing! Thank you! #Love! My IG: @Mo_access Follow us ! #InspireGreatness!
9 months ago Matt Wilkinson
There were no pressure tactics, they took care of all of our concerns. There was an issue with the work that their mechanic was supposed to do before we finalized, but we brought it back and they made it right. I would just say check any …
8 months ago Katie Salivar
Good customer service thanks
10 months ago David Weinstein
Just purchased a 2009 Toyota Rav 4, the process was very easy!! Thank You Mario and Ronni!!!!
5 months ago Atique Muhammad
Great services , professional staff and competitive prices. I highly recommend this dealership.
8 months ago J W
Ronnie was an absolute pleasure to work with...buying from another state wasn't the easiest during these times but she made it work.
1 month ago
Popular places from the category Used car dealer