Used car dealer Crazy Cars Auto Sale
Used car dealer Crazy Cars Auto Sale, 1780 John F. Kennedy Blvd, Jersey City, NJ 07305, United States:
220 reviews
of users and employees, detailed information about the address, opening hours, location on the map, attendance, photos, menus, phone number and a huge amount of other detailed and useful information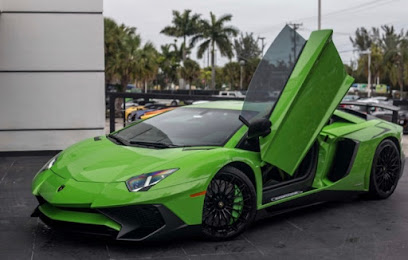 Address:
1780 John F. Kennedy Blvd, Jersey City, NJ 07305, United States
GPS coordinates
Latitude:
40.7012099
Longitude:
-74.0926669
Location on the map
Reviews exotic illusion
I walked in not knowing if I was going get approved for a car loan after a very nasty divorce. But Ronni told me to have a seat and let's get you in a new car. She was so professional and sweet and she made me feel like we're old friends. …
7 months ago Amandine Languin
Had an amazing experience here! Loving my new Sonata!
6 months ago Jeffery Ledford
Staff friendly and helpful. Ronnie was Great, helped me with my paper work, insurance etc. No long waiting. I would recommend anyone looking for a good quality car and good pricing visit Crazy car auto!!
7 months ago Renee Thompson
Nice service ????
9 months ago Ashley Morton
Purchased a 2011 Honda Odyssey which had an emission light on which Anthony the seller promised us that it was just an o2 sensor that needed changing and that they would take care of it. Now it turns out that it's not an o2 sensor and he …
6 months ago Michael Ramsey
If you're deciding on where to get a new or used car, go to Crazy Cars. You won't be disappointed. Great service that a lot of dealerships are lacking. Anthony is one of a kind and will get you what you need!!
6 months ago Daniel Lesser
your awesome Anthony
9 months ago Gary Chen
They are great with working with you. I bought a car 1 year ago and it still runs great. The staff is very helpful. I will definitely get my next car from here
7 months ago Kevin Lynch
The gentleman at Crazy cars auto sale was very empathetic and cooperative. They sell affordable and reliable luxury cars. They was very gracious to me, and today I'm driving a great vehicle. I'm very appreciative of their help. I would recommend them for their great service Thx again
6 months ago Eddie Douglass
I bought a CRV 2009 a year ago and they gave me their word that it was a vehicle in perfect condition and so it was, I could buy with my eyes closed in that place.
9 months ago Eric Finch
Ronnie and Anthony are great. They made my buying experience a purchasing pleasure. They are both very reasonable with bargaining the price of their autos. Will be visiting them soon for a car for my daughter.
7 months ago samuel mccray
Buying a car here was a great experience... the staff was awesome and got me on the road with a beautiful used car. Thank you all!
8 months ago Andrew Denton
Went here to get a car at a great price low mileage the staff was customer friendly. Ronnie was very helpful and professional check them out They have great inventory! Would definitely recommend ppl to check them out!!!
6 months ago AHLEXB
Great customer service, everything was fast and everyone was very helpful!!
6 months ago Kendra Wallace
Nice people, easy to work with. Very helpful. Got a great car for my money.
7 months ago Cynthia Suffern
I purchased a Dodge Durango today, The service was excellent and i will be back for my 2nd car. I wish i could leave more ⭐️'s . Check them out , great dealer, great staff
9 months ago Tanya Mastro
Really great people nice and polite and just great to deal with.
6 months ago Kamal Aujla
Great place. Great cars. People willing to work with you.
6 months ago Jared Ison
Amazing deal on a ford transit van AND they delivered it to me within 4 hours, after doing the deal by phone. The owner and the staff were a pleasure to work with. They are now looking for my next vehicles for my growing food distribution company.
7 months ago Venkata Gadamsetty
Very helpful staff great cars
2 months ago David Brooks
I bought a truck and there was an issue with the AC unit. I was promised that they'd pay half of the bill to get it fixed. I thought they weren't going to keep their word, but in the end they came through. I'm satisfied with the outcome. Thx
8 months ago Dexter Yu
Great looking cars and great selection at fair prices.
6 months ago Fabie Kloosje
It was exceptional to buy the from this Car dealer(crazy cars auto sale ). They are really know how to treat customers.and l look forward to refer another people to buy cars from them.
7 months ago Cathy Dillon
Anthony Me tHe treated me with luxury Coming to buy a 10 vehicle
7 months ago Stephanie Carlson
I'm very happy with my recent purchase. The car runs great. Anthony, was both professional and helpful- definitely recommend. *Jermaine J.
7 months ago Tim Cary
Great service great deals and cars are cheap ????
7 months ago Justin Ladenthin
Hi my name is Clara, 3 weeks ago I had purchased a 2007 Honda CR-V with less mileage good condition, runs better than my 2012 Nissan Rogue, I was searching since 6 months, until I came across to crazy cars, of the Honda CRV I was …
8 months ago Steve Ming
I got my first car from here and they were Great. I am happy with my car and experience. Highly recommended
5 days ago Evans Chiropractic
I brought my 2010 Acura from Ronnie and was please with the service and patients. She answered all the questions I had for her she broke down the payments and anything I didn't understand.
7 months ago Heidi Normandin
Frank and Mike are class acts. A pleasure to do business with. Recommend them highly.
7 months ago Daniel Edwards
My name is Jermaine Johnson and I would like to thank crazy cars for selling me a spectacular vehicle and special thanks to Ms. Ronny. She is a great sales person.
8 months ago Tiffany Curtis
I got a Rav4 from them years ago and still in love with it. Never had a problem with the car, got it for a phenomenal price and their financing plan was great. Would GREATLY recommend them.
9 months ago Cameron MacKichan
Excellent place! Bought a mustang there and it was great, great service and they worked with me on the price and I got a 3 month warranty! Would definitely recommend!
10 months ago Rustem Izbassarov
Fantastic dealership amazing crew if you need a car come to crazy cars auto sale !!!!thanks Anthony !!!!!!
5 months ago donna brown
Is was a great service
5 days ago Stacey Estes
Just bought my 2006 Acura mdx. I have never met a more professional and friendly staff. They helped my choose the perfect car. I have had no problems and recommend Crazy Cars for anyone looking for a reliable dealership. Thank you for the wonderful experience!!!
6 days ago Kenneth Butler
Just finished buying my first car, great experience with everyone here. We highly recommend this dealership, financing made easy....
9 months ago Frank B
Got approved pretty easily first time financing a vehicle and it went smooth considering my credit which was not that good. Felt comfortable I dealt with a lady named Ronni the whole time and she had plenty of patience definitely worth buying there
6 months ago Graham Turner
Anthony took great care of my FIL, Greg! His customer service was excellent! Thanks for making his experience memorable!!
9 months ago RyAnn Martinez
This Place Is A Must Go 1st B4 Buying A Used Car Great Guys They Gave Me A Really Good Deal On My New Car And Bought My Old 1
10 months ago Dana Allen
Anthony is very helpful, honest, and was very professional. He also speaks Spanish. I bought a green Honda CR-v with my dad and Anthony was very kind & offered lots of solutions for us. Buy a car!!!
9 months ago Lauren Lerch
beautiful service and good prices
5 days ago Murkamisha Anna
Ronni was a pleasure to work with .
1 month ago Jodi Abington
Awesome dealership was treated great by anthony love my new car ...
6 months ago AleksanDra Love
They have nice clean cars very friendly and professional people They have always better price Then other car dealer
7 months ago RACHIT SONI
They were awesome very friendly and helpful 100% would tell people to buy here
8 months ago Henry Marquez
Bought a 2013 Ford Fusion from Crazy Cars Auto Sales and the experience was professional. Highly recommend anyone to purchase a car there!
7 months ago Lance Boucher
hey gave me a good deal, would definitely come back for a second car. the people were very nice and helpful
7 months ago Jw Ww
I bought a 2010 Nissan Pathfinder, was a great find, in great shape, I have driven it to Washington and back and not one problem came up. They gave me a good deal, would definitely come back for a second car.
9 months ago yen choo
I purchased my vehicle along with a warranty from Crazy Cars on June 1, 2019. Initially the staff was incredibly friendly, helpful, and knowledgeable. One week after driving the car off the lot, my fuel gauge stopped working. I couldn't …
8 months ago
Popular places from the category Used car dealer