H&R Block
Tax preparation service H&R Block, 359 Broadway, Bayonne, NJ 07002, United States:
199 reviews
of users and employees, detailed information about the address, opening hours, location on the map, attendance, photos, menus, phone number and a huge amount of other detailed and useful information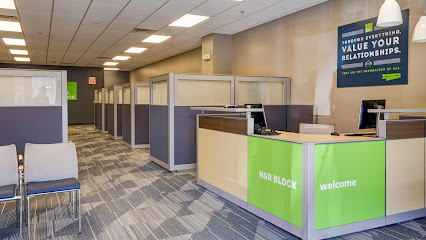 Address:
359 Broadway, Bayonne, NJ 07002, United States
GPS coordinates
Latitude:
40.6592647
Longitude:
-74.1224921
Location on the map
Reviews Nic Jooste
I had a wonderful experience. Employees were very polite and friendly. Great atmosphere. I was in and out within an hour. Location sanitizes customers before doing taxes. I would highly recommend to do taxes here!
2 weeks ago Julie Mandrell
I highly recommend doing your taxes here. i've been using David for the past two years. he is very professional and simply amazing! he's very thorough and takes his time explaining everything.
10 months ago Jennifer Leinweber
H&R Block has been preparing my and my family's tax returns for many years and the fact that I have had the same tax preparer every year is very comforting because he knows me and my family, and we in turn know him. David Youseff is a amazing human being and tax return preparer. We can ask him questions and he always has an answer and he is always patient. His work ethic is also top notch especially with the Pandemic, we were able to do the tax return preparations remotely. David is very professional and very attentive. The reasons above are why I rated H&R Block so highly.
11 months ago Rachael
David was incredibly helpful throughout the entire process. They were able to get my documents submitted in a very timely manner. I will definitely be coming back next year.
1 day ago Bobo Skirts
The gentleman was personable and focused during a trying time of the year. Everything worked out perfectly, instead of being faced with ordeals.
9 months ago Kristen Theagene
Mr. David youssef has been treating me beyond expectations for many years, and i will continue to do my work with H& R Block for as long as there people like david work there he's very professional, knowledgeable, precise, very patient and amazing attitude and personality. Looking forward to 2022 tax preparation with David again. Thank you very much.
10 months ago Lebeta Flieringa
Because you were courteous patient answer my question and told me what I need to do to get a better read for next year
10 months ago Morgan Hunter
Mr. David Youssef was extremely helpful, patient, and answered all of my questions. Definitely will be utilizing his service in the future!
10 months ago Quirine
My Tax Professional Shmina always does a great job when preparing my taxes and thoroughly explaining information that is not clear to me when I have questions.
10 months ago Adam Cohen
I would use H&R Block for my tax preparation next year because of the knowledge the prepares have and how comfortable the representatives make you feel when you're preparing your taxes.
11 months ago Faq
Dennis very kind and knowledgeable person who I trust to continue to do my taxes
10 months ago Karenmarsland
Been going with David for many years now. He's very good at his job.
11 months ago Mykal Mason
I only gave the star a five because the gentleman that helped me do my taxes was phenomenal I would put a zero because of how much you guys charge but it was well worth it for the service of David youseff.
10 months ago Jeff Short
The process is easy, the tax preparer is knowledgeable, and they help ensure you receive your maximum return.
11 months ago Lauren Weitkamp
Aftab had worked diligently on our taxes. Great job.
10 months ago Ryan Baker
After is very friendly and helpful and makes you feel comfortable along helping you get back maximum benefits
11 months ago Rameika Hale
David Youssef, our representative, was very helpful, responsive, and knowledgeable.
10 months ago Darrell Beedle
I love magdy, she is excellent with my tax preparation shes very respectful, and such a beautiful person, ive been with her since for 3 years now, she is the best.
3 weeks ago Evgeny Golubev
I come every year & im always satisfied
10 months ago Darlene King
Energy was good.. friendly, helpful... answered any questions..
11 months ago Art Dept
Raj is very knowledgeable and super patient
9 months ago Wanda Strickland
Very professional, answered all my questions and explained everything to me.
10 months ago Thelma Tiller
This is my third year with H&R Block and I am very satisfied with the service.
2 weeks ago Maartje Kluiters
I really had a good experience and it was my first time filing with HR block
10 months ago Delina Wiater
I always go to Magda & she's super helpful .
4 weeks ago Chris Davis
The service was great and easy and it wasn't pricey
11 months ago Craig Warburton
My tax Preparer Ebbie Maximos is very pleasant and an expert…
1 month ago Sina Safayi
Roger Kizman. Makes it easy, very thorough and professional.
11 months ago A Kosse
Mr Joe Sandhu is very knowledgeable and courteous
11 months ago Jodie Brown
Your incredible tax professional, she was great!
11 months ago Shane LeClaire
I feel HR Block always get me my max on returns
1 month ago Allegretto
My tax preparer actually found ways for me to get a refund for the first time in four years!
9 months ago Simply Delivery
Aftab was very helpful and extremely kind
10 months ago Dough Boi
Great customer service and fast help
10 months ago gerard Stumm
Very expensive stay away , it was my first time at h&blocks i called for appointment and asked how much service fee, they said just that depends, i usually file my taxes in another office it cost me between 70 to 100$, but here they took 1 hour to check all the pappers and after I was surprised when they told me 540$ service fee, and I told her no way I give you this amount so she reduced to 300$ but still expensive, and I didn't file the taxes, I canceled and I left the office ,
11 months ago Ladi Rodriguez
I would recommend David
11 months ago Doug Pyzel
Job done in professional manner
10 months ago Francisco Rodriguez
Very Professional and Caring.
10 months ago priya s
David was extremely helpful, patient and reassuring
2 weeks ago Holly Taylor
the lady is very friendly and helpful
11 months ago Jonathan Bartle
My tax professional was amazing
11 months ago Jonathan Gomez
I'm happy that I came in
11 months ago Jeremy Pohl
It was good help
10 months ago Patty Warsocki
I had great experience
3 months ago Loraine Bonello
David never disappoints. Very knowledgeable and supportive. He is a pleasure.
7 months ago leah reinsager
Like the service that Roger gave us.
10 months ago Gladys Chacon
I adore Aftab. He has always been fantastic and so accommodating.
8 months ago Brian Arduser
Always Excellent Service
1 day ago Barry Noyes
David Youssef is top-notch! I return to him every year to do my taxes because he is kind, professional, and genuinely cares for his clients! I never wait long at H&R Block, and the woman at the front desk always greets you warmly!
7 months ago Waldo Pedreanez
Service is excellent
10 months ago
Popular places from the category Tax preparation service