Used car dealer Magic Auto Sales
Used car dealer Magic Auto Sales, 407 US-46 east, Little Ferry, NJ 07643, United States:
220 reviews
of users and employees, detailed information about the address, opening hours, location on the map, attendance, photos, menus, phone number and a huge amount of other detailed and useful information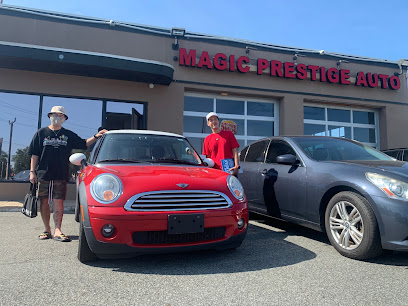 Address:
407 US-46 east, Little Ferry, NJ 07643, United States
Website:
magicautosales1.com
GPS coordinates
Latitude:
40.8558847
Longitude:
-74.0489468
Location on the map
Reviews Nelly Fraga
Aldo was our salesman. From the moment we got there he made us feel comfortable. He didn't hover. He let us shop around, but stayed close enough in case we had any questions. We looked more closely at 2 cars and Aldo pointed out which one would be a better value for us based on lifestyle information we shared with him. He did not go for the upsell, but instead had our best interest in mind. We walked out very satisfied customers with a used car that looks brand new.
3 days ago Patrick McCallister
Sunil was very helpful. Best car decent price thanx again for your excellent service Highly recommended ????
7 months ago ChongWen Loh
Sunil provided us with great service. All of the workers were good and friendly. 100% recommend
7 months ago Katie Roman
Marcia is the best so far at the company, very smart and polite with her customers. Eddie also helped a lot, very open minded and care about his customers.
7 months ago Karen Pegues
Killiam was the most amazing sales woman. Due to her being kind and professional on the phone it made me take a visit to the dealership. Once I arrived she was courteous and prompt and answered all of my questions. Definitely made the sales process much easier than I thought. I would highly recommend this dealership and if you happen to go ask for Kelliam as she is amazing and will help you through the entire process with ease.
8 months ago NICOLA AMATO
LOVED MY EXPERIENCE. It was fast quick and super easy. Highly recommend Sales rep named Josh. He was able to help with anything I needed and also made this process super easy !
10 months ago Kathleen Romero
If you're in the market for an unsafe vehicle that will not pass state inspection look no further! Otherwise I'd encourage you to look elsewhere for a dealer that will be honest about the cars they are selling and save your money. There are plenty of more reputable ones in the area to choose from that won't charge bogus fees and misrepresent what they're offering.
9 months ago Meecko Draper
Sunil is the best I just bought a car with that company quickly, I am very satisfy because the service is very good
7 months ago Wyatt Page
Sunil was a great help! Made sure I was comfortable and made sure everything was settled and handled correctly! Will be coming here for my next vehicle!
8 months ago Michael Rigby
Marcia is the best sales person, ever. Excellent dealer. Everyone very polite
7 months ago Brandon Baines
These people are scammers. Stay away. My daughter spent $6K on a used vehicle there, it drove ok so we didn't rush to show our mechanic (Will NEVER do this again, so lesson learned). When we did take it for brake pads and an oil change 3 months in, the mechanic said that he couldn't take our money to repair the car because it shouldn't be on the road at all. My mechanic (I've worked with him for 10+ years and he is an honest man) said that no respectable car dealer would sell a car that was rusted underneath so completely. He said that it is obviously dangerous to drive. If we had been in an accident the car would have folded in on itself. He said that he didn't even know how a car could become THAT rusted out, he'd never seen anything so bad. The amount of damage is not repairable. I called the dealership, told them what the mechanic said, and said that I'd like to work things out with them peacefully in the form of a refund, partial refund, or exchange. The manager I spoke with, named Henry (refused to give last name) said that WE must have done something to the car to make it that way and he had no obligation to do anything under the "AS IS" law. Rust like this can't be created in 3 months! His immediate defensiveness told me that they knew exactly what they did. Things ended up heated and he hung up on me. This was FRAUD through and through, which selling "as-is" does NOT protect. I'm not alone, check the "F" BBB rating and the "lowest rating" reviews here on google. It is unbelievable to me that any business would put people in dangerous vehicles for a little cash in the short term. They could make so much more in the long run being honest!
10 months ago Igor Dek
Marcia was very great. She is has good customer care services.
6 months ago Sally Sherman
The salesman Aldo was very helpful and I am so happy to have my car!!
7 months ago Luis Caballero
Stay away. When I test drove the vehicle it was shaking and stalling and making all kinds of noises and they told me "that's just a little rust, it'll go away as you drive it." They also were not upfront about any of the defects such as tailgate not working. If I didn't try it I would not have known. Not to mention they won't let you take the car to a mechanic for a pre-purchase inspection. They'll tell you that you can bring one to the lot, but if the mechanic can't lift the car, how are they supposed to inspect it? They kept trying to assuage me and tell me it's fine when it clearly wasn't fine, that truck was a complete pile that wouldn't pass inspection and they still had the gall to list it for over 10k, what a complete crock.
7 months ago Missy Holbrook
I definitely recommend this car dealer. Has perfect salesperson and perfect cars. Thank you guys.
8 months ago Mary Bukovcan
Met Josh, told him what I needed and wanted, he no fuss, not trying to convince me this or that, just showed me the cars i wanted let me test drive and check them out . I bought the car, we went over the paper work and what I was paying for. We did the thing, my time was valued and not wasted.,
7 months ago Kendell Carey
My husband and I bought a very nice Honda Civic at Magic Auto Sales (MAS). We got a great deal!! We had the chance of checking among so many good vehicles at their both lots until we decided by the Honda. And, best of all, their vehicles come with a nationwide WARRANTY... and that is a big plus!!! Thanks to MAS and its wonderful crew of salespersons. We'll recommend this car dealer to all of our friends.????????
2 months ago Joe Cool
Sunil was amazing..!!' Thank you soooo much for my brand new Honda CR-V
6 months ago Raymond Mcsorley
Marcia is a very great with customers, treats people with respect, has a lot of patience and is so nice! I recommend the service here!
8 months ago Noe Robledo
Be very careful. They are not afraid of selling lemons and taking advantage of NJ laws in their favor... Stay AWAY Whatever their response is, the facts are that i bought a car that i can't register because there is $11.000 of repairs to do on it (official dealership report 1 week after purchase of vehicle). They told me to deal with it myself when i asked for help :) Lost my job because i had no money for another car obviously... Again, STAY AWAY FROM THESE CROOKS. Where's my warranty Magic Auto Sales?
9 months ago Soumya Badam
Sunil very good service and come back and recommend other clients
6 months ago Kellee Ward
My aunt bought her first car here in January so far everything has been great with the car if you happen to go ask for killiam she was our sales person she's great and Louis I'm not sure what his title is lol but he processed all of the paperwork
8 months ago Toni Andrea
Marcia was a great help. I just got My BMW at Magic. Very happy
8 months ago Ledford Engineering
Thank you Albo for your amazing service ????????????
6 months ago Charles Aston
The guys were very cool to deal with. I bought a 2004 chevy avalanche and absolutely love it. There were some problems with it but i knew there would be with buying a high mile truck And when i called they were more than helpful as to where i can and who to call to get the problem fixed. Love the truck and the help. Thanks Guys. Wow the guy they hooked me up with was awesome. Ill be buying other cars here .
1 month ago Mary Peterson
Excellent service! Kitty is the absolute best! Thankful for all the help and service I was given!
7 months ago Linda Gadde
Great experience! Aldo was a great salesman and was very helpful.
7 months ago Bart G
I came into today looking for a used and reliable vehicle and walked out with just that :) very satisfied. Ms. Killiam answered all my questions, seemed very trust worthy, and helped me with everything, thanks!
8 months ago Myles Mckinney
Just got my first car purchase with the help of Marcia had a great experience
6 months ago Sweta Krishna
I had a wonderful experience buying my car here. Killiam was very courteous and cooperative throughout the whole process.
8 months ago Nan Ya
Josh is such an awesome sales person he made love this car that I purchased This Ford Focus is amazing
8 months ago Lina Damien
I'm seeing that this dealership already has a number of poor reviews and for good reason - this is clearly a place that will readily scam customers. A friend recently purchased a truck from here and was entirely misled by a rep named Frank. The vehicle is in such poor and UNSAFE condition that it will not pass inspection. This is shameful. Clearly not a place folks should go to.
8 months ago Julie Stone
Super helpful with financing me into a car and helped me even though I live out of town. Great place!
10 months ago Barbara Douglass
Great service 0aldonis the man come.here if you are looking for a great deal
7 months ago Elisa Reyes
Great service Luis and sal were very helpful and patient Good place to shop for a car.
7 months ago Artem Martynyuk
Marcia was great. Very helpful and super nice. I was in and out in time.
7 months ago wayne Jacobs
Sunil is the best bought Ford Explorer ..very satisfied with purchase highly recommended ...????????
7 months ago Linda Currier
Great price great service and josh the one who guide us who was very friendly.
7 months ago Delia Danielson
I went to Magic auto looking for a car for my son. Most of the cars looked good to fair only and were over priced. The real deal breaker was their 1000.00 "dealers/Documentation fee". In the weeks I looked at cars this was the highest fee to date. Stay clear of them and shop any place else.
7 months ago Ranvijay Singh
This place is Amazing!! Everyone was very helpful... especially Aldo!!! Thank you all for making our car buying experience so easy!!! We highly recommend you!!!! Barbara
9 months ago Linda Hokanson
Marcia was a great help on getting me an awesome car. I'd recommend this dealer to friends. Thanks Marcia. You are the best
10 months ago Jessica Johnson
Great place. I was able to work out a price for my Toyota Camry which I purchased from them quickly. My representative Josh was excellent. Josh did not trouble me with fillers. We were able to get to the point and I was able to get my car. One of the representative even gave me a car ride from my house to pick up my vehicle, saved money on Uber. Great spot will recommend. Also, there are not many places for pre-owned car shops that has 4 stars and above on google. One of the best place to buy vehicle(s) in North Jersey.
10 months ago Rosmary Martinez
So I came to magic Auto not knowing what car I was going to get as my first car and Aldo was patient, didn't feel like I was being forced to make a purchase, I believe I came and saw the car three times before pulling the trigger and each and every time I came in Aldo showed me the 2014 Honda Accord model, he let me test drive the car as if I was a new customer every time I went. I highly recommend working with him if you're purchasing your first car !!
10 months ago Matt Benson
I bought a used car from this dealership a couple weeks ago and the process was a painful one. I drove from Upstate NY in regards to a vehicle I saw online that I wanted to purchase. I called as soon as they opened and notified that I will be coming from 6 hours away to look at the vehicle. When I arrived, they had lost the keys and I had to wait 5+ hours until they got a replacement key. The customer service is terrible for which I am still waiting for my title to arrive in the mail. I understand that COVID is affecting the world but the lady who answers the phone is DISRESPECTFUL. She just hangs up on mid sentence when I ask where in the process we are. SUGGESTION: Do not deal with this place unless there's a vehicle here that you're heart set particularly interested in.
9 months ago Boo Shields
Got an infiniti from Magic auto and couldn't be happier, the salesman Frank helped me a lot to choose the right car. Prices and fees are very reasonable compared to the other dealerships that charge $2000+ just for paperwork. I have had the car for 2 months now and I am in love with it! Thanks Frank!
3 weeks ago Mike Small
Bought an amazing vehicle way below the carfax value and it is amazing. After seeing the bad reviews I felt like it's my responsibility to give a good review, the process was very smooth and the salesman didn't push me to buy something I didn't want and he answered my every question. I am grateful for the magic auto sales team for helping me buy my dream car!
3 months ago Amethyst Evans
We weren't quite sure what to expect from this little dealer when my husband found a car online that he liked but we were very pleasantly surprised!! They are always very busy so be patient with them! Killiam was our sales associate that helped us. She gave us the keys to the Ford Expedition we wanted to look at and let us have a lot of time with it while my husband looked it over. We learned the car had come from an auction and they guarantee the motor and power train are good before selling. She came with us for a test drive and was very helpful with explaining everything to us. We needed to come back a different day to purchase the car as we weren't prepared to buy that night. I came to sign the paperwork and pay for the car and they happily held the car for my until the next day when we could come together to pick it up. Killiam had all the paperwork and temporary plates ready for us so all she had to do was put the tag on the car and that was it. Everyone was very friendly and Killiam was super helpful and easy to communicate with. I would definitely recommend giving this little shop a chance for a well priced used car!!
7 months ago Nileme Floriemy
Sunil Was a very big help... I am so happy with my purchase.. thank you
8 months ago Josefina Perea
Excellent car loved how clean it was! Junior was of great help went out of his way to make everything easy. Thank you magic auto service for your awesome service!
5 months ago Cheyenne Dwyer
Marcia was great salesperson she helped us with our auto needs on our auto purchase.
7 months ago
Popular places from the category Used car dealer