Used car dealer Magic Auto Sales
Used car dealer Magic Auto Sales, 407 US-46 east, Little Ferry, NJ 07643, United States:
220 reviews
of users and employees, detailed information about the address, opening hours, location on the map, attendance, photos, menus, phone number and a huge amount of other detailed and useful information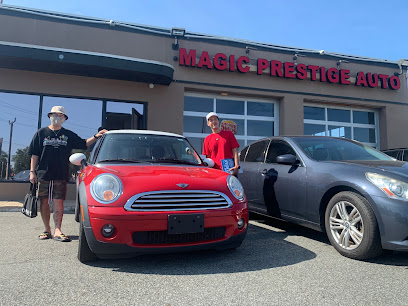 Address:
407 US-46 east, Little Ferry, NJ 07643, United States
Website:
magicautosales1.com
GPS coordinates
Latitude:
40.8558847
Longitude:
-74.0489468
Location on the map
Reviews elizabeth rosario
thank you for your wonderful service josh and my complimentary wash ! Magic Auto Sales is the best !
6 months ago PeachyAmy Robertson
Marcia was incredibly helpful and understanding for my situation. No hassle and great cars
9 months ago Aman Malikya
Quick to get you out of there but thats about it. reaching them feels nearly impossible. For the past month been trying to get a hold of ANYONE in the office and its a joke. constantly on hold, still don't have the title to my car to this day. By far the worst customer service i've ever encountered. I don't recommend you get a vehicle from this place. Not to mention they only gave me a 20 day registration slip. My car will literally not be driveable in the next 2 days because I cannot get registration. Only reason I give them a 1 star rating is because im required to give them something. In other words, go somewhere else to purchase a vehicle.
7 months ago Jerome Blue
Marcia was absolutely fabulous! Greatly appreciated the quick and easy service.
8 months ago Kenton McNeill
Great selection. Awesome service. Josh is great, he'll hook you up with the best deals. Would recommend to a friend.
10 months ago Hunter Kempton
Sunil is the best just bought infiniti whole process went very smooth
7 months ago Brenda Wright
BEWARE! I called and spoke to a female employee that told me the Subaru I was interested in was available and ready for me to take for a test drive. I hung up the phone, drove 50 minutes and when I got there a salesman told me the car was sold the day before! Ok, the "old bait and switch"! I think used car dealers invented the scam. Then I made a huge mistake; because since I was there looking for a 4 wheel drive vehicle to get me through the winter, I found a good looking Toyota Highlander reasonably priced and bought it with cash on the spot. I was given a temp tag/license because I was told the title was at motor vehicles and would be mailed to me in about 2 weeks. I bought the car on 12/10 and the temp tag expired 1/8/21. Well, on 1/8 I still didn't have the title so I called the office. The woman on the phone (after keeping me on hold for 10 min) told me she has the title but they wait till the customer calls in and gives the address where the title should be mailed. What?? Another lie. 2 weeks later still no title. Another call, this time kept on hold for 20 minutes. Then I couldn't get through to anyone. I tried the sales office, title dept. and finance dept. No one picking up my call. I suspect they have caller id and didn't want to deal with me because in the end, I got a text from someone that said my title needed to be "flipped" and so they don't have it after all. So in the end, I have a car that I can't drive! I just wanted someone to talk to me and explain what was going on. I don't think that's too much to ask. I emailed Louis the manager and still haven't gotten any response. So what happens now? I filed complaints at NJ Dept of Consumer Affairs, the Better Business Bureau and NJ Attorney General. Because of their terrible (non-existent) customer service and running and hiding from me, I'll probably end up in court over this whole mess. That's my story. I rely on Google reviews and I personally have over 250,000 views of reviews I've given.
10 months ago Random Stuff
Marcia was great , bought 5 cars in my life she made it quick easy to get me back on the road
8 months ago Force FUNK
We just purchase a car Marcia help us she is very professional knows about the business and treat us with respect. Great experience I highly recommended Magic Auto Sales.
7 months ago Tony Gill
GREAT CUSTOMER SERVICE! THANK YOU SUNIL! APPRECIATE EVERYTHING!
8 months ago Denis Safronenkov
Joshua was great in assisting me purchase my vehicle. It was a fast and easy experience. 10/10 recommend.
9 months ago Qasim Akhter
GREAT DEALERSHIP!!!! Louis Martinez and Killiam were just wonderful !!!! It is scary at times having to deal with Used Car Dealers (NO OFFENSE) but they were Great !!!!! The women across from Killiam was Great with clients on the phone while I was there overhearing her. Then I wanted to pay with cash and when a gentleman in the back office knew I was waiting, he stopped what he was doing and came right out to help me since he was going to be awhile with a finance customer. Super Customer Service !!! JUST GREAT WORK ALL AROUND.
10 months ago Sirisha Garikapati
Marcia one of the individual working there was so kind, helpful and took the time out of her day to assist me in my car buying process. Overall I was very impressed with the value and assistance I receive here. Very nice people.
2 months ago Cheryl Thompson
Matt was a great costumer service. Helped us to get a nice car. Thank you Matt
8 months ago Javier Sanchez
Sunil is the best excelente service Magic auto nice cars with very good price Highly recomended
7 months ago Betsy Hollingsworth
Very happy super friendly mr sal and mr mat very great people they helped me make my dreams come true and I took a picture with them I recommend this dealership to anyone who's new to car buying
8 months ago deshayes kevin
Sunil nice and welcoming. Very profesional
7 months ago Allorah Mason
Got a car in March when I test drove it it was fine. Gave cashiers check to pay for it went back to the car and it did not start. I just figured it's an older car but they were able to start it again. Not to mention the key fob did not work. Few weeks in I started hearing noises when I hit the brakes. Called them because I had a three month warranty they gave me the auto body shop (which I been to before and had a bad experience so red flag) but turns out the BRAKES weren't covered I had to pay out of pocket. They took a long time to send me the title and whenever I called I was told I would receive a call back. I never did I had to constantly call myself. Few more months in my car died I had to have it jumped about 4 times in one day and the battery will not holding a charge. The battery must have been very old. So I have to purchase a new one. It seems they do not service their used cars before selling. The warranty was what attracted me but it served no purpose. Not a good experience would not recommend magic auto sales to anyone.
4 months ago Tom Wendling
Marcia was a great helper. She showed us many cars in our budget and showed each of them to us. Would recommend to anyone looking for a car.
9 months ago Adi Rosenthal
Marcia was very helpful and very nice. Was very simple process and was worth it.
7 months ago lalage gergour
Thank you josh for the excellent sales experience, magic auto sales is the best !! Im so happy !!!
7 months ago Jerry Dwyer
I bought a vehicle a few weeks ago. I met a sales representative by the name of Killiam. I told her which vehicle I was looking and she gave me the key and allowed me to look at the vehicle from bumper to bumper. I was even able to start the car from a cold start. That showed me that Killiam and Magic auto had nothing to hide. We test drove the car which was very clean, now I'm the title holding owner of that vehicle. Killiam was not pushy or rushy. I asked Killiam for the out right price of the vehicle and in about five minutes I got my answer. There were no sales games played here. I will definately choose this place again if I need another vehicle.
7 months ago Anne Busta
I waited a while to write this review because I had to make sure the vehicle I purchased was taken care of by me not the dealership that I paid cash up front. I purchased a vehicle for my mother because her car was past its time and I am busy with work Monday through Friday mostly away from home so I went there January 31st 2021 with my personal mechanic to look at a couple of cars and we choose a vehicle that he said engine looked. Now the with Covid I get it it's a mad house but my first sign that I should have left was the lack of customer service with people just standing outside with no organization from staff. I Purchasrd the car and thry saidbthey have a flat 1,049 fee I was like what the hell never heard that before not including the taxes you pay. So 2 days after I purchased purchased car thr check engine light comes on and you call them and they give you the run around and tell you email thr warranty. I am still dealing with the check engine light issue today to have it pass I section. Long story short save your money and go to a dealership that will give you honest service and not sell you a car and not answer back you issues etc..
7 months ago Maureen Einfeld
thanks for your amazing service Josh ! you and sal did an amazing job helping me finance my vehicle ! you guys here at magic auto are wonderful. Thank you Magic Auto Sales !
7 months ago mac Dre
Marcia is absolutely awesome!!! She's took her time explaining everything to us and was very friendly. She's definitely an asset to this company! Thanks Marcia!!!
9 months ago Jason Wichmann
My cousin Mark drove down to NJ from Upstate NY because he thought he would get better customer service and selection for the Ford Ranger he had been searching for. I also assumed that a dealer supposedly selling so many cars a day (as they advertise) would be reputable and trustworthy but we where duped from the beginning. After being told multiple outright lies about the car, he bought it and brought it back to NY to be inspected and registered, which is when we learned of the complete untrustworthiness of Magic Auto Sales. They knowingly sold him a vehicle that couldn't pass inspection, and not just for one thing, but for multiple points. Magic Auto sales took his money, looked him in the eye and assured him the car was in great condition when in fact it has unroadworthy frame issues, bad ball joints and needs a complete brake overhaul. In order to get the car on the road, his mechanic estimates that upwards of $4k of work needs to be done. Mark would have been better off going to a junk yard than Magic Auto sales and you would be too. Avoid this place at all costs. The only Magic is sleight of hand, where you always lose. And when Mark called to ask for a refund and to return the car, Magic Auto told him it was his fault for buying the car. This car is useless in the state he purchased it from them, with the good faith that they would stand behind their claims and reputation. Now they blame him for believing them and refuse to do anything to make this situation right. Steer clear from this place at all costs!
8 months ago Sean P
I see why the reviews are overwhelming negative. Wish I could give the visit no Stars. Disappointed is a understatement. Check This place out for yourself. Unbelievable how unprofessional the "sales kid" was, the vehicle itself was no where near worth what they're trying to sell it for. Read the reviews for this place, "buyer beware" was never More appropriate than this place. I had a feeling the vehicle posted on line for the Price was good to be true. For starters the 09 Acura MDX had to be jump started, the hydraulics on the hood didn't work so the unprofessional kid has the nerve to tell me to hold the Hood up! A car they're trying to sell for 6,250 with another 1,045 in fees tacked on! Outrageous! We go inside the office that looks like a closet, with everyone hunkered over laptop's will not even look at you let alone speak! The place has no on-site mechanic, it's just a lot with car's on it obviously the worst of the worst from auctions. No sticker's on the vehicles with information on vehicle's. The website paints a very different story than what the place looks like. Some one wrote the positive reviews are fake, I have to agree! The test drive is strictly around the block, obviously if these vehicles are taken further they'll shut off! Another customer was looking at a Subaru that had to be you guessed it Jump started! THIS place takes the cake.
8 months ago Vadym Latysh
Thank you Josh for assisting and securing a reasonable deal on my bmw, especially during this pandemic. Overall, satisfied. ????????
8 months ago Taylor Doehrman
I have bought both my first and now second car from magic auto sales and both have served me well. The service was amazing and they even fixed the mirror on my 2013 Corolla free of charge. Louis helped me out a lot.I would highly recommend this place if your looking to get a great car.
3 weeks ago heesop kim
Bought a car and it was completely messed up.. Do NOT shop here I'm warning y'all ????‍♂️
7 months ago charles young
I DO NOT RECOMMEND THIS PLACE, EVEN FOR MY MOTHER-IN-LAW. THEY ARE BAD IN EVERYTHING, STARTING WITH THE ARROGANT WAY OF TREATING THE CUSTOMER AT THE PRICE. They tell you something on the phone, and get there, the story is different. You find a price online today, when you are on your way to the store, they raise the price, then they deny that the price has not gone up, they make you feel crazy among them. In short, always carries around 2 thousand more in you pocket. They really steal from you ... Believe me! I had to buy the car because I really didn't have much choice and time.
10 months ago nicole Hickman
Thank you Josh you provided me with an amazing sales experience I appreciate you.Make sure you see him for an amazing experience!
8 months ago Sensui
Sunil is the best. Got Escalade...very happy with purchase ....thank you Sunil again with your excellent customerservice
9 months ago Jean Pierre
killiam was very help full and informative during the test drive thanks for giving me the time of day
8 months ago Jason Howe
I was assisted by Marcia, she was vey courteous, professional and extremely helpful. I will go to first when shopping for my next vehicle.
7 months ago Dudley Goodwin
Marcia was fantastic! Very professional, friendly, made the car buying process much more painless
7 months ago David Carlton
I enjoy they service and they absolutely will work with whatever you have
7 months ago Angela Ison
Stop by and ask for Aldo! He is calm and polite and made the experience a good one. Thanks a lot.
8 months ago Walter Alves
Marcia was an amazing sales person, she fully explained the car buying process as this was my first time. I could not ask for a better person.
8 months ago Gedalia Walls
Great place easy bought my jeep no hidden fees just usual car stuff thats it. Give this place a go if u need a car
4 days ago Juanta Verge
Was our first time at Magic Auto Sales...not far from home..very friendly and professional...Josh was great!!.greeted me and my husband and took care of us..the Expedition that we purchased was as stated...I gave it 4 star rating because we want to see how it drives for a while.... but boy what a beautiful vehicle...and Frank worked out the deal...thanks guys..
11 months ago Muslim Muslim
I got a good deal from this place. Bought a 2011 Nissan Rogue with very low mileage and a 3 month warranty. Louis and Joshua were very helpful. Thank you
3 days ago Keiko Tokita
Thank you very much. I recommend magic auto sales to everybody. Frank got me the best sales took care of me. They have a very nice inventor that would give you a hard time making a decision. I will be back here for an update
7 months ago Natalee Johnsrud
Joshua thank you for selling me the Honda Civic!! It runs great and it's amazing!!! Thank you
8 months ago Jorro Veliki
Called to purchase a vehicle and salesman tried adding all these fees to raise the price even more. When we told them we weren't paying all those fees they hung up the phone. Would not recommend
6 months ago aidan wolf
Buyer beware: The advertised price of their "higher end" vehicles will have a fee tacked on when you step into the managers office. This fee is supposedly to account for cleaning and maintaining the vehicle. Work they've already done, which makes the fee non negotiable. The fee on my car was $550 but it could be more depending on the value of the car. This is disingenuous sales behavior at best. Keep in mind this is in addition to their $500 TT&L, $150 3 month "warranty" (which you can refuse), and whatever taxes you'll owe. The car I purchased while clean, was definitely not well maintained. It immediately needed new brakes, an oil change, and now the clutch is slipping. The sales managers in the back office don't wear masks if that bothers you. Summary: go in expecting to spend $1,000 more than the price you see online, and bring a mechanic with you. Good luck.
4 weeks ago Jevin Goleman
DO NOT BUY FROM HERE AT ALL.. they will rip you off and they will call the cops on you when you try to resolve the issue..
7 months ago Greg Chase
Very poor customer service, they hang the phone up and no follow up on issues like missing titles etc.. I guess this business does not value customers after the sale and because of this I would not buy another vehicle from Magic Auto. The magic is gone. DMV issues are understandable but Hanging up on customers and no follow up never excusable. DO NOT PATRONIZE this business. They do not value their customers.
9 months ago Sean Lewis
Marcia was very pleasant and very helpful. She took the time to show us all the cars we wanted and helped me buy my first car
8 months ago Billy Cheong
It was a great experience. They are very nice and Marcia is the best. She is a blessing.
3 weeks ago
Popular places from the category Used car dealer