Used car dealer Magic Auto Sales
Used car dealer Magic Auto Sales, 407 US-46 east, Little Ferry, NJ 07643, United States:
220 reviews
of users and employees, detailed information about the address, opening hours, location on the map, attendance, photos, menus, phone number and a huge amount of other detailed and useful information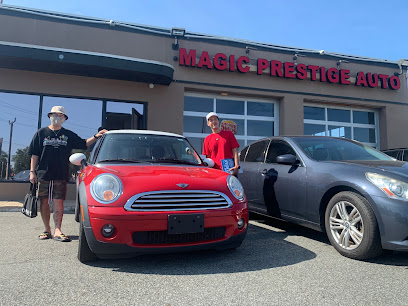 Address:
407 US-46 east, Little Ferry, NJ 07643, United States
Website:
magicautosales1.com
GPS coordinates
Latitude:
40.8558847
Longitude:
-74.0489468
Location on the map
Reviews Roxanne Varela
Marcia was very cordial and helpful and took the time to help my son get the car he was looking for within his budget. Would definitively recommend to friends and family.
9 months ago Sarath Abaya
Aldo was great helpful and patient with my shopping experience Thank you Aldo for the help!!!Awesome!!!
6 months ago eugeniu bezniuc
Thank you for all your help josh ! You provided me with an amazing experience !!
7 months ago Conor McCarthy
I went to buy a Scion tC 2011 and Frank and Sal the managers there tried to charge me an extra $1200 of "Hidden Fees" and then went down a $100 then charges an extra $300 of Paper Work fees which was 3 pages. This Dealership has Junkyard cars witch check engine lights on it and a lot of problems on them. DO NOT GO TO THEM. Find another Auto Sales place that can help you buy a car not Scam you with a junk car. These guys also said they're not going to give me money back or the car back after paying everything on the car the next day the car check engine light was on and had to jump start it every time I turn it on. What kind of joke is this ?. DO NOT DEAL WITH THEM
9 months ago Bryant Cannon
Greatest service, thanks to Luis, Luis son and sal, I mean the all staff were amazing people! Thanks you guys!!
7 months ago Meg McConville
Leslie was awesome. They helped me with everything. Way to go manic auto sales
9 months ago Chad MacArthur
Pretty good experience with Magic Auto Sales. Online photos and free car fax are great. If you like the car, add $1000 to the price, and if you like the price, then head to Magic Auto Sales and you'll be out the door asap. Hidden fees suck, and lack of negotiating potential is tough, but the prices are so good for me it was still a great deal. Shout out to Kydia for being so helpful!
3 months ago Branden Herring
Got an awesome car for a great price! Thank You Aldo !!!
6 months ago Tammy Stallard
Josh was such a wonderful salesman took great care of me and made sure all my needs were attained substantially thank you josh ! You are the best !
2 months ago Jennifer Corona
Marcia was terrific. Not pushy, let us take our time, and was transparent about process and pricing. Would come back.
11 months ago Shantell Gentry
I purchased a 2003 bmw from magic auto. I absolutely love the car. Bulent and Louis were great salesmen. They helped me out with everything.
11 months ago Cyril Walker
Bulent was super helpful, very friendly and to the point! Great, easy service would HIGHLY recommend! No pushy salesmen, willing to explain everything I needed to know. Thanks Magic Auto!
11 months ago Reuben Hall
Sunil great amazing service to me and my family. Amazing efforts in giving us the best results possible. WE FOUND THE CAR OF OUR DREAMS
3 days ago Jessica Stein
O don't know how this dealer are not clear with the cars prices on the internet or apps ,I pas by to buy a Subaru Forester they price is 4599 but when you go to the dealer they say that's only for the car or suv plus 1.450 dollar dealer paper work ect.... when you click the picture in the app no extra advice come out to show you the real price only at their computer at the dealer ... another dealer near this one they told me I only have to Pay 250 dollars for paper work and temporary plates ... we know we living in critical time and COVID 19 my life a little bit hard to work and make the basic money to get for our family's but No like this .is unprofessional,unresponsive,disrespectful and much more.I so sorry for the good people that work in places with this not transparency ..really sad
10 months ago C Simmons
Killiyam was great help. She took time to help my parents with an application and showed different and more affordable car that we may consider buying
10 months ago Elaine Delaforce
Excellent service decent cars thanx Sunil
7 months ago Holly Ball
I bought 2013 Ford Fusion hybrid from Magic Auto sale. Car is excellent. Service was great. Everything was explained to me in details. No shady work. You guys can find very nice vehicles in this lot. Ask for Frank/Omar or Sal. They are very helpful. Frank even helped me to get a cheap insurance quote. Thanks guys!!!
8 months ago Sharron Sarthou
Martia was a dealer helpful dealer helped close deal within minutes , even gave us a free car wash and assured we got the best deal possible .
11 months ago Wannetta Crim
Aldo magic auto my 2003 xc70 is the best all clean drive over anything thanks magic auto
9 months ago Sindi Mannochi
Thanks Marcia for your great work, great service and great time. Good customer service. I hightly recommand this place for anyone who need to buy a car.
10 months ago dave rogers
I bought my first car from Josh at Magic auto sales, and he was great! It is a beautiful car for a great price. Thank you Josh!!
10 months ago Stephen E
Marcia took her time with us and really gave us a great deal. I'm really happy with her and Magic City Auto.
3 days ago Inari
My salesman Josh was remarkable thank you josh ! Make sure you ask for Josh !
10 months ago Jeremiah Watson
Joshua was wonderful! Great cars, great prices and awesome customer service!!!
9 months ago tamim bakhshi
Very patient. Sunil really helped me get the car that I needed to leave with on the day of.
7 months ago Bill Gravatt
Josh was great and very helpful. Great service
8 months ago Trystin T
Thank you Josh ! BEST SALES EXPERIENCE EVER ! MAGIC AUTO SALES ROCKS ! Make sure you ask for Josh ! I highly reccomend him !
9 months ago Sandra Chavez
I, normally, don't leave reviews on Google. But seeing all those negative and 1-star reviews, I have decided to write this review. I think it is not fair. Most people who left bad reviews want to purchase a perfect car for 3k-4k dollars. It is a used car and nobody push them to purchase it. They simply want to purchase a brand new car with 3k dollars. This is not fair. About my experience with Magic Auto, I am very satisfied. This is one of the best dealership in NJ. We went there yesterday with my family, they were welcoming and friendly. They were patient and helped us a lot while buying our new Jeep. The whole process was smooth and without problems. Thank you Sal and thank you Omar.
6 months ago Theresa Picard
I like to think Aldo for helping me purchase my new car. he a great guy come check him out
10 months ago damien coquet
The sales associate Luis was very helpful and nice as i was looking at cars today at magic auto sales. I recommend coming here if you are trying to buy a car, as the staff is very nice & the prices are reasonable. I love my Subaru Tribeca!!
3 months ago Mark Taczala
I DO NOT RECOMMEND this dealership. On December 15th, I went there with my family to purchase a Toyota Camry I saw on CarFax. I bought the car and was informed that I would get my title the week of. It has been almost a month and I am still waiting for my title. Additionally, the images provided on this page showed a car that appears to be in mint condition with no scratches. When I went to the dealership, it was already night time, and I couldn't really get a good glance at the vehicle's exterior condition. After awakening the next morning, I realized the car was dented with multiple scratches. Last but not least, this dealership is quick to show you the carfax and pretend nothing is wrong with their vehicles. After I purchased the car, I took it to get inspected at a certified mechanic, and I was informed the vehicle had multiple leaks and radiator failure, and it was estimated to cost almost $1000 to fix! I can not believe this dealership could not be transparent with me and tell me what is wrong with the car. This is incredibly horrible and I will not even recommend this dealership to my WORSE enemy. DO NOT SHOP HERE and save yourself thousands of dollars.
10 months ago Sergei Sergei
Matt was great thank you magic auto sales
8 months ago Ashley McKnight
Sunil was super helpful! Thanks for making the car buying process stress free
10 months ago Ernie Gray
Joshua gave me a wonderful deal and a really great sales experience. I highly suggest him and this business if your on the hunt for a car. Hope this will help your search!
1 week ago Tami Patel
Sunil was great. Took excellent care of us. Made the purchase smooth and easy.
11 months ago Christopher Carver
Its been 2 days that I have been calling to get information on a vehicle. The women who answers the phone is very pleasant, when someone answers. I spoke to a salesman yesterday who said he could do a virtual showing of the vehicle before we drove 1.5 hrs to see it which was a very nice gesture. It was already dark out so he said to call in the morning and he would show us. I spoke to him again in the morning and he took our number to Facetime. He said he would call in 15 minutes...2 hours later and still no call. I tried to get back through to the dealership 7 times by phone then finally the very pleasant women answered again and apologized. She transferred me to another salesman, we gave him our number...waited again for him to Facetime and no call. When I finally did get back through to him after several more attempts, he said he was busy with a customer and would call us later. At this point I've decided that this is not a dealership that we would want to work with. We basically begged for them to work with us, but no one really seemed to care. We had cash in had and were ready to make the 1.5 hr drive for 2 days. What a waste of time and energy trying to get them to sell us a vehicle. Could you imagine if it was an actually issue we were trying to get resolved? Very disappointing!
1 month ago Lance Churchill
Aldo is the best bought my dream car
7 months ago Jack Boyce
Great cars and great staff. If you're looking for a car com to Magic Auto.
10 months ago Jean Slaughter
Josh provided me with a wonderful sales experience thank you Josh!
8 months ago Shantelle Ramadge
I Bought A car VOLVO S80/2006 from Them from Sales persons based on their reviews and the very good treatment and they confirmed that car is in good condition and it checked by their Mechanic And after one week i had a check engine light i went to volvo Mechanic and they Diagnosed the car ( Throttle Body & Pcv Oil Trap , fuel pump sensor Need replacement & Water pump & time belt ) And i found that car Has been restarted Before offered for sale , 3 weeks later i found Front Brakes and rotors need to be changed and they said car in good condition and no issues on it and till now i paid a Thousand Bucks to Repair it , I got Promised that I'll Receive the Tittle 2-3 weeks from receiving date , After a 3 weeks i called them askin the lady there , she Said dmv Employees had a positive corona Infection And i've To wait 7 Business day And when i try to Saying that i couldn't drive the car cos the temp plates and registration is expired and i need to Have a new plates or extend the Expiry & the police will pull me over she said i'll hangup the call ( As I don't have to. Talk or To Refuse what she is sayin in a Very aggressive Way ) , Then i've waited a seven business day and Now It's 2 weeks since she said 7 business days and any time i call Them After Thos 7 Business days & She said will call you when it's ready i'D SAY REALLY it's A HORRIBLE EXPERIENCE I Advise To not buy or trade from them .
9 months ago Hye Lee
Josh provided me with a wonderful sales experience your the best !
8 months ago Amy Langley
Bulent. He is the best car dealership. He is very honest and nice guy. I really love the car he showed me
1 week ago Andrew Harris
Thank you for your wonderful sales experience josh i appreciate you !
8 months ago Bernard Allen
Josh is a great very good help and professional great experience
7 months ago Katie Smith
THIS PLACE IS A SCAM. the owner and staff say they give you there word but they lie. they didn't keep there word and its been weeks after my purchase and no title yet. owner is very unprofessional this place needs to close down! prospective buyers can do better
4 weeks ago John Reiner
Amazing people lovely experience they helped me find the car I was looking for . Had a fun experience. Very nice and friendly service. Thank you magic auto sales
2 months ago Luke Gervais
Sunil is one of the best salesmen. Very helpful him and all the staff members at magic auto sales. First class treatment ????????????????????????
1 month ago Sherri Metzger
I had a great experience at this dealership. Marcia was amazing and made the process easy. Definitely recommend her for anyone looking to buy a car.
3 months ago Laura Bice
Bulent gave me a great experience and helped me a lot finding the right car! Ask of him for a perfect service!
1 week ago Hazel Baily
I brought a decent SUV from Magic about a year ago.
7 months ago
Popular places from the category Used car dealer