Used car dealer Magic Auto Sales
Used car dealer Magic Auto Sales, 407 US-46 east, Little Ferry, NJ 07643, United States:
220 reviews
of users and employees, detailed information about the address, opening hours, location on the map, attendance, photos, menus, phone number and a huge amount of other detailed and useful information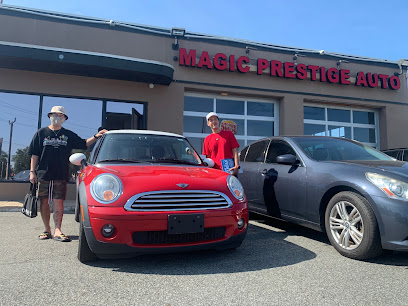 Address:
407 US-46 east, Little Ferry, NJ 07643, United States
Website:
magicautosales1.com
GPS coordinates
Latitude:
40.8558847
Longitude:
-74.0489468
Location on the map
Reviews cindy bagge
Thank you for everything Eddie and May is best ❤️❤️❤️ nice customer service . I will definitely come back to buy more..
3 months ago Lhm h
great help killiam was honest and great help during our test drive very informative too
9 months ago abood inaya
Great service, hassle free, no one is on your back. Everyone let's you look at the cars without being a hawk on you. The sale took about 2 hours I was in and out. All my questions were answered no one was mad that I kept asking questions over and over. Super easy and straight forward. Thank you everyone!!
3 months ago Arnedra Bell
Sold me a broken car not fit to be plated. No one wore a mask when in doors or during discussions. Caught them in their lie and they did absolutely nothing to rectify the situation. For the safety of you and your loved ones do not come here. Knowingly selling a broken unsafe vehicle and trying to hide it in the middle of a global pandemic is shameful. In reply to your response: -As a consumer I am in my full rights to review an honest account of my experience in hopes I may save prospective consumers from making the same mistake I did in trusting your dealership Honest account in chronological order: -Placed deposit on vehicle after one test drive, scheduled to pick up following week on Tuesday. -Dealership postpones saying "car needs to go to mechanic for checkup to make sure all is good" -Sounded good to us, reassuring to know a mechanic was checking it over -picked up the car one day later, Wednesday -They tell us the catalytic converters had been replaced, showed us a photo of the two new converters. This was surprising to us since we had not known this was an issue with the vehicle was not on the carfax -less than 20 hours after driving off the lot engine light comes on, highly suspicious -checked the codes related to the light popping on, they are to the catalytic converters that was stated as being fixed and checked by the mechanic. -the codes were also shown to have been stored meaning they had been viewed before and were a known issue -dealership gave us the run around and their mechanic contact to have it looked at again -mechanic told us it was not the two converters he replaced, and that we are liable for the fix even though this is the same vehicle he inspected and okayed just prior to us purchasing. -dealership told us it was not their responsibility in conclusion, dealership and mechanic who work together sold us a car knowing there was an issue with the catalytic converts tried to hide it by resetting the dashboard, even went as far to tell us to use premium gas right after sale of vehicle to delay the issue they knew existed. To silence the voice of a consumer in the face of what just transpired is wrong. Do the right thing. Don't sell unsafe vehicles and if you make a mistake fix it!
7 months ago Bruce Marsh
Add at least $1000 to their price for "paperwork." Also don't expect them to clean the car or even do an oil change to a car that the maintenence light was on and they told me it was just the oil. Wasted my time driving here.
8 months ago kris castle
A huge array of cars filled with major problems. From blown head gaskets to choppy transmissions, their cars have it all. Not to mention high prices for high mileage cars. If by chance you do get lucky and find something at a low cost dont worry, the salesmen will be sure to mark up the prices by at least $750 when you get there. If you're looking for a good used car than Magic is not the place to check.
1 month ago Domenic Quarato
Marcia best person to speak to very friendly and understand... Great Customer service
10 months ago tyesha brockington
Wayyyyyy overpriced, they were very judgmental and rude
6 months ago Michelle Kramer
Bought a nice car. On car registration there is no assistance. And now after 4 weeks, no title received or whatsoever and therefore the temp registration is expired. When you try to call them there without asking for any details they say 'let me check' and put you on hold..... Not good. I bet that for this review I will not be getting a subway gift card.
2 months ago Darren Franklin
Marcia was very helpful and nice to me.
6 months ago Patrick Chessman
I bought an outlander about a week a go. Great customer service killiam was great helping guiding me through the process
9 months ago Julius Moore
Bulent was very polite, the process was very quick and the car is very nice. Will definitely suggest that other people come here as well. Great service. :)
6 months ago Nip Jordan
Bulent was very helpful. Found me a good deal on my new used car!
2 months ago Nathan Hanson
Marcia was a great help. Very happy with the deal I got. Thanks to Marcia
4 months ago Laura Lopez
I had a great experience here thanks to Bulent. Very honest and respectful. Great place to come
3 weeks ago Matt Good
Went to complete purchase and pickup a car that I had a deposit on yesterday overall nice people until I met Eddie. If you have to deal with him walk away. He acted unprofessional .He took a completed agreed to total price order which I had made a deposit on the night before and tried to add $500 implying it was for taxes. The agreed sale price discuss with A different salesperson in front of others in their small sales office was including taxes as I only ever ask what the out the door or total price is not the before tax price,which we agreed to the previous evening and presented to him. Best to get everything at this dealership in writing before agreeing to any purchases .
4 months ago Andrew Allen
Sunil good customer service, buying process was quick and easy. Would definitely recommend
10 months ago Shawn Lasiter
Bulent is great! Great exp with them! Will buy again from them.
10 months ago Ric McG
Josh the best sales man ???????????????? Fast and safe ✨
7 months ago Alana Watkins
Bulent was a very good car salesman, he spent a lot of time listening to every qurstion, and answered them with haste, he did not cut corners, and was not afraid to say that he did not know something. He got the information from his peers right away. 10 out of 10 I will shop here again for my next car
10 months ago
Popular places from the category Used car dealer