Original Botanica
Religious goods store Original Botanica, 2486 Webster Ave, Bronx, NY 10458, United States:
220 reviews
of users and employees, detailed information about the address, opening hours, location on the map, attendance, photos, menus, phone number and a huge amount of other detailed and useful information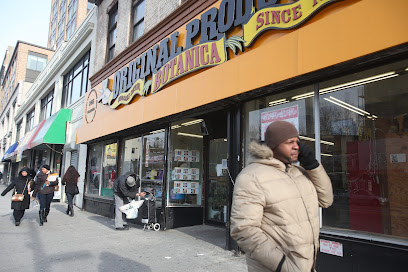 Address:
2486 Webster Ave, Bronx, NY 10458, United States
GPS coordinates
Latitude:
40.8606284
Longitude:
-73.8922289
Location on the map
Reviews Vazir Fatehi
*Website Review* I am very impressed! They have an enormous selection of goodies! I absolutely love I can get certain items blessed. If you are someone that can't light your own candles in your home for whatever reason you can pay to have them light your candles for you ( all details on their website) With everything going on right now they manage to still ship items out extremely fast! Also at reasonable shipping prices (compared to other magical shops)! Thank you guys for being awesome and for having great customer service!
11 months ago Walter Espinales
I Love getting materials needed at the Original Botanica wear house, the employees are very helpful if needed, the products are beautiful. A wonderful selection of various Sages. My favorite is the herbal baths prepared by my Friend/Sister, (only met her at this establishment, I do not know anyone here personally) she is a very nice woman. You will love the herb baths, I highly recommend and be sure to leave a tip. Grab a Rose de Jericho too, for a blessing. So much beauty, let's spread the Blessings and Love. -Ifamayowa 3133
10 months ago Jerome Blue
This Botanica is amazing. Has the majority of herbs and items you need for spiritual work. Customer success is on point as well. And it's probably just me, but I always wind up spending more than intended lol. Love it here!!!!
8 months ago Sebastian Duhm
Stevenson Nurse This botanical needs better quality herbs.
8 months ago Chris Bruen
Place been here for many years and I heard stories about it too. Place is amazing and have so many items. All the items you're looking for they have it. From candles to clensing home to statues, bracelets etc. I love coming here!!
9 months ago andre castro
I love their online store! They are very affordable and reliable when it comes to their services. I would love to visit their store in person next time I come to New York to visit.
10 months ago Foxxy One
Come with your list they will check it off and you cant go wrong
7 months ago Borislav Zamchev
I wasn't planning on reviewing but I have to because of the exceptional service. I recently relocated from NYC & there aren't any botanicas in my area, which is fine because they ship. Every order I receive is packaged well & timely. If there's an error they will pleasantly correct it. Exceptional service☺️ UPDATE 1/28/21: I have not had a visit from my deceased family member in years. I requested a candle being burned at their altar & before I knew it was lit, I had a visit from my relative in a dream. The following morning I checked my email & received confirmation my candle was lit that same day. If that doesn't explain the power of this place, I don't know what will. HIGHLY RECOMMEND!!!
1 month ago Halis Duran
I feel like a kid shopping in a candy store. They have everything and anything you could imagine. They are very helpful and friendly. They have no problem with sharing their own experiences or offering advice.
1 month ago Josie Bryant
This store has all your needs also everyone is knowledgeable about any questions or concerns you may have. Stay positive and just get what you need, you can spend 30 dollars in a blink of an eye. Happy Shopping
5 months ago Kimberly K
Wonderful store, my only complaint is they over charged me for a book. The book was 9.95 and they charged me 19.95 and the store closed directly after I left so make sure you double check your receipts.
8 months ago Ali O
Go early less ppl, lot of variety i just went with a friend and told they always have good price and all items
10 months ago Fabiana Cristina
Anything you need they have. Each time I went staff never gave me an attitude. My review for today (1/11/21) is because whomever put a notice on the gate stating store closed until further notice sorry for the inconvenience should have also stated on the Google and website. I came all the way from Brooklyn to purchase some items just to see the store closed with a notice. Notify people on the website and Google so we wouldn't have to waste carfare money getting to the store.
2 weeks ago Matt Bryan
Amazing amount of stuff they have! Fast shipping and quality customer service. Quality candles, herbs, oils etc. my top 5 occult shops. Wish they had better coupons or some form of membership points cause the 5-10% off coupons is definitely not enough and frugal. The physical store has a lot more though! Would recommend.
7 months ago Colin Canham
I love it here they have everything you want in here trust me
10 months ago Camden Cole
I went to the original botanica today and checking the items and supplies to see, what I'm looking for. People who work there are very busy to keep the business going as usual, putting the items stalled the shelves so the customers can get what they need. They very thoroughly with the customers and social distancing and not over gathering. The service is normally and decent.
1 month ago Alexandria Pease
Wonderful candles , everyone is very helpful, i love having my candles blessed on their altar , great experience i have had , will never go anywhere else
3 months ago Bill Farris
I find the place ok no problem thanks
8 months ago Enrique Chitica
Loved what i purchased and ill be returning soon????.
8 months ago Scott Elliott
Traveled far for nothing, got there at around 12pm today January 22, 2021 and the store was closed with their security gates down. The gates had signs stating they were closed until further notice. Ended up going to a botanica on 207st to get what i needed. I hope Original Botanica opens back up and this close is temporary !
11 months ago jjnorth woo
Loooove the atmosphere... the staff is friendly! they have many products available and help when needed. i love coming to this place.
5 months ago Miara White
Super fast shipping, excellent service. Highly recommended.
10 hours ago Chima J
Awful! Cheap products, it is not original! Fast delivery but for 55 dollars it better schould be. I don't recommend this shop at all!
3 months ago Nathan Price
I ordered quite a few candles from them online and not only did I get my order fast, the candles were sooooo well packed I was impressed by the effort taken to wrap and pack them so carefully that I had to write this review to commend them for such attention to detail. Will be buying from them again!
2 months ago Lee Brackman
I ordered a few things from this company and before I can open the box....it smelled so good...all of my candles I ordered I had them blessed...and few other items were ALL securely and neatly wrapped...I will be ordering again from them soon...not worried about whether anything is going to work...it takes one own self to do as instructed, believe, and be positive about the results????
3 months ago Jay Huffman
I've been going here since I was a child It's a generational thing !. I've been going here for years and I love this place and everything is always 110%.
4 months ago Luke Burks
The is my go to. Botanica store. Love how I can shop on my own. Without having to wait on someone to get your things for you. Very friendly environment. The staff are friendly and helpful if you need help. This store has been around for a while now. I hope it's here for years to come. Ty
5 months ago Sara Stearns
They don't reply emails. I wonder how someone starts a business when they have bad customer service. Will never be ordering again!
2 months ago Scott Wyatt
I give the botánica itself 5 stars. Because I love shopping here for all of my spiritual supplies. However I DO NOT recommend their spiritual advisor.
1 month ago Mike Reske
Bad customer care (They never reply emails)
3 weeks ago Kelly Christensen
It is changing it is nice store
8 months ago Tracy Garner
I love this store, great customer service and everything smells so good.
3 months ago Kc Ryan
Amazing assortment, some staff are friendly and helpful. A spiritual oasis.
4 months ago Quanna Griffin
This is my absolute favorite Botanica for life. I would go in person when I lived in the city. Even though I moved I still order from them online.
5 months ago Carol Lutken
LOVE this store! Very friendly and helpful staff with extensive inventory!
9 months ago sylvia monfette
The Store it self has nice genuine products but that scam artist Alex boy i tell ya what goes around comes anybody can do the readings he give he took a lot of money from my mother and promised false hope. All real authentic heavy duty rituals needs to be down in the physical... in person or unless you do the stuff you have to do that is not legal in this country. He doesn't call back after you give him the money he forgets who you are and your problems getting people mixed up... pleased be aware
9 months ago Stephanie Jackson
Visited from CT.... I'll be back... they have everything you need
9 months ago Steven Kelly
All your spiritual needs. Candles, herbs, and Oils.
1 month ago Lee Kimball
This botanica is awesome. They has everything I needed and more. The prices are very affordable.
5 months ago Zhao Fred
I ordered yesterday and received my order today! I am so happy about this! Packaging was done very carefully and well wrapped. The 8 candles I bought are all beautiful! My car St. Michael statue is gorgeous I can't wait to put it in my car. I will definitely be ordering again! I highly recommend this place! You will find all of your needs here! And any questions you may have! Check out their website if you cannot get to the store. Very reasonable prices and you'll be happy you found this gem!
9 months ago Cory Remole
My favorite botanica. A timeless favorite.
1 month ago SF Burner
Amazing people and amazing store! ???? I am so grateful to God that I spoke to ask the staff and Carlos for help, their readings are accurate and spot on. I've ordered from London it arrives well, and all the products I have used are working. I'm very very grateful, Thank you all at Original Products, I definitely recommend.
8 months ago Smith Schwartz
Great products and service!
8 months ago Diane Beal
Great customer service and selections. They have everything I needed. Gracias
5 months ago Kimberly Lowery
Amazing store friendly wonderful staff that has helped me through so much. Forgot to put my oil in my bag once but they are so wonderful they are mailing it to me. Always a pleasure to go in. I send whoever I can to this store
9 months ago L Boseman
This is really the best botánica
1 week ago Sevara Kamalova
They sent me wrong items
8 months ago Jameyashton Hunt
I was terribly disappointed with their service! I am a first time customer , when i first called to place an order, I very clearly asked the lady a few times on the phone if the holy 7 day candles were different from the ones that were sold in Kroger and Walmart, and if it would BURN FOR A FULL 7 DAYS.. SHE ASSURED ME THAT THEY WOULD AND THATS WHY THEY WERE CHARGING $6.95 for each candle...!!! After that i agreed to place an order for 12 candles at the rate of $6.95 for each candle totaling to $83.40. I received the package on time, I was surprised that it was packed in a Pampers box.(photo added) I opened the box and to my surprise i found that i was sent only 8 candles. I immediatly called the company and USPS and informed them of the problem and they said it would take time but they would look into the matter and get back to me. I decide to light the candle on the day i received it, which was Tuesday the 10th 0f July at 3pm. The candle burnt out on Saturday at 10am. on Sunday i emailed the company and explained all that had happened, still haven't heard back from them. I called the company today the 16th of July at 12.27pm and informed the lady on the phone about the candle not lasting for the 7 days like promised, she was rude, insulting, and very disrespectful. She informed me that they could do nothing about the problem and disconnected on me. I for one will never trust that company again. they take your money and they don't stand by their product. I did not even want to give a single star but i was not allowed to post until i gave a star
10 months ago Jason Lortie
This is another spiritual staple in the community. If you can't find what you're looking for hear you probably can't find it anywhere. The staff is knowledgeable and helpful. The herbalist there is wonderful she is sooooo helpful and kind. There collection of statues, candles, oils , herbs ect is endless.
8 months ago Jonny Burnett
Spent over $75 on orders from this company, which was my first time ordering from them and they shipped me the wrong products. When I tried to contact them no one answered the phone. Buy with caution!!
11 months ago
Popular places from the category Religious goods store