Wish Wash 7 Car Wash & Mobil1 Lube Express
Car wash Wish Wash 7 Car Wash & Mobil1 Lube Express, 5555 S University Dr, Davie, FL 33328, United States:
204 reviews
of users and employees, detailed information about the address, opening hours, location on the map, attendance, photos, menus, phone number and a huge amount of other detailed and useful information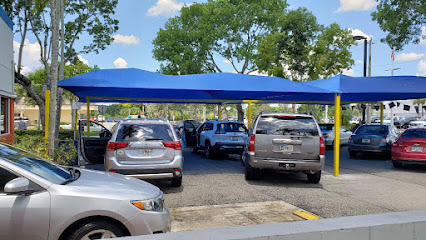 Address:
5555 S University Dr, Davie, FL 33328, United States
GPS coordinates
Latitude:
26.0513956
Longitude:
-80.2523975
Location on the map
Reviews Anne Schmelzle
It all depends on what your expectations are. I got a wash/ wax. That includes wiping down and vacuuming the interior. They will vacuum. But I am not certain about the wipe down. The wax job was okay. I will return so I guess the service was acceptable.
6 months ago Jan Spelbrink
I am so upset! I took my SUV to be washed and vacuumed at the Davie location, I paid 40 something dollars for a poor service job. The hood of my car is still dirty and the interior service I received was poor. The hard water stain that I …
7 months ago Hannah Zweizig
This used to be one of our favorite places to have our car detailed but they have been slacking the last two visits. I have young children and my car is always in need of a good detail. Yesterday they did a pitiful job! They missed many …
6 months ago Jan Dinan
Paid $30 for a car wash in and out. My carpet was still dirty cracks and crevices were untouched trash left in cup holder. Definitely not worth what I paid.
6 months ago Michael Trifillis
I brought two cars in and paid extra for the Wish1. Both cars had interior sections that were missed - windows, seats, carpets. One windshield still had bugs. Better off washing myself.
7 months ago Chuck Townsley
I was really disappointed by this business, I thought they'd do better.
9 months ago Eduardo Alvarez
Quick clean car wash. Recommend bringing your own towel to dry the car as the automatic driers aren't that great but after drying myself, the car wash is good! I personally have the monthly subscription so I go almost everyday!
9 months ago Andria Alefhi
Casey took my daughter's car which was trashed from college, and he made it look like new. I highly recommend Wish Wash Davie for a complete inside car detailing! Thanks Casey, you were very nice, too! I've been getting our cars washed here for many years, but these newer owners are highly competent.
10 months ago Ashlee Miller
I made an appointment over the phone on Tuesday, March 23rd for Friday, March 26th. I stated that I needed my carpets shampooed. I was told that they do not do detailing after 4 pm. I made at 4pm, the associate didn't tell me there was …
7 months ago carolyne koech
For $25 I expected a better job. Guy didn't even dry the car after came out of the wash. Didn't wipe down windows. Car had dirt and water spots all over. Won't be going back.
10 months ago manoj kumar
Don't buy the unlimited because the place is too small and and very short staffed for unlimited car wash Offers go to sparkling wash instead. Every time I got here I wait for over 30 mnts even though I come for external only. I am new member and I will not renew.
7 months ago Joey Johnson
Hi just want to say I went the other day to wash my car and never has my car been more clean as its been since I went to wish wash. The professional that helped me was Casey he did a great job on my car by cleaning everything he went beyond my expectations. Great experience and wonderful work thank you Casey!! I'll be back ????????
11 months ago Carolin McDonald
Worst detail shop ever. I paid for a full detail with wax . There was dirt still on the car and rims. The tech went back over it again with the towel. I got in the car and they didn't even clean all of the interior. Around my shifter was …
6 months ago Meg Cohen
If you have an hour for a simple car wash then this is the place for you. I went in on a slow Saturday afternoon. Entered at 320pm. It came out of the wash tunnel 5 minutes later and sat at the end of the tunnel for a good 15 minutes before …
10 months ago Brandon Clark
Aside from the few (3) imperfections; they did a great job. I gave them a car straight out filthy! It was covered with dog hair, dog drool and food crumbs the grandkids left. The car came back looking new. I paid $149+tx, Complete Detail, …
4 days ago Dana Shorb
Great wash, Great deal. VIP special for the month, best deal in town. The guys at the end are phenomenal.
9 months ago JP Cast
i wouldnt recommend this car wash. My car was left dirty and the service was horrible. The service was not what i expected for the price that was paid. too expensive bad,bad,bad
8 months ago Mechicca Wright
I would be very careful going to this place, I went there today and my car was damaged. It was put through the automatic wash and somehow it got off the ramp and hit the wall. My side mirror was damaged. They were very negligent and I have …
3 weeks ago Eric Dyer
If you want your car "kind of clean" ... this is the place to go! They excel at this service.
8 months ago J Essig
Good value, good staff. I just needed a quick wash after a murder of crows annihilated my car. Highly satisfied.
10 months ago Sharif Aziz
I felt so guilty bringing my car in because I allowed it to get so dirty! Casey had a smile on his face the entire time while helping me, gave me options to choose from to save the paint and didn't steer me in the wrong direction. Even …
11 months ago Bordan Avalanche
I give this place 3 stars because these days this business has not been what it use to be. Sometimes I leave and I find dirty spots so if you get your vehicle detailed here make sure you walk around and check before hopping in and driving off!
1 month ago Geoff Burch
Slow, too busy on the weekends. Car looks just ok, still some dirty sections.
7 months ago Melody Clayton
Wonderful Like my car was theirs. So clean and don't. I am very pleased
4 months ago Katie Nelson
They work hard to make you call clean
6 months ago Jose Almendarez
My car was not clean still had fingerprints. Bugs on windows. The rear was not vacuumed. Was told by Travis the Manager if I didn't like it i could go somewhere else. For $17.00. It is for sure not a good value
10 months ago brandon greer
Went to get a car wash, get in line and a guy walks over and says "we're too busy and we're going to stop taking cars".....too busy to make money? I've never heard of such a thing. Oh well we'll just give our money to the next car wash
3 days ago Luciana Prieto
Best car wash I have bean in the area!!!! Employees are super professional and caring
11 months ago Kim Gould
Took quite awhile. Some details were missed which was disappointing
8 months ago Matthew King
I've been coming here for yeaes and loved the service on everything. They have new owners and the place looks good. They do what they need to get the job done NOT SURE WHAT HAPPEN TODAY Spoke with TRAVIS about my truck and want to know why …
11 months ago Allison Harper
Management has changed many of times but still good service
2 months ago Jay Peters
Just bought the cheapest outside only car wash. The service was excellent: the person that pre-treated my car did a wonderful job and that same person took care of drying the car by hand and was extremely helpful.
6 months ago ALI dashti
This was the best place to go,now I'll find a new place. All they want is your money
4 days ago Bethany MQ
Had to ask to wiped down Interior door panel inside... then when looked on outside bugs from travel (while reasoning of car wash) still all over front!
9 months ago alex hoyos
Quality wash, great price. Good lube service as well. New owners so far so good ????
3 months ago Lila May
Worst car wash I've ever been to. $24 in and out and outside is cleaned by running through automatic wash. I was told my car is done and it has dirty spots all over everywhere. Whatever machine didn't clean they did not clean by hand and …
7 months ago Keyuri Solanki
Really good job . I guess there new owners .
10 months ago Hilarie Cole
Unprofessional staff and VERY old equipment that doesn't do a very good job,
7 months ago Riya Patel
Sat at entrance for ten minutes. Went inside nobody at the counter. Gave it a few more minutes and left. Used to come here often. Price went up and service down.
7 months ago Kayla Shoffner
Don't get your car serviced here! Especially if you're paying cash. They take your cash and don't perform the service (our case, an oil change). Found out less than 2 weeks later when there was absolutely no oil left in the car. Wash is …
5 months ago Krystale Conner
First off why is there an exchange for washing bugs off a car? They threw out my made in America mask and the guys were very hard to understand
1 month ago Julie Petrillo
Good service... average prices
10 months ago Olive Graves
New ownership and they immediately raised prices without having enough employees. The previous owners made use of a number of these young adults who at any given time you'd have two vacuuming the car and then another 2-3 wiping it down …
9 months ago Karla Traficante
Quick and efficient.
6 months ago Blake Hosier
The WORST car wash in the solar system. They use oily rags to clean windows. My windows had to be redone when I got home yesterday. I noticed today that the floors were not vacuumed - just the top of the mats were vacuumed. Awful terrible …
6 months ago Aman Mishra
Too many cars not enough workers should not take you an hour to get your car cleaned and it cost you $25 and then they still leave the bugs on the front bumper you have to ask them to actually take it off wasn't crazy about it
10 months ago erica white
The guys that work here are so friendly respectful and caring. I brought my RX 350 for a wash, and I told them I was worried because I had seen ants In my truck, I saw them going the extra mile trying to vacune in all the little crevices …
7 months ago Heather Bonarirgo
Good service and wash
6 months ago Amy Langley
Windshield not cleaned inside or outside and my 3rd row wasn't vacuumed (which is why I went!!). Never going back and do not recommend as work is sloppy and my car was just brushed over when I purchased their best wash.
4 months ago Maxwell Collins
Amazing orbital wax and car wash.
11 months ago
Popular places from the category Car wash