Doctor Jet Ski of Fort Lauderdale
Water sports equipment rental service Doctor Jet Ski of Fort Lauderdale, 4060 Galt Ocean Dr, Fort Lauderdale, FL 33308, United States:
220 reviews
of users and employees, detailed information about the address, opening hours, location on the map, attendance, photos, menus, phone number and a huge amount of other detailed and useful information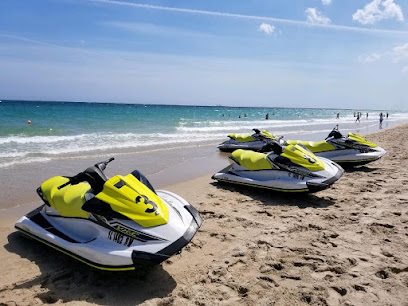 Address:
4060 Galt Ocean Dr, Fort Lauderdale, FL 33308, United States
GPS coordinates
Latitude:
26.1781542
Longitude:
-80.0965628
reviews Denise Dawson
We had a great experience renting a jet ski from Doctor Jet Ski. They were very busy but the manager Jackie did a great job communicating with us, and got us a rental as soon as possible. I had my two sons aged 6 and 8 and I was able to come back to shore a couple of times to switch riders. Staff was right there ready to help them get on and off. You are limited by how far up and down the shore you can go (About 1/4 mile in either direction), but with kids it was a nice reassurance that if you had a problem, the staff was watching and would shoot out to assist you quickly. You can call ahead and reserve a time also if you are concerned about a wait. We were on the beach anyway so it was not a big deal.
2 months ago Ghost Rider
Don made my saturday beach day an amazing experience. He was extremely nice and helpful. He seems to be very passionate about his job and that is what I admire. When I return, I hope Don is working!!
1 month ago Jawad Raza
We had such a fun experience! Jackie was so nice and explained everything we loved her. If she doesn't own this place in a year I'll be shocked. I highly recommend!
3 months ago stone royal
Great experience! Donn was super helpful and so sweet! I'll definitely be back☺️
1 month ago Jerry Rable
Jackie was extremely helpful and polite. Her customer service is the kind I expect whenever I go on vacation. I highly recommend this place
1 month ago Shane Richard
This is a terribly ran business. We paid for $200 for our family of five to share a jet ski for one hour. We were told that our time was up after 20 minutes. We were called in and sat for 15 minutes while they figure out that our time was not up. Then went out for another 10 minutes only to be told again our time is again up. I had my Apple Watch on and kept track of time. My time is still not up as I finish this review. Yet someone else is ringing my jet ski I paid for. So upset. Henry the man that is not sure if he is the owner was extremely rude and didn't seem to care to rectify the situation. He also admitted several times he didn't know what was going on and also didn't care to hear our story. Even when we showed them that the phone call received to let us know that our Jetski was ready was less than an hour ago. They need a better system, better management and better costumer service. So disappointed.
2 months ago Tanksiang siang
Very nice jet Ski fun. The lady that helped us was very knowledgeable, and helped us so much and made our experience great. I think her name is Jessica, or Veronica. I cannot remember her name but she's great.
2 months ago T W
This place is an absolute joke!!! My boyfriend and I had an awful experience with these people as they were rude and dismissing. Their Jetskis are all broken and taped up?????? When I asked about it the young man just laughed. There are PLENTY of better places to give your money to.
1 month ago Lori Stosz
Great place to ski. $99 for 30mins is not bad pricing considering how much power the jet skis have. If you have the stamina for 60mins go for it. This is also a great activity to engage in with your wife, girlf, or significant other. Great family activity as well. Each ski holds 2 people.
1 month ago SubmarineDolphin
Mikayla was absolutely amazing! Super kind patient and professional. Will definitely be back because of her service!
1 month ago Mark Wright
Donn was amazing! Such a hard worker. Made our trip amazing.
1 month ago Sariah King
Jackie was amazing- immediately got us set up and we had a very enjoyable day. She was professional, pleasant, and running circles around all other staff members on the day of our visit. Totally recommend asking for her when you visit/book.
2 months ago Melissa Doodnauth
This place was great. I was able to take the exam in less than 5 minutes and be out on the water. Everything was easy going and the staff was helpful. Due to rough waters, they were only allowing single riders so my boyfriend and I had to switch off. The only thing I did not appreciate was that during the training, the guy explained everything about what to do if you flip and how to get back on, but he did not disclose that if you flip it's the end of your time. It made no sense, when my boyfriend was coming back, a wave hit him while another guy was getting him to bring the ski in. They took the boat out of the water and when I went back to switch off for the last 20 minutes, another guy stated the time was up when he flipped it. I find it ridiculous because the jet ski was literally turned off and he did nothing wrong. If this is a policy, it should be communicated up front in the training. I feel like the only reason we were being told that is because a big group had just arrived and it's pretty messed up. I was highly disappointed in that because it just felt shady.
3 months ago Marilyn Mercado
Jackie was very helpful! THANK YOU! The cabana was great and the views were even better. They have beach, pool, bar, food, jet skis, scooters, kayaks, etc...
2 months ago Warren Bruen
Time and money well spent! Jackie was very informative and helpful. Happy for the experience.
2 months ago Jen Sanders
What an awesome experience! The staff at Dr Jet Ski were so friendly and helpful! We weren't sure at first if we would be able to jet ski due to the water being a bit rough but after about an hour they let us go out! CJ and McKayla were the best to work with! A great value for an hour of jet skiing, early bird 10AM $100 each. All in all a great experience, we will be back!
3 months ago Andrea Greve
Love these fellas. Helpful, prices are great! No need to deposit $300 or $400 like other places. Jet skies were fast and did not fail. Open sea rides. They have a lot of attention to security. You will have one guy out there in the open water monitoring everybody is safe as well as staff watching you from the shore. Great experience! Would definitely come back and recommend
7 months ago Somayeh Farneshan
Jackie was excellent! She was very supportive and helped me when I truly needed my items for relaxation!! I recommend coming here when you are in the area!!!
3 months ago emily lom
Jackie was awesome! Great service, very friendly, would rent again
1 month ago Anurag Gauba
Jackie made our visit with the hotel and the rental of jet skis an awesome ???? time I will definitely come back for sure
3 months ago Victoria Fonville
My experience with Don was great! He was really helpful and nice!
1 month ago Christophe COLLOBER
My 2nd time spending money with them and my last. Owner is very rude, but the rest of the staff is cool...wait time for the jet skis is an estimate, understandable seeing that it's the weekend which is usually a busy time but that's not my complaint at all....My concern is that I don't feel as if it is safe to rent from this place because the waves are VERY rough and dangerous , training is BLAH and someone who hasn't jet ski'd before can seriously harm themselves...this is my 2nd time renting and the water was rough each time making you not enjoy your ride , ultimately coming in early so don't even think about renting it an hour! Wouldn't recommend this location STAY AWAY.
2 months ago a lm
very fun experience would definitely come back, thank you jackie thomes tyler and george for a good time :)
1 month ago Missy McCullough
Jackie was very helpful and made the experience enjoyable, staff were friendly and helpful. Will def recommend!
2 months ago laura fritz
I really enjoyed my experience here! Jackie was very helpful and made sure our ride was enjoyable!
2 months ago Art Dunsbergen
Jackie was amazing she made my vacation so much fun I would definitely come back!!!
2 months ago Fred Smith
Fun times. Jetskis weren't in terrible shape. 2 couples went out together. Had a great time. Staff were fun and friendly.
4 months ago Robert Schneider
We got there around 9:15 and the 3 dudes that were working were super friendly! (2 short haired younger guys and 1 long haired older dude) The waters were pretty choppy and after the guys told us it'd be rough, they got to work and helped us have a very fun day. Despite the water making it hard to board the Ski, they had wonderful attitudes and showed great patience and understanding! As long as you're a good customer they're a wonderful service
9 months ago Jane Young
I went here for my birthday it was a horrible experience. It was busy so we put our names down, paid, and were told we will be contacted in 1 hour. We arrived back an hour later, still nothing so we ended up waiting another hour. I expressed it was going to rain and we didn't want to get caught in it. Not only can you tell the business was poorly ran but many of the jet skis were rented by their friends. Whom gave up a jetski for us and let us know he was doing us a favor. Lol. The guys running the shop weren't sorry for letting us wait and made it known "it is what it is" type of thing. They were extremely rude and lacked any customer services skills. Once we finally got on the jet ski, within 15 minutes it started raining. They flagged us to come back to shore and all 4 of us basically lost a full day and $120 or whatever the rental was. They didn't offer to compensate us, or give us a discount next time we came. Nothing. The biggest scam
3 months ago Shamera Pratt
I spent a wonderful birthday at Dr. Jet Ski. Beach is beautiful and fully equipped with chairs umbrellas, cabanas. Perfect place for both children and adults. All stuff were kind and helpful and very professional and gave us very clear instructions for jet ski. I had a best birthday there!
6 months ago Abdul BaBalghoum
Was supposed to go on jet skis Sunday but due to the weather I couldn't. They gave me a full refund within 24 hours. Very nice staff.
3 months ago Detra Wright
God is good! ❤️ I had my daughter's 16 th birthday party ???? and it's was a blast! Everyone had a great time and even my self. The staff was very helpful and Rav the owner rocked.!.Positive vibes. If you want to go the Escape room and jet ski ???? was very adventures. ( more fun ) Enjoy ???? the all day beach ???? and activities.
5 months ago Brent Bice
These guys were great. My daughters had a great time. The restaurant at the hotel site was a lovely place for my husband and I to relax while the girls rode.
9 months ago Carolyn Grace
Good experience don was a lot of help great Mother's Day
1 month ago Monique Bradley
We were excited to book Doctor Jet Ski being we were from out of town and excited to finally see the Florida beach. We made reservations for Sunday morning at 9:30 they open at 9am. We arrived and were not greeted even after speaking first. We later found out this was actually one of the managers(Younger guy with shirt hair). He immediately came off rude and like we were bothering him. It seemed he may have been working on a jet ski and maybe distracted but still not good customer service practice being he was the manager as well. (Felt like he thought he can do whatever he wants) . He eventually had another manager (older man with long hair) help us idk if he could tell I was starting to pick up on his rudeness or what. This particular manager was also arguing with another women about prices. But the other manager was very helpful and explained exactly what we would be doing, process of test etc. there was another worker with green eyes who was very helpful explaining the functions of the jet skis etc. once we actually got in the water it was nice and a fun experience. All in all I would rate a 2 due to the poor customer service experience which plays a big part if your a tourist and not familiar with the area. I would not recommend nor return to doctor jet ski. There are more companies offering same service.
9 months ago Skye
Shout out to Jackie for Her Great Customer skills, Awesome place, Awesome People, Awesome Experience!!!! ????????????☀️????
3 months ago Ahmed Gayed
Excellent customer service! ❤️ Had such a great time on the jet skis
2 months ago Indu Lekshmi
It was so fun 10/10 recommend; also Jackie was a great helper !
2 months ago jamekia thomas
I rented a jetski here recently, the jetski was great and the service was amazing. Henry was easygoing and the staff knew exactly what they were doing.
3 months ago Mose Bretti
Rented jet ski's with my wife over the weekend, one of the best jetski experiences I have had in south Florida. Location location location Jetskis were brand new
3 months ago Rut Albornoz
Some friends and I booked a few jet skis for a bachelor party activity and had a ton of fun. The guys here were super nice, gave us high quality instruction and tips, and quickly got us on the water. Money well spent. I would highly recommend them to anyone looking to rent jet skis.
10 months ago Chris Longo
Do it!! We got two for o Ky a hour and we had a blast. Drew allowed us to switch out drivers (have to have a temp boating license). Took out my niece (5 yo.) and she had a blast!!
11 months ago Bill Navarro
Waited in line for 20mins to be told there not renting anymore for the day. Could of announced that to the line, instead of eatting junk food.
2 months ago Torx Durley
Jet skis were really fun. The place was really professional. Daan was dope. Will definitely come back again
7 months ago Judy Wearmouth
Rented a couple small cars from these guys and one broke down 1/2 way through the ride. Then we had to wait quite awhile and assist the owner with loading it into his vehicle. We received no refund but a promise to have a 30 min jet ski ride the following day. We came back for owner to honor the 30 min jet ski ride due to faulty rented vehicles and they didn't honor their word. Didn't want to disappoint my son so I then paid over $100 for jet ski for 30 min I'll be reporting these folks to better business bureau, filing a formal complaint due to the danger posed from a sudden breakdown with their rented car and I'll be contacting my credit card company for the payment made when services were not as told (for the two car rentals). Such a poor experience. Look elsewhere these guys are dishonest.
6 months ago Adam Gasiorek
This place is really great place i went there a couple weeks ago and it was the best experience of my life the jet ski instructor Yalo was the best made family feel safe when we went out to the sea.
6 months ago Andrey Teslenko
Wow, what an awesome experience we had here! The jet skis were really nice and proper training was provided. The staff was amazing. Special thanks to Ross and Drew for all of their help!
3 months ago Candice F
Dr. Jet Ski was amazing! My wife and I really enjoyed the jet skis, the professional staff and their positive attitudes! When you go ask for Drew! He was Great! We definitely will be coming back!
5 months ago Jordan Bischoff
We rented chairs and umbrella on Saturday and had a reservation for Sunday for Kayaking unfortunately due to the Weather we could not get in. The Owner was very understanding and gave us a refund for the kayaking. Very responsible and great team ????
8 months ago Travis Hooker
Horrible Terrible prices, terrible equipment, rude staff, rude management, poor beach upkeep. Disrespectful to guests, and none of the staff wear masks nor do they sanitize.
3 months ago
Popular places from the category Water sports equipment rental service