Orthopaedic Specialists of North Carolina: Wakefield Office
Orthopedic surgeon Orthopaedic Specialists of North Carolina: Wakefield Office, 11200 Gov Manly Way #309, Raleigh, NC 27614, United States:
220 reviews
of users and employees, detailed information about the address, opening hours, location on the map, attendance, photos, menus, phone number and a huge amount of other detailed and useful information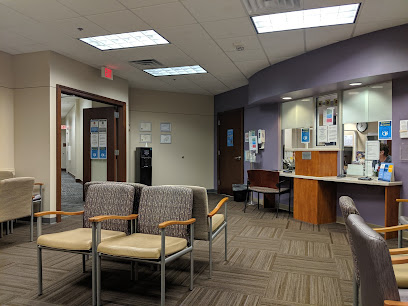 Address:
11200 Gov Manly Way #309, Raleigh, NC 27614, United States
GPS coordinates
Latitude:
35.9475490
Longitude:
-78.5415100
Location on the map
Reviews Donna Weymouth
Marianella is the absolute best. She listens, explains everything that she is doing with great compassion and skill. She has a Masters Degree in Physical therapy so her depth of knowledge is very apparent. She is continually in contact with my referring physician and relays any concerns that she or I might have. I ALWAYS come away from therapy feeling more flexible, stronger and less painful than when I went in.
10 months ago Robert Oleksy
Patrick puts you at ease. I have been very happy with his treatment. He challenges you as needed while being compassionate and responsive to how you're doing that day and what challenges you face.
9 months ago Sara Parrish
The staff were very friendly and really listened to how I was feeling. Appropriate tests were obtained & excellent, effective medical care administered. Really grateful OrthoNC offers urgent care!! Thank you!
9 months ago Bill Rubeck
I had to wait an hour for the appointment which is why there are four stars instead of five. Once I got in things went very quickly and professionally. Dr. Carlos Mijares was very helpful. He listened carefully, examined me and explained everything. He answered every question I had and I would highly recommend him.
10 months ago MORROWIII
Dr. Tarr has wonderful bedside manner and was great with my son today! Dr. Tarr was compassionate and took the time to fully explain everything and we never felt rushed. Great experience!
9 months ago David Hrachovina
Amazing experience every time I come. I would recommend Micheal Stevens and his staff to anyone
9 months ago Duane Swaby
Awesome Dr's but if they have to reschedule you.or make changes then good luck lol
9 months ago Ariana Martinez
Beth is ALWAYS awesome. She is prepared she consistently one time has a plan when we meet.
10 months ago Abraham Hernandez
Carlis Mijares, PA, was polite, kind, and caring with my knee issues today. He takes ample time to discuss and examine. X-rays were timely and efficient. Diagnosis & treatment options were thoroughly explained in detail by Carlos. Treatments was rendered with compassion. Referral to knee doctor and follow-up were completely explained. Thank you Carlos for helping me to go home today feeling satisfied and happy! Checkout was polite and expedited. If I could ask for improvement, it would be with friendly handling at check-in.
11 months ago Marco M
Jamie is an extremely knowledgeable and caring physical therapist who really aims to get you back to whatever activities you want/like to do as quickly as possible. He thoroughly explains each type of treatment before he does them which provides understanding and a good level of comfort.
10 months ago Gregory Crump
Dr. Watson is always very personable and thorough! He explains your condition thoroughly and in terms you can understand. I'm very thankful to have found him! I visited him today for an Epidural he explained everything he was doing. He is always kind, friendly and very considerate of his patients feelings & concerns! Highly recommended!
10 months ago Ruth Fitzwater
Attention to detail and results oriented for Chelsea! Could not have asked for a better experience.
9 months ago Frank Bolden
When my son broke his arm on Easter Saturday Dr. Carlos and staff were awesome! Dr. Carlos was kind and caring while being very decisive on the needed course of action! Would recommend this office to everyone!
10 months ago Talon Vanslack
As I just said---It was a personable and professional and good experience. That is all do to each person doing their job with caring and awareness. I hope to have Dr. Rion as my go to for the future. Thank you
10 months ago Justin Brubaker
Anna is great. She explains everything and makes sure that I know how to do the right exercises at home. And really awesome to talk to.
9 months ago Susan Sanford
He listened to me found out where the pain was the worst and gave me the injection. Hope it will feel better in a few days.
9 months ago j n
Always a pleasant and knowledgeable experience w Dr Galland and his team.
9 months ago Nuna Yerbiz
Everybody is nice. I feel like when I am there I am the only patient there. They are concerned about me and my needs. The staff is professional, but personal. Dr. Beth does a great job. This is my second time with her.
11 months ago David Thomson
Robyn is very good at diagnosing the problem and customizing a program for you. I especially appreciate the way she takes the time to explain the problem to you so you can understand. I also like that she pushes you and holds you accountable. It's obvious that she really enjoys her work. It really shows in her excitement in working with you!! An excellent PT for sure!!
10 months ago Tanya McEachern
I waited for one hour after my scheduled appointment time until I got called into the consult room. Once there, Dr. Rion was prompt and efficient during the exam and discussion. He gave me information on my upcoming surgery and answered all my questions. The visit with the doc was fine, it was the hour wait that bothered me.
10 months ago NATE COHEN
My appointment today with Michelle Fegeley was fantastic. Super nice lady and more importantly very knowledgeable! Answered my questions very professionally with real care and concern for my upcoming procedure. I thank her very kindly for her time today.
11 months ago Daniel Pejchl
After dealing with debilitating pain in my heel for months, finally went to OSNC. Saw Dr Correa who scheduled MRI, confirmed tear in my plantar fascia, and began injection treatment using Plasma Enriched Platelets. After the first injection and 3 weeks later I felt about 50% better. After second injection, 3 weeks later I am 100% improved. No pain walking or running. Total treatment time was roughly six weeks. He also recommended Brooks running shoes with arch support as opposed to expensive orthotics - great suggestion. Very happy with my outcome.
10 months ago Jeff Rega
Great thorough job of assessing my daughter's knee and ankle! Physician spoke with compassion and concern while addressing us both. He explained each step of his examination and explained his plan and rationale for treatment. Feel like she received excellent care and would highly recommend!
2 weeks ago Maurice Young
We have been to Orthopaedic Specialists of North Carolina many times for ankle, elbow, toe and finger injuries. The Urgent Care option has been a life saver more than once and every time we've been we've been treated with kindness and respect by the doctors and staff. We haven't had problems with billing either. All around it's a great establishment. You will not be disappointed.
1 month ago Tammy Keyser
I have had back issues total knee replacement and shoulder issues I would never think of going anywhere else always professional and caring for you and pushing you towards the greatest outcome they are the best
10 months ago Samuel Gerner
Dr. Wheeless and PA Krysta Holtermann are just awesome. My husband & I have been going to the Wakefield office since 2016. Always professional, caring & funny. Would never think of going to anyone else. Dr. Wheeless always seems to know whats going on, just by telling him some symptoms he just knows what to do, does it and your out of there. He has helped my husband with painful hips for years and still hasn't had to have hip surgery yet. He's very happy about that. Thanks again to you both. The staff and nurses are always helpful and kind at Orthopaedic Specialists of NC.
10 months ago lifew maraa
I am so glad I visited the Wakefield office when I broke my hand versus going to another urgent care or emergency room. The staff is amazing and I felt like I got the best treatment and follow up. Wonderful experience.
1 week ago Alma Jones
They were very helpful with my sciatica pain emergency. Carlos was great! Prompt service, in and out in one hour with no appt.
10 months ago Lillian Tarafa
Dr. Tarr is very personable and knowledgeable. He took his time to explain in detail my condition and the procedure that needs to be done. I had a fantastic appointment today.
1 month ago Diti Sen
Dr. Galland was amazing! He explained everything using specific details. He told me the steps were going to take to better my knee health. Thank you!
10 months ago Miguel Almanza
Good PT work with Austin! The staff is friendly and helpful. I'm looking for to continuing my PT with Orthopedic specialists of NC
10 months ago Lisa DeWitt
Extremely professional and excellent service extremely kind staff that knew multiple different routes to help with my pain
10 months ago Tay Novak
Addison did a great job explaining my injury ! He was very professional and made me feel comfortable.
10 months ago Alex Alexeev
From the check in process, nurse triage and especially the doctor actual assessment was top notch. Being in the medical field I look for privacy and professionalism OSNC nailed it. I will continue to use OSNC for all of my Otho needs.
10 months ago Jessica Thompson
I went and saw Dr. Galland about my shoulder he was very helpful and explained what he thought was wrong with my shoulder.The staff was very nice and helpful for me. Thanks for all your help. Steve
10 months ago The Castelan
My son had a dirt bike accident at 6 on a Friday night.. We came here because I thought a better option than an ER with sick people.. There was no one at the front desk when we arrived. We checked in via tablet and waited about 15 mins.. Lyndsey an RN, checked us in and took our copayment.. Then we waited and waited and waited for over an hour and a half.. Once we were brought back I realized this poor girl was doing everything herself.. Front desk, xrays, patient rooms.. I'm sure this was the reason for such a long wait with my son who was in extreme pain. That being said, she was amazing with him being in so much pain needing to move him in certain positions for xrays.. Then we met Michael, the PA who was also very very good. He took his time and was very patient and thorough with all of our concerns and questions.. If not for that poor girl doing it all by herself I probably would have given 5 stars..
9 months ago Julia Staley
I am really pleased with Pat, my physical therapist. He has a very friendly personality which made my experience fun along with very informative. For the 1st time I am looking forward to my next visit
10 months ago Vitaliy
We have been quite a few times between both my boys and have always had a great experience! Dr. Neidecker is thorough and never rushes out the door.
10 months ago Brea Reaa
I have been coming with my husband to get injections in both of his knees for some time now. I also was experiencing severe pain in my shoulder and then into my lower back and down my leg. I couldn't sleep in any position without pain. I was with my husband at his last visit and mentioned my severe pain. Dr. Wheeless looked at me and told me to come the next visit with him and he would check out my pain and see what was going on. His staff got xrays of my pain spots. We agreed on a plan and Krysta gave me an injection in my neck and low back. It didn't hurt, she talked me through it. This is an awesome place to go no matter your age (we are senior citizens), Dr. Wheeless is a positive Orthopaedic doctor and thinks of other options when trying to help relieve his patients' pain. I would highly recommend him and his team. They are First Class!!
10 months ago Mary Lopez
Just a wonderful caring doctor sincerely invested in my overall health and well-being. More than any other he shares his very broad knowledge and explains things thoroughly and provides ample time for questions
11 months ago A Jones
Very detailed and self explanatory. Given options and questions answered. Highly recommended.
10 months ago alex dinsmore
Last Dr I saw was Michelle in dr wheeless office and she was great. This team of Drs are wonderful always treat you with respect. Dr Wheeless always explains what he believes is going on and gives you options as to what he can do he's been very good to me after all I've had 4 hip surgeries. They are amazing along with Krysta and Layla
10 months ago Denise Woolison
She was amazing. Caring. Explained the exercise and why. Pushed me to do just a little more. Great personality.
1 week ago Mahmoud Alsakit
Michael was thorough in his explanation of what he thought was going on with me. He answered my questions, while not making me feel ignorant for asking. I was happy with the plan he laid out for me and feel confident moving forward with his recommendations. I don't remember the name of the medical assistant but she was great too! She was kind and helpful, as well.
7 months ago Theodore Decker
Very professional and informative. Took time to answer and address all concerns.
10 months ago Olga Covarrubias
Beth McAvoy and the Orthopaedics team are the best thing that has happened to me when it comes to the health of my knees and foot. They are competent and efficient..they take very good care of my needs. Can not say enough good things about them. Beth McAvoy is the best. Orthopaedics of NC rocks????
11 months ago Verlander Thomas
Great experience love my therapist she is very professional and friendly knows exactly what she is doing and got me where I am today had a very rough time to get my shoulder moving. She has a lot of experience and know exactly what to do with me to get me moving forward
3 months ago Baby Newhouse
She did a great deep massage of the places that were really bothering me and put me through some different very effective workout exercises. Great job!
1 month ago sean collins
I could enjoy my session with this doctor each week but gratefully I only need to see him around every year and a half. A total pleasure.
4 weeks ago Paul Lequeux
The most professional doctor's office in the area. They are quick to get you in and out without sacrificing the quality of your care. Their COVID response has been amazing. Quality staff from top to bottom. Mr. Stephens is an excellent caregiver and really cares for his patients. His nurse, Ken, is amazing and always quick to respond to your issues. Thanks for all you do!
6 months ago
Popular places from the category Orthopedic surgeon