SUPREME Heating and Cooling
HVAC contractor SUPREME Heating and Cooling, 14641 E Warren Ave, Detroit, MI 48215, United States:
36 reviews
of users and employees, detailed information about the address, opening hours, location on the map, attendance, photos, menus, phone number and a huge amount of other detailed and useful information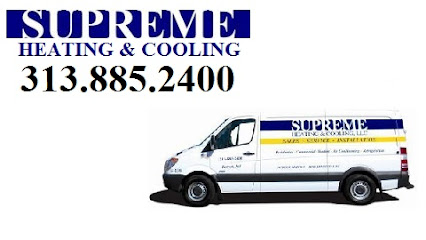 Address:
14641 E Warren Ave, Detroit, MI 48215, United States
GPS coordinates
Latitude:
42.3965390
Longitude:
-82.9566890
Location on the map
Reviews Georgette chin
If you are looking for a company with educated, professional people and an overabundance of integrity, this is your company. TheyGThey respected me and my home. Gary, Mike, Mike, Doug and Dennis acted as my personal team to problem solve my 100 year old system and find ways to install new AC on my upper two floors. They looked for ways to save me money and they really cared about doing things right the first time around. I couldn't have been in better hands. They took care of my heating needs now, and I'll have them back in the spring to install AC and heating upstairs . Thanks you so much, you guys are truly the best!
5 months ago Okay Jazz
Supreme exceeded our expectations! The team carefully diagnosed the cause behind a long-term problem, designed a solution, and flawlessly executed their plan. Supreme completed this major project in an extremely efficient and responsible manner and with the highest degree of professionalism. I highly recommend them.
7 months ago Destiney Edwards
Well folks, boiler season is upon us. I would trust the boiler in my home to nobody but Supreme Heating and Cooling. Gary and his team take pride in their work not often found in building trades. They understand the intricacies of hydronic heating and will work their butts off to marry new technology (smart/wifi thermostats) with hundred year old heating systems. Contact them! They're the best!
3 months ago Michael Danishek
Wasn't able to get my AC working, but helped me diagnose the wiring issue for a fair price. Technicians couldn't fit in my crawl space so I had to crawl down there myself to help them figure it out.
5 months ago Jane R
Great place..thanks guy's for selling me that blower motor and wiring it up for me...working great and quiet to...thanks again...
8 months ago muniba irfan
Promised to send a quote then decided the job was to hard and declined.
3 months ago Jaewook Lee
Call before you go. The parts department may not be available.
3 months ago Leah Martin
Woke up this morning at 5:15 to our furnace not working. Called Supreme at 5:30 and they responded with a technician and had it fixed right before 6:30. The importance of the service is we have a 10:00 flight to FLA this morning and without their stellar service, our vacation would have been compromised. Once again they've demonstrated why we are long time customers. Great organization that truly understands and provides a unique customer experience!
1 month ago Joe Meyer
Technician Gary and his assistant did a fast thorough repair of my non-firing up furnace boiler, and that was on Sunday morning!
9 months ago Cynthia Soenasto
Outstanding service. Very honest and reliable. We called Supreme in desperation after our furnace started smoking on a Friday evening, late at night on a holiday weekend. First thing in the morning the next day, Supreme was there. They identified that our motor fan had blown out and offered us several options at different price points from replacing the motor, rebuilding the motor all the way up to replacing the entire 40 year old unit. We did end up having the unit replaced and couldn't thank Supreme enough for for thoughtful advice and for working with us towards our best solution. Will be back to Dennis and team in the future. A+
3 months ago Miguel Almanza
Terrible service dept.Need to retrain there employee to call back with a part that they did not have in stock.Never called back.Bad, Bad.
4 months ago Dagmar Anderson
Had furnace & Air conditioner & hot water tank installed. Installers were on time, very professional and knowledgeable about their products! My hot water tank blew out the bottom and made a huge mess in my basement, when they left the basement was spotless! Would & do recommend Supreme Heating & Cooling to anyone in need of their services!
3 months ago Elizabeth Trevino
I see that the owner reads these reviews. You may not care, but you just lost a $1,387.00 repair job because GARY was downright rude and hostile to me, when I called to pay for the job with my credit card, over the phone, BEFORE THE WORK WAS EVEN DONE! My tenant told him that he was the owner. I "politely" explained that I was not aware that my tenant had done this, or that it was against the company's policy. I then attempted to move the conversation forward in a PROFESSIONAL manner. Gary continued to speak in a combative and rude manner. I can't imagine that you, the owner, would approve. For anyone reading this, please note that Gary's attitude had nothing to do with any dispute about money, as the $150 diagnostic fee WAS PAID at the time of service! IN RESPONSE TO SUPREME: If Gary had been POLITE enough to have a conversation, instead of over talking me and being accusatory, I would have been able to tell him that "I" found your company on Google. "I" was the one that told my tenant to call and schedule the diagnostic appointment with you, because he knew what his availability was. Neither he nor I was aware of your "policy." All that said, Gary's rudeness and unprofessionalism is a sad reflection on your business, and your condoning of his mistreatment of a customer is a poor reflection on you!
5 months ago Julia Yablokova
Supreme was one of the few companies willing to service (not replace) my vintage forced air furnace and works in the City of Detroit. I was very happy with their knowledge and skill of older systems. They were able to keep it running as well as make some small improvements at a reasonable cost.
5 months ago Jean Cyr
Routine boiler check and maintenance. Extremely friendly, helpful and knowledgeable. Boiler was working fine, heating house fine. Glass tube replaced with its connector fittings and components cleaned. One small vent replaced on a radiator. I was in shock at the price. They don't charge hourly. Be prepared to get a second mortgage. Item line billing instead of parts and hourly labor rate.
5 months ago Peggy Allen
Couldn't be happier with the services received from Supreme Heating and Cooling. They are affordable and super efficient!
9 months ago Esther Perez
Quality work and a great experience. Would recommend. Went above and beyond for my AC checkup
8 months ago Ondrea Willis
Great company! SUPREME Heating's service technicians and office personnel are the BEST!
1 week ago DA
Had supreme out to fix my A/C system. I️ didn't think the job was done, there was a miscommunication, and Gary went above and beyond to make sure everything was taken care of and the job got done. I️ am thrilled with the professionalism and work.
8 months ago Love Projections
I called Supreme Heating and Cooling because they were recommended by a family member. They helped me with my problem and they did it for the right price.
6 months ago Wayne Panton
Our regular, long standing, HVAC contractor could not service our antiquated pneumatic controls for the system that heats our school. The Archdioceses of Detroit recommended that we call Supreme. Sure enough. They had the expertise and experience to obtain the parts and get us back up and running.
5 months ago Ashish Gollamudy
"SUPREME" the name says it all!!! Great reliable work!!!
7 months ago Deven Karnehm
Great work and great customer follow up.
3 months ago Jack McIntosh
I had a great experience to say the least. One morning after I ran off to work, I got a call from home that it was very cold in the house and the furnace was not functioning properly. My father was at my home with my kids and I'll be damned if he isn't one of the handiest hard working people I know. However, he couldn't get the furnace to cycle correctly and the house was getting colder by the minute with my kids at home with their grandpa. I have known the good people at Supreme Heating and Cooling for a number of years professionally but never had to call for help. They asked me a few questions of what the furnace was doing and gave my dad a couple of ideas to get it started which half worked. However they determined that it would be best to come out and perform a service especially considering I had little ones in the house. They moved around their schedule and sent someone to my house to meet my dad with in an hour. The gentleman that came out was professional and worked diligently (according to my dad; which alone is a huge compliment) and thoroughly cleaned the burners, sensors and everything else inside the furnace to even appease the high standard of my father. After the gentleman had spent a considerable amount of time doing his exemplary work, he also had cleaned up his work space and my utility sink he had used to rinse out parts. He left no trace of his work behind for me to clean up when I got home from work that day. Speaking of getting home that day, when I did get home my house was nice and warm, I went into the basement and noticed immediately that my furnace was quieter that I ever remembered it burning. I also noticed the flame was solid blue across the burners and gas was burning completely. When my furnace shut off I pulled it open and I couldn't believe the length the serviceman had gone through. It was so perfectly clean inside I could have sworn half of the parts were new. But no parts were needed, just a good through cleaning was and I was charged a very fair price for a emergency level call. He didn't try to swindle me and say something was broke and or try to get me to buy a new furnace, etc, etc. He came out quick, did a great job and a solid price. I would like to genuinely thank them for such great work.
5 months ago Sarah Nadeau
Working with supreme on a few jobs now. Two houses complete and I couldn't be happier! Here's the breakdown, if you want the job done right the first time Supreme can handle it. They will give you multiple options for solutions to difficult problems and work with you on the site to help you better understand your system and what needs to be done. The way I look at it, pay once and be done with it. If you run into a problem, they will help you understand the problem and help resolve any issues after a job is done. They have finished two of my houses and are working on two others.
8 months ago kylania
This place has served my community for many years
5 months ago Chloe Chen
Really great experience. Our hot water gravity boiler stopped firing one night over the last winter. Supreme had a technician, Mike, out first thing the next morning. Mike was friendly and he explained clearly what he diagnosed as the problems. After he was done with his work he walked me through all the changes and fixes he had made. Mike replaced the Baso switch, cleaned the pilot lights and burners, replaced the thermocouple and rewired all the electrical connections. I am very happy with the service. I look forward to calling on Supreme for future HVAC work.
2 months ago Dilraj Singh
These guys are amazing. Michael and Joe are extremely professional and they made me feel like a priority which I really appreciated. I will continue to use this company and recommend them to anyone who wants great service with amazing prices!!!!! continue to use
8 months ago Nathaniel
STAY AWAY FROM SUPREME HEATING AND COOLING, I had a horrible experience, pretty much threw away a few hundred dollars for a service performed that did not fix my problem!! I am extremely disappointed that we were misled and told to replace a part that did not fix the issue with the furnace. Wish they could have been more honest and not just make assumptions to take the customer's money. I will definitely NOT recommend this place and hope some people do not make the same mistake I did.
2 months ago manny soto
Very professional.
2 weeks ago Larry Copling
Great work
3 months ago Dolce Vita
These guys are straight charlatans. Take your business else where.
7 months ago Eric Crowson
I don't
2 months ago Betty Prado
Very professional
2 months ago Valentina Averkina
Scammer
5 months ago The Blumes
To expensive
6 months ago
Popular places from the category HVAC contractor