UPS Customer Center
Shipping and mailing service UPS Customer Center, 540 S Mansfield St, Ypsilanti, MI 48197, United States:
73 reviews
of users and employees, detailed information about the address, opening hours, location on the map, attendance, photos, menus, phone number and a huge amount of other detailed and useful information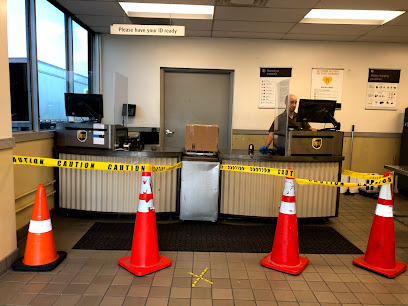 Address:
540 S Mansfield St, Ypsilanti, MI 48197, United States
GPS coordinates
Latitude:
42.2315584
Longitude:
-83.6329234
reviews Roger Williams
Sometimes busy. But most the can get in and out quickly. Great staff.
8 months ago Danielle Allen
I was pleasantly surprised at the courteousness and helpfulness of the staff. Well the facility is a little rough I was able to successfully drop off my package and receive a receipt.
1 month ago Kaitlyn Groshong
You'd expect a customer center to be welcoming but this is pretty much the opposite. It's old, dirty, dingy, and out dated inside. The customer service representative also wasn't wearing a mask, like he didn't realize we were in the middle of a pandemic. They put cones up to provide some sort of barrier, but they could have put a lot more effort to make customers feel safe.
10 months ago Florence Yan
Extremely helpful and friendly guy at counter. Great service.
8 months ago Tom Millard
They were nice and got my package very quickly.
10 months ago Linna Chhan
There are not being good to there employees during the events that are happening! No extra pay no notifications until recently with minimal concern for employees. Union leaders very uniform.. Target even offers hazardous oay of extra money..
5 months ago Savelij Kemppi
Can-do service, found lost parcel.
11 months ago Lynn Berens
Was shocked when NO ONE had a MASK on look at the photo. During Covid 19. Inside a building.
10 months ago Cara Mia
Had Wedding garland that was delayed because of weather. Rolo and her supervisor helped a hysterical Mom get the package and make my daughters day perfect! Will be forever grateful for your kindness!
9 months ago Monica Freng
Was told to come at 8pm to 830pm for a package drop off. I arrived at 7 because I had called back to see if the packages arrived earlier to avoid bad weather. I get there at 7, and the whole place is shut down with no one but drivers in sight, just me and another guy, who was also waiting to get his package. The place overall is ok, but I wish someone didn't tell me to show up here two hours after it supposedly closed.
5 months ago Florida Man
I love this place
10 months ago Keboo Thomas
Tracked my 2 day rushed pacakage all day and saw the ups truck was in my neighborhood but my package was never delivered and moved to the next day. What a lack of effort.
4 months ago Shari Benshabat
Fair customer service, your packages won't be left in the rain unprotected. (Drivers may leave packages in sealed bags if weather prevents them from delivering directly to your door)
8 months ago Javon Blakey
Sergio went above and beyond to get our package that had the wrong address and had been returned to UPS. We really appreciate his willingness to help us!
10 months ago Heidi Henry
I work there so...
1 month ago Johan Yssel
They only attempted 3 deliveries and then refused to do it again after I called and they were bringing another package the next day anyway. Even when I said I would be home. They refused.
7 months ago Tingting Super
They don't take US Dollars. I went there for work purposes, and needed to pay with cash. So I spent several minutes filling out their necessary shipping information. I go to the counter, and ask for additional insurance. They give me my shipping price, and I pull out $30 and hand it to the guy. He tells me we don't take cash. WHAT!!!! I had to go to the Post office. It is unpatriotic to not accept US currency! This veteran is done with UPS!
10 months ago Mary Lien
I have called repeatedly to complain about ERIC the UPS driver, to no avail! I am physically challenged and live 3 acres from the road. ERIC constantly would bang on the door like the house is on fire and would spout out to "move your truck (or my son's car) and he clearly had an attitude! Never a "can you please move your vehicle?" Just move your car! My son works midnights and really appreciates getting up too early by a UPS driver that can't turn his vehicle around in a 5 space drive way! He can't even stay on the wide driveway, as we have to widen it with gravel out 6 inches bcuz of his ruts! He is a joke, and if he can't turn around in my driveway, he needs a new job! When I had company, he told the lady to "move her vehicle" and she gave him what for and told him how lame of a driver he is! He came when I was upstairs in the shower and I literally thought there was an emergency how he was literally pounding on my steel door and the front door, and back to the steel door-in which he dented the door in! I couldn't get down in time to open the door-and he left a nasty note that he is going to leave my packages down by the road from now on! I was supposed to have a supervisor over for them to see his damage to my property but no one came. They said he retired. (Tom) I have called their Supervisor's office everyday for 2 weeks because he now throws-literally pitches it out his truck under the pine trees by the road! Like I said, I had been a passenger in a car accident and I am physically challenged-and when he threw the last package out the truck it was 2 blenders-very expensive and heavy! I had to go down in the rain and figure out how to pick them up to get them into my vehicle! Can't even put plastic wrap on it to protect the electronics in the damn box? I am sick and tired of getting blown off and will not put up with such sh!tty service anymore! If a company cannot ship other than UPS, I do not buy from them! Next step is calling or writing to their Corporate Office, and contacting Americans with Disabilities to further impress to this company that I am being discriminated against. I cannot always control what others ship packages thru but he can keep it on the truck and send it back before he sets out my products in the bushes again! Go FEDEX!
9 months ago Jeanne Guertin
Forgot to call in and have my VERY important package held and Sergio told me to wait 5 minutes, went out to the truck and grabbed it for me. Thank you so much! Above and beyond what he needed to do!
11 months ago Tim T
Dependable service. Best time to go there is early afternoon.
9 months ago Monica Acosta
Close handicap parking, very friendly and efficient employees, no or little waiting to return Amazon packages.
9 months ago Job Chan
Very nice no waiting. Customer service was excellent and I'll be coming back. Wish they were open on the weekends
3 months ago NaNa Gipson
Good help
2 weeks ago S Pepper
Once package is sent, Ups can't make simple delivery address changes. Poor business model
7 months ago Jeannie Dulin
Called on the phone to ask about picking up a package vs. drop off, as I had never done it before. The man who spoke with me was so kind and patient, and yet he helped me resolve my concerns and answer my questions in 5 minutes. Great customer service!
1 month ago Lois Kelso
I didn't hear the fella knock when he came by to drop off the package, so I called UPS toll-free to see what they could do. I got a call from the UPS Customer Center less than half an hour later. The woman on the phone was extra helpful and nice!! I was really eager to get this package and she worked with me on the best way to get it quickly. Some of the best customer service. Thank you.
7 months ago Dubai Ghumgham
Great Service. Helpful in finding a missing shipment. I've used this location at least a dozen times over the last six years. Have never experienced anything that is described in the negative reviews.
1 month ago Sam West
So they attempt a delivery, then they send a card to that same address saying the package will be returned to sender within 8 day... It takes 8 days for the postcard to be delivered. Unlike every other provider we deal with, UPS makes the least effort to actually try and deliver packages.
3 months ago michael simpson
Very rude and unprofessional
2 months ago Alan
Awesome customer service
11 months ago Graham Turner
Very quick and efficient, no waiting in line.
9 months ago Ivan Pols
They found my package quickly.
9 months ago Bill VanderClock
Quick drop off; the man at the counter was super-friendly and got everything done fast.
7 months ago Prema Sandy
I have never had success with this UPS place. It never fails that they will not release the package at the door of the apartment building even if I sign the waver saying I accept responsibility for what happens. Today I was at home WAITING for the package and the driver never even buzzed my apartment. I am over UPS!!
1 month ago Andres Lopez
Really nice and friendly staff. Always are quick and helpful!
1 month ago Kate Vi
Quick and friendly customer service for when you need to pick up your package yourself.
7 months ago Eric Collins
Great pickup option at night
9 months ago Mitchell Longus
Bare bones ship center. No boxes and such. If your all set to ship, have very few questions and just need a drop off, this place works.
1 week ago Makeda Mendoza
Always very helpful to me. Much preferred over post office Go out of my way to go there.
1 month ago King Gato
The person who helped me was extremely friendly and helpful. I didn't have to wait at all, which was nice.
1 month ago David Wilbur
Excellent service, plenty of parking,
1 month ago Elsie Quintana
Not very friendly. The staff seems like they have more important things to do then help a customer.
3 months ago Cari Sands
Very good customer service
9 months ago Brian Holmes
Absolutely appalling service. The carrier marked my address as needing an apartment number (it didn't) and then when the address was corrected, didn't even bother to load the package on the truck for delivery. The customer service center was extremely unhelpful and said there was nothing they could do, and I would have to drive to pick up the package if I needed it today. I don't pay for quick shipping to have lazy carriers cause a massive delay.
1 month ago Germaine Dignan
Drivers suck and will ride your bumper in a 25 mph zone, call to talk to them but, they arent customer friendly. Look out for the driver riding in 512033.
7 months ago AB S
The staff was very helpful
9 months ago maddieforever funimate
Convenient location and large parking lot
7 months ago Miguel Sorto
Always friendly and helpful at this place.
10 months ago Dean Wessels
A ups driver delivered my package to the wrong address, then couldn't remember where he delivered it!! Of course, their "delivery gps" wasn't exact enough to find where it was delivered. So someone got a free package and I have to go through the hassle of trying to get my package redelivered. Who has ever heard of a driver not being able to remember where he put a package ( the same day!) shameful.
11 months ago Mia Dawson
Does anyone remeber when people actully tried to help resolve a problem? when it didnt make you want to scream when you called a bisuness for help or with concerns... its so sad that its so big bis today that you cant even get real help you can only become frusterated...
4 months ago
Popular places from the category Shipping and mailing service