Family Jewelry Pawn & Guns
Pawn shop Family Jewelry Pawn & Guns, 5278 FL-7, Tamarac, FL 33319, United States:
43 reviews
of users and employees, detailed information about the address, opening hours, location on the map, attendance, photos, menus, phone number and a huge amount of other detailed and useful information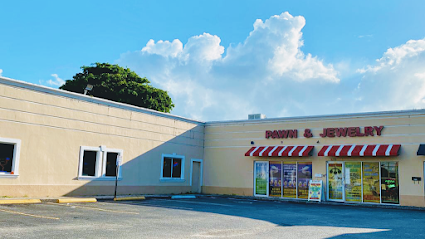 Address:
5278 FL-7, Tamarac, FL 33319, United States
Website:
thefamilypawn.com
GPS coordinates
Latitude:
26.1912045
Longitude:
-80.2029153
Location on the map
Reviews Dana McKnett
I had such a pleasure experience purchasing my firearm. The staff is always very outgoing and always tends to my needs. They make you feel at home and like family. I'll definitely be purchasing more firemans in the coming future.
7 months ago Russell Ganim
Very helpful, friendly and well stocked. After two searches for essential items that I have needed or wanted. They are one of my new go to's when I can't find what I need for a reasonable price. ????
10 months ago shirley hill
Went in there for the first time and had a great experience. Bought a gun and everything was smooth. Great people great service. Thanks!
7 months ago Matteo Brucato
I didn't know what to expect when I walked in last week. I was undecided as to what kind of gun would suit me. Juan was extremely patient with me. He answered every concern I had. He also took the extra time out to teach me more about my gun. He is fair and honest. I would definitely recommend this place. Thanks again.
2 months ago Paul Santoleri
Nice store and the guy was about his business, clean space and he's patient...he told me my item was new but afterwards I noticed some nice wear n tear. Clearly wasn't new but I was still satisfied with my purchase.... (new update) I already said I'm still satisfied, I'll just be more observant next time I buy. Also it's no coincidence you don't see any transactions under my name, when I asked if you needed my id you replied no "I just need the money". You didn't care if I was underage or mentally unstable, you'll just end up saying I never went to your store or I'm lying. In the end whatever you do will always catch up with you.
9 months ago Romy Dhillon
Owner is friendly and patient. Purchased 2 new hand guns and he was helpful in finding me one that fit my hand comfortably. Prices everywhere have been out of control for the last 10 months, but I found his prices fair.
9 months ago Ash
This place has very good service I bought my very first AR-15 from here . Thanks family jewelry pawn & guns ! Very satisfied customer
9 months ago Ann Lowe
Clean store good staff, prices on some items are higher then other places but overall their negotiable on most items.if you're near by check them out.
7 months ago Julian Islas
Great place. Found what I want cheaper than the competitors. Will be bringing my business here!!!
9 months ago Floresha Smith
Great customer service & very knowledgeable when it comes to their products. I would definitely recommend this location to anyone looking for a new/used firearm. Great prices.
1 month ago W W
This pawn shop is LEGIT! The guy that owns it is a family man and a fair man. He will give you the best value for your items and he also has an arsenal of amazing guns for sale! You gotta visit this place! 5 stars just isn't enough, you deserve 10!
3 months ago Deborah Nelson
I don't know if he thought i didn't know how much my bracelet was worth every one else offered 1550 for my bracelet and he offered me 300 JOEYS PAWN GAVE ME 1800 & they're 2 mins away from this place
3 days ago Ross Martin
Bought a drone at a great price, great service, they worked out any questions I had and offered me the best price I could find for the product I was looking for
10 months ago Carlos Eubanks
Family jewelry and pawn gave me an amazing deal on a rifle. Service was great and I was in and out. Will be back for sure.
4 months ago Sam Kilgore
The owner was very knowledgeable and understanding of what I was looking for in a gun. He gave us the best deals and was very nice.10/10
2 months ago Nilesh Joshi
Great customer service definitely will be returning
11 months ago Epiphani Stevens
Juan is great to deal with. A family run operation with integrity. I highly recommend.
4 months ago JB
Very helpful and great service, They were quick with no hassle. Definitely will be going back. lol
7 months ago William Pardue
Very nice an helpful, you must stop by an buy something. They make you feel very comfortable there.
4 months ago Daniel Ortega
Got a great deal on lightly used AR..scope...ammo
3 months ago Marvin Ellis
AAA SELLER Very nice customer service Fair price highly recommend
9 months ago annette wallace
Larry Thompson is a nasty old man
6 months ago Lance Rogers
excellent store and seller recommend them, I am very happy with my purchase. excellent service
4 months ago c trafton
I got my gun shipped to the Family jewelry and pawn and they made my transaction very smooth. Excellent service, very friendly and specially very reliable!!!????????????????
6 months ago April Eaton
Love the customer service they have great guns at good prices best in town
5 months ago Karthik Nagappan
Do i need my cwp to buy a gun
9 months ago Cori Aina
Very friendly he offered us something to drink it was a pleasure doing business with him..
2 months ago Jepa Fresc
The service at this place is excellent they talk to people with respect and honesty and their price is very good
7 months ago Josh
Terrible business. They do no give courtesy calls for reminder if you pawn, layaway, none of that. They have a strick no refund policy, no store credit just no customer compassion
11 months ago Emmanuel Fajardo
They are kind helpful people
11 months ago Edwin A
Amazing service! Very fair prices!!!
3 months ago J KH
Best costumer service Good communication and fast service Thanks and see you next time????
6 months ago Teresa Briones
Polite and professional, great customer service!
3 months ago Jeff J
Great service nice guy very fast worker in and out ????
5 days ago Bae Hyobin
The staff was very friendly and hepful as we'll. We were able to find what de wanted and some things.
8 months ago Lina Aqel
Great affordable prices
4 months ago Neetha Devdas
Good place to sell gold
6 months ago Elsa Karr
Helpful staff
6 months ago Jose Fregoso
Selling garbage for inflated extreme prices, seemed very unprofessional and embarrassing to be looking around.
7 months ago Mindaugas Sereiva
I Like it
8 months ago Melissa Britton
Great customer service and very clean store. Employees' vast product knowledge proved to be very useful and helpful. Very appreciative and satisfied as a customer.
6 months ago Bill
Low prices always ???? Siempre encuentro lo que necesito y precios bajos. Lo recomiendo!????
7 months ago sagar jogadia
Buenos productos a excelentes precios
7 months ago
Popular places from the category Pawn shop