House of Appliances, Inc.
Appliance store House of Appliances, Inc., 600 N Congress Ave #300B, Delray Beach, FL 33445, United States:
48 reviews
of users and employees, detailed information about the address, opening hours, location on the map, attendance, photos, menus, phone number and a huge amount of other detailed and useful information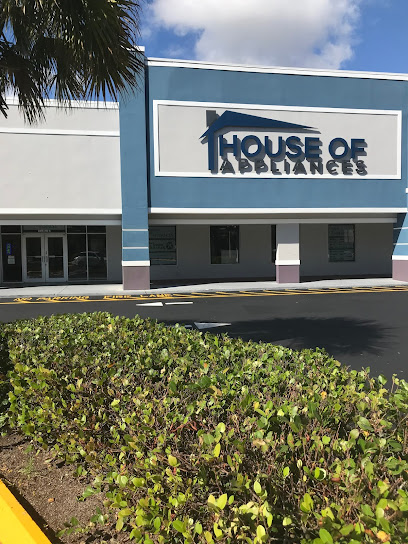 Address:
600 N Congress Ave #300B, Delray Beach, FL 33445, United States
GPS coordinates
Latitude:
26.4719502
Longitude:
-80.0935614
Location on the map
Reviews James Burkett
House of Appliances is the best!! Thanks to Eugene and his amazing standards and employees. I have been a customer for over a decade and never hesitate to go there for my appliance needs. He is competitive, has the best customer care and if you are looking for a deal ... look in the back room and ask if there are any models from last year that they are looking to sell in order to update the floor with the latest. House of Appliances recognizes that an appliance is an important purchase; I always feel confidant that Eugene will sell me the best appliance for my needs and his care goes beyond the day you get delivery making sure the customer is always happy!!
1 month ago Steven Kokenos
Very nice selection of high end appliances. A receptionist is at the entrance and supposedly called a sales person who I never saw
3 months ago Jeffrey Rowland
DO NOT SUPPORT THIS BUSINESS! I spent approximately $25,000 on appliances with them and the washing machine they delivered was faulty out of the box. Instead of replacing this item or allowing me to return an out of box failure they forced me to set up a service call. Keep in mind this washing machine has never been used. The service technician said it needs a new lid handle/sensor which of course is on backorder. When I asked Melanie the receptionist what they are doing to remedy the situation her reply was to read the terms and conditions of my contract and to take the issue up with Maytag. I simply responded by saying I did not purchase through Maytag, I bought this product through House of Appliance and House of Appliance collected my money. I expect House of Appliance to resolve the issue. To be continued ....
2 weeks ago Michelle Jefferson
We were so happy with the service from Eugene and House of Appliances. We just built a new home and had to purchase all appliances from Speed Oven to Washer and Dryer and everything in between. Eugene's knowledge and expertise on all the appliances was second to none. He helped us with pros and cons of the various brands and never once did we feel pressured to purchase anything. We are beyond pleased with our appliance selections and would highly recommend House of Appliances to work with you to equip your home or apartment. Eugene is happy to answer any of our questions that we may have as well even after installation. Great customer service! Thank you House of Appliances!!
8 months ago ki ki
Ralph from Delray House of Appliances was fantastic! I needed a beverage refrigerator and wine cooler, and Ralph walked me through every option out there. At his recommendation I went with a Zephyr Hills brand (which I wasn't familiar with) and I couldn't be happier. Their selection of appliances is unsurpassed, and the installers were on time and professional. If you are looking for an appliance, this is the place to go and Ralph is the man to ask for
1 month ago Willie B
House of Appliances was great to work with and went above and beyond on or project. Tina was especially great. I would highly recommend.
5 months ago Victor Zelocualtecatl
Wasted time here. Nice showroom and selection but salesman was useless. Couldn't tell me anything about models or features. Asked for a quote on a package which took four days to get and was more expensive than anywhere else.
6 months ago Rhonda Mastain
awesome selection! me and my husband loved it here and will definitely come again!
9 months ago Kari Bily
I cannot say enough of how wonderful and professional the staff are here. From the owner, Eugene, Nick in sales, the staff that work the front and the delivery drivers are the nicest people that you will ever work with.The moment you step thru the front door you know how professional and honest they are. They truly understand customer service and it reflects on all the employees that work there. I would give them 10 stars if I could.
1 week ago Fred King
If I could give you 20 stars, I would. Tina provides THE BEST customer service I have ever received! There was an issue with my order not being placed by another supplier, and Tina was contacted to help. Not only did she place my order, she arranged to have it expedited and she coordinated with the cabinet makers to get everything installed as quickly as possible. She went above and beyond, and really left a wonderful lasting impression that you rarely experience when issues occur. To Management: I truly hope you take this review to heart and reward Tina, as it is a rare treasure to have someone so good at their job and so happy to be of help that they take a bad situation and make it awesome! Tina is the employee you don't want, and can't afford, to lose!!!
11 months ago Marlene Wilson
We moved from upstate New York last year , leaving behind all of our familiar and reputable family businesses. Our new home required all new appliances and my search took me to the House of Appliances and their Builder Acct. Manager Ralph Vaccarella. Ralph is very knowledgably ,professional, friendly and listen to our needs and developed a plan and Appliance Specifications package listing all our appliances key features,dimensions,and electrical requirements. Ralph also compared appliances with a similar price point to ensure the package we choose was the Best Buy. In addition I worked with the delivery department to coordinate the delivery. Again professional, and courteous. The day of the delivery Mark & Francois were on time and covered floor surfaces during the installation process, again very professional, knowledgeable and friendly. It was great to find a business with the same values of those I left in Schenectady N.Y. a solid FIVE STARS.
11 months ago John Manson
This company has wonderful customer service and actually cares about educating customers on their products. 10/10 recommend!
5 months ago Lamont Way
Worst experience I've ever had. Sorry, sorry I bothered the salesman here. Every question I asked he answered as if he thought I was stupid and he was the smartest man in the room. It was so offensive, I walked out. This place is so bad that the other appliance stores in the area know who the salesman is as all their potential customers go someplace else.
1 month ago Chad Huggins
I was in a bind and Tina came through for me and made the impossible happen. My house was full of family from out of town and the washing machine stopped draining. The machine was old and a non-standard size, squeezed into a tiny laundry room. I called House of Appliances and Tina had a washing machine in the warehouse that, amazingly, fit into the space. She had it delivered and installed within a few hours. House of Appliances saved the day!
7 months ago Rupali Arora
Beautiful appliances ! But we got the bums rush out the store because we obviously were perceived to not be the usual clientele.
11 months ago Harsha B
Awesome! Erica was wonderful to deal with and she definitely went above and beyond to help with my dryer issues!
10 months ago Josh Curtis
Eugene and Tina: I wanted to take the time to write to you both about our experience with Nick. We purchased our new kitchen appliances from Nick after doing research about the brand and style of the appliances for our kitchen remodel. I realize that you cater to the builders, and that we were an individual sale, but Nick treated us as though we were making a million dollar purchase. It is rare to see the level of service and attention to detail he gave us during our purchase, and I wanted you to know how much it was appreciated. We actually paid a little more than we could have, but I believe we could not have gotten better service from anyone else. It is rare to see someone who actually follows up on their promises to get back to us when promised to do so, and it made all the difference. We are a few days away from our final install on a range hood, and the kitchen looks amazing. Without Nick's guidance and expertise, I am sure the process would have been a disaster. I hope you realize what an asset he is to HOA, and we plan on referring HOA and Nick to anyone we know that is doing a remodel.
11 months ago Donna Bowden
This is a high end appliance dealer. The choices are outstanding. My salesperson was very knowledgeable and offered me many choices and told me the pros and cons of each device. Spent plenty of time to help me make the right choice. The installation was perfect great service people. Did have a problem and it was taken care of right away. Plus follow up calls to make sure everything was ok and how did I like what I chose.
3 months ago Giorgos Tsiaousis
Fantastic store and super helpful staff all around. The, hands down, best place for great appliances with superb service!!
11 months ago Irina Razumova
Beautiful showroom! Excellent service!
8 months ago Alistan Cruz
We didn't even make it inside the store because the Lady at the Front Desk was so very rude and unfriendly . What a shame they lost a big business with us!
9 months ago Amethyst Evans
Do not shop here. These people don't know what they are doing. Once they have your money you are invisible. Never have I ever had such an awful business dealing. Wish I could rate this business 0
11 months ago J C
Amazing purchase experience with Mark Boyhan. They need to clone him for sure! He has superior customer service skills and really went above and beyond to help me with my purchase.
2 months ago Ava Taylor
omg before you buy an appliance from them better ask what your it was made i had my kitchen redone got all my appliances from them and there all 8years or older it was never disclosed to if one of my appliances breaks down in a couple years odds are they wont have to parts to fix so i have to buy more
11 months ago Mr Hidayat
We purchased our Jennair appliances from House of Appliances and the service was excellent, from ordering to installation. Tina Tsikis took care of us at all stages, and delivered the equipment on the requested date. Chris and his installation team were very professional. We highly recommend them.
3 months ago Cpt Buck
I highly recommend House of Appliances. They have terrific selections, fantastic showroom, exceptional service and follow through. Their staff is knowledgeable, friendly and professional. Particularly Tina Tsikis. Wonderful buying experience.
9 months ago jeremy egloff
After spending over $12,000 on appliances at the House of Appliances in Delray Beach, FL, and with our kitchen renovation underway, our overall experience has been horrible to say the least. We placed our order in July 2018 and over 100-days later we were still waiting for 2 appliances! We were given all kinds of excuses by HOA. The sales guy was horrible communicating with us to the tune that we almost even lost our $1000 rebate from GE due to his negligence and the expiration of the rebate program. He never returned calls, emails, or text messages. Yes, at first, he was very nice and attending. Once we signed on the bottom line, they were mostly a NO SHOW. They even went as far as charging our credit card over $4000 without notifying us first causing unneeded headaches with our bank. There are many other competitors out there. Do your homework and don't buy from these guys – they're not the cheapest anyway. Once they have your signed order, GOOD LUCK getting the goods!
11 months ago Emily Jo
WORST PLACE TO BUY APPLIANCES! ESPECIALLY FROM THEIR SALESPERSON MARK BOYHAN, HE IS THE RUDEST SALESPERSON I HAVE EVER MET MY HUSBAND HAD ISSUES WITH HIM IN AUGUST WITH THE DELIVERY BUT I LET IT GO BUT NOT AGAIN ON INSTALLATON. DO NOT BUY HERE. THEY CHARGE $500 FOR INSTALLATION AND IF BY ANY CHANCE THEY NEED TO COME BACK TO FINISH THEY WANT TO CHARGE ANOTHER $125. IF YOU ARE GOING TO BUY HIGHER END APPLIANCES GO TO MONARK PREMIUM APPLIANCES IN POMPANO WHICH I REGRET NOT DOING TODAY.
11 months ago Anthony P
Called and asked about pricing on Speed Queen clothes washers and dryers. I think I'll buy it from a place who actually wants my business. Guy seemed unwilling to tell me what the price was for something. Glad I didn't waste my gas and drive over.
9 months ago M Potter
I recently purchased a Miele washer and heat pump dryer from House of Appliances and couldn't be more satisfied. In researching my product choices, I contacted several Miele dealers in my local two-county region for substantive discussions by phone. Ralph Vaccarella at House of Appliances was the only experienced sales associate who provided me with knowledgeable product-specific information that was honest, comprehensive and accurate, including technical features, warranty options and details, and itemized costs of every component and option of the purchase. Delivery was made on the day scheduled, and installation and setup was performed efficiently and with care by Max and a helper in an hour. Ralph called to follow up on the install process and provided phone registration assistance and assurance of continuing support as needed. Would that all purchases of major appliances go as smoothly, handled by knowledgeable and honest dealers and service providers who stand solidly behind every purchase with professional integrity and commitment to technically proficient service. Bravo!
2 months ago AnneMarie Welsh
I've had a horrible experience with this place and their salesman was not honest about the product he sold me. Don't be fooled by the fancy set up.
3 weeks ago Lybb Lyfe
Beautiful showroom. Friendly and knowledgeable staff.
9 months ago Alexander Blankson
We met with Nick Johnson. He was great. Very knowledgeable and helped us pick the perfect dish washer.
9 months ago Steve Wiel
An extremely knowledgeable staff and wide range of top appliances
11 months ago Grace Armas
Great shopping experience great staff. 5 stars all the way. A must go.if.you can afford it.
3 months ago Joseph Green
Great selection of all type of appliances, my go to spot
11 months ago Anna Wagner
Very honest helpful and knowledgeable guys, I really appreciate your help. Thank you
1 week ago Darcey McQuaid
Good place to buy good appliances! from best brands!
2 months ago Sebrena Caine
Great showroom for highend appliances. Pam is wonderful to work with.
2 months ago Megan Patten
Terrible customer service.
1 month ago Gail Nkosi
If you need something special this is the place expect to pay for it though
11 months ago Glenn Barker
Highest rating, very pleasant experience dealing with the company.
3 months ago Blake Pfenninger
Extremely rude sales associate on the phone. Very disappointed in the poor customer service.
1 month ago Abigail Loughran
Ralph was awesome! Thanks for the help!!
1 month ago Brenda Garcia
Worst service department ever. I would not do business with this company and wish I could give them zero stars.
9 months ago Murat
One of my go to places for appliances
11 months ago Karla Ames
Called and the lady on the phone was very dismissive and unwilling to help.
1 month ago Katie Palm
Wow
4 months ago
Popular places from the category Appliance store