New Eastwood Healthcare & Rehabilitation Center
Rehabilitation center New Eastwood Healthcare & Rehabilitation Center, 2125 Fairview Ave, Easton, PA 18042, United States:
71 review
of users and employees, detailed information about the address, opening hours, location on the map, attendance, photos, menus, phone number and a huge amount of other detailed and useful information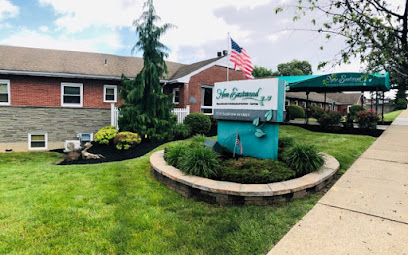 Address:
2125 Fairview Ave, Easton, PA 18042, United States
GPS coordinates
Latitude:
40.6877710
Longitude:
-75.2439290
reviews Gordon Cathey
Choosing to place your loved one in a facility, whether it is for rehab, long term care or end of life (hospice) care, is never easy and often scary. I have had 3 of my loved ones stay at New Eastwood for all three and I couldn't be more pleased with the care they received. The staff is so caring and treated my loved ones as their own. Management took the time to see them and be a part of the care. My uncle spent his last years there, and every single day until the last day, he was happy, he looked good which says a lot about a hospice patient. The nurses and aides treated not only my uncle, but my entire family like their own family. It made a sad time for us, just a little bit easier. My cousin was there twice for rehabilitation, the occupational therapist and physical therapist got him stronger than he was prior to his hospitalization the first time, and after his stroke they helped him get to his new baseline. He has been doing well at home for 4 years now. I cannot reccomend this place enough, I would give more than 5 stars if possible. Thank you everyone at New Eastwood for all you have done.
7 months ago Mister Porter
I have been an employee at New Eastwood for over a decade and could not think of a better facility to work out. I started at my career as a CNA and I am currently the Assistant Director of Nursing, because of New Eastwood I was able to go to college, obtain my degree, and advance in my career within the company. The staff in every department are such great and devoted people. Many of the residents at New Eastwood have been here since I first started, we are all very much like family. The dedication from the staff to our residents cannot be matched. I am proud to be a member of this team!
11 months ago Meagan Stewart
An elderly friend was sick and in here, she said no one would help her. She stated the facility is filthy. Despite the advertisements saying other wise, my friend said if you Love someone do not send them here.
9 months ago Brandon Lewin
The team here is incredible. Small but mighty center with more medical support than I've seen at other places in the area. There is always a physician available when needed and the therapy team is outstanding. I'd definitely recommend this place to anyone needing rehabilitation or even long term care.
1 month ago Nick Pellegrini
My mother has been here for 6 years and has done so much more than ever expected! Staff is nice and respects are views & wishes! Never had a problem once!
9 months ago Brandon Diller
I am happy to be an employee of New Eastwood. I really enjoy going to work everyday. The residents are the sweetest, the employees are very kind and the bosses are the best. I couldn't have asked for a better facility to work for. They truly do care.
3 weeks ago Sevinch Керимова
Amazing, compassionate care. The whole team is top-notch. I would never send a loved one anywhere else. They have gone above and beyond. I truly can't say enough.
2 weeks ago Shanna Nelson
I've worked at New Eastwood for many years and truly enjoy working for this center!! I've had my parents here for rehab several times and the staff were all amazing!! They've taken such great care of my parents and I will forever be grateful to everyone! ❤️
2 weeks ago jignasa solanki
My mother was a resident at new eastwood for some time. She really enjoyed the food, Rachael and her dietary team went above and beyond for her. Thank you Rachael and your team. Highly recommend this facility.
11 months ago paull obrien
I cannot say enough about the facility and staff. They have gone above and beyond to care for my mother. They've made visitation during this challenging time extremely easy to sign up for online, while making sure they take every precaution to maintain everyone's safety in person. Their care and attention to detail is outstanding. Thank you, New Eastwood!
3 weeks ago Elise Shanbacker
I give the center 5 stars and would definitely give 10 if it would allow me to. From housekeeping to dietary to maintenance to nursing to rehab to administration they truly have such a dedicated and professional team. The care they provide is top notch. They go above and beyond for the patients at their center and it does not go unnoticed. Quality Care is what it is all about and they surely have that and more!
3 months ago Alex Chavez
A truly amazing health care center! My grandmother was a former resident in the facility both for rehab and long term care. The staff always made her and my family feel truly cared for. I would recommend this facility to anyone needing healthcare for their loved one.
2 weeks ago Charles Freeman
I have had several first hand interactions with the New Eastwood staff. Amazing nurses and nursing aides. They care deeply for the patients and go above and beyond for all their needs. I would absolutely recommend New Eastwood for anyone as a top notch skilled nursing facility in our community. They 100% deserve the 5 star rating.
3 months ago Gerardo Pozo
Omg I love working at new Eastwood in Easton pa it's the best faculty ever it's nothing but love Nd caring people all around when you step foot in this building you can feel the good energy the vibes are amazing new Easton wood is a place we're you can come in and feel welcomed like a big family from the top Chief all way to the bottom chief really really make you feel special I love it here with all my heart I could've described a more better place from your love one to join our family and experience what I experience its type of atmosphere you'll go home and express the feeling of loving, caring once u step foot in this place oh yeah last but not least the help is overwhelming there's teamwork that drives us to the Best ever hands all around to help and make sure you the best quality of help bar none I totally recommend coming in see smiling faces Lovable people so come join our team new Eastwood all the way..
10 months ago Sergey Pogorelov
I've been at New Eastwood for going on 7 years now, I am more than pleased to work for a company that actually takes your work ethic and knowledge and advances you . My coworkers are the best. The Residents are like family, I truly love coming to work everyday.
2 weeks ago Laura Kalihd
The staff have been really great. It's a good place to be when rehabbing at home isn't an option. Everyone is so friendly.
2 weeks ago Ben Lytle
I really got good care at NewEastwood The girls were wonderful and caring I call them my angels. I'm very glad I ended up here.
10 months ago Chris Payne
Great rehab program with friendly, caring and compassionate staff. Highly recommend them for your loved one.
3 weeks ago Rhianna Garza
This facility takes consistent measures to ensure a positive environment for all employees, staff, and visitors. Throughout the constant changing regulations under covid, this center has taken every possible opportunity to ensure safety is a priority without sacrificing quality of care.
3 months ago Tony Mogford
New Eastwood is truly one of a kind. I have never met a staff so welcoming. There is always something fun going on for the residents with activities. The therapy team is phenomenal, they really make things fun for the residents. It is a true family environment for residents and staff alike. Anita makes everyone feel welcome as soon as they walk through the door and the entire team is super helpful!
8 months ago Seda Bourikian
I love New Eastwood! Everyone is so incredibly welcoming. the staff is very helpful and really takes the time to really care for their patients. The Therapy department is awesome. The food is great. They always have some cool interactive activities going on. They even get the community involved here too! I would recommend this place to anyone.
11 months ago Cam Tobin
Very caring staff. They've really gone the extra mile for my father!
11 months ago Its Trew
I am a long term resident of his center and it is very clean. The food is very good. The employees are courteous and caring. You can go to anyone with any issue and they will do whatever they can for me. The activity department really works hard to keep us occupied and entertained. I am very happy here and consider them my family. Thank you New Eastwood.
9 months ago Sean Whitcomb
The decision to place a loved one in long term care is never an easy one. But there comes a time for most of us, when we have to face the fact that their needs surpass our physical abilities to care for them. We had chosen New Eastwood for my father's rehab after he suffered each of two strokes, first because of the quality of it's rehab program and secondly because it was nearby and allowed me to visit often. I was reassured that my dad would receive good care as I watched the staff interact with him. Everyone, on all levels, addressed him by name and treated him with kindness and respect. I was allowed and encouraged to observe his physical therapy and to participate in the various activities that are provided. My feedback on his needs and care was also encouraged and respected. I can visit as often , and for as long as I care to. Our family dog is also a welcome visitor and has made many friends among the residents. The three of us soon became a part of the extended New Eastwood family. The staff has always been courteous and supportive and when the time came to make my dad's stay permanent , I was surrounded by loving ,wonderful people who were concerned for my well being as well as that of my dad. I have no reservations about recommending New Eastwood for rehab or long term care. I give them 4 stars. Sharon N
11 months ago Marilyn Markel
The people here are very friendly and helpful. The care is very good. The therapy department is excellent and they always go the extra mile to help when the need arises. The activities department always has something for everyone. Very clean center. All the staff are very kind and helpful. I am very happy that we chose New Eastwood. Thank you
7 months ago Deana Osborne
I love the kindness the nurses and the CNA's show to me. Always something to do. So many activities. It is a very clean center. All the staff is very good to me and everyone else. Respectful and helpful with all our needs. I would recommend New Eastwood highly. Thank you New Eastwood for your love and care.
10 months ago Brian Sayre
I work at New Eastwood going on 4 years. I really enjoy my job here. I love working with the other CNA's , nurses and most of all the other residents. Our therapy department is awesome, the food is really good and our residents thoroughly enjoy the activities. We give excellent care to our residents and they really enjoy being here. I love my New Eastwood family
6 months ago Jonathan Mergy
so many things to say. The care of the CNA's, the nurses, the activities not to mention the food and cleanliness of this center is above what i expected. I have been to other rehabs before but nothing can compare to how he was made to feel good about his progress and how i was kept informed. Other centers are more modern but he wasnt there for a vacation. It was the staff and the therapies. Kudos to New Eastwood. You will definitely be our first choice if he or I ever need your services again. God bless you all.
9 months ago Tricia P
Glad to hear Kay Weiss is out of the facility. As a nurse for 14 years I can say that she was the absolute worst administrator I've ever met. Her micromanaging, nagging, cheap management style is terrible and dangerous. She refused to purchase needed supplies like wound dressings and plastic cups for patients just to stay within budget and most likely receive a bonus for doing so. Sad to hear she only advanced position in the company for probably the same reasons. SMH
6 months ago William Maxwell
The therapy team is wonderful, very dedicated and effective.
3 weeks ago Rajvir Singh
4.5 STARS. They have taken such good care of my mother. Her home away from home. From the first meeting with Anita to the nurses, therapy team and kitchen. Joan and Jeanette from housekeeping know my moms clothes individually. Lauren the administrator is also very helpful.
1 week ago Sathish Konidala
I love working at New Eastwood! The residents are so wonderful and we all work together as a team. The aides ensure the residents are smiling from the moment they wake up with a hot shower and beautiful clothes, fixing their hair and talking about the days events. The kitchen nourishes them with a delicious breakfast, while activities offers the news and a lovely morning planting flowers on the porch. The therapy team works with them by gently encouraging their progress towards independence. These are just a few hours of a fun filled and productive day at New Eastwood. The staff is so caring and I've heard the aides say so many times when speaking about a resident "I love her like my own grandmother." Each day we all come to work with one thing in mind "How can I make this day great for the residents?"
1 week ago Kathy Brunetti
Dear Anita, I just would like you know how grateful I am for New Eastwood in taking such good care of Louis. He gets along with the staff. I cant name them all , but Rose and Karen, and the Aides Mary, Sandie, Rita, Cathleen are a few. The nurses do very well keeping up with his needs and his medications. The aides are very good at keeping his clean and with feedings.. Thank you
10 months ago Kamesh K
Love my physical therapy. They really get me moving and i enjoy it. The whole team is wonderful. If I ever needed to rehab again i would come back to New Eastwood.
11 months ago ybag mak
The care and respect that my loved one received from all the staff is more than i can ever thank you for. Great things are being done here and my mother truly had a wonderful stay. Thank you New Eastwood for all you have done.
1 month ago Cassidy Rottino
Everyone is so nice and helpful! The food is great, therapy is the best and there are plenty of activities to keep my loved one entertained. My mom especially enjoyed the therapy dog visits. The building is beautifully renovated and just the right size to make it feel like a family environment.
10 months ago Benjamin Caradine
Wish i could give them 10 stars !!! They take such great care of me all the time. They are very good and caring. Would not go anywhere else. Love them all.
3 months ago Eric Anderson
New Eastwood keeps all of us well. The food is very good and the building is very clean. All the nurses are good and everything is very nice. I would recommend this center to anyone.
9 months ago Antoine Burlot
My mother Veronica Fisher is staying in this facility and I am ecstatic with the care she is getting. The staff is patient, caring, friendly, knowledgeable and above all, extremely professional. I would like to especially give kudos to Lisa, Anita, and Amy. They have been wonderful. I would recommend this place highly. Thank you Gary Bruneio
11 months ago Gfsg Ssssssss
All the doctors, nurses and therapist worked together to find and fix my problem. I would highly recommend this center for their nursing and therapy skills. The CNA's are wonderful. Nice change in the kitchen and if needed i would come back again.
9 months ago Olga Tarasova
New Eastwood is an amazing facility very clean the staff is wonderful with all of residents therapy department is great activities are always having fun activities to do every day The food is healthy and amazing I would recommended this facility to anyone
10 months ago Ivina Tan
My father was there for 3 weeks, and it was an awful experience!! They didnt ever bathe him, didnt change his bedding. They left him in a wheel chair in a hallway! He was only getting worse, not better! This I do not consider a rehabilitation center! They should be shut down. We moved my father to another facility and he is doing amazing there within just one week! Back to himself and already able to walk!
1 month ago Brenda Franklin
Terrific Nursing home, Terrific Staff!
1 month ago Darlene Peters
My mother-in-law recently spent some time at New Eastwood and the experience was extremely positive. We witnessed a significant improvement in the short time that she was there. The food was good, the staff was extremely attentive and management was always very responsive and helpful. I have visited many facilities over the years and this was one of the cleanest that we have seen. Also - my mother-in-law always looked well taken care of. I would highly recommend New Eastwood Healthcare and Rehab.
9 months ago Dakota Weatherhead
To any prospective employee or patient do not be fooled by the 5 star reviews you see. They are all written dishonestly by management to cover up the truth about this facility and this company. I was an employee here for 2 weeks then fired out of the blue without a reason. They have temp staffing companies that supply the staff, which means New Eastwood does not know who they are or what their names are. They prefer to use temporary help at twice the cost because they are too lazy and incompetent to hire their own. Dangerous understaffing, no linens or supplies, just lots of people lasting less than a week on the job.
1 week ago Svetlana Anisimova
Best job i have ever had. Caring, compassion and clinical excellence. Wonderful Specialty programs . Blessed to be a part of this amazing company.
9 months ago Charlie Giammarco
Don't put anyone you love in this place. Not only does it smell like it isn't kept clean but the staff is careless. My great grandmother fell while in their care because the aid forgot to lock the wheel chair... The same thing happened to her roommate that week. My great grandmother then had to get stitches in her finger as a result of the fall. After the wound had healed, they took the stitches out at the facility... They forgot one. So she had to have to wound reopened a week after it had healed to remove the forgotten stitch.
10 months ago project zorgo
My mom has been at numerous facilities and New Eastwood has been the best one. The staff is very friendly and very helpful with getting her back on her feet. No place is perfect but when issues arose(minor issues) they were taken care of immediately. My Mom likes all the staff in therapy as well. I see a lot of nasty reviews on here and I can tell you that my Mom has never experienced and of these issues. The place is clean and smells clean. Its nice to see all staff working together and enjoying being there unlike other facilities we have experienced.
10 months ago Gisel Rivera
New Eastwood has great rehab programs with friendly, caring and compassionate staff. I would absolutely recommend them for your loved one. They go above and beyond.
10 months ago Ansley Dale
We currently have a family member at this place. The wait time for someone to respond to "the lite" is ridiculous, especially if you have to use the bathroom. There is a sign posted, as required, not to take clothes for washing, but they still do and we never see them again. And we do supply enough clothing for a week, would take the "wash" but we never see it ! They do not take the time to assist a patient getting dressed, but rather put some gown own the patient because "it's easier". The therapy part I'm still reviewing.
2 months ago
Popular places from the category Rehabilitation center