Car-Mart of Muscle Shoals
Used car dealer Car-Mart of Muscle Shoals, 1017 US-72 E, Tuscumbia, AL 35674, United States:
150 reviews
of users and employees, detailed information about the address, opening hours, location on the map, attendance, photos, menus, phone number and a huge amount of other detailed and useful information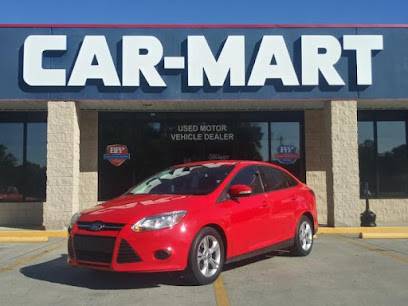 Address:
1017 US-72 E, Tuscumbia, AL 35674, United States
GPS coordinates
Latitude:
34.7167168
Longitude:
-87.6894459
Location on the map
Reviews Drina Bedoya
This was the best car buying experience I have ever had! They were super helpful and understanding and even stayed after hours to help us get the car we needed! Definitely the best car place around.
8 months ago TINA GALLOWAY
Jordan was very thorough in explaining all the details. Jordan was very profession an well mannered. The car we bought was in excellent shape also
9 months ago mar jmz
By far the worst car buying experience I have ever had in my life. I guess cause I'm the wrong race, seems like the caucasians are the only ones having 5 star experiences here. Oh I will be reporting them to the BBB and blasting them all over social media
8 months ago Yuliana Garza
I give Car-Mart of Muscle Shoals 5 stars because they went above & beyond to help me get into a great dependable car. I went in on a Saturday evening 45 min till closing time; we completed what we could that day, i emailed the rest to Jamie over the weekend & signed papers on Monday. Jamie was very helpful & super nice. I recommend Muscle Shoals Car Mart to anyone looking for a dependable used vehicle.☺
1 month ago Herman German
Love the people! Great service!!! Best selection in cars, and I found the perfect one for me !! I HIGHLY recommend!
8 months ago grsmonkey
We have never had a problem with this crew....they treat us like family❤️ Joshua, Jennifer, Tracy, Kerrenna, Jamie, and Anna are absolutely WONDERFUL employees to get to know. Thank you, Car-Mart, in Muscle Shoals! ????????????????????
9 months ago Kev W
My experience was great, way easier than any out place we looked at!
8 months ago charlie hause
The people there was awesome! Jamie was very helpful. And answer all my questions and got me the car I was really wanting. I recommend car mart.
10 months ago Charles Williams
Car mart really gave me a friend of the family type feeling we sat down we discussed my best options and even after they sold me a car they still treat me with respect and some would say love!..... witty smart caring team that makes a person happy and u really wanna bring back your business to them! Kerrenna has been so good and helpful I have referred 5 more people!! 3 to her specifically!!!
1 month ago Akbar Shahzad
My future wife and I had a great experience at car-mart buying our 1st vehicle together and couldn't Have asked for better service anywhere else in the world!!
11 months ago Mia Castillo
Car-mart has gone above and beyond to help my family get into a new car I am very pleased with car-mart and will continue to use them!!
11 months ago Dimitri Tomaszewski
I want to thank Jamie Pose for helping us get into an amazing car. She has worked with us to get everything thing together for weeks and helped us really get into the car that we deserve. Thanks jamie
1 month ago Greg Stuart
Car-mart of Tuscumbia was there to help us and provide us with a very dependable, beautiful SUV! Thank you to all of the staff for being so helpful and kind!!!
4 days ago Sal Suarez
I had a great experience at car mart of muscle shoals. Jamie is as awesome and they even stayed after quitting time and got me in and out. I'm happy so go talk to Jamie she will help you out
5 months ago Sergei Sergei
Absolutely an amazing experience! Bought 1 car a month ago, totalled it avoiding deer and they immediately replaced it with Absolutely no hassle or problems. Thank you CM !
4 months ago Charlotte Newport
Wonderful ppl. Went above and beyond to help me . Thank you very much
4 months ago Lindsey Smith
Great selection and really nice folks to do business with.
4 weeks ago Justin McArdle
My shopping experience at Car Mart was great , I picked out the vehicle that I wanted and the sales person started the paperwork and everything went well. And within a few hours I was driving away in my car.
5 months ago Krystale Conner
It was a very good experience. Jamie Posey at the MS car mart was truly amazing. She has helped us anyway she could.
6 months ago Federico Nannini
Yall I absolutely love these people they have always helped me out and been nothing but fantastic please go here if you need a car
4 months ago Master Scorpion
Shakarie Hampton is the sweetest, most helpful, charismatic person i have ever encountered. Even more so while looking to buy a vehicle. She is definitely a valuable asset. :⋅) so glad i was able to work with her. Ill definitely be referring her!!!!
8 months ago Kevin Wilkes
ShaKarie Hampton was so great she showed us all the cars we asked about and a few we didn't. She was so sweet and friendly with us. she has a great personality . She was super sweet .thank u
7 months ago Gwendolyn Boone
This place is totally a scam do not do business with Car-Mart. Their number one job is to see how much they can make you believe that you are getting a good deal please just walk off
4 months ago Arlene Notary
Jamie was our sales person she was very professional and very king. Josh the manager stuck by his word and did everything he said he was going do they are great
7 months ago nicole tomassi
I got my car today ???? it didn't take long the manager and salesperson was so nice to me and surprised me with my luxury car .. I'm so bless..
6 months ago Rob Lawlis
Ms. Shakiarie has been very helpful for us. She treated us with to up most respect.
8 months ago Nathan Miller
We will see
10 months ago Herman German
Shakarie hampton was very helpful. Very friendly and courteous. Dakota was very helpful as well. Thanks for another vehicle.
9 months ago Angela Colbert
I had great customer service from Sha'Karie Hampton. She helped in any way possible. Whatever I didn't understand on far as what all they needed from me, she walked me through it!!! Nothing but smooth sailing
11 months ago Tina Labois
I've been with this Carmart for the past three years. Throughout, I've seen managers come and go but Josh(the cure manager) is the best! The staff is always friendly and willing to work with you. Dakota, is great at his job! He worked very hard to find the car I needed. Keep doing what you're doing ladies and gents!
7 months ago Derek Snodgrass
Great and friendly service. If you are in need of a car go see Shakarie Hampton. Can't wait for Anna to get back to work.
8 months ago Margaret Toole
Shakarie Hampton has been very polite and helpful in the process of my car buying process and I will refer my family and friends to Car Mart.
10 months ago Cheryl Spillman
Y'all they may have used cars but they employees attitudes and how they treat people are all new I have never in my life felt more helped they lit as hell in there ????????????
11 months ago Elizabeth Schneider
Shakarie Hampton is THE BEST! She's very cheerful about everything and helpful! If you're looking for a great car please go to Carmart and use Shakarie.
10 months ago Elio Pereira
ShaKarie Hampton very sweet & kind. She was very patient & helpful. I highly recommend if you go to carmart ask for her!
8 months ago Robby Cardosi
Shakarie was friendly and Awesome loved having her as a sales lady and Dakota was fun and great personality
8 months ago Lauren Mejia
ShaKarie was very sweet and understanding! She made the process of buying a car so easy and made sure we understood every step!
9 months ago Madhur Purohit
Shakarie Hampton was amazing she is so sweet and patient I just love working with her I highly recommend
8 months ago james winston
ShaKarie Hampton was amazing she was great I loved working with her she did whatever it took to make sure I left with my car thanks ShaKarie
9 months ago Jack Blair
Shakarie Hampton really done a great job and I'm super satisfied with how she handled business. I'll be referring more people to her...
9 months ago James Haywood
Very nice people to deal with. Jamie was our saleswoman and she has always been good to us. Highly recommend if you need a good used car. I have bought here multiple times and it has been a very pleasant and enjoyable experience every time.
10 months ago Susan Olheiser
ShaKarie Hampton she was really good with me and help me so much I will tell everyone to go to her
10 months ago Kassem Maksoud
ShaKarie Hampton- She was so nice and friendly! The sweetest ! Definitely loved doing business with her!
7 months ago Gregory Aurand
Shakarie hampton was an ANGEL, WHILE SHE WAS DOING SO MUCH TO HELP ME I COULD CRY. 100000000/10 recommend! You. Will. Not. Regret. This. ❤️
1 month ago Crystal Emily
Car Mart in Muscle Shoals is amazing!! lets just say that I have not so good credit and there are not many places that will sell your a car with bad credit. luckily Car Mart in Muscle Shoals was able to help me out when I was in a bind. I went to Car Mart on highway 72 back in October 2017. I walked in the lobby and the environment was awesome, very friendly I must say. Jamie Posey greeted my sister and I with a huge smile on her face. I told Jamie my situation and she had no doubt about getting me into a car that day. Jamie took me on a test drive and I felt so comfortable with her, it was like I knew her since forever. Going through the process of buying a car is stressful enough, but Jamie was so patient, so kind, and willing to help out in any way possible, Jamie had went over everything so thoroughly and if I had a question about something, and trust me I had plenty of questions, she would explain in a way that I would understand. After a couple of hours Jamie had told me that I was able to get the car I wanted. She celebrated my excitement with me as she knew I really needed it. she took me to see Jennifer to go over some more things and Jennifer was awesome as well. Jennifer was very welcoming and ready to assist me in any way. It was time to finalize my paper work!! I then went and seen Anna. Anna is one of the most friendliest people ever. She like all of the employees was there to assist. she got me my keys and told me I was all set to go. I make my payments weekly, and every week I go its always the same. Jamie, Anna, Jennifer, and the new manager Tim are always amazing. They want to know how I'm doing, how my family is doing, and its always great to know that they care about their customers. Going to Car Mart in Muscle Shoals has been the best car buying experience so far for me. it will be a sad day when I make my last payment...who knows, I may just buy another car just to keep seeing the awesome faces at Car Mart in Muscle Shoals. So please if you are in a bind, or don't have good credit, go to Car Mart in Muscle Shoals. I promise you wont be disappointed.
6 hours ago Brandon Fisher
Shakarie Hamppon and the team at car mart was great she got me in n got it done everybody go see her Thank y'all so much
7 months ago Brooke Beatty
ShaKarie Hampton was great great great great I loved her she was amazing I would refer any one to her she is the most sweetest!
10 months ago Tina Labois
Shakarie hampton great service. Very helpful
11 months ago Dorothy Estes
I went to car-mart in Tuscumbia and i was not disappointed.The staff members are Phenomenal! I Highly recommend Shakarie Hampton she is Awesome! ????????
8 months ago Joshua Adams
They give the average working person with not so great credit a chance to have a reliable vehicle.
11 months ago
Popular places from the category Used car dealer