Giorgio's Bakery & Bistro
Bakery Giorgio's Bakery & Bistro, 800 N Ocean Dr, Hollywood, FL 33019, United States:
220 reviews
of users and employees, detailed information about the address, opening hours, location on the map, attendance, photos, menus, phone number and a huge amount of other detailed and useful information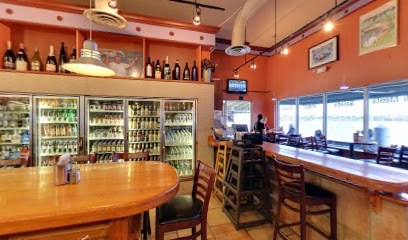 Address:
800 N Ocean Dr, Hollywood, FL 33019, United States
GPS coordinates
Latitude:
26.0168921
Longitude:
-80.1175154
reviews Sid Alley
Stopped to have a glass of wine and watch the sunset- wasn't sure about a meal. Ended up ordering the fresh mozzarella woodfire pizza and it was great. Over heard a local say the steamed mussels are excellent there- so planning a trip back! Casual place for good food and a nice view on the inter coastal
6 months ago Micah Stroud
Wonderful spot I've been coming here for the last 10 years and I love it. The service is great The food is amazing The Mimosas are cold and Amanda and Magda are wonderful team members. Cheers from Your neighbor ????
5 months ago Grewe Family
Giorgio's is one of my trusted and true Hollywood Beach restaurants. It has a menu that covers every meal of the day. It also has menu items that will appeal to most all ages. There's a case filled with freshly baked goods and you can't go wrong with any selection. The food is fresh and the ingredients are quality. They have the biggest, most buttery croissants! They make for a wonderful sandwich, breakfast or lunch. I do sausage egg and cheese for breakfast, hot ham and cheese for lunch. The Harvest Salad is a beautiful array of colors, textures and flavors - perfect for a quick bite, on a hot Florida day. Lastly - the view. Wow! I could sit and watch the Intercoastal traffic cruise by, while sipping on a sangria... All day.
6 months ago Jacqueline McElrea
I had an amazing breakfast here for the first time. My server Donna was absolutely amazing as well!! The view is just gorgeous and honorable mention- I got to smoke my cigar in peace while enjoying my coffee. Love! Thank youuu
6 months ago Lian D
Even tho I have lived in the area for many years, this is the first time I ate breakfast here. The food was very good, tasty & portions were very generous. The atmosphere is pleasant, we ate outside on the water. I heartily recommend Giorgio's Bakery
5 months ago Shimada Yosoaun
Friendly and helpful staff - from the parking guy to the waitstaff. Their views will make you forget your boring life (ahahaha), and food that's consistently good... Giorgios has been an institution in Hollywood for so many years, don't let it's rustic settings take you down. Greek and American fare classics on their menu. Adults and kids enjoy the canal flow as boats, birds and sea life show up to be part of the scene. Highly recommended.
7 months ago Stephen Holley
Don't let the public kitchen like interior fool you????. Very good food, nice & fast service welcomed us in a busy Sunday when the other restaurants nearby had 35-60 minutes waiting time. Luck..? I am not sure, but we had some nice time & good food there ????‍????????‍???? while watching boats passing buy on the water (the cappuccino was tongue-cooking hot though! Careful with your caffee ☕????).
7 months ago Denny Marshall
Giorgio's became our go-to value spot during our trip to Hollywood. We stayed across the street and relied often on takeout. Takeout was typically ready to go within ~10 minutes. We also dined in once and enjoyed a great view on the water. The food was consistently good, but not great. The grilled chicken caesar wrap quickly became a favorite of ours for takeout. The prices were very reasonable across the board as you can order most sandwiches, pizza or meals for $10-$15. I'd recommend stopping into Giorgio's for lunch during your stay in Hollywood.
6 months ago Dmitry Ruhl
Perfect for waterfront brunch. May have to wait for waterfront seating (they also have seating inside), but small sacrifice for great dining experience. Great food, affordable and friendly service.
7 months ago Maggie Thomas
Extraordinary view, great food. Fabulous dessert. All at a fair price.
5 months ago keven higgins
Loved my FrenchToast and Mimosa breakfast ! Beautiful view ! Delicious food ! Great service ! Make sure you stop here for breakfast or lunch before you head to the beach !! You won't be disappointed! And you'll leave with a full tummy and a smile that will last your entire walk to the beach ???? !☀️ Remember to visit the bakery inside. You need to take home a few servings of melt-in-your-mouth baklava . It's goes great with a midday cup of coffee ☕️ !
7 months ago Paul Barrett
Had breakfast at Georgio's this morning... The Waffles we're definitely a 9.9 on a scale of 1 to 10. Probably the best waffles I've had since Disney. Last time I was there I had bruschetta that was so good it was memorable to this day. Of course the view is beautiful overlooking the water with all the boats passing by and this morning there was a rowing crew with about 5 boats...A wonderful way to start the day Or welcome the Sunset. I recommend!
6 months ago Rachel Bedrock
Very cool spot with an excellent menu. I stopped by for a quick bite after a day at the beach. I was really surprised by the unique and varied menu. Baked goods, salads, wine... They really had a lot to choose from. Great vibe with great water views. Plus, they have outdoor waterfront dining. Recommend the mozzarella sandwich for any vegetarians.
1 month ago Alice Parrott
I will never know if it was good or not. The service was so awful. We sat down and were handed menus and the waitress walked past our table four times. Not once did she say, all be right there. She just looked at us and walked on by. We were the only ones on the side where the boats tie up. Other then another couple who she just brought food. After her fourth pass by and another two ladies sat down behind us, we had enough waiting. Got up and walked right past her and out the door. We sadly will never know if the food was good.
7 months ago victoria gonzales
This is a great place! Awesome and friendly service. Great smelling and tasting coffee! And the breakfast was delicious. Outstanding views of the intercostal!
9 months ago Florencio Nieves
Our server was really funny and helpful. She did not even make my mimosa just brought the ingredients and I could do it myself. That's already a good point. I had the salmon bagel, I love capers. The salad on the side was fresh. My friend had an Eggwhite omelette. The diced potatoes were perfectly crisp.
7 months ago Richard Marsh
We LOVE this beautiful place. We love the breakfast menu. And we love the beautiful waterfront! The blueberry pancakes are the best ???????????? We hope to stop as soon as possible! Greetings from Germany ????????
9 months ago Andre Olivier
Great View 5 stars! I almost had to ding them one Star for the Parking Situation, but an employee let us leave car and He parked it for us. He then found us to deliver the keys.. to be fair it was a Saturday during Spring Break. I would definitely go again.
7 months ago Lucy Myrick
Slow to get seated outside due to limited seating , but once we got seated the service was exceptional and fast! Food was good too! Greek omelette and fresh orange juice
7 months ago Michael Collins
We took a Valentine's weekend trip to Hollywood for some warm weather and seafood. The highlight of our trip was Grigirios. The food and service were excellent. We enjoyed dinner on the water watching the sunset and drinking champagne. Our server Zoe and the manager Gabriel made our visits outstanding.
8 months ago mckenzy manheim
Great bakery by the water. The waiters are always friendly. Breakfast menu is good. The only thing is that you have to order things separately: coffee, juice, omelettes whatever you'll take will be ordered separately....So, it comes up a bit pricey but honestly it is worth it. I recommend to go on the weekend before 10 am is better. Parking is available on site or valet for $5 next door.
1 week ago Debra Voelker
Great scenery of the intercoastal water way and fabulous food. Gyro was full of meat and came with nice portion of fries. Hubby loved his grilled pastrami sandwich. Reasonably priced for a place on the water.
7 months ago Joel Shapiro
Excellent experience, food is great and prices are fair. Great music and not too loud. Awesome view too. Went there today with my dad and we loved it????
8 months ago Najoua Borkadi
I bought a spinach pie yesterday to go and it was really good, so my friend and I came back today to have it again. Today it wasn't nearly as good, and it was not properly cooked thoroughly to the middle. It also took a surprisingly long time to come, as we were told multiple times it was being heated yet wasn't warm and was still cool in the middle once received. The set-up of sitting inside or outside and if a waiter would bring us the food was unnecessarily confusing, and a busser had two separate conversations with us about it, saying that the individual taking the order might not know where we are and for all she knows, we could be in a car waiting for it. He continued talking about it, and I found it to be a relatively unpleasant conversation regarding the lack of clarity on if a waiter knew where we were or if we needed to go back and get our order. The waitress we spoke to mainly was very sweet, and that was the highlight. Otherwise, I believe your restaurant processes must be more efficient and communication more clear in order to operate in your most effective manner. We are simply visiting for the week and will not be coming back to give this restaurant another chance to increase the stars from 3 to 5. Thank you.
9 months ago Perry Ahn
We ate breakfast facing the bay side of the water. It was a pleasant and peaceful place to eat. The food was good and the bakery items looked tasty.
8 months ago R
Great food. Very confusing set up with the bakery combined with the outdoor seating and separate dining areas. The waitresses seemed to be understaffed on a saturday night. There are 2 entrances which confused us. We entered the restaurant and we had to ask for help because there was no host. We were told to find a seat so we looked outside where we found another entrance and were directed to the back of the line. Still no host direction. We had to ask a bus boy to help us and he said this line is to sit outside but you can skip the line if you want to sit inside. So we sat down and no waitress came until I asked for one. She was very busy and the whole place seemed to be uncoordinated. I hope giorgio's can fix this management, entrance, host and waitress confusion because their food is great!
6 months ago Rachel Naddor
Good taste, ecomical price, good service too. I like particularly the mussels, the french baguette also is excellent. hummmm, both the best around. Only the bathroom need some improvement.
6 months ago David Whoo
Amazing place to eat breakfast. The eggs were perfect and the coffee was amazing. The servers were incredibly polite and chill. The food was made very fast with minimal wait time. Outside seating was great with views to the marina. Highly recommend this place for families.
1 month ago Alison Gwinnett
Great food. Awesome views and good service. Surprisingly reasonable prices to boot!
6 months ago Adam LeSarge
Really chilled and the scenery is calm and beautiful, you are seated outside by the water and the boats. Bakery basket very yummy( you have to ask to warm up) the basket is 1 slice of whole wheat fiber bread, 1 roll, 1 huge croissant and butter and jelly to enhance the experience. I ordered American coffee , Wich had a nice taste to it. And the side order of baked ham. All this for 2 people was a total of $17.00 and I had a chilling morning that was both delicious and beautiful.
2 months ago Abdul Bari
Beautiful Place,Giorgio is very accommodating and helpful. I will definitely be telling friends to come experience the ambiance on the water with the delicious eats. Giorgio made the meal as he went above and beyond to accommodate us. We will be back!
9 months ago Nobiles Ars
Service amazing atmosphere wonderful I love the view of the ocean with the boats Claudia was are server she was amazing and happy and joyful with a beautiful smile we will be coming again and prices amazing the burger was magnificent I'm happy with this place and 100????Thankyou Claudia for the excellent service
6 months ago Matthew Rathbone
Just another great place to have lunch along the intracoastal waterway. Excellent food, fast service. Small parking lot but they have staff directing the parking.
8 months ago Jigar Patel
My wife and I had breakfast here. I ordered a ham and cheese omelet and my wife had the French toast. Everything was delicious and the view of the intercoastal was nice. The service was good too.
8 months ago Ariel Anderson
I had penne and meatballs marinara sauce did not like it meatballs with hard like they were store bought sauce taste like jar sauce my wife had half chicken she said that was very good but it was too hot in there with the Sun I would think twice about going back again
6 months ago Ale Hayes
Awesome staff. The wife and I recommend the egg and cheese croissant add bacon. I also enjoyed the Bagel with lox. Do yourselves a favor and visit them.
8 months ago Trey Mackey
This would for sure be a 5 star rating if the service was just average. Went here 3 times on vacation because the food and coffee was outstanding! Unfortunately, all 3 times the service basically sucked! Maybe I just had bad luck with the service?? Anyways, I'd still highly recommend based solely on the merit of the food and coffee!!
10 months ago Tyler Hook
Best italian sandwich ive ever had, the cuts of meat were fresh and big! Yummmm
5 months ago Quentin Barnett
I was invited here for dinner. The calamari was very pale. I decided to have eggplant parmesan. I couldn't eat it. I took it home and in the garbage it went. the spaghetti was acceptable but the eggplant was like an oily Mediterranean eggplant that was nothing like the breaded and baked with mozzarella that I'm used to. I have had the spinach pie in the past and I like that. When it comes to Italian dishes this is not the place. It was a busy night. The waiter was attentive and I didn't not want to complain to him or return the food but I was especially disappointed in the eggplant. It was pure oil and too soft. It was more like a tapenade for bread than the main dish. I've decided to edit my review because I have frequently had the spinach pie in the past, omelettes and the bread and they are all great. I'm not sure if they tried to substitute because they were out of eggplant parmesan. They were out of spinach pie which is why I order a different dish. I will probably give it another chance in the future.
6 months ago Robert Tillman
Great patio on the water. Good bakery. Menu is reasonably priced but dated with little healthy options and not much for vegans
9 months ago Amanda Austin
I order calamari got horrible tencel I complain the waitress argue , used to be a good place, now avoid this restaurant
6 months ago Jennifer Pau
I've been a customer for many years but unfortunately, under new management and during the pandemic, I'm disgusted to see the new manager and the cooks working the afternoon shift not wearing a mask while in the kitchen and while cooking, ironically, there are signs posted everywhere requiring the use of a mask. Ironically, all the waitresses wear a mask at all times and their service is great. It is not that they forgot or did not notice, the manager has the mask on while outside talking to customers and takes it off every time as soon as he gets back inside the restaurant. What he wears is barely a face covering, if I was the manager, I would make sure I and my staff were wearing the safest masks possible. Stay away until they get their act together. It was disgusting. Update, Manager commented in response to my review. His response is still not accurate. Will check in periodically to see if the manager and cooks have changed their ways.
7 months ago Scott Entwistle
We were fortunate to find a parking spot and seat outside at lunchtime. The outdoor eating area is shaded Loved eating lunch, watching the boats go by on the Intercoastal. The service and food were wonderful. Be sure to visit inside where they have a nice assortment of meals to go.
10 months ago Suzanne Stroup
As always the mussels and Greek salad was awesome. Actually so was our server and our table on the intercoastal!
9 months ago Misty Carver
The location is great, the prices are reasonable and the service is sufficient. The menu is more Greek dinner. They do not serve a fish sandwich for lunch.
7 months ago Floyd Lowman
Great food! Great view from your table on the river!!! Recommend for family and date! There Fresh bread - awesome!!!
6 months ago denise walker
Excelente service, great food, lovely ambiance with amazing views of the bay.
5 months ago Napier Minor
The views and atmosphere are very nice. The food and service were not as I expected. It was my first time here. The server was very slow and the foid was vety greasy
7 months ago Wells Crandall
Neighbors took me and my friend to Giorgios for Easter Brunch. We only waited Everything was awesome. Two enjoyed Mahi Mahi sandwiches, one salmon and I had the millionaires eggs benedict. It was really good - crafted with homemade crispy biscuits with perfectly poached egg drizzled with hollandaise. I'm returning for my birthday hoping Sunday brunch April 18, has the eggs benedict!
6 months ago Richard Hernandez
I love coming here for the fresh baked goods! The baklava is so yummy! They have a delu style counter and the dolma are so delicious! Great for a quick stop in take away. There menu for seated dining is delicious too! Right on the intercoastal so it's a fabulous view!
7 months ago
Popular places from the category Bakery