Home improvement store Tractor Supply Co.
Home improvement store Tractor Supply Co., 6025 S 1st St, Milan, TN 38358, United States:
126 reviews
of users and employees, detailed information about the address, opening hours, location on the map, attendance, photos, menus, phone number and a huge amount of other detailed and useful information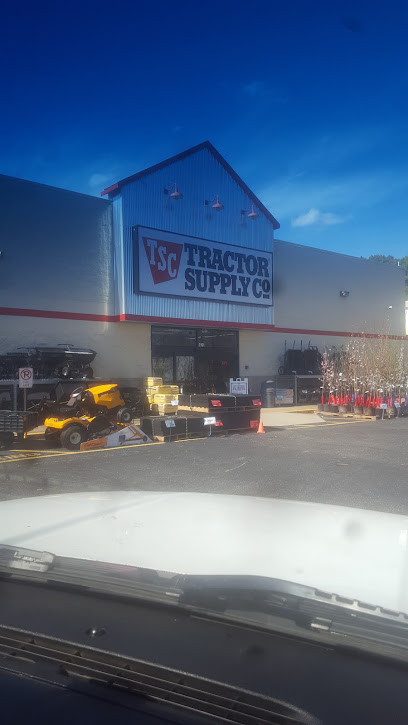 Address:
6025 S 1st St, Milan, TN 38358, United States
Website:
tractorsupply.com
GPS coordinates
Latitude:
35.9075638
Longitude:
-88.7538895
Location on the map
Reviews John Manthorpe
I love tractor supply some of their stuff's a bit pricey but they have a wide variety of farm hunting stuff you would need in general great place to shop thanks
1 month ago Tracy Miller
Good Friendly and helpful employees ...answered my questions concerning a part for well. Made sure it was the correct part for what I needed.
8 months ago David Pachter
Great service their pick up service is Awesome.
1 month ago quenchell parker
Great store, always well stocked and clean. Quality products and no long lines at the checkouts ever! Highly recommend. Huge variety of pet foods and supplies.
10 months ago Old Man
I delivered a load of wood shavings today and the people were great good customer service thanks guys
6 months ago Michael Newman
Tractor supply is grand, other than the slightly higher prices. Last time I went, there were two employees in the front, who were just having a good ol' time. So much so that they ignored us until we squeaked our newly claimed dog toy at them so we could buy it. ???? They apologized and all is well. Our dog is very happy with her choice of toy, and I am happy with her happiness. Yes.
7 months ago Michelle Abram
Good people working there. Walked me to the different things I wanted to buy and there was a good variety to choose from. I like to buy from Tennessee based companies. I will be back there sometime.
2 months ago Carol Barrera
Easy to find items. Good selection and friendly staff.
10 months ago Jose Irizarry
Great service and very clean atmosphere! Found everything I needed very quickly!
6 months ago Patrick
The cashier was super helpful in finding the right dog harness for my dog and gave me all the info I needed if I needed to bring it back.
7 months ago Landoblaze
I went in looking for small nut for my rod&reel the man was so helpful people like him are hard to find!!! He checked in store when he couldn't find one small enough. He told me where I could find one and I did. Wish all personnel was like him. What a blessing.
8 months ago Katherine Reilly
The people in the front are very kind and helpful. The manager was supposed to give me a call back, but never did. I called two more times over the course of two weeks, but never heard a thing back.
10 months ago Delia Hunt
Cashier extremely helpful. Pleasant. And told me of there price matching.
7 months ago Patricia Spencer
Good selection and easy to get in and out
3 months ago Anon ymous
Suet was marked very reasonably and so my birds will stay happy!!
8 months ago Chris Richard
Food selection. Always forget its there.
8 months ago Mohd Saipol
Good store. Well stocked.
7 months ago Boitumelo Boity
Always Wayne and well-organized and stocked
3 days ago Benjamin Moore
I can always find help if needed. I feed the 4Health Bison dog food to my Standard Poodle. He loves it and is rated in the top 10.
2 months ago Steve Becker
Great store, I shop there often.
10 months ago Noe Vences
Very good service.
6 months ago Sherri Green
Tractor supply has great employees who greet you everytime you shop and help when you have a question.
2 days ago Joe Chase
Helpful employees who always help me find what I need
9 months ago Ingrid McCallson
Was greeted as I came in the door & was quickly directed to the hinges I needed.
2 months ago Tony Baylor
Can always find what I'm looking for when I go here. Helpful staff
10 months ago George Medley
They didnt bug me but was there if I needed help
7 months ago Lauren Bond
Whatever you need from a rake to a baby chicken they have it
6 months ago Amanda Lavallee
Always find what I'm looking for and the staff is friendly and helpful.
10 months ago Felipe Martins
Friendly, helpful people. Plenty of parking.
8 months ago Ginny Nelson
They have great selection of all kinds of farm and feed supplies
7 months ago Shankar B
Great store with lots to offer. Just a bit more expensive than its competitors.
9 months ago Douglas Ferris
O'Reillys wanted 18 bucks for the same can of freon ts wanted 4 for...saved lots of money!
7 months ago Jose Arredondo
The store is real friendly but the check out was real slow. They have two registeres,but only one open.
2 days ago Martha kimmons
The Milan Tennessee tractor supply store doesn't even deserve a one star on a review they have the worst customer service that I've come across. I went in the store today To purchase a gun safe that they had on the Internet and they said they couldn't even sell it because it didn't have the keys. The guy told me that they were going to have to throw it in the trash. I asked why is it on the Internet and if I can't have that one can you find me one and the guy who claim to be the manager Was on the phone and he told the Person on the other end that this was going to take a long time and he would just have to call him back. He was very rude and didn't want to help because I was bothering him. So I asked for the district managers number and he told me that he didn't have it. I was asking him can't you have one transferred to another store or order me one and have it brought in. He was so flustered and mad he kept walking back-and-forth from customer service to the register upfront so I kept following him. So at the end of everything he went and hollered at me thanks for shopping at tractor supply have a nice day as smart as he could as I was walking out .
9 months ago Leila Stewart
Very friendly and helpful crew
7 months ago Kinjal Shah
Clean, open well organized store. Nice employees.
8 months ago Vicki W
They always have the dog food I need at a very good price.
6 months ago Ben Wilson
I rather buy my chicken feed at R&J Feed store in Jackson, 1) there prices are better. 2) they have the 5 way scratch and you dont carry it. The 5 way is cheaper than the 3 way you have.
2 months ago Jim Laning
Always super nice. And my dog loves that she can go too.
2 days ago Veola Glover
High on price but have the dog food I wanted
9 months ago Mike Moak
They are always out of my particular flavor of dog food. The Blu Buffalo Rocky Mountain blend red meat. I have to go to Jackson's TSC to get it. I told one of the workers it sucks I have to drive from Gibson all the way to Jackson to get it. I paid 20.00 last night now I have to spend more money on gas and 52.99 for just One bag of dog food. The store manager can call Arkansas and say we need more on our order we are running out. I've been a customer of TSC in Michigan for over 20 yrs. This one store in Milan sucks.
8 months ago Brody Johnson
Found what I needed. Associates were very helpful.
2 days ago RASAR KOMATI
Great place to pick up supplies, tools, and anything else needed. I will be visiting again. Soon.
6 months ago Karen Starnes
Friendly and knowledgeable about products and animal care.
2 days ago Shweta Jain
Very friendly and knowledgeable staff. Clean store and well stocked.
6 months ago gloria p
Always great, good quality merchandise and feed.
7 months ago Brooke Buckland
Great prices on many items. Really knowledgeable staff and friendly people. I'll be back.
10 months ago Emily Breeden
Good place to shop. Great gifts, even for kids!!
2 months ago Michael Powell
Great place and helpful employees.
7 months ago Zaim Ugljic
Great service and they had what I needed.
9 months ago
Popular places from the category Home improvement store