Birdwell Heating & Cooling Inc
HVAC contractor Birdwell Heating & Cooling Inc, 870 Co Rd 77, Rogersville, AL 35652, United States:
52 reviews
of users and employees, detailed information about the address, opening hours, location on the map, attendance, photos, menus, phone number and a huge amount of other detailed and useful information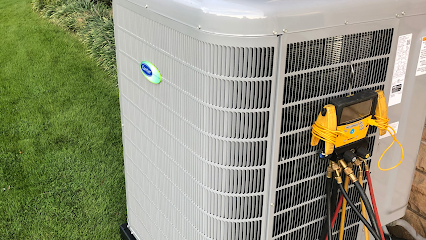 Address:
870 Co Rd 77, Rogersville, AL 35652, United States
GPS coordinates
Latitude:
34.8163663
Longitude:
-87.2721970
reviews Nisoba Pushpapalan
So friendly and knowledgeable! They repaired my system and treated me like they valued my business. Very happy with them and their work.
5 months ago Richie Hayes
I have used Birdwells twice for A/C unit installs. Once for a complete removal and replacement of my house unit and ductwork. Secondly for a new install of a multi unit mini-split system. Both times I found them to be professional and thorough, with Mr. Birdwell providing me an accurate estimate of the cost to accomplish both installs in a timely manner. They also perform the most complete unit cleanings I have ever seen. I can honestly recommend Birdwells for your A/C needs.
5 months ago Dan Wood
They have something that is rare today. Integrity, and strong work ethic.
8 months ago Viktor Til
Awesome! They braved the snow and ice to get our heat going.
7 months ago Kevin Annis
Very Professional, and knowledgeable will be a repeating customer
7 months ago Zami Zakaria
I received phenomenal service from this company. Great communication. Friendly and caring. Punctual. Josh and Wesley were knowledgeable and honest and went above and beyond. The problem with my old unit was diagnosed from a video that I had taken because it didn't make the noise for them. I was given 4 detailed options for installation of a new one and 2 options for financing. The option I chose was $6,000 less than the other estimate I had gotten! They were very courteous and professional while they installed the unit. They cleaned as they worked. They even covered the lines on side of my house! Gave details about the unit, thermostat, and preventive maintenance and made sure all questions were answered before leaving. I can tell a huge difference in the temperature in my house already. Addison was also very pleasant to speak with. I highly recommend this company!
3 months ago donald hogan
Is nice to see there are still some good technicians out there that take pride and ownership in the job they do. That's what I recieved from Birdwell. They installed all ductwork and new units in home for me. They did everything I ask them to do and in the timeline I needed. Neat installation and cleaned up afterwards. I would highly recommend anyone needing HVAC work to call on them. Thanks guy's!
3 weeks ago Demetria Ellis
They are the BEST! Chandler serviced the unit. He called first, came when he said he would, and went straight to work. He showed me what he did as well as explained. Super nice young man. Will definitely use them again.
5 months ago Thomas Pettigrew
I've been with Birdwell for close to 15 years and have never had to have any other company come out. Chandler and John came out today Great Company! Highly Recommend!
5 months ago Aline Paiva
I had a problem with my HVAV on a weekend and called Birdwell Heating and Cooling and two days later my problem had been diagnosed and resolved. I had to have a new unit and another intake inside my house. After they left the job sight you would not have known my HVAC had been replaced in its entirety or that they had even been in and under my house. The Birdwell team is very efficient, professional and clean and left the sight in an immaculate condition. I always like dealing with family owned businesses and this one is one of the best I have ever dealt with. They were courteous and professional the entire time they were at my house. They had to leave the job sight for an emergency at one point and but they were very punctual in returning and staying as long as needed to complete my job in one day. I'm looking forward to less monthly payments on my electric bill because of their knowledge and recommendations. The Birdwell Heating and Cooling Company went above and beyond to promptly help me in my situation. I highly recommend them if you are ever in need of professional and knowledgeable HVAC services.
5 months ago Lewy Crabtree
Tim is the best. If you get him you are lucky
1 month ago Lisa Slusher
When our unit went out we contacted Birdwell Heat & Air..they installed a new unit of our choice....we could not be happier....the price was fair, the installation was smooth and the professionalism of the guys was exceptional(guys are also very personable).We would recommend Birdwell to anyone in need of heat or air conditioning!
5 months ago Eric Swenson
Justin and Chandler were quick and efficient. They had our unit back up and cooling in no time... The were also very kind and professional. I would recommend Birdwell Heating and Cooling to anyone. Also, I called first thing that morning, and Adison had an appointment set up for that same afternoon ????... Thank you all!!
5 months ago Denise Tarbox
Friendly, professional, and affordable! I hired these guys after another company messed up the thermostat wiring and they were quick to diagnose and fix the issue.
3 months ago Ricky Anderson
The employees are very nice and professional and the job was very well done.
2 months ago Peter Bakker
I've used Birdwell Heating and Cooling for many years now, and I've always been pleased with their work. I have a service agreement with them where they come out twice a year for preventative maintenance. I just had a technician out today to service my HVAC whose name was Chandler.He replaced a capacitor that was not within allowable limits that would have probably caused trouble in the near future.He was very friendly and explained everything he did to service unit. I highly recommend Birdwell Heating and Cooling for your HVAC needs.
6 months ago John Crump
Very responsive, honest and courteous! Chandler did a great job inspecting and cleaning our AC unit and getting it in top running order. Will def use Birdwell next year for our annual service.
6 months ago Leon Talada
Our technician was Chandler. He did a very thorough inspection and servicing of our unit. We are very pleased with our service this morning.
5 months ago Timofey Lebedev
We called Birdwell when our unit was having issues. They were able to figure out the problems and get us going again. All the guys were super friendly and professional. Chandler was our favorite. Glad to use them for all of our future HVAC needs!
5 months ago John Torres
Great group of guys working here. Very hard working. Call them for all of your heating and cooling needs!
6 months ago James Givens
Tim came by after hours, in 90+ degree heat, and fixed our air! Super friendly and did a great job! Would recommend to anyone that wants great service from someone with a great attitude! Thanks Tim! Eric & PJ Cornelius
5 months ago Gala
Had Birdwell Heating & Cooling out to run a gas line for gas stove. They were very prompt, professional and friendly. I'll definitely call them again should we need anything.
3 months ago Adomas Aleksandravicius
Chandler serviced both of our units and did a great job! Addison was very helpful when we called to schedule someone to come out!
5 months ago Krishunna Green
Great service! Always courteous, professional, thorough, and helpful. Keeps our heating and air running great!
3 months ago Pam Wucherer
Excellent service as usual. Really liked Chandler - very knowledgeable & explains things well.
5 months ago joel Ferreira
Needed a new unit and had a great one installed for a good price. Josh is very helpful!
5 months ago Brenda Whitten
Both guys were very good and nice . Trusting and glad to be with Birdwell.
6 months ago Elina
I've been with Birdwell for about 5 years now, always have great service.
5 months ago Congdanh Danh
Chandler was the techs.name. He was very friendly and helpful!
5 months ago Tom Azar
Our tech Chandler was very professional, courteous and thorough. We've always had great service from Birdwell.
5 months ago Jen Koch
Chandler and his little helper did great getting my system up and running!
5 months ago Ekta Jaiswal
Chandler was very courteous and professional! Thank you so much!
5 months ago Eva Williams
They were very fast at coming out . Tim was friendly and had my unit working within a hour ! I highly recommend them and will most definitely use them from now on
6 months ago Kathy Miller
My AC broke down last Saturday night. I phoned every company in the Rogersville area and none responded but Birdwell. Two companies, I talked to a live person. One told me at 1 pm, he would phone when he was on the way out, but at 9 pm he had never phoned. I called another that told me he was done for the day but he might come out after Church Sunday. I thanked him and moved on. I didn't call Birdwell until about 7:30 pm and they were at my house by 9:00 pm. They found leaks in the coil and added refrigerant thinking it would hold until I got a new coil today. However, Reem informed them Monday it would take 210 days to get he coil in. Last night, Monday night the air quit working around 9 pm. I called Birdwell, this morning and they came right out. They soldered the coil to stop the leaks and I opted to still get the new ocil when it arrives since my unit has a 10 year warranty. It will cost me more, but the new coil will be included in rest of the 10 year warranty. I can't say enough about Tim Young, the repairman. He's pleasant, knowledgeable, friendly personable, and punctual. He works hard to not overcharge you or sell you anything you don't need. I appreciate that very much. I highly recommend Birdwell Heating and Air over any company in the area, because I know if I have an emergency they WILL RESPOND where others WON't.. Birdwell is the company that put in my parents first HVAC system in their home back in the 90's. Then when Daddy sold the house and moved to Elgin, they serviced his A/C unit there for several years as well. He swore by Birdwell and now I will too! James Smith
5 months ago William Hill
When others couldn't figure out my issue in a full day the guy from Birdwell did in minutes. The only people I'll call now.
5 months ago Deb Okorodudu
We just had to have a whole new unit. These guys were the fairest price AND sooo fast. Very professional local people.
7 months ago kim bowers
A+ Great service.
5 months ago K AR
Chandlers a great guy and knows his stuff!
5 months ago Rania Kthiri
Prompt Response. Honest Evaluation. Timely Service. Fair Pricing. Two Thumbs Up.
3 months ago Elizabeth Massa
Chandler was very professional and easy to work with!
5 months ago Courtney Patterson
Great place. Great service. This business goes the extra mile for the customer. I have used them for years.
3 months ago Marlene Abbey
They are very responsive in calling back and even came out on the evening before a holiday to make sure I was cool before the 4th of July. Very nice and obviously care about their customers. I would highly recommend them.
9 months ago Austin Pretsch
They are polite, friendly, contacts are good, they're on time or call to come early and honest! I've used them for years. Thank you Birdwell.
7 months ago Sandeep Reddy
. The first guy came out not pleased, but complained and the next guy went above and beyond to make sure my unit was repaired. Will use them again if needed.... Thanks So much!!!????
7 months ago Patricia Raburn
Very good customer service!
7 months ago RN K
Thanks so much Birdwell Heating and Cooling for a job well done! Your fast, friendly service was top notch, and the guys got the job done when I needed.
11 months ago Mak Manu
I highly recommend Birdwell. They are prompt, courteous, honest and provide a great service.
9 months ago Kaiju Kid
Justin was very friendly and professional . He took care of our problem.
8 months ago subto popFREAK
Highly recommend Birdwell!!!!
5 months ago Nikkie A
They never call back when we call for service.
9 months ago
Popular places from the category HVAC contractor