The Pushkin State Russian Language Institute
Educational institution The Pushkin State Russian Language Institute, Ulitsa Akademika Volgina, 6, Moscow, 117485:
30 reviews
of users and employees, detailed information about the address, opening hours, location on the map, attendance, photos, menus, phone number and a huge amount of other detailed and useful information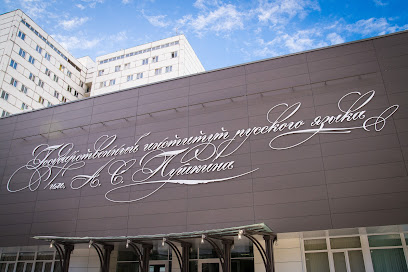 Address:
Ulitsa Akademika Volgina, 6, Moscow, 117485
GPS coordinates
Latitude:
55.6536909
Longitude:
37.5183478
reviews shawn r
The teachers, who genuinely care about their students, are the only redeeming part of this university . The administration is an absolute mess and communication is non existent. They only reply to you when it comes to paying them. Good luck trying to get crucial information from them, it will all come through your teacher on a WhatsApp message. More than half of the time I came to ask about my visa the room was locked. Emails and phone calls go unanswered. It seems the university only cares about squeezing as much money out of you as possible and nothing else.
1 month ago Mirza Hussain
Life-changing experience. They will push you to speak russian well very quickly. Costs of monthly course+accomodation was cheaper than expenses that you would spend for hostel in Moscow for same period.
8 months ago Stan Johnson
I spent here 8 months - not recommendable for people who really want to study the language in depth or intensively. Bad quality of teaching in comparison with European standards - teachers do not know how to work with adults and have no mentality of a service provider whatsoever (you have to pay of course). Furthermore some teachers feel free to pass on any personal opinions and values to students, about marriage, religion, professions etc etc. no use of any audio or video material, and actually NO preparation for the official language tests! This is considered to be outside the scope of the courses..I did progress somewhat, but really had to post this as it is very difficult to get any information from the institute before actually arriving there. If you can live outside the institute, and have enough Russian knowledge to arrange an individual study plan for you, you can benefit - as they do have a lot of skilled teachers, but do not know how to use them!!!
2 weeks ago Skinny Penis
I studied her many (and I mean MANY) years ago and it was a life-changing experience; it helped forge my career and I made many friends with whom I am still in regular contact. Life was primitive back then - no mobiles or WiFi, and sometimes even food was hard to find. It was one huge year-long party and we loved it. Пять заслуженных звёзд!
11 months ago lolita cortez
Never ever come, study, sleep in this institute... I took summer courses in 2015 and they are only thieves ! 1) The dormitory is awful ! my bed was broken, but no one there care about it. The cleaning lady came only once in a 4 week stay... (in the website it was supposed to be once a week...)... the building is so old, they are cockroaches, electrical outlets are really not safe (mine was not fixed into the wall, it was hanging....), there are cracks on the walls, wifi didn't work well. In a "suite" there are 2 rooms (one with 2 beds, and the other with 3 beds) and a shared bathroom. You have to know that rooms are really tidy. The bathroom was so dirty, and old... There will have no privacy... Before arriving, you can ask to have your own room but they specify "if there is an additional room left when you arrive)... I asked, and when I arrived they said there is no room left for a single person... but I still doubt about it... It was summer, most of students were back home...so don't believe that you will have your own room there.... I have pics of the institute and rooms... I hope I can download somewhere in the internet to show you that.... 2) Lessons : you have to know that you pay for russian courses for 4 weeks... and it is not teachers who will teach you russian... but russian students ! Mine were nice, but well, they didn't know grammar like a russian teacher can know.... Moreover, it was complicated to communicate sometimes... because they only speak russian , they didn't know a single word in English... The courses are from 9:30 to 15:00. (with lunchtime break). and you go to class from monday to thursday (so free on friday, saturday and sunday) 3) the neighborhood... Well if you are a girl, and wants to come back late at night... even if you are dressed in a sweatshirt and baggy trousers, know that you will be disturbed in the street of the institute... it often happens that cars stopped and followed me in this street and yelling at you to go with them.... .they did not assaulted me but i really didn't feel comfortable with that... . but just, be careful. Otherwise there are 2 malls . they are each one close to a metro station (the orange line). One is 15/20 minutes walk, the other 20/25 minutes walk..
1 month ago Terri Roberts
l was a student there in 1986-87
11 months ago Daria Vatlina
Good place to learn language!
9 months ago KRISTIN GIMIGLIANO
Like
6 months ago Эждлор Asdfg
ロシア語研修で一ヶ月留学していました。この大学の寮は非常に汚いので、ゴキブリ対策、トイレの便座に敷くシート、S字フック、洗濯物を干すための紐などを日本から持って行くことを強くオススメします。大学内の食事はおいしいですが、基本的にあっさりした味付けなので数日で飽きる可能性があります。近くにあるアタクというスーパーで買い物をすると群と生活しやすくなります。是非、ルームメイトと仲良くなって一ヶ月間楽しんでください。門番の方はいかついロシア人のおじちゃんですが、臆せずに質問すればなんでも質問に答えてくれます。大学を出たすぐ近くにバス停があるので、トロイカというスイカのようなカードを使って利用することをオススメします。
9 months ago Gowri Srinivasan
다양한 나라에서 온 유학생들이 많습니다. 예비학부와 러시아어만 배우는 코스가 따로 있습니다. 러시아어만 배우는 과정은 주 4회(월, 화, 수, 목) 9시부터 14시 30분까지입니다. 90분 수업을 하고 10분을 쉽니다. 두 번째 수업이 끝난 뒤에는 50분간의 쉬는 시간이 있습니다. 이 시간에 2층에 있는 식당에서 식사하실 수 있습니다. 학교에 중국인의 비율이 높다 보니, 중국인들만 모아놓은 반이 따로 있습니다. 그래서 보통 그룹에 중국인은 거의 없는 편입니다. 학교 출입증은 1층 입구 딱 들어가자마자 오른쪽에 있는 창구에서 받을 수 있습니다. 학생증이 없다면 출입증을 주지 않습니다.
3 months ago JK
Много лет назад пришел сюда учиться. Окончил институт, сделал карьеру, и сейчас... у меня взрослая дочь, увлеченная русским языком и литературой. Вопроса куда поступать - не стояло. Только сюда! И всем советую. Лучше института не найдете.
7 months ago Kim Tran
Шайтанбека мана измакраули альсалам!!!
7 months ago Elena Prekrasnaya
Учусь сейчас здесь, перевелась из другого института, не буду называть. Колоссальная разница! В преподавании, в условиях обучения, да во всем! Поэтому если у вас стоит выбор - куда пойти учиться, настоятельно рекомендую. Довольна очень, никаких претензий нет.
9 months ago Christian
Если хотите реально выучить русский язык - вам сюда. Сильнее школы я не знаю. Спасибо за отличную возможность стать настоящим профессионалом своего дела!
7 months ago muhammad ikhlaq
Рекомендую. Хороший институт. Есть платное отделение.
8 months ago Michael Turner
Я не знаю, где это
9 months ago Amy Pretz
Nie polecam. Pomimo że jest to prawdopodobnie najbardziej znana instytucja zajmująca się nauczaniem języka rosyjskiego w świecie, zupełnie nie dorasta do swojej opinii. Kurs letni jest źle zorganizowany. Nie mają żadnego interesującego programu dla studentów zaawansowanych. Większość lekcji jest "odbębnianych", albo wręcz anulowanych lub zamienianych na śpiewanie piosenek czy oglądanie filmów. Zajęcia odbywają się tylko przez cztery dni w tygodniu do południa. Nie ma prawie żadnego programu kulturalnego czy spędzania wolnego czasu. Chaos i dyletanctwo. Do tego należy dodać skandaliczne warunki w akademiku - karaluchy mi się śnią po nocach do dziś.
6 months ago Keegan Swartz
В восторге от преподавателей, от института, вообще от учебы здесь! Классная атмосфера студенчества, современная подача материала и никаких "занудных" скучных лекций, все по делу. Вообще, с удовольствием вспоминаю годы учебы, прожила бы это время еще раз с кайфом:).
9 months ago Ali
Конечно, нет предела совершенству. Но на данный момент, мне кажется, в Институте Пушкина - самые сильные преподаватели. А учебное заведение "делают" именно они. Спасибо! Не устану им это говорить.
8 months ago Krystal Nagorka
Ho studiato qui la lingua russa più di trent'anni fa! L'esperienza più bella della mia vita.
10 months ago Sherry Mckinzie
Учился здесь долгое время. Преподаватели в массе своей хорошие и человечные, знания и умения в нас добросовестно вкладывались. Однако организация учебного процесса как с русскими студентами, так и с иностранными оставляет желать лучшего. Старое руководство почти не мешало студентам и преподавателям жить. Нынешнее руководство профнепригодно (ректоры и проректоры не филологи) и, более того, чинит препятствия и студентам, и преподавателям, которых искренне жаль. Не рекомендую никому сюда поступать. Пожалейте свои нервы.
2 weeks ago Iris Aybar
Пандуса для входа на колясках нет. Маломобильным гражданам предлагают обходить сбоку. А сбоку -- ворота, где написано, что заходить нельзя, только въезд. Ещё есть наглый вахтёр, без причины выгоняющий с территории. Т. е. имеем недалёких людей в руковрдстве, которые не могут организовать вход всех кктегорий граждан, и ещё более отмороженных подчинённых, уличенных в самоуправстве.
2 weeks ago Mariea Whitfield
Bon alors. Pour la Russie c'est une université bien, les conditions d'études sont bien et propres. Il y a de la wifi gratuite, des magasins à proximité et des lieux pour se poser ou faire du sport. Les classes sont bien, les professeurs sont gentils et à l'écoute, quasiment tout le monde parle anglais. L'université est comparable aux universités françaises. Maintenant niveau contenu des cours.... Cours 3 jours par semaine de 9h à 14h30, soit 3 cours de 1h30 souvent raccourcis par les profs... Et franchement, comparée à St Pétersbourg, on ne fait pas grand chose... Les cas ne sont pas étudiés ni les verbes... Du style une journée pour apprendre à dire l'heure avec des niveaux A2-B1... Donc j'ai pas l'impression d'avoir appris quelque chose c'est vraiment dommage! Les cours sont un peu en mode yolo! Je trouve dommage de ne pas étudier les cas puis les mettre en application dans des exercices. Concernant les excursions, elles durent 2h, on part avec un prof à une endroit on fait un tour et voilà... Enfin le fameux logement..... Ne pas hésiter à demander à être au 8ème étage et à changer de chambre si ça ne va pas. C'est au petit bonheur le chance. Je suis tombée dans une chambre neuve et très propre. Certains sont tombés dans des chambres immondes grouillant de cafards, dégueulasse, malsaine et avec de la pourriture sur les murs.
6 months ago Antonio Hernandez
Instituição número um no ensino da língua russa. Na época possuía os melhores alojamentos e professores qualificados.
2 weeks ago Bukola Adenuga
un conseil à toutes les personnes qui veulent étudier la langue russe labas, sincèrement cet institut contient que des escrocs, leurs but c'est pas d'enseigner la langue, mais c de gagner plus d'argent des pauvres étudiants ou plutot des étrangers. il ont meme pas une methode pédagogique d'enseignement, ni de techniques. je dis merci a dieu le fait de passer labas juste un mois. j'ai meme po pu poursuivre ces stupides cours, au debut j'ai demandé de commencer des le 0 pour avoir une base solide, ils m'ont dit ok, il m'ont integré dans un groupe plus avancé que mes compétences linguistiques, et meme j'ai fait le changement de groupe 2 fois parske pour moi le plus important était les bases grammatiques, mais j'ai trouvé toujours que tout les groupes ont deja commencé 2 mois avant, il m"en mentis en tt simplement. bref, économisez votre argent et enseignez vous meme ,sur internet y a tout.
6 months ago Gidget Edwards
Ставлю твёрдую и заслуженную пятёрку. С любовью ко всем преподавателям и исследователям русского языка!
2 weeks ago Laura Halahan
Не ставлю 5 из-за общежития
6 months ago Vicki Milliken
Банкомат есть)
2 weeks ago Vsevolod Kovaev
По мне так институт весьма хорош
2 months ago Michael Song
пушкин если увидел все это сейчас умер бы во второй раз .
9 months ago
Popular places from the category Educational institution