Zèle NOLA
Store Zèle NOLA, 2841 Magazine St, New Orleans, LA 70115, United States:
78 reviews
of users and employees, detailed information about the address, opening hours, location on the map, attendance, photos, menus, phone number and a huge amount of other detailed and useful information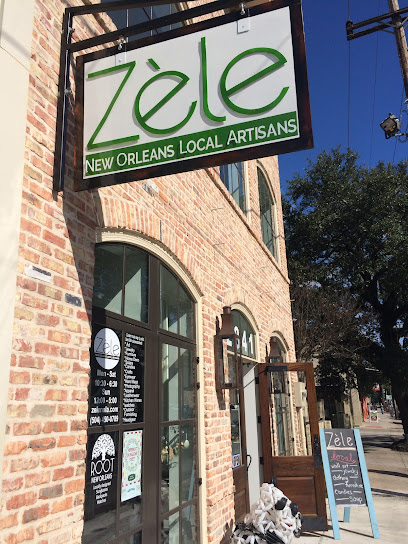 Address:
2841 Magazine St, New Orleans, LA 70115, United States
GPS coordinates
Latitude:
29.9258212
Longitude:
-90.0834861
Location on the map
Reviews Chastidy Collums
People were super nice, huge variety of local art . Getting my next present at that store
9 months ago Ben Maynard
Cool local art. We bought a few unique prints and pieces of pottery. Check them out.
11 months ago Ben Smasher
This place is great. A lot of booths from local artists. My go to place if I'm looking for a gift
10 months ago Pav Dhanoa
So cool! Filled with so much local art! I wish I hadn't been traveling with limited space. I could have bought so much in here!
4 days ago Ulla Meyerhof
Plenty of creative offerings, worth the walk through for unique gifts.
1 month ago Jamie Baker
A fun place to shop and support local artists. I love picking up unique gifts for people here. Jewelry, art, clothes...they have a variety of goods.
1 month ago Robert Kooflin
I have shopped at Zele several times. Horrible experience. Bought a piece of art that was sold as an original but turned out to be a print. Management refuses to communicate at all.
10 months ago Manar Tushar
Great place to find handmade New Orleans gifts all in one place by numerous companies.
11 months ago Brittany Volanti
Love this place. There is a wide variety of art from local artists. Truly something for everyone!
7 months ago mohammad alaqeel
Perfect place to find items from local artists
9 months ago Dennis Laumann
Huge selection of artwork, jewelry, and gifts. I love this place!
2 months ago Cherie Davis
Nice place to see and purchase art from many artist.
6 days ago Kaycee Karalis
Great store we found in the garden district. We love love, exploring this beautiful city.
1 month ago Jisun Shin
Loved it. So many original ideas in this place. Art, jewelry, clothing. Cool t-shirts with local sayings. Great place for gift buying, browsing etc.
9 months ago Sean Riopelle
Zele NOLA has an incredible selection of hand-crafted items that make great gifts and supports local artists at the same time. Zele is an example of the best of New Orleans spirit. One of the best spots on Magazine Street.
10 months ago antonyuo Michael
Very cool concept. Shop 100s of shops in one store. Genious!
9 months ago Jonathan Hartzell
Love this shop! it's great for a browse as well as for NOLA novelty items and apparel/accessories
9 months ago Shawn L
Many great local artists have booths. Fun way to support them and find gifts and souvenirs.
9 months ago Julien Siffert
Artists' cooperative-type stores are often disappointing. This one grabs you the minute you walk in the door. Whoever curates the items for display has an eye for quality. This store fits in beautifully with all the galleries on Magazine Street. I had no intention to buy and ended up with two treasures.
3 months ago danny lee
Wonderful store that supports local artists! What a great place for gifts and treats for yourself. Staff is awesome and there's so much variety. I love the layout of the store too, it really flows well. So clean and well maintained.
7 months ago ChristianDirk Ludwig
Love this idea! I had returned several times, not only for me but when I have needed gifts for out of town friends. A+
7 months ago RYan P
Lots of local art in one place. Great ambiance and customer service
1 month ago YourFav SkinnyGirl
The best shop to find the perfect handmade, original art for gifts or your home, (besides Arts Council New Orleans' Palmer Park art markets, which are only on the last weekend of the month.)
3 months ago Maxwell Collins
Great selection of one of a kind art pieces and jewelry and soaps and even spices
10 months ago Oswaldo Gomez
Great spot to see the work of many local artists in one spot. Built with a few dozen booths showcasing different artists from New Orleans and Louisiana. Friendly staff and relaxing atmosphere
7 months ago amel posner
Great place for local NOLA gifts, featuring some of the best artists in the city. I like that they have things in everyone's price range. (I say this especially as a student who can't always afford the expensive prices of original work)
11 months ago Clifton Simisky
This is a fantastic stop for local art, jewelry, and gifts. It boasts over a hundred individual shops by local artists, most of which is very affordable. We're locals who come here to get things for ourselves and others.
1 month ago Mike Andrews
What a.neat store. Talk about different artwork. I managed to get out with o my spending less than 100.But I was tempted to buy lots more. CHECK ZELE OUT.
7 months ago Gee Man
This is a great store where artists New Orleans can show off their best work. some excellent artists post their product here. Lots of great stuff to choose from in a clean, well lit store.
4 days ago Leonardo Silva
My girlfriend loves shopping here
8 months ago Luciano Garnelo
Great space that has art from over a hundred local artists. Perfect for gifts or for just some finds for yourself. Bound to find something for pretty much everyone.
7 months ago shekinah kim
This was a neat stop to look at art. As with most art, it was kinda pricey.
10 months ago Starling King
Bought some beautiful 3-leaf earrings. Unfortunately, one of the leaves came off ☹️.
1 month ago Ruth Rdz
I highly recommend the coconut wax milk candles. The Con leche scent was my favorite. I'll be back!
7 months ago Vanessa Pulliam
I am so happy we stumbled on this place. I was looking for awesome gifts for my family to bring back from NOLA. I was not disappointed by the selection of NOLA inspired items that weren't cheesy!
1 month ago Meg Fr
The best art in the city. Beautiful store!
5 days ago Wendell Mornan
Beautiful place full of wonderful art and craft. A great idea to promote local artists.
11 months ago Kyle Rider
Variety of artists have their crafts available for purchase Some very nice quality it was the best place I find for 4 blocks
7 months ago karishma priyadarshi
So much to look at. Ecclectic. Go slow so you get a chance to see everything.
11 months ago Keeley Carter
I'm so glad we stopped in this place during our trip! All of my friends discovered new artists that they loved, and we even grabbed some beautiful art while we were there.
2 months ago Angela Hernandez
I wish I would have visited this place sooner. It is a great place for gifts or art for the house. I highly recommend stopping in.
11 months ago jordov
Amazing collection of local art. Affordable and varied
9 months ago Gavin Orr
One stop shop for locals and tourists! Whether you are buying a new piece for some redecorating or need a special souvenir made right here in New Orleans, this is the place to go.
10 months ago Dawn Dillard
Very cool local artist shop. Each artist has their own small booth for consumers to browse.
2 weeks ago Heath Coile
I always find something amazing!
1 month ago Elizabeth Charles
Cool local art. A bit trendy, but some neat finds
7 months ago Courtney Timperley
Love to see awesome art from local artists.
11 months ago Austin Carlin
This is the best place to buy locally created objects, and support the artists and craftsmen of the city during the day. Every day.
2 weeks ago Thomas Whiteley
Had a wide selection of art. Fun to go through.
1 month ago L
Great artist collective. Always find something there for gifts.
7 months ago
Popular places from the category Store