Dollar General
Dollar store Dollar General, 16 Brouses Run Rd, West Portsmouth, OH 45663, United States:
52 reviews
of users and employees, detailed information about the address, opening hours, location on the map, attendance, photos, menus, phone number and a huge amount of other detailed and useful information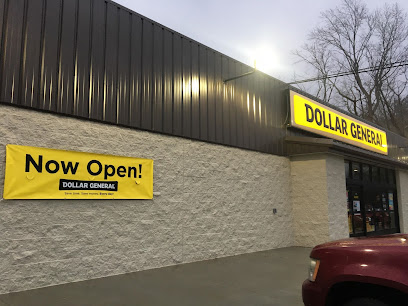 Address:
16 Brouses Run Rd, West Portsmouth, OH 45663, United States
GPS coordinates
Latitude:
38.7121000
Longitude:
-83.0630000
reviews Lena Kolar
The service was great!! She was working so hard a day she is pregnant. She was friendly and helpful.
1 month ago Chelsea Barrera
Fantastic. The Dollar Store at the West Portsmouth location was on my Direct route to and from my doctors appointment. Decided to stop there for my supplies. The young lady working there was friendly and helpful. Also, met a fellow Veteran while I was doing my shopping. All-In-All. A wonderful shopping visit.
6 months ago Александр Chess
Customers service. The best I've had. Those girls are really sweet and helpful
6 months ago Felix Caraballo
Great staff at the register. And great prices.
4 months ago Thomas Olsen
Nearly $13 for a bag of Kingsfird Charcoal even though it was outside on a rack that said 50% off.
2 months ago Charlie Morado
Love my Dollar General store!! They always have what I need when it need it! Friendly staff and nice clean surroundings!!! Just stay the way you are!!!! ❤
11 months ago Aaron king
Very friendly, clean store, and nice selection.
6 months ago pr0v1ew pr0v1ew
The manager there is the sweetest of ladies but don't cross her... Hell no. During her daily diligence of dealing with delightful customers, My dearest managerial chica is also telepathically tripping the closest thief and carding the thirsty constituents.
1 month ago Bud Ratner
I love to shop Dollar General with my coupons, they never give me a hard way to go on my coupons..
11 months ago Tim Popov
Store was clean and nice. Excellent customer service from the staff. Very helpful in finding products. Convenient location so there is no need to drive all the way into town if you dont need anything major.
4 months ago Jason Rabalais
I simply love this place. I live out in the country & am so glad they built this store where they did! Good prices & super friendly people..and I don't haft to drive all the way to town! Dollar General in West Portsmouth Ohio...love it!
3 months ago Deana Osborne
Dollar General is one of my favorite places to shop, I can always find something plus all my home housecleaning supplies at very good prices ????????
7 months ago Lisa Cadieux
They have most everything you need
5 months ago Renee Knowles
New store nice people have the things I want
5 months ago Terry Logan
This new location is conveniently located on US 52 and has very accessible parking. This store is well lit and has wide aisles which is huge improvement over the older store layouts. The shelves are well stocked and there are a variety of products available which otherwise would require a drive into Portsmouth to purchase or purchasing at a local gas station/ convenience store at a significant'y higher markup.
3 months ago Ashton Craig
Cleaner more of a selection of merch and I think that this Dollar General had better prices!
3 months ago James Lithgow
Love shopping dollar general
7 months ago Reja rasheed
Very Nice Staff Don't Have to go to Town Also if I need something on the way to work it's on the way there Also Very Clean
4 months ago Ervin Ward
Typical dollar store, except everything is new and it gives you a nicer feeling because it's still clean and organized.
2 months ago asiel romero
Cashier was pleasant
7 months ago Joel Cordial
The employees are always very friendly, the store is always clean and if I need help they almost always know where to find what I'm looking for. A wonderful place to shop.
7 months ago Germy Malfoy
Friendly easy to shop at
7 months ago mal lin
Have good deal
7 months ago Harry Knight
Love having a dollar store only minutes away from my house.
2 months ago Catelynn Sherman
I love this new dollar general it's clean and things are easy to find I really like that
2 months ago Alexa Bell
Good place and nice workers
9 months ago Arthur Dickinson
awesome coupons good deals
10 months ago Karla
Smells like cat pee
6 months ago William Hadley
I love this store
8 months ago mia Torsch
Good selection
7 months ago Paul Sauerbry
Brand new store, very clean and had most of the shelves stocked. Only complaint, they had one cashier and the line was very busy
2 months ago Rovis Glowisk
Nice clean organized store
2 months ago Pavluxa Fox
New store. Clean and neat. Friendly staff.
3 months ago Stephanie Marie
Jess is a very nice girl
2 months ago Kyle Nas
I find myself in a Dollar General once a month. If youh need your cheap onion powder and kids toys or snacks. That is the place to go.
2 months ago Tommy Hicks
Excellent workers
2 months ago David Price
One of my favorite stores
2 months ago David Chang
Very friendly staff and close to home
2 months ago Ant Miller
Friendly service.
3 months ago PeeksNF
Very nice dollar store
2 months ago Nick Talarico
Love shopping here.
7 months ago Kael Nee
Love dg
3 months ago Antonio Jaramillo
Brand new store just opened January 2019.
4 months ago Miguel Gonzalez
You want it, they have it.
3 months ago Roberto Moreno
One of the best in the area
4 months ago Arianna Bourgeois
So convenient
2 months ago james thomas
Good
2 months ago Danil Koudlo
Friendly people
4 months ago Sean Hessenthaler
Store
2 months ago Alex Barnwell
It close to my house
4 months ago
Popular places from the category Dollar store