The Bark
Restaurant The Bark, 507 All Saints St, Tallahassee, FL 32301, United States:
219 reviews
of users and employees, detailed information about the address, opening hours, location on the map, attendance, photos, menus, phone number and a huge amount of other detailed and useful information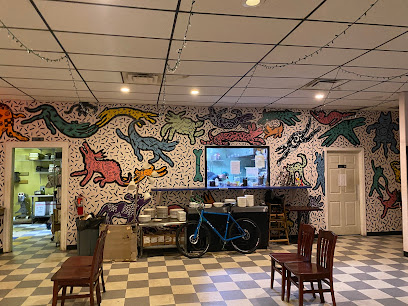 Address:
507 All Saints St, Tallahassee, FL 32301, United States
GPS coordinates
Latitude:
30.4337489
Longitude:
-84.2890283
reviews Deborah Madison
This place is AMAZING and the people working there are very considerate. Not just one of the tastiest vegan meals, but one of the tastiest meals — period. Everything from the flavors to the textures are EXACTLY on point and one of the best …
4 months ago Nellisa Mayweather
Love the punk rock vibe and the awesome vegan food! We got the Mac and cheese as well as the Ban Mi sandwich. Both were awesome. Great staff, love it and will visit again!
4 months ago Toni Repko
Hands down some of the best plant-based food I've ever had. I'm sad that I've only gotten to visit during their first week of being open indoors due to the pandemic, I would love to catch a show and enjoy some tasty plant-based treats
4 months ago Nancy Oyola
I'm from Miami and occasionally visit my sister here in Tally. I always come here and get the vegan BLT and it never disappoints. Noticed they added more items to the menu, can't wait to try them when I come back again :)
4 months ago Ibrahim Koroma
Best place in town!!! Always great service and high quality food, no complaints. Even service drinks here. Highly worth your hard earned dollar. Would give ten stars if I could!
5 months ago Jennifer Duvall
Man, I wish I had an opportunity to lay my lunch out on a table within the establishment so I could shower you all with vibrant photos of my AMAZING lunch, but hey... What can you do? So, I had my first lunch from The Bark today and …
8 months ago Sweta Jariwala
Consistently tasty and friendly. I'm not even vegan and I go here all the time. Very creative flavors.
4 months ago Ryan Steele
It was so lovely! I hate that we came during covid, so we couldn't see the full inside experience. But I had a veggie bean burger with jalapeno vegan aioli and it was amazing! They also had glass bottles of ginger beer and root beer. Everyone was super sweet and they played nice music! 10/10
4 months ago Dawn Davignon
Try the Oyster Mushroom Po' Boy right now. Seriously, go now! Fresh, delicious, cruelty-free food. You can't go wrong with anything on the menu. But that Po' Boy is amazing!
7 months ago dem donuts
Favorite vegan spot in town! I come to visit Tallahassee just for the Beet Burger, hands down the BEST vegan burger on the planet. Thank you Bark for serving the people up with this goodness!
7 months ago Natalie Goodman
The service and parons were amazing!!! From Miami..... can't wait to try again ????????
4 months ago Olga Ovalle
No indoor dining - take out only this night. Cost about average. Helpful cashier seemed knowledgeable about the foods. Menu inside didn't match menu on web. Food was tasty. Menu is vegetarian/vegan.
7 months ago Chasity
Wow! Very good cooking! Just amazing flavors. Very satisfied!
5 months ago Shaquay Hayes
Really tasty food and friendly service. What more can you ask for?
5 months ago Spencer Zielke
Friendly staff with tons of culinary creativity. I used to go here when the BARK was Bread & Roses Kitchen, and it's really become a cultural staple with down to Earth people and delicious southern food. I no longer live in Tallahassee, but whenever I'm able to visit next, the BARK will be my first stop.
10 months ago Brian Zeman
Loved The Bark! Food was great and service was quick and friendly. Parking is out back and on side street. You order at the counter and you can pick some games from the corner to play while you wait for your food to be brought to you. …
5 months ago Minerva Soto
We had been hearing about this great local place to try from our local farmers at Handsome Harvest since we're vegan, so we finally got a chance to try it out, loved it! Nice people, great food, fun atmosphere and awesome artwork. We're already looking forward to going back!
6 months ago Andrew Payton
Even before I went part time vegetarian (I say it's a thing), I loved this place. Perfect late night grub spot if you've been drinking at fermentation lounge up the street. Beet burger with smoked gouda or oyster mushroom po'boy are my go …
8 months ago Claudio Marquez
Hands down the best food in Tallahassee. Buffalo Tofu Ranch is amazing.
6 months ago Matt Winikates
Some of the best vegan food you'll find, plus great atmosphere and friendly staff!
9 months ago Michael Rosales
Love the vegan mac bowls they are my go to for a quick meal when im lazy !
6 months ago Christine H
We got the mushroom poboy and a salad. Everything was really good!
6 months ago Jon Goff
I probably eat here once a week. I love it so much! A must go to in Tallahassee.
11 months ago Queen Kavita
When I asked our friend, who works as a Florida State professor, where we should eat for lunch, she suggested only four restaurants. Thankfully, we decided on The Bark. (Woof woof!) Whether vegan, vegetarian, carnivore, or omnivore, this …
11 months ago Gao Feng
Best food in Tally! They cater to vegans and vegetarians and since I am a one, I gave them a shot a few months ago and now I have to have at least a meal a day from them. Love Susie's creations and Jamie's friendly service.
3 months ago Lee Shelly
Staff are kinda weird . Still not allowed inside for covid reason which goes to show they never wanted you in there to begin with
5 months ago Mark Baran
Amazing vegan food and nothing over $10, pretty much. Cheap beer, cool venue. They do still serve cheese and eggs here though.
9 months ago lele g
When I asked our friend, who works as a Florida State professor, where we should eat for lunch, she suggested only four restaurants. Thankfully, we decided on The Bark. (Woof woof!) Whether vegan, vegetarian, carnivore, or omnivore, this …
5 months ago Rachel Dresser
Great mostly vegan restaurant with great food, friendly staff and funky vibe
11 months ago Adri Carz
Amazing service and vegetarian and vegan food. Jeimy was wonderful and my friends and me really enjoyed the food and vibe. Highly recommend it. They got pool, looks like live music, a bar, and free newspaper.
3 months ago ahmed alharbi
Love this place! Vegan bLt to die for!
6 months ago Barry Rush
delicious vegan food. great funky atmosphere
8 months ago Elizabeth Dickey
Awesome customer service. I had the potato wedges and omelette. Felt like something I would make at home. All the extras I asked for were done without fuss. I even got extra fruit. :-).
5 months ago Amber Loiselle
First Time and food was awesome!! Definitely not the last time! We will be back! Service was great as well!!
10 months ago Olivia ee
The atmosphere here is incredible, the decor is fun, and the staff are super nice. I went for karaoke night and had a blast! Everybody gets a chance to sing, even if they show up a bit later. Definitely have to try the peanut butter pie if you get the chance!
9 months ago Jacob Cook
Wow! Very interesting place! I walked in for the first time tonight very spur of the moment. I was immediately greeted with the very detailed mural and what sounded like underground hiphop music. The crowd here seems very young, maybe early …
9 months ago Bill T
Absolutely delicious food and good beer selection. Great late night spot since they serve food all night and if you're on the cheap you get have reasonably priced beers. Plus plenty of shows/events and weekly karaoke!
3 months ago Jeffrey Jones
Vegetarian restaurant with vegan and gluten free options. Very tasty, flavorful menu choices with daily specials. Casual atmosphere. Friendly, pleasant service. Order at the counter, eat inside or out. Formerly Bread and Roses Kitchen (when …
6 months ago Musicisforus Bennash
Relative tucked away place. A hidden dog friendly vegan/veg gluten free option place. I don't come here for fast service I come here to enjoy my food.
7 months ago Amanda Lancaster
I called to speak with a manager and the girl on the phone was extremely rude and not helpful in the slightest bit. She told me that my call wasn't important because they were busy serving food. This is the third time I have tried contacting management at The Bark and I have not been able to speak with them. Disappointed.
6 months ago Robert Ribeiro
Great food, even as a non vegan, i thoroughly enjoyed everything i ordered especially the Josephine and bread pudding.
11 months ago Patricia Crane
Great vibe and cool place to hang out with friends if you're looking for a more laid back atmosphere. The people/employees are really nice and helpful and there's always something cool going on. The food is great (I'm not vegetarian or vegan and I love it) and the drinks are even better. Good people that you should support
6 months ago Brenda Cooper
So yummy!!! I got the mushroom po boy and it was the best meat replacement I've ever had (and I've tried a lot!). I ordered to go since they are not open for dine in which I completely respect. I also recommend the ACE pear cider, after trying it there I went out of my way to find the six pack around town.
4 months ago Randy McCollum
Seitan Chicken Sammy is the best!! It's so wonderfully cooked and flavorful. This is a must try when coming to Tally!!
3 months ago Aletha Perry
Amazing local food ... vegan for the win! They have local food and highly unique cozy atmosphere
5 months ago Renata Durham
I really loved this place. Anything with oyster mushrooms is great. The beet burger is fire. The cocktails are good just never get the Bloody Mary. 3 out of 5 stars because they had literally the two worst opening bands I've ever heard in …
9 months ago Dorothy Morant
Restaurant, bar, hang out, music venue, community hub: this place has it all. But if you are coming for the food, you won't be disappointed. Serves reasonably priced comfort food that you still feel light after eating. The Tofu Banh Mi is …
7 months ago Deky Darius
Met the love of my life in this cute place. Pretty good food that doesn't leave you feeling guilty after.
3 months ago Dennis Tubog
My first vegan meal was amazing. Loved the black bean burger and mushroom soup. So much flavor so well done. Thanks
3 months ago Jo Hood
Please visit this local gem! Serving delicious healthy food until 2 AM. It is a hole in the wall place that will charm you. From the delicious vegan/ vegetarian menu, drink selection, karaoke night, funky modern ambiance and a spacious …
5 months ago
Popular places from the category Restaurant