Dependable Paving Co., Inc.
Paving contractor Dependable Paving Co., Inc., 945 Emerson Ave, Syracuse, NY 13204, United States:
54 reviews
of users and employees, detailed information about the address, opening hours, location on the map, attendance, photos, menus, phone number and a huge amount of other detailed and useful information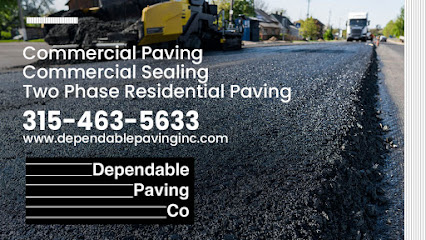 Address:
945 Emerson Ave, Syracuse, NY 13204, United States
GPS coordinates
Latitude:
43.0589548
Longitude:
-76.1955906
Location on the map
Reviews Alfred JHB
We had our driveway removed and replaced. Dependable Paving did a fantastic job. They were professional, courteous, and explained each step of the process. The crews were wonderful to my toddler son. He was so excited to watch the heavy equipment.
5 months ago Brent Rushing
We just had our driveway replaced. I was not sure how they were going to fix this driveway because of the incline to get in and out of it. I never would have thought it could look so good and the ease of getting out of the driveway now is amazing. The crew was great. They worked very hard to get this (what seemed impossible to me) job done in a timely fashion. They were also very clean, always had someone cleaning up behind another crew member. Very professional and experienced. I would recommend anyone that is considering this company to hire them. You will get the best results and won't be disappointed.
9 months ago Philip Tapley
Dependable Paving recently completed a driveway construction for us. Gary, Ryan and the entire crew were professional, respectful and easy to work with. I was particularly impressed by how well Ryan and his team worked together. Their knowledge and skills in design, preparation, excavation, and paving were expertly demonstrated. My father, a former owner/operator of his own paving company, said the work done by Dependable is "EXCEPTIONAL" ! We agree and are confident our driveway will last 30+ years! We highly recommend Dependable Paving!
9 months ago Bebe L
Dependable Paving did a great job replacing the rock road on our property with a brand new paved road! We recently bought the property and having just moved to Spafford, my wife and I were concerned about acessing our home in the winter when the snow arrived. We no longer have any such concerns. Phase 1 of the project has been very sucessfully completed in a timely, highly professional manner. Not only are we happy with the quality of the work done, all of the owners and employees who worked on the project explained exactly what they were doing as the work progressed and treated us with the utmost courtesy. The price was not inexpensive, but was a fair price for high quality work! I can't wait for Phase 2 to take place next year and highly recommend Dependable Paving to anyone in need of the services the Company performs.
5 months ago Shannon Gurley
We contracted with Dependable Paving to seal our driveway. From the beginning, the owner started listing why his service is much better than the competition and though his prices are much higher his service is much more superior. I should've realized this was a red flag but I didn't because in general I am a trusting person. The job was performed on July 11, 2018. Same day I called Gary to inform him that there is a hole in the hot tack at the bottom of the driveway. Gary said it must have been the mailman doing and promised to fix it and he patched it days later. A week or so after (Saturday July 21, 2018) the driveway started showing crumbling of the top sealing layer that was applied by them (apprently if I say asphalt I am wrong) on some places. We called Dependable Paving (sent pictures via text messaging) and were told it was normal and that it would show these "scuff marks"due to power steering on a hot day. The opinion that those were scuff marks was formulated even before looking at the marks. Since then, the top has continued to disintegrate exposing the bottom layer. The owner of Dependable Paving agreed to come to our house and he looked at the driveway ( July 24, 2018) and he told us it was due to people turning their wheels while not moving and there was nothing he could do.Prior to his visit he spammed my inbox with probably 4-5 articles about scuffs caused by power steering on hot days. The interesting thing is that the only purpose of his visit to our house is to "educate" me rather than to offer any sort of a remedy. He kept telling me he checked with the internet and this is what it is. Funny thing, if your mechanic or doctor says he consulted with google and this is the diagnosis you'd be concerned so why should this be any different? a professional saying over and over again that the internet told him this is what the problem is should be a source of concern. This driveway is not used any differently than any other in our area and I have not found any other driveways in our area showing this problem. Gary insists many on my street do have the same problems but please do not mistake tire marks with disintegrating material. More importantly, this driveway isn't used any differently than it was before this job was done so why it never had those signs before? It is sad how they conduct business. I am honestly glad they have happy customers but I wasn't one of them. First photo is of the patchwork at the bottom of driveway.
3 months ago Jason Nelson
I had a remove then replace driveway. Dependable did an excellent job with the removal and then the replacement. They were professional, meticulous and left my property clean when the project was completed. I would highly recommend this local company to anyone who needs work on their property.
6 months ago Jerry Collier
They do great work and really care about the quality of what they do. They were able to not only expand my driveway but to also level it and it came out fabulous. Ryan was great to work with answering all my questions and honoring all my requests.
5 months ago Hayley Manhire
I called this Syracuse based company to schedule an estimate to have my driveway replaced. I was asked my name, my phone number, and my address which is located in the Meadowbrook neighborhood in the city of Syracuse. I was told they are not currently taking on customers located within the city due to codes and regulations. There wasn't another company I called had any issue with these "codes and regulations" Ironic that a Syracuse based company won't do work in Syracuse...
10 months ago HYO SHIM
Poor..try to schedule for an estimate..called and lady said someone will contact you soon to come out...never heard from them..its been almost a month smh
10 months ago Christopher Shedyak
Called on June 16, 2020 to get an estimate to pave my driveway and was told it would be a few weeks due to COV19. A month later I called back to ask if someone was still going to come out and was told that she would look into it. As of today, August 7, 2020 no one has come out, called or emailed me regarding an estimate. This is terrible service! I ended up getting my driveway done by a company that obviously respected me and wanted my business.
8 months ago Priyaguna Sundararajan
I had my driveway done by another company 13 years ago, and the job was done poorly. Heaving, tire pits, pitch, etc. This time I wanted the best pavement company in the Syracuse area to do it right- and went straight to Dependable Paving. Ryan was very pleasant to work with, and he was patient with all of my questions and concerns. DP went much deeper with the base and made sure that my relatively flat driving pitched evenly away from house. I already knew that I would be extremely pleased with the final product that was done today. I will also only be getting my driveway sealed by DP as well. I've had a few companies seal my old driveway (DP was one of them) and they don't water down their product like others do. Don't bother looking at any other company if you want quality work and reputation... just go with Dependable- because they live up to their name.
9 months ago yoseph aminov
When a company calls themselves "Dependable" and never calls customers back it maybe time to change your company name.
5 months ago Logan Barmer
We could not be more impressed by the meticulous work done by the dependable paving team. Highly recommend.
7 months ago Kayla Bray
Jim and his crew did a great job! Price very reasonable!
6 months ago Dana Shults
We wanted to re-pave our driveway late summer fall 2018 but the weather cut the season short. Gary followed up w us this April to say we can get you on for an early May install. (Installed 5/7/19) Gary's crew arrived at our house early and w such precision removed our existing driveway and installed a the new in about a half a day. One side of our driveway butts up to a beautiful stone wall that needs to be considered and protected while doing this work. His crew meticulously excavated, dropped the stone and paved in front of this wall like a surgeon. Gary's crew was friendly and was great in communicating w my wife who was home about any details that needed our attention. The coolest thing is that we have a sign w our house number that hasn't lit up in the 15 years that we've been here and one of Gary's guys found the wire and called an electrician to come over to fix the wire! And for the first time this cool sign is lit! Awesome work, great communication and job done beautifully. Our house looks great! Thank you Frank and Karyn
3 months ago Rupmati Kayal
I don't know where to start. Ryan and his team absolutely exceeded all of my expectations. I've been a small biz owner for 17 years, married for 18, and am a family man. I've had contractors do work for me (including other paving companies) and this has been one of the BEST experiences I've ever had. I have a large residential driveway that was falling apart. I originally called them late last season, and although they could have paved it because the plants were still open, they advised me to wait until the spring time to ensure the quality of the job. I've never had a contractor pass up on a large job to make sure that I was satisfied with the end result! When they did do the job this past week, everything about it was right. The entire crew is professional. From the excavator drive her to the young man running the wheelbarrows, to the drivers. They respected my property, cleaned up when they were done, and even did great with our three dogs. The job looks amazing. When they did do the job this past week, everything about it was right. The entire crew was professional. From the excavator driver to the young man running the wheelbarrows, to the drivers. They respected my property, cleaned up when they were done, and even did great with our three dogs. The job looks amazing. Probably the most amazing thing was that I found out that Ryan is taking over the company from his father Gary. It is very rare to see a father/son handoff go like this. Even though Ryan is younger than some of the other crew, they have an immense amount of respect for him, and I can see why. Probably the most amazing thing was that I found out that Ryan is taking over the company from his father Gary. It is very rare to see a father/son handoff go like this. Even though Ryan is younger than some of the other crew, they have an immense amount of respect for him, and I can see why. He is polite, articulate, attentive, and seem to treat his team with the same respect they treated him with. A few years ago when I first moved into this house, I needed another large area paved and hired a DIFFERENT contractor. Boy do I regret that decision. The other crew was obviously full of people that saw their job as a bunch of grants. The owner of that company spent most of his time yelling at his team from the paving machine. Honestly, it was a little uncomfortable having them on my property. This was a completely different experience. I guess this review is long enough, but if you are shopping for a paving contractor that you feel good about, I can't argue enough to call dependable. After one conversation with Ryan, you'll understand exactly what I mean.
1 month ago Saul
We've had Dependable Paving take care of our church's parking lot in Marcellus for years, and they have always done a good job at a fair price. This year we had a problem with settling of the pavement which caused a drainage issue, and they worked with us to correct the problem . Even though the solution involved more work than was originally thought, they held to their original estimate. I would highly recommend Dependable Paving as an honest and capable company to do business with.
10 months ago Troy Lorusso
Dependable did a great job with a solid base and the paving was exactly as I requested. The crew is very professional and worked steady throughout the project. Gary and his team are great to work with and met all my expectations! If you want your driveway done to last this is the way to get that quality.
10 months ago Jennifer Mullins
We had our driveway put in by Dependable at our old house 26 years ago and still looked great when we moved. We hired them for our new house, they haven't lost their touch, they did an awesome job. I highly recommend Dependable if want a driveway that looks great and will last. MaryLou
9 months ago Mike Gallagher
We recently hired Dependable Paving to pave our stone driveway. Gary came over & spoke with me for quite some time prior to signing a contract. During our conversation, I told him that we wanted to pour a concrete patio in front of our house and wanted to make sure that the concrete & driveway surfaces matched up and that the pitch would be correct so that water flowed away from the house & down the driveway. Gary recommended a contractor, then came back to meet with myself & the contractor and helped lay everything out. Gary's crew did the dig for the concrete and the driveway. They dug the driveway out to 12" below grade, laid fabric over the entire driveway, put in 10" of runner crush & power rolled it. Once the concrete patio was installed, they finished the job with 3+ inches of fine binder. Since our driveway is 118' long by 20 wide with a turn around, Gary suggested we save some $$ and forego the top coat next year & just seal it. So far, everything looks great. The pitch is perfect & there is no pooling of water. We plan on having his crew come back & seal it next year. What impressed me about Gary is that he takes a personal interest in the job. He came by more than once to see how things were going. He also says that he wants you home when they do the work so you can see what they are doing & they can address any concerns. We really appreciated his help with the concrete patio which also came out great!
10 months ago Albert Isaac
Want to thank the entire Dependable Paving crew for the professional manner in which our driveway project was planned, discussed, and executed. Feel free to bring or send any prospective customers by to see your work first hand. Thanks again for all you do.
10 months ago shan velan
I used Dependable for a driveway at a new build home in Jamesville. Gary was helpful in every step of the process. He was very quick to provide a quote and met me the job site several times to make sure everything was perfect. He helped me through the whole process, to include help with my home builder and the town office. His crew was very attentive and professional. They were on time and friendly. The crew communicated with me very well and ensured they were performing the work that was agreed upon in the quote. They were very experienced and impressive. My only regret was not using Dependable the first time they gave me a quote on my previous home. I paid exactly what was on the original quote and not a penny more; even after the crew had to come make a correction that was no fault of there own. Dependable was superior to my previous experience in several ways. 1- they actually put down plenty of stone for a base, probably 8-10". My other company said they would do 4-6, and they did 2" if I was lucky. 2- Dependable charged me the $ amount in the quote. My past experience, the company had several additional charges that were not in the quote. 3- Dependable preferred me to be there during the work. They wanted to show me they were doing the right thing. 4- Dependable puts down a fabric barrier that keeps your stone from mixing with the soft soil. Worth every penny and I'd recommend them over any company in CNY, I've used others in the past and will never stray from Dependable again.
9 months ago Melinda Cotten
Garys crew did great job, They arrived first thing and went directly to work. They made sure everything was perfect. I would recommend this company to anyone wanting a professional driveway done.
3 months ago Justin Dullum
We hired Dependable to install a new driveway, a base for a walkway and to dig dry wells for water drainage. Initially, Ryan came to the house to assess our property and asked many questions to ensure he understood our needs. He took time to show pictures of past work, explained the types of the materials used, and the method in which they were applied. He was very personable and was genuinely interested helping. The day the work was to be done, the crew arrived early in the morning, along with Ryan, who would stop in throughout the day to check on the progress. The gentlemen working were all professional, courteous and hardworking. They didn't mind at all when I would come out to ask questions and see how things were going. At the end of the day when the install was complete, Ryan's father Gary stopped over as well to be sure we were pleased. Additionally, the cost was very reasonable. We are more than happy with the work. I have already referred Dependable to a friend, and will continue to do so to whomever asks.
3 weeks ago line wri
The crew did a great job! Very friendly guys who didn't leave any mess upon completion. Highly recommend!
10 months ago Nathanial John
They sealed my driveway quickly. Great service. I would recommend them. Will be returning to them for my future paving and sealing needs!
10 months ago William Prout
Dependable does amazing work. Very impressed with their pour technique vs spraying. Highly recommend to anyone who needs paving or sealing done.
2 months ago John Mcgowan
They just finished sealing my driveway. They did an excellent job - neat and clean with no splatter on the house. The owner, Gary, stopped by and described the sealing product they were using, as well as the added drying time issues caused by my shade tree.. Friendly and informative. Will definitely use them again.
3 months ago Colin Pagnoni
I have hired Gary on more than a few occasions for excavation work; he and and one of his employees Darin are super on the excavator. No muss no fuss, on time and you pay less in the long run. They don't waste time and the workmanship is excellent.
3 months ago Mike Gambino
We called for a estimate for a dig out and repave apparently they dont need the business nobody ever called back to follow up we waited a month before another paving co got the job. This is review is only to report that nobody from the company ever responded and NOT a work review.
9 months ago Raymond Fisher
We contracted with Dependable Paving to replace our entire 20' x 50' driveway which was over 50 years old. In Oct 2018 they excavated and removed the old driveway, backfilled and compacted the 12" deep base with crushed stone, and applied the first level underlayment. The workers were very professional and completed this initial first year work in one day. This work looked very good and has been stable though the winter, looking as good as the day it was installed. I contacted Dependable May 28, 2019 to schedule the top finished layer of asphalt, which was just completed today... May 30. This work was completed again in a very professional manner with the same crew who had been here before in 2018. The final topper took a little more than two hours to complete and it looks outstanding!! I highly recommend this company, and you can rest assured the work outcome is of the highest quality.
1 month ago Claudete Matos
Awesome job on our driveway. Thanks!
10 months ago Clark Nelson
Gary and crew, Our driveway is absolutely awesome! Thank you for a fantastic job and to a professional crew! Look forward to seeing you again next year for the final coat! If anyone is looking for a paving company that knows how to do the job right, contact Dependable Paving! Their attention to detail, cleanliness of job site, and professionalism can't be beat!
9 months ago Alba Dj
Gary stopped by last week to give us an estimate and we had our driveway sealed this morning. Ryan and the other man he was with were very respectful and friendly. They took their time filling cracks and sealing the driveway. When done Ryan explained to me what they had done and why. I chose them because of the good reviews not the cost. My driveway looks great.
9 months ago Tamar Theiler
Gary and his crew were awesome. We had our driveway widened and they did a great job. Very personable.
3 months ago Camilo Devia
Have had a lot of experience working with Dependable Paving over the years. The company is top notch and I would highly recommend them to anyone who is looking for a paving or sealing company in the Syracuse area. The team was very professional and friendly when working on our driveway, and the work was very high quality.
6 months ago Monier Alduais
They just widened my driveway so I could park two more cars. They were very professional; they explained exactly what they would do, and finished up quickly and left everything in great order. Darin is awesome at digging and could get amazingly close to things without touching them. I was very impressed. I had gotten two other quotes, and could see that this company did things right for a driveway that will last. Very satisfied.
11 months ago joseph boyd
Truly a symphony in motion, these are professional artisans of the highest level who have transformed paving into a art form. It was a joy to watch them work!
9 months ago Sam Harb
I highly recommend Dependable Paving! We had two driveways installed for our new home. Both driveways have a slope towards the home/garage. Gary called us back within 24 hours. He met with us, explained what he was going to do, and throughout the process of completing both driveways, kept checking in to make sure we were happy. The job was done in a very timely manner. All of his workers were courteous, friendly, and professional. The finished product is better than we had anticipated. Thank you Gary! Also, thank you to your team of workers!
9 months ago Thomas Loeber
They we're paving my neighbors driveway and i asked for an estimate on doing some work on mine , told me he would come over later that day. Typical no show. Lousy way to treat a potential customer
11 months ago Nazanin Noz
They sealed my driveway and it came out amazing no spatter on my home edges where cleaned free from grass and dirt and motor oil was scrub and cleaned before sealing everything looks great thank you RYAN
3 months ago Seiji Lahud
Another great experience . . Gary and crew returned this year to do the 2nd phase . . . consumers delight !! . . . as experienced previously phone calls were returned when called . . . did the work when promised . . . workers were polite & friendly . . . job was beautifully done and very clean - we highly recommend Dependable Paving.
3 months ago Nathan Robbins
This is the second time we have used Dependable Paving and we could not be more pleased. Gary takes obvious pride in the service his company provides and goes to great lengths to explain the process details as well as accommodate and address specific concerns. His crew is neat and respectful. They are a pleasure to do business with and we highly recommend Dependable Paving.
3 months ago khayro siklawy
They were easy to work with and did a great job.
1 month ago Natalie Mays
Dependable Paving recently paved our driveway. They did a great job preparing a deep and sound foundation, with geotextile fabric underneath and then paved. The work was neat, the crew was polite and friendly. We would definitely recommend them if you want a job that will last.
9 months ago Zalika Finch
Wonderful Guy. I went through a horrible ordeal with another company, Gary came out and explained the whole process to me, gave me a quote, and letters for the court hearing I had to take the other company to. He was so nice and extremely kind. I cant say enough about this company. We are hiring them to fix and finish the job that we started with Diamond paving. They were rude and a scam. Gary reassured us of the process and took excellent care of us. Would recommend to anyone.
5 months ago Ignas Malinauskas
I was at work trying to contact them, I had to hang up twice because I had business distractions. When the woman picked up she said are you going to say hello or hang up again. She should have not been so unpleasant. That was rude, she did not know my circumstances. I will not be using this company to install my driveway based on my first connection with woman. She is the person who you would be speaking with when you need to contact someone in the company.It is a shame because I read and heard good things about Dependable.
4 months ago Wasim Zeitouni
Dependable did a great job on our driveway. They were very neat and cleaned up after themselves, including the road. They were timely and professional.
5 months ago Courtney Patterson
Gary showed up at my place the end of February and explained to me what he does and gave me a personalized estimate , After a very soggy and rainy 4 months a nice day in JULY he showed up just like he said and in 1 day the driveway was dug out , everything hauled away , liner put down , run a crush all spread out and then of course the binder was down and rolled to perfection !!!! The crew did an AWEsome job and the guys were very professional and pleasant to have work here . I would and will highly recommend Dependable Paving over any other paving company for the outstanding work they do & getting the job done in a timely manner with the utmost professionalism !!! In this day and age its nice to see a company that gets it right and done right the 1 st time .. Thanks GUYS Mark - DeWitt NY
1 month ago Dominic
I received proposals for both 3-lane and 2-lane driveway options. Ryan was very friendly to deal with.
5 months ago
Popular places from the category Paving contractor