Fourth Floor
Employment agency Fourth Floor, 1156 6th Ave 8th floor, New York, NY 10036, United States:
18 reviews
of users and employees, detailed information about the address, opening hours, location on the map, attendance, photos, menus, phone number and a huge amount of other detailed and useful information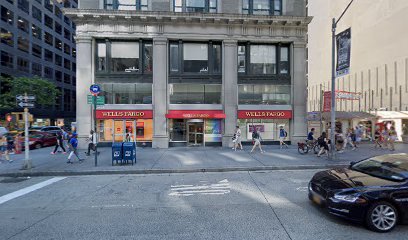 Address:
1156 6th Ave 8th floor, New York, NY 10036, United States
GPS coordinates
Latitude:
40.7564989
Longitude:
-73.9825438
reviews Joanne Pierro
When people ask, I can truly say I love my job! Mentorship, growth opportunities, manageable hours & gratifying work are all of the positives of working as an Account Coordinator for Fourth Floor. Upon graduation, I knew I wanted to go into staffing/recruiting. I was interviewing with multiple different agencies across many different industries. Fourth Floor was always the one that stuck out to me from the rest. I couldn't ask for a better Managing Director; showing me the ropes from day one, when I was coming in with very little experience. She has taught me so many valuable professional skills and truly is an amazing mentor. All of the Pros outweigh the Cons. No day at work is ever perfect, but this company definitely makes the regular cons of work worth it.
9 months ago Jason Patterson
Ms. Miriam is fast, efficient and extremely helpful, I can't recommend her enough, thank you Miriam, you are great!!!
7 months ago Aaradhya Arkatkar
I had the pleasure of working with Miriam and Kate at Fourth Floor during my job search. Miriam was so resourceful and made sure to understand what I was looking for in a job and paired me up with some amazing opportunities. From interview prep to accepting an offer, these two were there for me every step of the way and I cannot thank them enough for it.
4 months ago Kristen Moorman
I personally had the privilege to work with Miriam, Brigitte, and Nichelle. They are wonderful and will put all their efforts to put you in front of big/ small companies to interview. They won't stop until you find yourself with a role you are happy with. Miriam will guide you step by step through a job offer.
4 months ago Ginny Hughes
Ms. Miriam McCallion is extremely helpful and efficient, can't recommend her enough. Thank you Miriam.
7 months ago Pat Mccluskyjr
If i can i will leave 0 stars. I schedule a interview with the agency and they do offer me opportunity that I was interested After interview with the company, I tried to follow up with them They told me the company is figuring out the timeline to bring me on board. After 1 week, nothing was heard back. They told me to renew the contract with my current employer instead. Waste of my time, give you false start date, and false information all the time. These people are giving me trust issues.
7 months ago Niki Pothorski
Miriam was the best recruiter I've ever worked with - professional and always there with timely and accurate information when I needed. Thank you Fourth Floor!
8 months ago Donovan Lorde
They have called me saying that they had two 50K jobs. They have sent me to one of them and there I have realized the company had no intention to pay that kind of money. I have left the interview sending an email to the recruiter asking to have an explanation. Never got back to me, never sent an apology about that and never sent me to the other job interview... Poor service : they treat you like the guy you met at the bar and never got back to you after one night stand...
7 months ago Lisa Schneider
Very polite and professional recruiters. I went for an interview and everyone was sweet and nice. They try to match best candidates with openings they have so I guess sometimes you don't match what you expected to apply for but that's a recryting agency, thats how they work, so im not sure why you people are complaining.
8 months ago Albert James
Employees are amazing to work with! They really help with finding you a job that works with you! Very easy to talk to which is awesome because it shows how much they love what they do!
8 months ago Mohsen Tootoonchi
Fourth Floor has been very helpful in place me in temporary positions which revolve around my crazy schedule! Would definitely recommend to students and those who would like to work in the fashion industry. Lindsay is the best!
6 months ago Darcy Stevens
Despite some negative reviews, Fourth Floor is an extremely professional and resourceful recruiting agency. I've had great experiences with them thus far and they have been very helpful and have found me great opportunities. COMPLETELY RECOMMEND
6 months ago Sara Gathro
Great place to work as a student! Flexaible hours, kind and helpful team, and fast responses! Perfect tool to find part time to full time postions.
8 months ago yif Fish
Complete scam. Stay away from them. They are bunch of liars.
8 months ago Emilia Ksenia
Very unprofessional and as many other reviewers stated, felt like I wasted my precious time without getting any results. Similar phrased follow-up from the "owner" to all bad reviews is as generic and mediocre as the organization itself. Maybe they employ some offshore team to do this. But seriously...awful! I am not going to recommend to anyone. Stay away!
8 months ago Andrew Kung
Not sure why they thought a Senior Level Interior Designer would want to work at a furniture store as cashier restocking merchandise. One of the qualifications was that I "must be able to climb a ladder". Unfortunately I did not acquire that skill in college. Did they even glance at my portfolio or resume once? I don't think so.
1 month ago Ji K
The 4th Floor temp agency is WONDERFUL and AMAZING! The staff are very welcoming and friendly. This was my first time using a temp agency and I'm very grateful I picked 4th Floor. Thank you to Jenna Rimland and Demi White for all your help and support!! I greatly appreciate it ladies for helping me land my dream job and my new career!! #4thfloor!!!
2 weeks ago Brad Szczesniak
Putting it simply: neither reliable nor communicative for professional/career services. You're not missing out on anything by not following up or visiting their offices, so prospect elsewhere.
6 months ago
Popular places from the category Employment agency