Fuss Free AC & Appliance Repair
HVAC contractor Fuss Free AC & Appliance Repair, 2880 SW 23rd Terrace STE 101, Fort Lauderdale, FL 33312, United States:
117 reviews
of users and employees, detailed information about the address, opening hours, location on the map, attendance, photos, menus, phone number and a huge amount of other detailed and useful information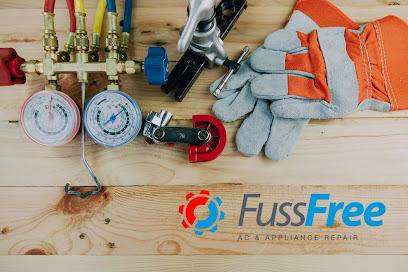 Address:
2880 SW 23rd Terrace STE 101, Fort Lauderdale, FL 33312, United States
GPS coordinates
Latitude:
26.0861977
Longitude:
-80.1723337
reviews Samuel Grunwald
If I could give this business no stars I would. They do not like to answer their phone calls. I had two appointments set and no one showed up and on the third try someone finally decided to show up. And the issue was not fixed. They are an absolute sorry excuse for a business. Super unprofessional, and rude. If you're looking to have something fixed keep scrolling. Do not waste your time with this company. You'll be very disappointed.
6 months ago Caroline Jiga
I had Kenji and Ethan come by today and replaced my unit. They were extremely professional, on time, working quickly and efficiently and cleaned up after themselves. The whole process was quick and easy, and I have ice cold air blowing again. Would definitely recommend!
5 months ago zhen Eric
I was not happy to hear I needed a whole new AC system but after several estimates, I felt comfortable going forward with FussFree. It was a big job but these great dependable guys did an awesome job. I'm happy with the new unit. Job well done.
9 months ago Shneki Minsky
Omar and his coworker both explained that the system needs to be replaced, the coolent was extremely low, the thermostat need replacing, the ducts need cleaning, box unit sitting inside of need replacing, air from garage causing unit to continue to run because a valve inside the unit won't shut like it should causing the garage heat to make the system believe the house is not cool, the system keeps freezing, there's a leak in the system causing parts to freeze and other parts not to, and several other issues they found. Omar is the 4th tech that's come to the home, however, he's the 1st to listened to me and heard my cries. He took pictures inside and out and even added a little freon to help my home cool from being down 50% low. Both guys did a great job!
9 months ago Joisy Aloor
Our landlord sent this company to our residence to fix our refrigerator. Our initial appointment was scheduled for Friday, which my wife took the entire day off work to accommodate. They didn't show up. They rescheduled for Saturday morning between 8 and 10am. They finally arrived after 11:30. Their brilliant repair plan? Unplug my unit so the remaining food I've been able to salvage will spoil and the unit will defrost. Then plug it back in and see what happens. This could have been handled with a phone call instead of wasting our time. Now we have to wait for Monday and hope a tech shows up and somewhere near on time. Glad I'm not paying the bill for what is an obvious rip-off.
5 days ago Monika Pieklo
Omar came out today to replace the parts not working in our freezer. He was kind and worked efficiently and explained what was wrong.
6 months ago Krystal Nagorka
Installed refrigerator 2 times .!! First a loner fidge.Then came to tighten a problem with ice maker line leaking.Finally the permanent fridge delivered. A total of three interactions; promptly took care of everything we needed.!!
7 months ago tk e
Quinton, our Repairman was the quintessential Truth! He arrived promptly, began work immediately, and commenced to doing the job at hand on our AC in the pouring down rain! Nice man, neat man, hardworking man. After 3 hours of back breaking work, he was done and we were once again united with our AC unit. He is a prize and Fuss Free should give him a big, fat raise along with a promotion. Great guy!!!
7 months ago Katrena Carrothers
He did a awesome job got it to work and he let me know everything he was doing thank you so much
11 months ago Lydia Crow
it was a timely process but Derwayne took his time to ensure the new ac unit was properly installed. 5 stars!
11 months ago Nurul Kaium
Jean was totally awesome and prepared for the job! He detected the issue and had our system up and running! Great service and a wonderful person! Thanks Jean! Sincerely Carin Hubbard
5 months ago Gurman Randhawa
David and his team went above and beyond to insure our satisfaction
10 months ago Laurie Ludwig
Derwayne was excellent. They were quick, and did a wonderful job. Didn't leave a mess behind. We really appreciate them coming right away when we called. Appointment within a week! Would work with them again.
5 months ago Ashley Conley
Working with many repair technicians over the years I must say it is extremely comforting to work with Del, the gentlemen who has been helping us with our A/C issue. He is respectful, efficient and friendly. He did the work as quickly as possible and worked extremely professionally. I would recommend Del to anyone who needs A/C or heating repair issues.
9 months ago DanikNEMESIS
Mr. Montgomery was excellent in his workmanship and showed true professionalism. His calm and proficient demeanor was bar none. He was able to explain in layman's terms the issues my a/c had and made me feel empowered to make an educated decision moving forward. In the event I do decide to get a new install, I am requesting him from now to be the installer. Prior to him coming to complete the estimate, I was very nervous and skeptical. However, I feel very confident in my next step. I just want to thank both company and worker for an awesome job!! Well done.
7 months ago Jessica Wallace
My technicians were Samuel C. and Micaiah F. and they were both WONDERFUL! They were very professional and friendly, and got the job done efficiently and effectively. I would highly recommend these two, they deserve a raise!!
5 months ago Diana Perez
Mikey was the tech who came out to fix our ac. He took the time to hang around after he made his repairs to make sure the unit was working properly. Good thing he did, too, because it shut off again shortly after he got the unit running again, so he had to fix another issue. He then stuck around for another half hour or so to make sure everything was working as it should.
4 months ago Kyle Tanner
Mike, the owner, is a great guy. When I asked for them to come to give us a quote to replace the entire AC system, not only he came promptly, but also saw our situation of having a broken AC, so he assisted us on getting it going free of charge without any commitments. Prices are very competitive and offer great financial options. Not only that, but they were always looking to give us the best deal and looking out for our pockets. Richard, the technician installing always showed interest on pleasing our needs.great job to you and your team Mike and Thank you all for the great service!
11 months ago Bob Stringer
Horrible, Horrible, Horrible. They came to my house 7 times to insatll an AC system and it's still not cooling my whole house. I can go on and on about the bad experiance that we had with this company. Just trust me when I say that they learn as they go and try to lie to you when they don't know that I have been in construction almost my entier adult life. Stay away from this company at all cost. Lies, Lies, Lies.
6 months ago raynold magundap
DerWayne was very professional and dedicated to getting the job done. I've had several AC companies come out and they didn't notice half of the things that DerWayne did to get the job done. I appreciate him going the extra mile. He seems like a team player and trustworthy employee. You can't get no better than that. Thx DerWayne for your hard work and dedication.
8 months ago Jessica Benton
The service tech that showed up was superb. Very friendly, knowledgeable and had system up and running in no time. Would recommend to anyone and I don't really do that ofyen
7 months ago joel fuchs
Horrible do not use. Not Professionals, Lies about delays, a total mess of a company. do yourself a favor and avoid this company at all cost!
5 months ago Mickie Hall
Service was fast! My a.c. line was repaired and I had cold a.c. in no time at all. The a.c. tech Dante, was awesome. He was friendly, knowledgeable, and considerate. I have carpet in my home and he gave me the courtesy of putting matting over the carpet so as not to dirty it. I would definitely recommend Fuss Free A.c..
8 months ago Patrick H
This is the same review that I saw from others on yelp. Scheduled to show up but no show and no call to look at our HVAC. Our house has been in the mid 90's the past two days waiting for them to show up. We rent through Progress Residential and are not allowed to use another vendor. This is not only making us have a distaste for an unprofessional HVAC appliance company but for Progress Residential too.
4 months ago Daniel Flynn
We had a great experience with Fuss Free AC. I spoke with Liz in the office who was very friendly and helpful. Stevie was the technician who came out on both visits. He came within the time frame, gave us a heads up when he was on his way, and was very friendly and professional. He explained everything to me and fixed our issue quickly. All in all it was a great experience and they got our AC working again in this horrible summer heat. Will definitely use again and recommend to friends, family and neighbors. Thank you Fuss Free!
5 months ago Jackie Mcintosh
Derwayne was awesome, he was informative, professional and explained everything to me. He even helped me clean up, he is a very positive asset to your company! I will highly recommend your company and Derwayne, thank you for a positive experience in these stressful times.
7 months ago emmanuel nkengla
Fuss Free is a great company. The team was professional, very friendly and easy to talk with. I would recommend this company to all my friends and family. Thank you so much for all you did for our family. Its great coming home to a cool home and no worry about our ac system!
8 months ago Levent Vural
Great experience!
6 months ago Kathy Hamre
I needed a new ac installed and after meeting with 2 other companies, Fuss Free came out and gave me an estimate. They were far more professional that the other companies and their technician didn't try to push me into stuff I didn't need. Once I approved the estimate, they had me scheduled quickly and they did a great install. I was so happy with their service I signed up for a yearly agreement. So happy!
11 months ago Leo McCoy
Derwayne did his job great. I would recommend him to my friends.
7 months ago Sharon Mick
Many came to see the AC unit and still the same issue. Some didn't even take their time or cared if they fix the problem or not. For the first time the company we rent from finally sent someone that,I could honestly say did their job. The technician name was Derwayne, he came and make sure the job was done and didn't leave till it was done properly. This young man has value in the work he does and was very respectful and caring. He represented the company with outstanding quality and I would even hire them personally because I know the job will get done correctly.
5 months ago Latreka King
Professional and courteous, took care of the problem with the air conditioner unit
9 months ago Patrik Urban
The AC tech quickly identified the problems I was having with my air condition, as well as my refrigerator and fixed them both. The AC is blowing colder than it has in a long time and the refrigerator is too. Great job Derwayne and thank you!
6 months ago Devon Morrison
Mike was really helpful and Knowledgeable, he did everything he could do to explain what was going on and how to move forward. Jackie in the office was very considerate and empathetic. It's very unnerving and uncomfortable when your A/C goes out, but thanks to these guys, we were able to figure out what was wrong and they got us back up and running.
6 months ago Rondale Ferrill
Lead generation company. Stay away. Take your info and sell it.
2 months ago Mary Othman
Thay came right out. Tech fixed in 20 min. At a fair price .i would call again
7 months ago romeo alexander
Even though we have a leasing company, First Key Homes, with a terrible maintenance department, it was such a welcomed relief that they sent Fuss Free A/C to try to resolve our air conditioning issues (specially after 4 months of consistent complaining). Johnny was so professional, knowledgeable and understanding. He explained everything he was doing and why. He did improve the the functionality of the unit, however, they do need to send someone specializing in mechanical calculations to make a final determination. Really appreciate Johnny and all he did to make us as confortable as possible until a resolution is found, which by the way the leasing company'a maintenance dept handles things, my lease may be up before solving. Thank you very much Johnny and Fuss Free for all your efforts!! You're invaluable to your customers and those you service!
7 months ago Doug Gordon
I'm in the process of getting my oven fixed. My property management team.sent this company out here. The first appointment we had, no tech showed up and no one called us to tell us they weren't coming. The second appointmentI had was fine and they were able to figure out what part my oven supposedly needed. The appointment to install my part, they tried to reschedule with me because they were short, but I wasn't having it. They wanted to come work in my kitchen at dinner time instead of the afternoon like originally planned. I later find out that the part they installed wasn't even the right part! They just did a temporary fix on my oven so it "works for now" until they can come out and fix it for real. The tech didn't say a word to me about that. The only reason I even found out was because they called for ANOTHER appointment. Fuss Free is definitely laughable.
7 months ago Abhishek Kumar
My mother rents a home that fuss free has serviced multiple times. She has only lived there a short time and they cannot seem to get it right. The same incompetent, rude employees show up each time. Perhaps we need to look into a new unit guys! Or a new repair man!
7 months ago Thomas Rooney
Stevie was awesome! I had a last minute conference call come up before he arrived and he was awesome about letting me know when he was going to be doing something loud beforehand. He stayed to make sure the AC was working as it should. 100% would recommend.
7 months ago Connor
Extremely knowledgeable and courteous. Derwayne serviced the unit on the rental home we had just moved in to that had several issues. He took the time to properly diagnose and fix ALL issues, not just the quickest, easiest issues. He kept us informed about what he was doing and why every step of the way. Showed up on time and left the job site cleaner than it was when he got there. Can't say enough good about this company and this technician.
7 months ago Damian Montiel
Johnny was outstanding. He quickly figured out what was wrong with our AC and was able to fix it easily. When they call you to set an appointment make sure you request Johnny, he's the best!
6 months ago Hongjiang Lee
Dante was amazing and professional and had my AC working in 10 minutes. He also educated me on the problem. He is a must have for AC repair!
7 months ago Tony Macaroni
Great service! Tech was on time, very nice, and answered all my questions. Had our A/C running cool in no time at all. Would highly recommend.
6 months ago Millie Santiago
The most courteous and friendly repairmen that I've ever encountered. They were thorough and clean. I would recommend them to anyone.
11 months ago Big Dog
Elizabeth is a joy to work with. Highly recommend for all of your heating, cooling, electrical and construction needs. Top Notch. This is the company you want!!!!!!
6 months ago Sallie Moore
Appreciate a company who takes the time to fix an issue correctly and not bandaid over the issue. Took the time to explain what they were doing and why and how to keep our ac in the best working condition.
7 months ago Daniel Kemp
Derwayne was very knowledgeable and professional. Quick and efficient service! Would definitely recommend their services to others.
6 months ago Elizabeth Renner
Very polite Knew what he was doing and fixed the prob that we have been having for the last 3 years He really took the time to figure it out. We really appreciate Dewayne Montgomery for his service Thank you so much 5 stars plus
6 months ago Lauren Farmer
Dante was awesome!! We have had many different AC guys come out and he was the best by far. Highly recommend!!
7 months ago
Popular places from the category HVAC contractor