Master Electronics Retail
Exporter Master Electronics Retail, 3100 NW 36th St, Miami, FL 33142, United States:
46 reviews
of users and employees, detailed information about the address, opening hours, location on the map, attendance, photos, menus, phone number and a huge amount of other detailed and useful information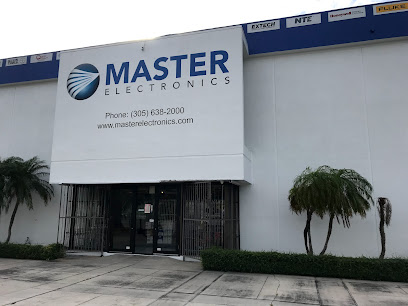 Address:
3100 NW 36th St, Miami, FL 33142, United States
GPS coordinates
Latitude:
25.8087588
Longitude:
-80.2467006
Location on the map
Reviews barb dewing
Great place if you need some special electronic or end terminal
8 months ago Micah Vogel
I love this place. This is the Home Depot of Electrical stores. Everyone's nice knowledgeable the place is clean and apparently a phenomenal working atmosphere. One person special Ricardo Sanchez help me with what I needed. He was courteous fast and knowledgeable. Offer me several options and I was able to decide according to my needs. I will never go anywhere else. Master electronics has earned a customer and business as well as my loyalty. Thank you Ricardo Sanchez you have my loyalty.
4 months ago Nate Cblanca
Mr. Bolivar is a very good person, always ready to help. The place has a very good assortment of products avaliable at the moment, and good prices.
11 months ago Doug Plester
I have enjoyed the shopping experience many times in the past at Master Electronics. They should know me by now. My wife is a nurse. She instructed me to reason with those who are charged with the task of collecting temperature data with simply gathering the data from my wrist or arm to avoid REPEATED EXPOSURE from the potentially damaging effects to the brain. To my surprise, without reasoning or asking, I was RUDELY told that if I wouldn't agree to have my temperature taken by his hand held instrument pointed at MY HEAD, to GET OUT! That unprofessional behavior might be exceptable to the stores management, but unfortunately, have potentially and regrettably lost many future customers due to this disappointing episode.
3 months ago Fredrick Romel
I like to place is like almost like RadioShack electronic store yes I like to go to the store the item I liked in the store it was there
9 months ago Jonathan Eliza
Great electronics place for diy and professional grade parts
9 months ago Brian Howell
I want to thank Bolivar for being so helpful for so long of a time.
8 months ago John Robertson
Nice Friendly staff, great selections. Not many store like this one around. To the electricians out there go and check this store out.
10 months ago T D
Great place to find electronic and electrical componets , not too many places like this one. Personal very helpful
11 months ago Troen
Went to get a small spool of 32 awg magnetic wire and the guy was like(Original price is 66 but i can leave it at 40). Classic scam. I said no i can get it much cheaper online and bought it of amazon for 10. Could have gotten it of ebay for 5 but i needed it soon.
7 months ago gary druckemiller
The selection of electrical components is insane. ECE Miami was awesome, but Master Electronics is even better now thanks to their knowledgeable staff and great customer service
7 months ago lesya karankevich
Everything of an electronics parts nature in this store, store clerks polite and helpful.
11 months ago Koda Mcgraw
Has everything one needs for electrical supplies
8 months ago Ian South
This place is heaven
9 months ago Daniel Skinner
Hard to find a good electronics place like this one anymore
3 weeks ago Cindy Harris
its good, huge amount of parts, connectors and more. have to improve in customer service.
4 days ago Nicholas Graff
They have a lot of stuff. However, it's really over priced. Good for emergencies.
7 months ago Wanda Perkins
You can find everything but a little spensive
1 week ago sarah wolfe
Kindly attention and have a good stock
7 months ago Phill Morris
Well stocked warehouse
9 months ago Yamil Rivas
You can find here any electronic part you need!
7 months ago Delanna Norris
Best place for electronics stuff but it is expensive
9 months ago Charrise Kidd
Seem to have most everything here
7 months ago Gina Sharp
Excellent
7 months ago Sarah Azoulay
Bad attention!!!
7 months ago The First
Wide variety
11 months ago Chris Jones
If they don't have the component you need they'll get it for you.
2 months ago David Bruno
I didn't like my visit
1 month ago Nancy YERINGTON
Your electronic needs met.
7 months ago Chad Brooks
Kinda expensive
5 months ago Eric Bodelson
Awesome people.
1 month ago Sunita Sukhu
Good selection of fused.
7 months ago Mohamed
A big assortment of electronics components and tools. If they don't Jane it, they usually can order it.
5 months ago Semo SYUS
Google Maps me dice que esta abierto y cuando voy esta cerrado, fui a las 3:30pm y estaba cerrado
3 months ago Elissa Pfaender
Excelente tienda, todo para ingeniería eléctrica
11 months ago Cheryl McBride
Un excelente lugar para encontrar todo lo que se busca para trabajar con electrónica
1 month ago Elizabeth Rodgers
Muy bue a tienda de artículos y componentes eléctricos y electrónicos muy buena.
11 months ago Victor Kaminski
De todo en electrónica atención rápida
11 months ago thedoom slayer
Buena variedad y profecionalidad asi como bien surtido
7 months ago Chris Ostrowski
Muy buena atención
7 months ago nicola carrier
Aquí venden todas las cosas de electrónica muy buen servicio buenos precios
11 months ago Darin Abbott
Buen lugar para compras de materiales electronicos
1 month ago robert lorimer
Una tienda que busca de todo en repuesto y partes Electronica muy buena atención siempre me saca de apuros gracias
11 months ago Jose Peralta
Buen lugar lo recomiendo
1 week ago Zechariah Tyler
Tienda para comprar circuitos y derivados
11 months ago Kilio
Tremendo todo tipo de piezas electrónica
7 months ago
Popular places from the category Exporter