QNQ AUTO GROUP
Used car dealer QNQ AUTO GROUP, 750 W Holt Blvd #760, Ontario, CA 91762, United States:
123 reviews
of users and employees, detailed information about the address, opening hours, location on the map, attendance, photos, menus, phone number and a huge amount of other detailed and useful information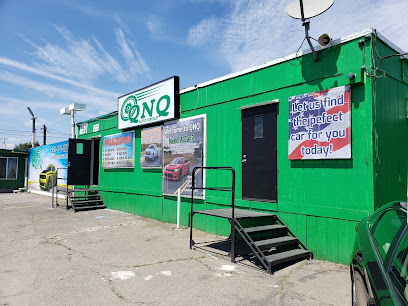 Address:
750 W Holt Blvd #760, Ontario, CA 91762, United States
GPS coordinates
Latitude:
34.0636996
Longitude:
-117.6627896
Location on the map
Reviews Eddy Barba
Sales lady was not pushy at all and that was nice, She also didn't make any attempts to keep me on the lot or close a sale, even when I said we were leaving. Many vehicles had a decent warranty for used car lot and they had decent selection. I did not buy so my reveiw of warranty is strictly off sticker in window of cars/trucks
8 months ago noie Pisutdumrong
Called Qaisar (owner) on a truck and set up an appointment to view, met with Elizabeth and tested the truck out. Price on the truck was fair and all of the employees we came in to contact with were pleasant. When the financing came up Qaisar (owner) was able to get me favorable terms that I was not expecting. Looking forward to returning for the Synthetic Oil Change, Thank you! AA
5 months ago Thamara Diez
Came here yesterday looking for a diesel truck and had a trade in. They have a wide variety of inventory. The staff was very friendly and helpful. Elizabeth was the one who attended me and was very knowledgeable. Qaisar (the owner) also made sure that I was fully sure of what I was getting into. I've been to many dealerships that have hidden fees but not here. The price you see is what you pay for. They even gave me a really strong trade in offer that I couldn't refuse. Overall very happy with my new truck and the experience I had here.
9 months ago Steven R
Terrific buying experience from this privately owned dealership. The owner Qaisar was extremely nice and made the negotiation for our Chev Truck very easy. QNQ has a very professional staff and clean office. I was able to complete the purchase over Email which made the transaction convenient since I live in Pasadena. We love our truck able to finally tow our horses. I would definitely consider purchasing our next vehicle from QNQ and highly recommend to friends and family. Thank you for making the experience so smooth.
9 months ago Salini Salu
I would recommend for people to come here the staff is very nice n helpful. The manager will work with you n hes very nice gave us a great deal on my 2011 GMC Terrain
9 months ago David Fields
We would definitely like to recommend this place. Just purchased a 2015 Toyota Tundra, we came in and were able to take the truck home the same day. Gentlemen took us for a test drive and he was very safe, kept at a distance and practiced covid restrictions. Elizabeth and the owner were very kind and patient. Good to work with better than other dealerships. Very honest and Good people.
1 week ago Debby Chessin
We had a wonderful experience here! The owner Qaisar went above and beyond to help us with our purchase of our 2011 Toyota Tacoma. He made sure to fix the couple minor details for us with no problem! The truck was in excellent condition and was an awesome price. Talk about great customer service!!! We will definitely be back again! Thank you QNQ Auto Group!!!
1 month ago Allen Habtamu
The people in this office are wonderful. We came from Baja to find a truck. They let us drive around however long we wanted, take it to a mechanic for a pre-purchase assessment, complete the DMV/new license plates/registration and purchase with a debit card! We tried to buy through a dealership and found them very unhelpful.
7 months ago jennifer moniger
Best place to buy. Not pushy... quick service awesome people.
8 months ago Amen Alriyashi
I wanted to wait till I wrote this review. I came here last month because I was referred by a friend to buy a car for my daughter whom was a first time buyer that works part time. We came by Saturday morning and there were quite a few people at the dealer however we greeted and were told to call them if we had any questions. No pressure from the dealer. We looked around and found a nice RAV4. We compared it to the market and it was price $1000 below other dealers. Asked to see the carfax and it was a one owner car. We went on a test drive and it drove really well. Went inside and applied for a loan. Qaisar, the owner, gave us options and told us that if i became a cosigner that I'd get a better rate compared to it being under daughter's name since we wanted to build her credit. We agreed. The process was very easy and quick. He really treated us like family. Before leaving with the car he gave us a full tank of gas and gave it a wash even thought it was very clean.
8 months ago Amanda Woods
I bought a 2015 Toyota Prius from QNQ AUTO GROUP. I spoke to the owner. I must say this is the best dealership I have been to in a very long time. The service is very nice and friendly.The price is very reasonable and the owner is a very nice person. I will recommend this place to everybody. Go and check it out!!
2 days ago Tya Buie
Bought beuatiful gmc denali excellent service
7 months ago The Castelan
Bought a car here , amazing customer services but.. after I bought the car I've been getting issues first issue was oil was leaking under the car leaving oil prints in the driveway . took it back in to have the owner fixed it, owner did the job and no issues ! two months later . The car now has a fuel pump and alternator problem after owning the car for two months and put down almost 5G on the car . It is unexpectable that I have to deal with this kind of problem and Putting almost one thousand dollars worth of labor on this car .you only have a 30 day warranty in this dealership . My 30 days is long overdue . now I have a car that just there in the driveway un drivable and stuck with payment on a car I can't even drive more and more issues just keep adding up . If any customer goes here please check the conditions on the cars and take your time test driving don't let the owner tell u what to do . You are the customer you are here to buy a car do a 5-10 min test drive . The car I bought had under 96k Millage it's still a new car . So it is very unexpectable that they sold a car with two main issues that runs the car . I will not be coming back here to get another car or recommend people this dealership due to this issue . Amazing costumer service but the conditions on the cars are horrible and this car isn't even over 100k miles .
8 months ago William Ridenour
THE BEST CAR BUYING EXPERIENCE I HAVE EVEN HAD! I have bought cars from private party, new cars from dealers, used cars from dealers, but this was my first time purchasing a car from a used car dealer. Small lot, small staff but every one of them was super friendly and helpful. My wife and I spent about 5 months car shopping narrowing down what we wanted and then searching for the "right one" at the right price. We bought a blue Chrysler Pacifica from them and I could not be happier with my choice. What really sold us on the car is their friendliness and their transparency. If you are searching for a car start here.
3 months ago Smoother Smyth
I purchased a Toyota Tacoma from this dealership and had a great experience. Everyone was very helpful and friendly. And they helped me get a good deal in my price range. Thanks again!
3 months ago Deathscar
Owner is very helpful! As a first time buyer I had alot of questions. He was very patient and explained everything for me. Also the other employee that works in the office was the sweetest! Thank you guys for my new truck! Great deal.
2 months ago Paul Sauerbry
Top notch honest service! They gave me a great price on the truck I was hunting for and made the process painless. Absolutely recommend buying here :-)
1 month ago Pinja Rovamo
Don't waste your time with these people. A lot of their vehicles are not in the condition as described online and they have no wiggle room to negotiate they're overpriced vehicles.
9 months ago Robert Cliche
QNQ gave me the best deal in town. And their customer service was on point! Highly recommended!
1 month ago Eliud Olvera
I had wonderful experience very good customer service definitely come back again
5 days ago Dillon Corbridge
Excellent services ???? really happy with my new Honda truck very easy purchase hassle free definitely recommended
1 month ago shining blackbear
Qaisar helped me get a 2013 Toyota Tundra that I absolutely love! From the test drive to the drive off of the lot, he was incredibly helpful. I WILL be buying from this lot again, and I recommend that anyone looking for a used vehicle checks out this lot. Great service and honest people.
8 months ago Sharon Storie
Best service ever!!! He can help you buy any car you want for the best price. Owner gave great advice and very helpful in finding my dream car. Awesome experience and would recommend this dealership if you're looking for a nice affordable ride.
8 months ago Phil Wolff
I recently purchased a RAM from QNQ. The staff was reasonable, helpful, and had great communication. I secured my own financing so i cannot comment on their financing, but the whole purchasing process was effortless and very nice. QNQ does stand behind their product and went above and beyond in my situation. I would recommend them to anyone who asks. Thank you QNQ!!
11 months ago Biswajit Chowdhury
Called about a vehicle they had listed and the person i spoke to said "due to it being low mileage and one owner its more than msrp".... literally....... pathetic... dont waste your time or money here.
4 months ago DonJoe Serrenyou
Best car buying experience I've had! Qaisar helped me get approved for my dream truck and not only that but worked with me and got me a great interested rate and comfortable payment. Thanks again love my truck!
7 months ago Nicole Dejewski
From start to finish my experience was excellent. The entire team, especially Elizabeth, were knowledgeable, helpful and professional. I purchased a 2013 Honda CRV EX from them and it was in excellent conidition. They had it detailed and serviced before I came to get it. I chose to work with my credit union to finance it and the credit union was a mess and made the process difficult for me and QNQ Auto group. But Elizabeth and the team worked through all of the issues and dealt with the frustration very professionally. Excellent Car Buying experience. Thank you!!
9 months ago Jacob Braslaw
Good customer service good deal walked in and left with a truck !!!
1 month ago Mike Latham
Great experience ! I was looking for a used work truck with low milage and affordable, got both and outstanding service . salesperson was willing to work out a deal we could both feel good about.
7 months ago Paul Houston
The owner and staff are very nice! They helped me get my car and they are very helpful. They showed me different options and the ones that were in my budget as well! The loan and paperwork was well explained and the staff is detail oriented. Also, the office is nice and clean and very comfortable especially when you are anxious about purchasing your car. Thank you qnq!! Very satisfied!!
7 months ago David Benson
Great privately owned dealership. The owner is very friendly and accommodating. Very professional staff and clean office. My loan transaction was easy and seamless. He advised in advance what I needed to bring for verification. I absolutely love my car and am having much more fun with my long commute to work! I would definitely purchase our next vehicle along with refer my family and friends. Thank you for making a nerve wracking experience so easy.
10 months ago Al Calabrese
Great experience buying a used 2016 Toyota Tacoma. The whole team treated me wonderfully ! Thank you for making this a smooth process. I'm very happy
9 months ago Khaled Akkad
Would recommend to anyone looking for a used vehicle !! Gave me AMAZING deal on my 2015 ram 1500 truck got a truck here with 60k miles and nothing wrong with it for under $14,500 Would definitely recommend it to everyone!! Great workers and vehicles ????????
9 months ago Joepsh A
I bought a nice truck and I had a good experience at qnq auto group. And I am very happy to recommend this place.
7 months ago doni malaise
Great Truck we got from here, great price, great people. Small office but big business quality! Thank you....
9 months ago Glenn M
Bought a 2019 Nissan Altima with only 6k miles. Car was in great shape, granted it was a used car it still had a new car smell. After a month the car had a suspension problem which Nissan wouldnt cover. I took it back to QNQ and they took care of it immediately and professionally no questions asked. Great service from the start.
8 months ago Scott Chappell
I just purchased a beautiful 09 Toyota Highlander from QnQ. Their service was great, staff was friendly and informative, and they really go the extra mile here. When I went to test drive my car the battery was dead due to it's age so they gave the battery a quick start to do the test drive ended up replacing the battery entirely. There was also a tire pressure warning light on. I asked them to look into it before I came to pick it up and they found that the light was a faulty pressure gauge so they replaced that as well. I received a beautiful car in perfect working and CLEAN condition and couldn't have been happier or more confident driving off the lot with a used car. Their staff are hard working and legit. The car also came with a 30 day/1,000 mile warranty which I feel very good about and you don't always get something like that from used car dealers. Check this place and their beautiful inventory out if you are in the used car market.
9 months ago Kelly Buckley
I just bought a used 2016 Chevy Colorado 4 x 4 from Q & Q. After arriving home, I discovered a dent in the door panel. I called Qaisar and informed him about it. No questions asked, he had me take it back to him and he sent it out to the body shop for repair at no cost to me. Highly unexpected and greatly appreciated. Also, I lost a key with the remote a couple of days after purchase. At his own expense, Qaisar replaced the key and remote without question. Yes, this is a real review and I am very appreciative of the excellent service I received at Q & Q. I will go back and I definitely recommend giving them a shot. Incidentally, the selection of cars is huge and the quality and service is high. Very pleasantly surprised. JDM
1 month ago Warner Moore
Friendly and very helpful. Found the car I wanted and was able to get an extended warranty that definitely helped peace of mind with purchasing a used car. Definitely recommend this dealership for anyone looking for a reliable car or truck. Wish I could add more stars as they deserve it. Went to many dealerships before only to be frustrated with the quality of their stock.. thank you QNQ for this.
10 months ago Sonya Williams
Wish to thank the team at QNQ auto. Qaiser was exceptionally pleasant and professional. He made my auto buying experience a breeze. He truly went the extra mile for my wife and I. They even delivered the vehicle to my home! Talk about service! These guys ROCK! Best Regards, Eddie B.
9 months ago Karen Ross
Very honest very helpful when I need another car I'll be coming here for sure thank you for all your help
10 months ago Armando Cabrera
Came here to buy a RAV4 and Qaisar was very helpful and fair! Worked with me and I got 500$ off the lot price, would definitely buy another vehicle from here
8 months ago Tim Orris
Purchased a used 2014 Chevrolet Sonic LT and a little over a week later the check engine light came on. The vehicle was jumping when in idle but I didn't think anything of it. Should've returned before I was going to get charged $350.00. You have TWO days to return at no charge but the car started acting up after the two day leeway. Ridiculous. Will update how much it is to "fix". Do NOT trust this place!
10 months ago Grant Fahlman
I don't usually right reviews, but this one was a must. After searching all over L.A. County for a vehicle, which we really needed, we were being denied everywhere due to our credit score. We even got lectured by a dealer because we had 4 pages worth of inquires. It wasn't because we like to run our credit, it was because we REALLY NEEDED a vehicle, but we kept being denied. Luckily for us we came across QNQ Auto Group on OfferUp & messaged them. They helped us out over the phone, got us approved over the phone before making us drive all the way out there. Once we arrived we were in & out with a vehicle we couldn't afford or get approved anywhere else. Thank you so much for your help & dedication on helping us & many others, even if they have bad credit. We are EXTREMELY HAPPY With our INFINITI Q50 HYBRID.
9 months ago Petra Fuduric
My experience at QNQ was one that didn't expect. Both Elizabeth and Qaisar were very helpful. They made my car buying experience an exceptional one. They also managed to get me financed for a vehicle all on my own w. No co-signer, even after I was turned down at other dealers! If you need a nice,used car I encourage you to stop by,they have great used cars w. Low miles. They won't let you down ????
11 months ago Wade Deyton
The Dealership had a variety of car at a decent price. The girl that attended us Elizabeth was so nice and she beautiful. Im glad I purchased with her because her knowledge of selling is good. Good service and good car
11 months ago Cynthia Bratcher
A very good used car buying place. The prices are very reasonable and the owner has integrity. Five star place, shop with confidence. I am happy with my truck.
1 month ago Gianluca Scattoni
The service is fast, the document is not delivered for less than three days, the car can be taken home and the service staff are friendly.Anyone who wants to have a car instantly, must recommend it here. You definitely won't be disappointed when you get the car back. Of course, regardless of whether you buy the car for the first time, have credit score or don't have credit score, you can definitely buy a car here.
7 months ago Lana Burdette
excellent service! this is one of the absolute best places to go if you are looking for a used car! good quality of inventory of used cars with unbeatable prices. i bought Toyota corolla IM. I Love it. they have are very professional and honest staff. definitely recommend this to all.
10 months ago Craig Citra
I Purchased my truck very nice customer service good pricing. I highly recommend this dealership. Thank you QNQ.
8 months ago
Popular places from the category Used car dealer