Montclair Auto Exchange
Used car dealer Montclair Auto Exchange, 10440 Central Ave, Montclair, CA 91763, United States:
88 reviews
of users and employees, detailed information about the address, opening hours, location on the map, attendance, photos, menus, phone number and a huge amount of other detailed and useful information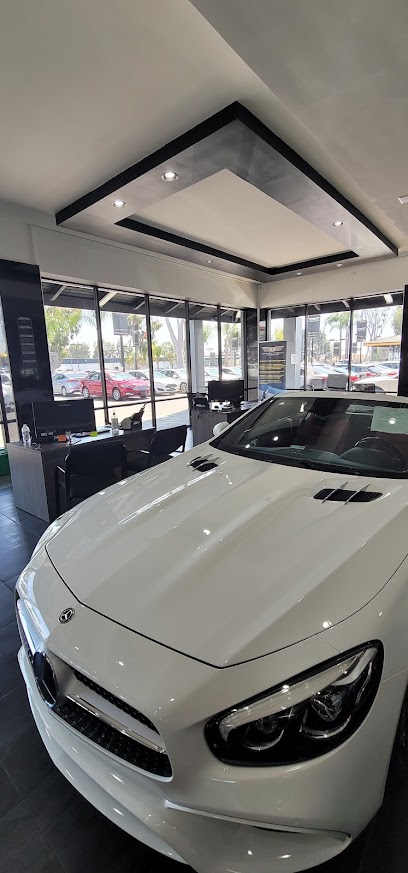 Address:
10440 Central Ave, Montclair, CA 91763, United States
GPS coordinates
Latitude:
34.0647876
Longitude:
-117.6904416
Location on the map
Reviews Steven Wasilauski
Worked with Juan Dominguez today and have a great experience. First time buying a car and would for sure come back when I am ready for a new car. Juan was extremely informative and honest. Really appreciated that. Thank you so much for the great customer service and my amazing car!
9 months ago Eugene Slutsky
Very bad service! Wouldn't recommend to anyone. They promise one thing and don't keep up with their promise.
8 months ago De Me
Horrible company who lies and just wants to get money from you. We contacted them about a car listing and the next day, they made an increased price adjustment by $2,000+ simply because we had shown interest. They were extremely unprofessional when my husband should up for an appointment to look at the car (before we noticed they changed the price) and no one knew he was coming, resulting in him sitting there for 30 minutes as they scrambled to do something, even AFTER I had talked to someone directly and they told me they'd "write him down in their notes and let everyone know he was coming." If you want to waste your time and overpay last minute on a car, this is your place.
7 months ago Andrew Dugan
Bad dealership. I along with family, showed up to the dealer to purchase a car. We walked through the whole lot, and still waiting for another extra 5 minutes. Not a single person decided to walk out despite seeing us.There were many people inside the building and not a single one went outside. I would not recommend this dealership to anyone.
7 months ago Josh Godette
I had an amazing experience here! I worked with Manuel I had inquired about a vehicle that they had already sold but he went and searched for the same style vehicle found one worked out the deal made it a smooth transaction and taking into consideration my schedule.. it was the perfect Christmas gift! I would recommend this place to anyone! I've been to many dealerships where I felt uncomfortable being a woman and this place I felt very comfortable! Thank you again Manuel!!
1 week ago Mark Eames
I recently purchased Caviar Black Lexus 2017 RX350 from Ian Gutierrez on 4/12/2020, upon driving home, I realized the cargo security cover is missing, despite back and forth due to parts availability, AJ Arias sprung into action and have the part delivered to my place of work. Thanks to the rescue and am sure with patience and determination customer satisfaction can be attainable. Kudos to your team...
10 months ago robbie gunter
Jesse helped me out today and he was very helpful with everything and made the process extremely simple! Would recommend this dealership and if you do go ask for Jesse! Thank you guys!
8 months ago Prince Korang
Outstanding customer service! The staff were friendly and very accommodating. Manuel reached out to me immediately and was very helpful all throughout the experience. This team made my first car-purchase a pleasing and smooth experience, definitely will recommend others!
2 weeks ago mausami chaudry
The worst experience ever!! I can't get back the time I spent dealing with Montclair Auto Exchange. On Wednesday night I was reviewing the true car website and requested the certificate for a car. Specifically 2009 Honda Accord. Today I was contacted via email and by phone from Jason Valenzuela from Montclair auto exchange and he said the 2009 Honda Accord was a wholesale car and was then transferred to speak with the sales expert. I explained I have a true car dealership certificate for $2100 for the car but stated It was not necessary to print it and bring it in. Miguel from the dealership contacted me via text message. The dealership emailed me and then contacted me by telephone. Both Jason and Miguel confirmed the car listed price of $2100. I started my day interacting with Montclair Auto exchange at 9am. I was sent a quote and then asked if I'd like the paperwork to be ready by the time I arrived. I stated this would be ideal. He sent me photos of the vehicle. I text Miguel I was on my way because it'd take me two hours to arrive. He agreed. He text me as I was walking into the building at round 7pm that Montclair Auto exchange changed the asking price to $8000. Miguel had sent me a screenshot of the quoted price with the fees at $3394.79. I told him I didn't need the $500 maintenance fee. And so he said he'd remove them. I was working and interacting through the day with Miguel and asking my family if they could help get the car back home to me for my daughters surprise. So I had arranged to pick up and make my way to the dealership. He sent me photos the quote so I felt good about driving two hours to get this car. Miguel said I could speak to his manager so I did. His manager walked me outside to discuss the situation. It's raining and cold outside... The first line manager stated that the pricing problem was my problem and Not his and that he hasn't sold the car to me. They took me outside to speak with me. He said he had to speak to the owner to see what they could do after he was so rude and trying to justify the price change. Then another manager came out and Johnny. We were then walked like criminals to a different building in the back thru the rain. They kept saying their owner will not take a profit loss because of the human error. The price is still listed online at $2100. Then ken and Johnny talked to us and told us how much it cost to get the car and fix it and the cost they put in the car. I reviewed California's law about the advertising, how it's unlawful to sell a car more than the listed price, and how they had a promise to honor the price with true car. They disregarded it and said they were not gonna lose money. They said they didn't care about the the price transparency. Then he asked if he could pay for my gas... so rude.. I didn't come for anything free but for the price I was promised... I have all the text messages and emails... just don't deal with them. They are unethical and don't care about taking care of the customer.
10 months ago Angel Phillips
Montclair Auto Exchange is an excellent car dealer. They gave me great service and helped me with everything i needed to get A GOOD CAR for A GOOD PRICE!! I highly recommend Angel (CAR SALESMAN)... He's the guy who helped me thru the whole process. Thanks again MONTCLAIR AUTO EXCHANGE!!
8 months ago Monica Dang
Not happy with the overall customer service experience. I made an appointment to check out a vehicle and was told that the vehicle would be ready for me to look at at a specific time. When I showed up the vehicle wasn't ready, was very dirty and I was told that I could come back at another date to get the car detailed but couldn't get anyone to return my phone calls until Truecar got involved. I ended up paying out of pocket to get my vehicle detailed and serviced.
8 months ago Christine Walker
Take your business elsewhere. This place operates extremely poorly! The staff curses loud enough in the hallways for their customers to hear and the managers are cool with that. They are extremely unorganized and will give you the run around when you ask any questions. I wish i could give this site negative stars. Places like this shouldnt be to operate at all.
8 months ago Margaret Weatherspoon
Nice personnel Ivette treated us super we were able to test drive 5 different models Not as much variety on SUB
8 months ago Matt Lajoie
I found a car that I loved, made the down payment, was signing the paperwork, and then backed out at the last minute after discovering that Angel had added on an extended warranty and maintenance plan without telling me and increased the sale price without telling me - all told, this added $4,500 to the purchase price. And when they showed me the full Carfax report (apparently they had only shown me a couple of pages earlier), it revealed that the car had been in a minor accident, had moderate damage, and had structural damage. Oh, and it had been reported stolen. They claimed this was because the person who leased it did not want to return it, but after all the rest, how much can I trust them? I walked out. Not today, Satan! Keeping my fingers crossed to see if they actually refund my down payment like they said they would. These people are everything bad you have ever heard about used car salesmen. Avoid!
8 months ago LilJ
What an amazing dealership! Angel was quick, friendly, and a great guy. Felt very comfortable here no pushy salesman. They made the whole process easy. Highly recommend!
1 month ago Laura Maldonado
Nice dealership! I found the vehicle on OfferUp. I found a 2013 Honda Accord with a surprising 21k on the odometer. I inquired the day it was posted. Manuel responded promptly. Scheduled a viewing to see the vehicle. Car checked out. Super nice and clean. Tires worn but they corrected the issue prior to sale. Manuel was helpful and not aggressive. I don't like dealerships. But I felt comfortable here. Please visit Manuel and the others at Montclair auto exchange.
1 month ago Saffet Sunay
Bought a car in February and it had damage done to the mirror, they said it would be taken care of in two weeks. It's April. I've gone in three times to get this fixed and it still hasn't been taken care of. Honestly I'd return the car but that would require the dealership actually giving me a call. Would not recommend at all.
8 months ago Darren Ward
Very happy with how easy, quick, and efficient the sale of a used 2017 Chevy bolt went. Worked with Juan who came in on his day off to get us set up. We drove from 4 hours away and were in and out quickly. Thank you Juan!
3 months ago Joanne Avallone
Excellent experience. Xavier helped us with the purchase, followed up with me to get a new Navigation card, and repaint scuffs on the front bumper and fender. Good experience with EVERYONE we met. Have bought a lot of cars over the years. This is the first totally positive one. Montclair Auto Exchange highly recommended.
4 months ago Dorothy Morant
I don't know yet but will post later if I make this car deal. So far they aren't working with me to lower price and I want a preinspection first before buying it as it has a history of undercarriage damage.it looks nice on the outside but you have to be careful with used cars before u buy especially in negotiating, learn all you can first. Especially if u are a woman and not experienced in negotiating a car deal Its best to take someone knowledgeable with you. Hope this helps someone.
1 month ago Janelle Jesse
I recommend you to ask for Juan he's a great guy and helps u in many ways as possible ????
10 months ago Eric Gass
Well, we went to see what they got for sale. Nice high end cars and working man cars. Trucks ,SUV and sedans. Prices, are understandable and reasonable for the type of vehicles. We are going back with more time to see if we can make a deal. We hope to see employees from LA Puente Motors there. We know them for years and we are please with the service we had with them.
4 months ago Ceci Franco
Isreal was SUCH A GREAT HELP!!! I would recommend!!
8 months ago JL yorkperez
First thing first, I am a brand new car buyer. I was referred here from my boyfriend and I am not disappointed. The transaction went smooth! No hassle no "upper sales pitch" into pressuring you to get a car. The customer service was great! Everyone is super helpful and friendly. They are honest and will make sure you get the car you WANT! I will definitely recommend this dealership to anyone looking for a car! Thanks to AJ & Chris for taking good care of us!
5 months ago Shawn Netty
This place was hands down the best dealer! ROCKHONDA would not even come close to how GREAT this place treated me and understood what car I needed ! Thank you so much Chris for you help !!????????
4 days ago Brotha Phillip
While the selection on hand is limited, this dealership is part of modest network of others that will surely have something for everyone. We were personally helped by Andrew Rodriguez, a sales rep. as friendly as he is polite. He patiently worked with us until we found the right vehicle for us and I honestly couldn't be more thankful. The next time you're in the market for a used car, go here and ask for Andrew. He gives new meaning to service with a smile, and as he'll assure you, he's got magic to spare!
8 months ago Jesse Soto
looked at 2 vehicles. 1 was missing the spare tire and the other one had a rear window that didn't work. I would expect that they would of at least checked the vehicles but it was clear that they don't. Not to mention both cars were filthy and not prepared to be shown.
4 months ago Toni Pronti
If your thinking about getting a nice pre owned car or Suv , etc Stop by and See Edgar he is very helpful and friendly , easy to talk to and he really cares to help the customer as much as possible. Thanks for going the extra mile to help someone with challenging Credit and I stopped got what I wanted. Great Custooer Service, Thanks Edgar.
2 months ago George Lusczek
Excellent service and good prices????
11 months ago Stephanie Shipp
Its no wonder people do not like car salespeople. I had cash to buy a vehicle and even booked a flight to go pick it up and pay for it. My transaction started out with Daylin who responded quickly and professionally but when it was turned over to Jesse after his first email I called him and even though I would be over my budget I had the cash and needed a total to buy the vehicle. Jesse told me he would get back to me shortly with a total and we hung up. Well 4 emails later plus 2 phone calls where he was not available over the course of 25 1/2 hours I am buying a vehicle from someone else. I am happy there business is doing so well that they can brush off cash customers. I will never patronize Montclair Auto Exchange.
2 months ago Betty Cervantes
Edgar G great sale very helpful
11 months ago Cindi Stokes
Couldn't have went with a better dealership! They have the best deals! Best customer service! And the best cars of choice. I'm really happy with my experience of buying my first car through Montclair Auto Exchange! I'll be back soon for that Porsche 911 Turbo!
6 months ago Zorene Vallier
Sales guy was very nice when we arrived, Jesse. So that is why they received a 2 star. They lied when we asked the night before if they had room to negotiate the price of a specific vehicle. I was told by Damian they did have a little room so come on down and made the appointment for the next morning. When we arrived the vehicle was a little dirty and we overlooked that. We took the vehicle for a test drive and were ok with it and the minor damage it had. Once we went inside and started talking price, all of a sudden they were not willing to negotiate because I wasn't financing through them and wanted to pay for the vehicle myself. They lost out on a $25k sale on a vehicle because of this. I hope the $1,200 was worth it to them like it was for me. :)
1 month ago Michael Eldridge
Dissapointed. We were very specific with which car we wanted, and then sat there for 20 minutes waiting, until we decided to go ahead and leave before even getting to see the car. Other than that, there was a good selection of cars to choose from, and decent price ranges. Sales guys are young and still wet behind the ears. But are greetful, and willing.
3 months ago Christopher Derpton
Sales guy..manuel..was very polite and explain all the paper work with detail...didnt spend to much time there couse we did everything over the internent..got there..sign and go...good place..
1 month ago Carolyn Scarebrook
Andrew is great !!! Helped me out in my car buying experience. I recommend him and this dealership ! Great customer service !
3 months ago Ramon Sanchez
I bought a 2014 Nissan Leaf on September 30th. The process was relatively easy and they let me charge it on my credit card which is why I'm giving them two stars. The car was advertised as "Premium Package" Bose 7 Speaker Audio System Navigation Around View Monitor Black Leather etc. etc. The car drives well but after I purchased it, I was told that it didn't have a car charger or an SD card. Without an SD card it doesn't have navigation, it doesn't have bluetooth, it doesn't even have AM/FM Radio !!!!!! They brought me a charger two weeks later as I didn't have enough miles to drive anywhere, but 24 days later I still don't have an SD card. It's ridiculous and I've been told they are "going to order one." When I asked when? there was no reply. This car should have been advertised as "would have a radio if it had an SD card" and "would have navigation if it had an SD card." This is ridiculous.
2 months ago Michael Reilly
Horrible customer service after you sign your deal. They play games sending you from one person to another one. Nobody knows anything...
1 day ago Corey Mills
Very helpful, answered all my questions and had helpful hints for my next purchase, come check them out! Ask for Luis or Johnny.. as far as car, it was clean and everything has been great thanks again you guys!!
6 months ago Joanne Conroy
It was a seamless experience, i did everything they text and showed up posits for the car signed paperwork and was done......i will definitely be returning in the near future
3 months ago Michael Dorman
Manny is one hell of a salesman, highly recommend him for his knowledge, honesty, respect and his professionalism. Buying with him was proficient and made the process of buying at ease when some dealers will take all day to make things happen. Thanks again Manny.
7 months ago Amicam Agency
great prices and selection of vehicles but once the purchase is finalized don't count on them to reply to your messages! i noticed the car i purchased was missing the trunk mat and remote start key and he said he'd place the order as soon as we left, it's been a month and a half and have yet to receive any reply regarding my items. very unsatisfied!
10 months ago bry parreault
We went on Tuesday night and it took such a long time to even find the car, and then they don't have the key for the car either. We set an appointment for another day to return to view/buy the car & then come that day we arrive on time to be told that we'd have to wait because someone else was test driving the car we had an appointment to drive. They tried to entertain us and show us other cars and telling us the other person was still thinking about it when we saw them filling out paperwork already! Finally admitted the car was being sold to the other person and tried to show us other cars. People there are very unprofessional and lack a good system/coordination. All to mention the people there did not have face masks on. Would not recommend.
7 months ago Stephanie Burton
Their sales representatives are friendly the place is clean in the air conditioning works great
5 months ago Steven Wukasch
The place was amazing they will be honest from the jump got a good deal and help me get into a truck of my dreams.
1 month ago Jeremy Worland
I have mixed feelings about this dealership. Very slow and unprepared when it came to processing information and the car salesman I purchased a car from was very uninterested in my presence. Half the time I self evaluated the car on my own and he was on the phone or off running around, his name is Jonny. Another issue was how my car was cleaned poorly and reeked of cigarettes. This tells me they weren't trying. Overall, I wish their customer service was better. Be more attentive to the buyers time by being prepared and to be engaged.
7 months ago Suzzette Blackmon
Just go somewhere else this place is the worst dealership you can possibly go to. Save the time,money and headaches everyone in this dealership is full of it from the managers to salesman. Miguel,Andrew,Carlos,Luis and Kenny thanks for nothing man i hope you sell as many cars before you guys are shut down
5 months ago D McCorkle
My experience purchasing a 2017 Lexus from Montclair Auto Exchange was overall highly positive. Salesman Damian was professional, had excellent follow-up, and was enjoyable to work with. I would buy a car from him again. Once I took delivery of the car, two items became apparent on the drive home that I had not noticed before. Both were taken care of to my full satisfaction the very next day. One involved ordering a new SD card and manager Jonathan took care of it without hesitation. The new part arrived at my home via FedEx within the week. Other salespersons and staff I engaged with while at the dealership were friendly, helpful and and seemed they enjoyed working there.
8 months ago Alex Pisacane
I am a first time buyer, no credit student. Sales man Ismael was such a huge help/relief for my first time car purchase. Ismael helped me find the perfect car that matched my financial status. He did everything in his power to get me approved and in a car within 2 weeks. 1st week being I was indecisive, and needed to inform myself more. Ismael ran the numbers for me multiple times with multiple different car choices, indecisiveness once again on my part. He was as polite and friendly in person as he was via text and phone. Once I found my match, a Chevy Cruze LS, I drove out of the dealership the next day, stress free and great service. He even came through with a spare key, and some other things noted in our contract as promised. I am now a car owner and extremely happy with my choice and service I was provided. Thank you Ismael for all your help with this big purchase.
9 months ago Svetoslav Vasilev
Ismael gave me what I was looking for and more. He was so patient and was helping me find the ideal car. He greats you with the best customer service and he goes above and beyond for your needs. I've already recommended him to friends and family.
9 months ago
Popular places from the category Used car dealer